Water Parks
Tours and
Special Experiences
Sports-Related
Activities
Community/
Gatherings
Other Fun Things
SeaWorld Orlando
Writers' Corner
Orlando Area
Information
Archives
Czarina's Royal Reports

"ANOTHER ROLLER COASTER, AUNTIE!"

Disney World With a 5 Year Old ­
Grandparents and Aunties Take Note
EXPLANATION OF SORTS:
The Czarina is a Real Person who travels often to Disney World. Please, feel free to leave feedback at eureka@eurekajim.org
**********
Dear Beloved Public,
Recently, your Czarina was charged with amusing her dear nephew Daniel, 5 years old, while his new baby sister was being acquired. (I say "acquired" because this was an adoption, meaning one parent had to travel to exotic lands to pick up the baby).
What to do with Mommy-less Daniel for 9 whole days? Why, take him to Disney World, of course! Fortunately, Daddy was able to come with us; nevertheless, the sight of Daniel clinging to Mommy's jacket begging "Not yet, don't go yet!" brought a tear to the Czarina's eye, and made her doubly determined to make sure that Daniel had a Jolly Good Time in the Land of Walt.
THE PLAN AND PREP STAGES:
Here are some things we did to set up the WDW experience for Daniel:
1. Showed him old Disney cartoons ­ there is a wonderful tape which includes "The Band Concert" and "Steamboat Willie." He laughed so hard he fell off the sofa. The result was the constant question "You remember we're going to Mickey Mouse House, right Auntie?" Also, it created an instant bond with The Mouse Himself. The first thing he HAD to do at Disney was meet Mickey Mouse (head for Toontown, do not pass go).
A word of caution. Not all 4 and 5 year olds are ready for full-length Disney cartoons. Even "Snow White" can be very scary. You don't want to produce a Fear of Disney.
2. Gave him a Mickey fanny pack. This seemed to make the trip more of a reality for him. He packed a few essentials, such as Matchbox cars and a teeny-weeny boom box that played teeny cassettes, including a selection by "In The Sink" as Daniel calls that boy band.
3. Booked ourselves into a Home Away from Home resort, in this case Old Key West. There is nothing like being able to have your cereal in privacy; lots of kids don't want to deal with a restaurant for breakfast, and besides, you can get on your way to the park without having to wait for the check; kids hate waiting for the check, have you noticed that? And the washer and dryer came in very handy.
For those who prefer regular hotels, you can of course bring your own cereal and request a small refrigerator for milk and breakfast essentials.
TRAVELING:
Daniel loves to fly. He got the window seat, but still he spent most of the time watching the Cartoon Network on his individual TV screen (thank you, JetBlue!) On arrival we were met by Old Reliable, Tiffany Town Car, and more or less whisked away to Old Key West. Daniel took a look around, put on his sunglasses, and kept them on for the next five days.

THEY WANT WHAT THEY WANT WHEN THEY WANT IT
As a WDW veteran, I figured I knew what Daniel would like to see. I made careful notes of "don't miss" attractions, and planned tentative excursions through the various parks. However, the detours were numerous and the agenda was constantly changed by things seen along the way; for instance, some kid with a butterfly painted on her face. From then on, getting a face-paint (not to mention a temporary panther tattoo) was high on Daniel's agenda. Muppetvision 3-D could wait.
The first thing we did was to make a kamikaze "see Mickey" trip to the Magic Kingdom. There was a long line at Mickey's tent in Toontown, but lots to see in the maze, including big-screen versions of some of the cartoons he had already watched at home. Eventually we were ushered into the pumpkin-decorated tent where the Mouse holds court. Daniel was so filled with awe and delight that he was completely tongue-tied. He declined a hug while posing for his picture, but as we departed, he turned back, rushed up to Mickey and hugged him hard.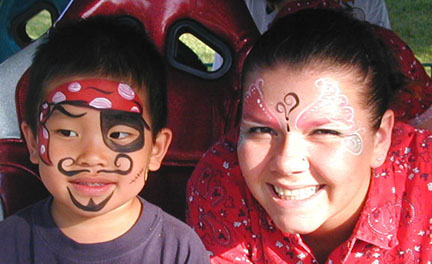 Another day, we were headed for the Teacups when we chanced upon a face-painting place in Toontown (we spent a lot of time in Toontown). Daniel sat himself down and, twenty minutes later, emerged as a pirate complete with painted eye-patch, gold earring and red-spotted bandana. Also a beard and mustache. He was thrilled, and eagerly requested a pirate sword.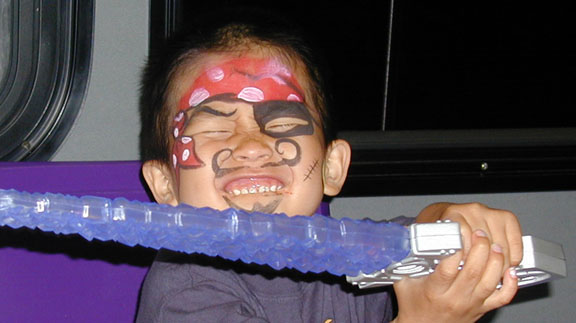 Off we trekked to Pirates of the Caribbean (which I need hardly remind you is far, far away from Tontown). We purchased a fearsome
broadsword, at least 2 feet long, done in a peculiar clear-plastic "crackle" finish. When you press a button, it makes a terrifying "WHANG!" sound. As soon as we had bought it, Daniel told us the next item on his agenda, which was a trip on Goofy's Barnstormer. Back to Toontown.
I don't know if you've been on Goofy's Barnstormer, but despite being a roller coaster for kids, it is definitely not for wussies. It is short but FAST, and it turned out Dad was not enthusiastic about it. Daniel, however, absolutely adored it. He wanted to go again and again. This is where Auntie Czarina came in handy; I happen to love Goofy's Barnstormer. Watching Pirate Dan shriek with pleasure, throwing his arms in the air with his mighty sword safely stowed under the seat, made the whole trip worthwhile.
Next on Daniel's agenda was a ride on Pirates of the Caribbean. Back across the park we went. (Please note: ordinarily, the Czarina does not condone letting kids dictate the order of events like this. But Daniel was being very good about Mommy's long absence, so we let him get away with it). Pirates was somewhat scary, apparently ­ too dark.
After this, we got smart about two things. One, we rented a stroller. Even a healthy 5-year-old sometimes needs a stroller. It served the double purpose of not wearing out little legs, and also acting as a set of partial blinders ­ he could see straight ahead, but not to the sides, so detours became less frequent. Two, we began to alternate indoor and outdoor attractions, because of the necessity of air conditioning. This is recommended for grandparents and aunties as well as kids.

ROLLER COASTER GUY
We have very few roller coaster enthusiasts in the family. You are either a Coaster Guy or you are not. Even the Czarina does not like the really wild ones. So it was a tremendous surprise when the next morning, we asked Daniel what he would like to do most today, and he instantly replied "Another roller coaster, Auntie!" I began to plot. Hmm does that mean thrill rides, or just coasters? I ticked off the very dark ones (Tower of Terror and Rock'n'Roller Coaster) right away. Dinosaur! Was tempting, since Daniel has collected dinos for several years, but eventually I gave up the idea in favor of taking him on the nice, cool Universe of Energy ride. The Dino Spin in the Animal Kingdom was not yet open. Eventually I narrowed it down to Big Thunder and Test Track.
I really wasn't sure about Test Track, not least because I knew there was a height requirement and Daniel is pretty short for five years old. It turned out he just skimmed the top of the stick. But would he be ready for 64 miles and hour on an open track?
Would he ever! He was grinning ear to ear with the wind whistling through his crew cut the whole time. Fortunately I remembered to get him to take off his baseball cap and shades.
We never did get on Big Thunder, but next time for sure.
CHARACTERS, CHARACTERS, CHARACTERS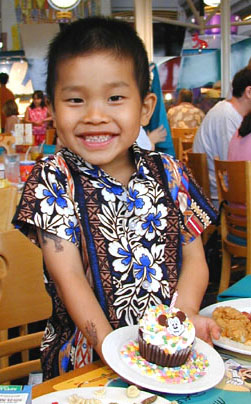 Just as you are either a Coaster Guy or not, you either love to hug the giant plushies or you don't. Daniel was somewhere in the middle. He didn't have to stop at every character meet n' greet, but if Goofy wandered up to him, he was pleased to have the company. Character dining, therefore, was ideal for him. He developed a special fondness for Minnie, encountering her in a frilly apron outside Olivia's at Old Key West, in a Chef's hat at Chef Mickey's, and in full Colonial dress at the Liberty Tree Tavern.
At the Liberty Tree, we happened to dine very late, just as the park was closing. All the characters seemed to have the sillies, and began staging fencing matches with Daniel's pirate sword. Then Goofy (done up like Thomas Jefferson), Pluto, Minnie and Mickey began rolling on the floor and all the children in the place joined in. If your kids like this kind of horseplay (and who doesn't?) get a late reservation at a character dinner.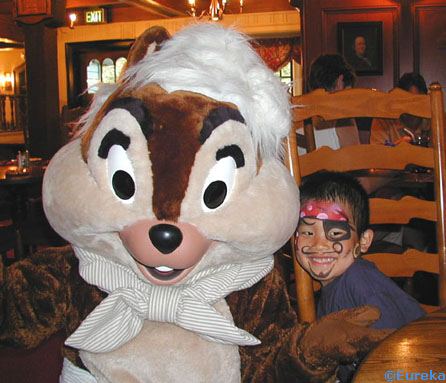 IN THE SWIM
For the first two days, Daniel adamantly refused to get in the pool at Old Key West, even in the sweltering weather. He wouldn't explain why, and we never figured it out. On the third day, Daddy had a brainstorm. He rented a couple of bikes (there are lots of kids' bikes available at OKW) and the guys took a long, hot ride together. After this, they were both more than ready to jump in the pool ­ all Auntie Czarina had to do was keep them supplied with cold drinks and chips. Perhaps it's true that five is an awkward age for swimmers ­ they really are too old for the kiddie wading pools, and too young for the deep end.

FINE DINING? "ME THINK NOT!"
"Me think not" is one of Daniel's favorite phrases, and that was his general attitude toward most (but not all) sit-down restaurants. Olivia's at Old Key West, with its delightful servers, down-home food and casual atmosphere, was fine with him. Likewise all the character dining places we went to, including Chef Mickey's and the Liberty Tree. Teppanyaki was fun watching the chef, but he didn't eat much. Other than that, he was more than happy with French fries at Cosmic Ray's, a hot dog at Casey's or pizza delivery (available at many resorts). A picnic by the pool catered by Good's Food To Go was also popular.
Basically, Daniel is just not a foodie. As much as the Czarina would like to introduce him to Jiko and Tempura Kiku, well, "me think not". Fortunately, his new baby sister can be seen stuffing rice pudding and yam chunks into her mouth on a daily basis, so there is hope. Some day I will take Little Keo to the California Grill.
The Czarina's auntly advice is, it's not worth the hassle and expense to take a non-foodie kid to an upscale place, even though the staff at Disney restaurants is very understanding. If you want a special night out, make it Grownups Only; get a sitter or do the Neverland Club thing.

A FEW OF HIS FAVORITE THINGS: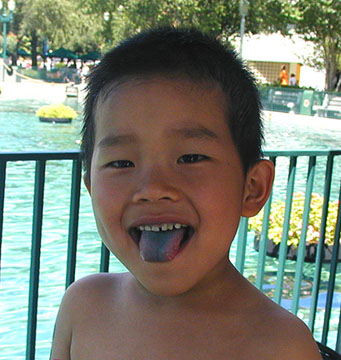 AT DISNEY MGM-STUDIOS:
Blueberry slushies at the stand overlooking the Dinosaur Gertie lake. They stained his tongue and teeth bright blue ­ it doesn't get any better than that.
Muppetvision 3-D. The one attraction where everyone agrees "the whole family loved it". Thank you, Jim Henson.
Indiana Jones and the Backlot Tour, even though there are some slightly scary parts.
AT EPCOT:
Ellen's Energy Adventure ("the boring parts are OK because the dinosaurs are SO COOL")
Test Track!
El Rio del Tiempo
The drummers outside Japan
AT ANIMAL KINGDOM:
Kilimanjaro Safari

Legend of the Lion King

The Tigers
AT THE MAGIC KINGDOM:
Buzz Lightyear ("Can we go again? Well, can't we get another FastPass?")
Aladdin's Magic Carpet
Goofy's Barnstormer!
Meeting Mickey (and Minnie)
WDW Railroad
........and many other attractions, but NOT:
Cinderella's Golden Carrousel (go figure)
Dumbo ("the magic carpet was better")
Indy Speedway (it was just plain too hot)

HOMEWARD BOUND:
In this special no-Mommy, scary-baby-sister-coming atmosphere, Disney World did indeed act as a superior distraction for a lonely and apprehensive little boy. It also gave me a chance to be the cool Auntie and show off my favorite place to my favorite boy. Nevertheless, Daniel was fine about going home ­ mostly because he knew Mommy would be there soon.
At the airport, he was a model citizen. It was Dad and me who made all the mistakes. Remember that Pirates of the Caribbean sword? What did Dad do, but pack it in his carry-on luggage, setting off all sorts of security alarm. And the Czarina must admit to the rookie mistake of packing her nail clippers in a carry-on, also. I am glad to report that we were allowed to put both items in our checked luggage.
Like lots of Aunties, Uncles and grandparents, I have wanted a special relationship with Daniel ever since he came along. I want to be the Magic Friend, someone who can, once in a while, make dreams come true. I also
want him to know he can rely on me, that I'll be there to make it fun for him when he really needs it. Disney World can help a lot.
When we stepped onto Main Street the first day, Daddy picked up Daniel to show him the castle. "Daniel," he said "this is Auntie's place!"