September 2012 Walt Disney World Bits and Bites
Feature Article
This article appeared in the August 28, 2012 Issue #675 of ALL EARS® (ISSN: 1533-0753)
= = = = = = = = = = = = = = = = =


STEP BACK IN TIME
= = = = = = = = = = = = = = = = =
Each month, we rummage around in our archives for this featurette, which indulges in a bit of nostalgia, taking you back in history for a glimpse of Walt Disney World and The Walt Disney Company through the ages. This month we take a look at a special musical event staged in the Magic Kingdom as part of its "Summer Magic" more than 30 years ago.
On June 6, 1981, for a mere $9.95 in advance ($10.95 at the door), you could enjoy the sounds of the 1960s at "A Night With the Golden Greats."
On the Castle Forecourt Stage you could see such acts as Paul Revere and the Raiders (known for the hit song "Indian Reservation") or the Association ("Windy"). The Four Tops ("Baby, I Need Your Loving," " I Can't Help Myself") and Mary Wells ("My Guy") performed at the Tomorrowland Theatre. The Ventures ("Walk Don't Run") performed on the Fantasy Faire Stage, while Rob Grill and the Grass Roots ("Midnight Confessions") headlined the Tomorrowland Terrace. Each act performed multiple times throughout the evening, which ran from 9:30 p.m. to 1:30 a.m.
If you attended "A Night with the Golden Greats," we would love to see photos! Send them to allearsnet@yahoo.com.
= = = = = = = = = = = = = = = = =


VEGAN TIPS
= = = = = = = = = = = = = = = = =
by Emily Woesthoff
General Manager for BabyCakes NYC at Downtown Disney
Seasoned Walt Disney World vacationers may already know that you are welcome to bring food into the parks, however, this is often unknown to newcomers. Though the security guards at the front gates will check your bags, they are not looking for food and beverage items. Bringing in outside food may seem like a simple idea, but it can be very helpful to those of us who follow a specific diet to plan our dining day more effectively. Now, I'm not suggesting that anyone bring a five-course meal in various sizes of Tupperware along with them for a day at Disney's Animal Kingdom, but bringing along small, packaged items can make a big difference in your park touring day! Sure, there are snacks and small items available within the parks and resorts, but venturing out to stock up on your own items will afford you more variety. If you're visiting from out of town and have access to a car, there are plenty of grocery stores nearby to stock up on vegan snacks and small meals. If you won't have a car during your stay, most of these items can be brought from home and serve as a placeholder for the souvenirs that will fill your suitcase on your return trip! During the cooler months, I always have a Luna Bar handy in my bag and probably flax crackers as well. Some other easily portable snacks to pack? Other nutritional bars (Clif, Larabars), Candy (Charms Lollipops, Dots, Swedish Fish, Smarties (from the US only), Sourpatch Kids, small bags of snacks (chips, pretzels, kale chips, rice crisps), and cookies (Oreos, Back to Nature). If you're looking for more variety and something more substantial, I'd suggest bringing one of those just-add-water cups of soup or oatmeal (the Dr. McDougall brand is my favorite). You'll be able to find hot water wherever coffee and tea are sold on property. While we're on the topic, don't forget to bring your refillable water bottle with you, too! The snack meals are the most important meals of the day when you're out walking pretty much nonstop from attraction to attraction. While Walt Disney World does offer a number of snacks to fit the vegan diet, it can't hurt to bring along some to add variety to the day. Happy Snacking!
Missed previous Vegan Tips from Emily? We're compiling them here:
http://allears.net/din/vegantips.htm
= = = = = = = = = = = = = = = = =


HIDDEN MICKEYS ALERT
= = = = = = = = = = = = = = = = =
Steven Barrett, author of the Hidden Mickeys books and webmaster of www.HiddenMickeyGuy.com, invites you to search for these unique Hidden Images around Walt Disney World:
1. If you drive east from Osprey Ridge Golf Course along Vista Boulevard near Fort Wilderness, you can spot a sign for the Golden Oak Resort on your left. A classic (three-circle) Mickey is hidden in the tree of Golden Oak's logo. (Thanks to Tony Pirrelli and Jason Gall.)
http://allears.net/btp/images/hidden-mickey-372.jpg
2. Inside the rotunda of Epcot's American Adventure Pavilion, a painting on the first floor on the far left wall (as you enter) has a classic Mickey image made of roses on a lady's hat. In the painting, a man is speaking to a crowd in front of a hardware store. The lady with the roses is at the lower middle of the painting. (Thanks to Michael, Lindsay, Alex and Hailey Campe.)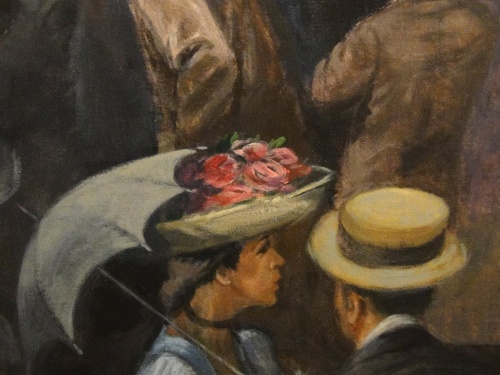 http://allears.net/btp/images/hidden-mickey-373.jpg
3. In the Landscape of Flavors Food Court seating area at Disney's Art of Animation Resort, an image of Lightning McQueen is in the clouds at the side of a large round light cover hanging from the ceiling. (Thanks to Rich Kordalski.)
http://allears.net/btp/images/hidden-mickey-374.jpg
You can find a selection of past Hidden Mickeys Alerts here:
http://allears.net/btp/hiddenm2.htm
And check out our Searching Disney with Steve blog:
http://land.allears.net/blogs/stevebarrett/
= = = = = = = = = = = = = = = = = =

RATE & REVIEW SPOTLIGHT
= = = = = = = = = = = = = = = = = =
Compiled by AllEars® Team Member Cathy Bock
In this monthly featurette, we take a look at recent comments made in the AllEars.Net Rate & Review section about a particular restaurant, resort, event, etc. This month, we examine what AllEars® readers are saying about Earl of Sandwich, which is located at Downtown Disney Marketplace.
Earl of Sandwich is a quick service restaurant. AllEars® reviewers give it an average rating of 9.0 and it is recommended by 98% of reviewers.
From recent reviews:
Food: "can't say enough about the quality of the food"; "food very good"; "DH had some chicken/avocado sandwich that was a special that day -- he liked it a lot"; "had the Italian -- salami, capicola, roasted ham, mortadella, mozzarella cheese, roma tomato and zesty Italian dressing -- YUMMY!"; "GREAT subs!"; "got the All American and also the Hawaiian BBQ sandwich. Both were absolutely delicious"; "had the caprese sandwich which I would every day if I had an Earl of Sandwich in my backyard"; "tuna melt was my favorite and I also very much enjoyed the tomato soup"; "sandwiches taste great and I enjoy their various soups"; "breakfast menu is short but it was good!"; "I had the tuna melt, which was excellent, DM and DS had the All American which they loved."
Service: "staff were helpful"; "ordering process seems a little unorganized but it works"; "line was huge, but they have feeding the masses down to science, so it moved very quickly"; "don't be daunted by the long lines, they move very efficiently!"; "only drawback is that this restaurant is so popular, the lines can be very long (although it moves fast)".
Atmosphere: "very crowded and noisy inside but we were lucky to find a table outside"; "seating was packed and it's loud but SOOO worth it"; "area where you pick up your food is also very crowded, which means it's hard to get your drinks and grab napkins"; "many times there aren't enough tables, so you might have to find a place outdoors."
Overall: "great place for a quick and cheap meal"; "we will be back"; "highly recommend it!"; "this is one of the best deals at Disney"; "100% recommend it here"; "the best and cheapest counter service meal I've ever eaten in WDW"; "prices are very good and the quality is great"; "a great little spot to eat lunch or dinner!"
If you have recently eaten at Earl of Sandwich, we'd love to have your review!
http://land.allears.net/reviewpost/showproduct.php?product=131&cat=40
= = = = = = = = = = = = = = = = = =


MONTHLY REMIND-EARS
= = = = = = = = = = = = = = = = =
EVENTS
Mickey's Not So Scary Halloween Party will be held on the following dates in September: 11, 14, 18, 21, 25, 28 & 30. Call 407-WDISNEY (407-934-7639) to purchase tickets.
http://allears.net/tp/mk/mnssh.htm
Night of Joy, the Christian music event that is held annually in Magic Kingdom, will be September 7-8, 2012. Performers scheduled for this two-day event are:
-- Friday, September 7, 2012: Casting Crowns, Chris Tomlin, NEEDTOBREATHE, Red, Francesca Battistelli, Brandon Heath, Royal Tailor, Disciple.
-- Saturday, September 8, 2012: MercyMe, Third Day, Kutless, Chris August, Lecrae, Yolanda Adams, Thousand Foot Krutch and Dara Maclean.
Single-night advance purchase tickets are $52.95 plus tax per ticket. Single-night tickets for the day of the event (if available) are $62.95 plus tax. Two-night tickets are also available, only in advance, for $94.95. Purchase by calling 407-W-DISNEY or at www.nightofjoy.com.
http://allears.net/tp/mk/noj.htm
Epcot International Food and Wine Festival -- The 2012 Epcot Food and Wine Festival, which starts on September 28, has been extended by one day (to 46 days) and will now end on November 12 (not the 11th, as previously announced). New this year will be a Vegan Marketplace called "Terra," which will feature dishes such as Trick'n Chick'n Curry with Basmati Rice and Chili Colorado with House-Made Chips and Cashew Cheese. Also new this year: Marketplace Chef Tours every Wednesday, during which festival chefs will host a walking-and-tasting tour around World Showcase with stops at several international marketplaces. Guests will taste five marketplace dishes and five beverage items to include beer, wine and cocktails. Beginning August 14, guests can make reservations for Party for the Senses and other special wine and culinary programs. Party for the Senses grand tasting events will take place October 6, 13, 20, 27 and November 3. Additional programs, also requiring separate admission, feature a lineup of renowned winemakers, guest chefs and speakers participating in elegant dinners, luncheons, seminars and wine schools. Certain events can be booked online; all events can be booked by calling 407-WDW-FEST (939-3378).
The 2012 Eat to the Beat Concert series will run during the Epcot International Food and Wine Festival: September 28 - 30: Night Ranger.
The concerts, which are included with Epcot admission, will be at the America Gardens Theatre nightly at 5:15, 6:30 and 7:45 p.m.
http://allears.net/tp/ep/fw12/2012-epcot-food-and-wine-festival-eat-to-the-beat-concerts.htm
Registration is open for the Disney Trade Celebration 2012 - Mickey's Circus to be held at Epcot's World ShowPlace from 9:30 a.m. to 6:00 p.m. on September 7 - 8, 2012. Event admission is $120 per person. (Event admission does not include Theme Park admission to Epcot, which is required to attend.)

http://eventservices.disney.go.com/pintrading/event?id=60854
runDisney
The Twilight Zone Tower of Terror 10-Miler Weekend will be held September 28–29, 2012. Weekend events include: The Twilight Zone Tower of Terror 10-Miler, Family Fun Run, 5K Kids' Races and Disney Villains Hollywood Bash. For more information visit:

http://espnwwos.disney.go.com/events/rundisney/tower-of-terror-10-miler/index?page=registration
Internationally recognized artist Larry Dotson, known for his oil paintings of scenes around the Disney parks, will be at Walt Disney World for a series of special appearances and signings in the coming months:

-- August 31 - September 9: Art of Disney, Downtown Disney Marketplace
-- September 28 - October 2: Art of Disney, Epcot

Dotson's work can be found at the four Walt Disney World theme parks, Animal Kingdom Lodge, Caribbean Beach Resort, Disney Golf Course Pro Shops, Art of Disney Galleries, and on the Disney Cruise Line. Check with the individual locations for exact times.
Downtown Disney Marketplace's Disney's Pin Traders is continuing to host monthly events with Disney Design Group artists. Artist Adrianne Draude, who is behind the creation of a number of Walt Disney World pins, will be meeting with fans and signing pins from 5 to 7 p.m. on September 28.
Raglan Road Irish Pub & Restaurant will host Central Florida's first boutique Irish festival, The Great Irish Hooley, August 31-September 3 at Downtown Disney. A traditional Irish social celebration, the "Hooley" combines music ranging from traditional to rock tunes with entertainment and interactive fun for the whole family. Raglan Road's Great Irish Hooley will make the long weekend memorable with a mix of great Irish bands, Irish dance workshops for anyone in the family, structured set dancing known as the Ceili (pronounced kay-lee), Celtic face-painting Saturday through Monday and authentic food and beverages for all. The four-day party kicks off August 31 at 5 p.m. and will feature six top Irish bands and a troupe of acclaimed dancers:

-- Full Set
-- Elevation, the U2 Tribute Band
-- Creel, Raglan Road's popular house band
-- The Raglan Rogues
-- Danny Burns
-- Johnny "Snaggs" Norton
-- The Raglan Road Irish Dancers

For more information, visit www.raglanroad.com or call 407-938-0300.
http://land.allears.net/blogs/dnews/2012/08/raglan_road_irish_pub_restaura_3.html
Artist Dave Avanzino, known for his intricately detailed paper sculpture art, will be on hand for a number of special appearances at the Walt Disney World Resort to promote the Custom Letter Plaques program. The program, which officially launched at the D23 Expo in August 2011, allows you to select some of your favorite Walt Disney World Resort attractions and icons to spell your name. Prices for plaques, including matting and framing, vary from $495 to $995 based on name length, ranging from one to 20 letters. Avanzino is scheduled to appear as follows:

-- September 1, 4 - 7 p.m. at Art of Disney, Downtown Disney Marketplace
-- September 2, 4 - 7 p.m. at Art of Disney, Downtown Disney Marketplace
-=-=-=-=-=-=-=-=-=-
Don't forget to check our Events page for current updates: http://allears.net/pl/events.htm
-=-=-=-=-=-=-=-=-=-=-=-=-=-=-=-=-=-=-
REHABS AND CLOSINGS
The Fantasyland Expansion project continues as areas of Fantasyland will open in phases throughout this year and next.

http://allears.net/tp/mk/fant_expansion.htm
The Disney Parks Blog announced that the grand opening of New Fantasyland attractions will take place on December 6, 2012. Attractions included in this opening are Under the Sea ~ Journey of The Little Mermaid, Be Our Guest Restaurant, Enchanted Tales with Belle, Ariel's Grotto, Gaston's Tavern and Bonjour! Village Gifts. Previews of these attractions will begin November 19.
In addition, details for Pete's Silly Sideshow, a character Meet and Greet area that will be in one of the three big-top tents in Storybook Circus, have been released. Characters featured in this location will include Minnie Magnifique (Minnie Mouse as a circus star), Madame Daisy Fortuna (Daisy Duck as a fortuneteller), The Great Goofini (Goofy as a daredevil stunt pilot) and The Astounding Donaldo (Donald Duck as a snake charmer).
http://land.allears.net/blogs/dnews/2012/08/petes_silly_sideshow_coming_to.html
As previously planned, the New Fantasyland expansion will continue with the opening of Princess Fairytale Hall in 2013 and the debut of a new Disney "mountain" in the form of the Seven Dwarfs Mine Train in 2014.

The Country Bear Jamboree is closed for refurbishment until October 16, 2012.
Honey, I Shrunk the Kids Movie Set Adventure in Disney's Hollywood Studios will be closed for refurbishment September 10-14, 2012.
Test Track in Epcot's Future World closed for refurbishment April 16, 2012. It is expected to reopen as Test Track Presented by Chevrolet in fall 2012. The re-imagined attraction will transform into the "Chevrolet Design Center at Epcot" with interactive design and styling workstations at which you will be able to create custom concept vehicles. Also included will be a "SimCar" ride vehicle experience where you can put your design through its paces on the Test Track circuit. The post-show area will feature the latest Chevrolet vehicles in an all-new, state-of-the-art showroom, as well as lots of special effects.
http://allears.net/tp/ep/e_tt.htm
Bistro de Paris restaurant in the France pavilion is closed through the end of November for renovations.
Kilimanjaro Safaris in Disney's Animal Kingdom is undergoing some changes aimed at giving guests the opportunity to see more of their favorite animals, specifically zebras, during the 20-minute open-air ride. Though zebras have long been part of Kilimanjaro Safaris, they are often overlooked because of their location on the savanna. By creating a new habitat for the zebras, guests will have more of an opportunity to see them. The audio-animatronics "Little Red" elephant and related "poacher" set pieces have been removed. A new savanna space, including a watering hole for live animals, is being added. Construction is scheduled to be complete in fall 2012. The Kilimanjaro Safaris attraction is open during the construction.
http://land.allears.net/blogs/dnews/2012/02/kililmanjaro_safari_changes_at.html
A new indoor, air-conditioned character meet and greet location is under development in the Discovery Island area at Animal Kingdom. Beastly Bazaar, a merchandise location, closed August 12 to be rethemed for the meet and greet experience, which will open this fall.
Disney's All Star Sports Resort
Disney is conducting maintenance on the Surfboard Bay pool at All Star Sports resort. The pool is expected to reopen the end of September 2012.
Disney's Art of Animation Resort
The Little Mermaid wing is slated to open September 15.
http://allears.net/acc/faq_artan.htm
Disney's Grand Floridian Resort
The spa at the Grand Floridian Resort and Spa closed on September 19, 2011, for 18 months as part of a planned renovation at the resort, and the addition of Disney Vacation Club units. During this downtime, enhancements are also being planned for the spa. As an alternative, you can purchase spa services at Disney's Saratoga Springs Resort & Spa. If you are staying at the Grand Floridian or the Polynesian Resort and you book a spa treatment at Saratoga Springs Resort & Spa, complimentary transportation will be provided for you. Note that the health club at Disney's Grand Floridian Resort & Spa is still open. In addition, the Ivy Trellis Beauty and Barber Shop remain open in the main building of the Grand Floridian.
http://land.allears.net/blogs/dnews/2011/12/disney_vacation_club_announces.html
A number of refurbishments will be taking place at the Grand Floridian Resort and Spa between now and the end of the year:
The following Food and Beverage Locations will be closed for refurbishments as follows:
• Mizners: August 31 - September 4

• Beach Pool Bar: Reopens September 4 (When the Beach Pool Bar reopens it will have a grill and extended quick service items.)

• Gasparilla Grill and Games - Closed September 3 - December 16. Gasparilla Grill and Games will be renovated to include additional seating. During this time, an extended menu will be available at the Beach Pool Bar and a selection of pre-packaged food will be available at Mizner's Lounge.
The Courtyard pool and Courtyard Kiddie Pool will temporarily close beginning September 15 reopening December 15, 2012. During this time, a new zero-entry slope will be added as well as a new splash area for kids. The Beach Pool and Slide will remain open during this time.
Sandy Cove closed August 21 for refurbishment and reopens November 18. While closed, you can purchase sundries at the M. Mouse Mercantile on the second floor.
The Mouseketeer Club will be closed during the refurbishment at Gasparilla Grill and Games.
The amenities at the Polynesian (including the pool and Never Land Club) will be open to Grand Floridian guests during this time.
Disney's Saratoga Springs Resort & Spa
The Yachtsman Steakhouse at the Yacht Club Resort is undergoing refurbishment until September 15, 2012.
Splitsville at Downtown Disney West Side is expected to open this fall, combining bowling with billiards, dining, music and nightlife. Splitsville will include 45,000 square feet with 30 lanes on two floors. Bowlers can feast on hand-tossed pizza, fresh-rolled sushi, hand-cut filet sliders and other menu items served right at the lane, all while enjoying an entertaining atmosphere. The all-new day-and-nighttime venue also will be available for birthday parties and corporate events. Splitsville will join other new offerings at Downtown Disney, such as BLINK by Wet Seal, Apricot Lane, a completely redesigned Sunglass Icon by Sunglass Hut, an extensive renovation of Basin and an exterior remodel at Rainforest Cafe (see below). Take a sneak peek into Splitsville courtesy of the Disney Parks Blog:

http://disneyparks.disney.go.com/blog/galleries/2012/08/first-look-peek-inside-splitsville-coming-soon-to-downtown-disney-at-walt-disney-world-resort/
On Pleasure Island, some buildings have been removed, but plans for the site are being reevaluated, which means previously announced construction plans have been delayed.
http://disneyparks.disney.go.com/blog/2011/07/downtown-disney-update/
Rainforest Cafe in Downtown Disney Orlando is undergoing refurbishment. During the renovation, the restaurant will remain open. Upon completion in October 2012, a new lounge area, exterior updates and an updated volcano will be unveiled.
=-=-=-=-=-=-=-=-=-=-
A complete list of rehabs can be found here: http://allears.net/tp/rehabs.htm
= = = = = = = = = = = = = = = = =


MAGICAL MOMENTS
= = = = = = = = = = = = = = = = =
Jim (age 77): We were seated front row center for the Beauty and the Beast performance. As the show was ending, a cast member came over and asked if we would remain seated until everyone else left. We sat there, somewhat puzzled, when Belle and Gaston appeared from behind the stage. They greeted us and then spent several minutes chatting with us about how we enjoyed the show and everything else in general. One of the other cast members, using our camera, took several random and posed pictures. My wife was presented with one of the roses they use in their performance. It was a wonderful surprise and experience for us that we will never forget. Needless to say, it was the highlight of our trip and definitely made our day.
Debra Kupper: Last summer, I took my 8-year-old grandson on his first trip to Disney World. His older sister and many of his cousins had been to WDW, but Mark had always been reticent because of the loud sounds and his fear of fireworks. On this trip, we met my son and his family, all WDW veterans, and spent many moments in the parks with them, but usually returning to our hotel in time to avoid the fireworks. On our last evening, due to a rain shower, we were late completing our final tour and lost track of time. As we exited "it's a small world," Wishes had just started, literally over our heads. My son and I looked at each other with that "Oh no!" expression and quickly looked at Mark for his reaction. The magic of the moment had taken hold and he was spinning around in a circle declaring, "I love it, I love it." It should have been a commercial. I cried.
Elizabeth Yorks: We took my daughter, Briana, to Disney World to stay on property for the first time for her 4th birthday. I was sure to tell them when I booked our trip that her birthday would fall during our stay. Upon entering our room, Briana found a bouquet of balloons attached to a birthday card from Snow White! She was ecstatic and couldn't believe they knew it was her birthday. The following day, we visited the princesses and as we were standing in line, I mentioned to one of the cast members what Snow White had left in our room. As we waited, Snow White came over and stooped down to Briana's height and asked if she had gotten her card and balloons. Briana was convinced the princesses were real and smiled for the entire rest of the trip. It's the little things that make Disney so magical, that extra mile to make people feel special that makes me return there as often as I can.
-=-=-=-=-=-=-=-=-=-=-=-=-=-=-=-=-=-=-=-=-
We just bet you have a story to tell about an unforgettable moment during your Disney vacation! Please send your favorite memory for inclusion in a future AllEars® to: allearsnet@yahoo.com
This month we also have a collection of readers' visual magical moments spotlighting "Pirates and Princesses" in our photo feature, "Wandering the World":
http://allears.net/tp/wander/wander.htm
Thank you all for sharing!
-o-o-o-o-o-o-o-o-o-o-o-
Editor's Note: This story/information was accurate when it was published. Please be sure to confirm all current rates, information and other details before planning your trip.