November 2009
Walt Disney World Bits and Bites
Feature Article
This article appeared in the October 27, 2009 Issue #527 of ALL EARS® (ISSN: 1533-0753)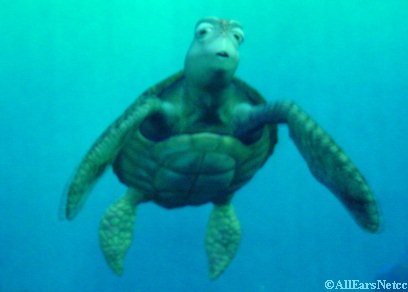 Ever wonder what Walt Disney World was like way back when? We rummage around in our archives for this monthly feature, which takes you back in history for a glimpse of Walt Disney World through the ages.
This month we travel back five short years to the Grand Opening of Turtle Talk with Crush. This interactive show debuted in November 2004, and features a computer-animated version of the surfer dude turtle from "Finding Nemo" in 10-minute conversations with visitors.
The show began as a prototype in the Research and Development labs of Walt Disney Imagineering in California three years prior to opening. The challenge was to give guests a way to personally interact with Crush from his animated, undersea world. The show makes use of digital projection and voice-activated animation, technology that continues to wow folks today. Crush has a "guide" in the audience who helps with the microphone. Crush will ask who has a question and then will call on someone in the audience, saying something like, "The human in the first row with the yellow shell on, what's your name?" Each show is different, with Crush not only talking directly to the children in the audience, but also with the adults. He's occasionally joined by his pal Dory. The show opened to almost universal raves, and reviews continue to be excellent to this day. Kids especially love this attraction.
"The Imagineering team exceeded our wildest hopes, and 'Turtle Talk With Crush' is a magical experience that delights children and adults of all ages," said Kathy Mangum, Disney Imagineer. "You never know what he is going to say!"
Turtle Talk with Crush can also be found in Disney's California Adventure, where it opened July 15, 2005, and later opened in Tokyo DisneySea.

http://allears.net/tp/ep/e_seas3.htm
= = = = = = = = = = = = = = = = =


HIDDEN MICKEYS ALERT
= = = = = = = = = = = = = = = = =
Steve Barrett, author of the Hidden Mickeys books and webmaster of www.HiddenMickeysGuide.com points out some classic Mickeys at Disney's Animal Kingdom:
1. Inside the Yeti museum in the Standby Queue of Expedition Everest, just past the Yeti book snow Mickey, a classic Mickey is etched into the top end of a wooden handrail. (Thanks to Jake Thompson.)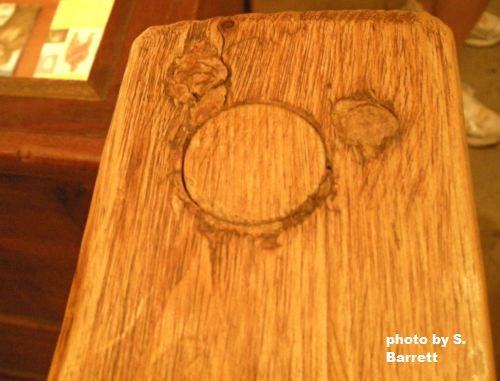 http://allears.net/btp/hm269.jpg
2. In Pizzafari Restaurant, on the rear wall of the first dining room to the left as you walk down the hall away from the food order area, a tiny orange classic Mickey is at the lower left of a turtle shell. (Thanks to Murray Bishop and Wendy Bowen.)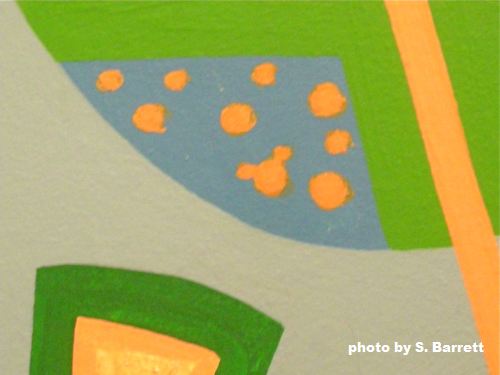 http://allears.net/btp/hm270.jpg
3. In the Island Mercantile Shop on Discovery Island, a classic Mickey made of spots is on a lower cell of an orange and blue bumblebee honeycomb on an inside post, on the rear wall opposite the entrance doors closest to the walkway to The Oasis. (Thanks to Murray Bishop.)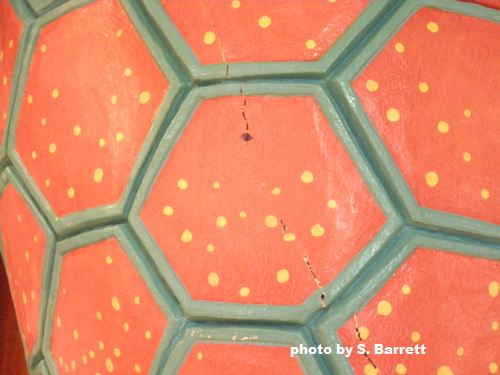 http://allears.net/btp/hm271.jpg
See archived Hidden Mickey Alerts here:
http://allears.net/btp/hiddenm2.htm

Read Steve's blog at AllEars® Blog Central:
http://land.allears.net/blogs/stevebarrett/
= = = = = = = = = = = = = = = = =


MONTHLY REMIND-EARS
= = = = = = = = = = = = = = = = =
EVENTS
Magic Kingdom
Mickey's Not So Scary Halloween Party continues: October 27, 29, 31; and November 1, 2009. The October 31 party is SOLD OUT.

For more information visit:
Review of the 2009 Party: http://tinyurl.com/mfdezl
General information on the Party: http://allears.net/tp/mk/mnssh.htm

Mickey's Very Merry Christmas Party begins November 10th : November 10, 12, 13, 15, 17, 19, 20, 29; December 1, 3, 4, 6, 8, 10, 11, 13, 15, 17, 18, 2009.
General Information on the Party: http://allears.net/tp/hol_mk.htm
Epcot
Epcot International Food and Wine Festival runs through November 8.

Eat to the Beat! concerts will be held during this year's Epcot Food and Wine Festival. The concerts, which are included with Epcot admission, are held in the park's America Gardens Theatre daily and begin at 5:15, 6:30 and 7:45 p.m. The lineup for the remainder of the event (subject to change):

Oct. 26-28 Boyz II Men ("Motownphilly")
Oct. 29-31 John Waite ("Missing You")
Nov. 1-2 Taylor Hicks (American Idol Winner)
Nov. 3-5 Billy Ocean ("Caribbean Queen")
Nov. 6-8 Los Lobos ("La Bamba")

For more information visit: http://allears.net/tp/ep/foodwine.htm
Disney's Wide World of Sports
November 12-15 -- The Children's Miracle Network Classic returns to Disney's Palm and Magnolia Golf Courses 2009, for its 39th consecutive year of PGA TOUR play at Walt Disney World.

November 26, 27 & 29 -- 2009 Old Spice Classic -- ESPN brings back the fourth edition of the Old Spice Classic to Disney's Wide World of Sports Complex November 26, 27 & 29, 2009. This Division I Men's Holiday Tournament will feature eight teams and 12 exhilarating games played over Thanksgiving weekend. The 2009 tournament will feature Alabama, Baylor, Creighton, Iona, Marquette, Michigan, Xavier, and Florida State.
Downtown Disney
The 34th annual Festival of the Masters presented by Sharpie will run this coming November 13-15 at Downtown Disney. More than 150 award-winning artists who work in media from clay to wood, metal and mixed media to oils and watercolors -- jewelry artists, painters, photographers, sculptors and more -- will show off their works. The festival includes live music and entertainment, chalk art sidewalk displays and family activities. Concurrently, House of Blues at Downtown Disney will present its 11th annual Folk Art Festival - Where Art Meets the Soul. Festival hours are 9:30 a.m.-5:30 p.m. Friday and Saturday, and 9:30 a.m.-5 p.m. Sunday. Admission and parking are complimentary.

http://allears.net/btp/festmast.htm
Holidays Around the World begins in late November with decorations around the parks and resorts, as well as special events.
Epcot: Candlelight Processional with celebrity narrators Isabella Rossellini (November 27-29) and John O'Hurley (November 30 & December 1-2); World Showcase Storytellers, and a special finale to IllumiNations.

Animal Kingdom: Mickey's Jammin' Jungle Parade gets a holiday makeover November 27, 2009, through January 3, 2010, when it is magically transformed into Mickey's Jingle Jungle Parade.

Disney's Hollywood Studios: The Osborne Family Spectacle of Dancing Lights -- the Streets of America glow with millions of dancing lights and animated displays November 10, 2009, through January 4, 2010 .

Magic Kingdom - Cinderella Castle beams brightly as the evening is capped with eye-popping fireworks orchestrated to classic holiday tunes. Mickey's Very Merry Christmas Party (a separate ticketed event) is held on select nights.

Downtown Disney: Enjoy the dazzling light display and holiday decor that adorns the Downtown Disney streets November 17-December 24. And at Downtown Disney Marketplace, guests can meet Santa himself November 17-26 from 5 to 10 p.m. and November 27-December 24 from noon to 10 p.m. (subject to change).

Disney Resorts: Disney chefs deck the halls in fanciful fashion, creating larger-than-life displays from edible ingredients all across Walt Disney World Resort. Not to be missed displays include the life-sized Victorian gingerbread house in the lobby of the Grand Floridian. At Disney's Beach Club Resort, a life-size carousel silently spins in the lobby, featuring ponies made of chocolate and fondant, giant candy cane poles, handcrafted poinsettias and hand-painted portraits of famous Disney characters.

The Disney Cruise Line gets all decked out beginning November 21. Special events on both ships include: nightly King Triton's Tree Lighting of a three-deck-tall tree; family crafts; and storytellers sharing tales of diverse holiday traditions.
Don't forget to check our Events page for current updates: http://allears.net/pl/events.htm
-=-=-=-=-=-=-=-=-=-=-=-=-=-=-=-=-=-=-
REHABS AND CLOSINGS
Magic Kingdom
Space Mountain will be closed until November 21, 2009, for refurbishment.
Typhoon Lagoon will be closed for its annual refurbishment November 1, 2009, to January 9, 2010.
-=-=-=-=-=-=-
A complete list of rehabs can be found here: http://allears.net/tp/rehabs.htm
= = = = = = = = = = = = = = = = =


MAGICAL MOMENTS
= = = = = = = = = = = = = = = = =
Each month we share reports of guests at Walt Disney World and Disneyland experiencing special Magic, and also special celebrations as part of the "What Will You Celebrate?" program.
Danal28: My now-fiance and I recently took a trip to the World. It was his first trip in over 20 years and I planned everything as best I could in order for him to have the best time without it being too overwhelming. Little did I know that my fiance planned to propose at Mickey's Not So Scary Halloween Party while we were dressed as Snow White and Dopey ! He had planned this since February (for our trip in late September) when I booked the trip and kept it a secret all along! The best part was that he sneaked two "Just Engaged" pins while I wasn't looking, so for the rest of the trip we were congratulated by most cast members we came into contact with and were given free glasses of champagne at the California Grill by our waiter! Disney (and my fiance) truly know how to make the best magical moments for everyone!
Amber Lawrence: It was my 6- and 7-year-olds' first time in Disney. We were at Extra Magic Hours at Magic Kingdom, the fireworks were just over and we watched them in Pooh's Playful Spot. We were walking over to ride the carousel and Dumbo when two cast members approached us, asked if we were planning on staying for Extra Magic hours, and if we had ridden Dumbo yet. They then asked if the kids would like to ride Dumbo with Minnie and Mickey. They were too big to ride together so they needed special friends to ride with. OF COURSE! Another cast member came over and gave the kids a root beer float to share while we waited for them to come out. They came out after a couple minutes, led the kids by the hand to the side of Dumbo and hopped on with them for the next ride. Then after the ride stopped they led them to the side to a special spot to take pictures with them. And it doesn't stop there. Our last night, we had reservations at Chef Mickey's. When we checked in, they asked if the children would like to open Chef Mickey's for the night. OF COURSE! So they were led to the ribbon, red carpet and everything. Mickey Mouse came out, walked down the red carpet with them and led them to their seat where they signed a book and got certificates with signatures of all the characters that were at dinner. What a way to end a vacation.
Emmyem316: My family and I recently visited Walt Disney World . We planned our first day to go into the Magic Kingdom. We walked through the turnstiles, and under the train station, and my sister (who hadn't been to Disney in seven years) turned to me and sighed, and said, "We're home." With that, a cast member came over to us and asked, "Is this your first day here?" We said yes, and she said, "How would you like to be the Royal Family today?" We were in awe. We have been coming to Disney for 35+ years and never has anything like this happened. The cast member then asked my daughter (9) and my niece (10) who their favorite princess was. The cast member then told us to follow her. We went into the first shop on the right. (I think it was Town Square Exposition Hall.) She brought us down a hallway and told us when we get to the gold curtain to say, "Bibbiddi Bobbiddi Boo!" We did, and standing behind the curtain for our own personal meet and greet and photo op, was Cinderella . My daughter's and niece's mouths fell open. We spent about >20 minutes with Cinderella, taking pics and chatting. What a way to start off our wonderful Walt Disney World vacation !
Jane Buie: My daughter and I, along with three of my grandchildren, ages 4, 5, and 8, went to Disney World in August. As you can imagine, with three children, my daughter was very busy! At Buzz Lightyear's Space Ranger Spin, a cast member came up to the Fastpass machine at the same time my daughter approached it with three excited children in tow. The cast member looked at the youngest and asked what her favorite number was. Bella answered "4," so the cast member opened the machine and presented Bella with four Fastpasses. Then she proceeded to ask Colton and Caylie, in turn, what their favorite numbers were, presenting them with that many passes. We ended up with enough for the five of us to go twice and then presented the rest to a large family who was waiting in the very long standby line. It was truly a magical moment, giving us a warm glow for the rest of the trip!
-=-=-=-=-=-=-=-=-=-=-=-=-=-=-=-=-=-=-=-
AllEars® Readers also have shared their Magical Moments in our monthly photo essay, Wandering the World:
http://allears.net/tp/wander/wander.htm
Send your Magical Moments to: allearsnet@yahoo.com
-o-o-o-o-o-o-o-o-o-o-o-
Editor's Note: This story/information was accurate when it was published. Please be sure to confirm all current rates, information and other details before planning your trip.