September 2009
Walt Disney World Bits and Bites
Feature Article
This article appeared in the August 25, 2009 Issue #518 of ALL EARS® (ISSN: 1533-0753)
= = = = = = = = = = = = = = = = =

STEP BACK IN TIME
= = = = = = = = = = = = = = = = =
Ever wonder what Walt Disney World was like way back when? We rummage around in our archives for this monthly feature, which takes you back in history for a glimpse of Walt Disney World through the ages. This month we visit 1984 and the opening of the Morocco pavilion in Epcot -- its 25th anniversary.
The King of Morocco sent his royal craftsmen to lay all the tile work, carvings and paintings in the pavilion. "Jeff Burton, WED Project Manager for the Morocco showcase, credits the artisans with bringing the timeless jewel-like quality of their native North African architecture to the re-creation of such landmarks as the Katoubia Minaret, Bab Boujouloud Gate, and the Nejjarine Fountain. 'The experience of bringing the artisans to Epcot Center was extraordinary. Not only did we accomplish our goal of achieving authentic architecture, we had an excellent cultural exchange between American and Moroccan workers as well.' " (WDW News, September 14-27, 1984)
Morocco was the first country added to Epcot's World Showcase after the park officially opened. Morocco is the only country in World Showcase sponsored by the government and not a corporation.
The Islamic religion prohibits artistic depiction of live objects, therefore artists have developed a unique style of abstract design. Rather than plants, animals and people often found in Western art, Islamic decoration consists of detailed geometric patterns represented in the tile walls and carved plaster of the buildings.
The prayer tower, at the entrance of the pavilion, is a detailed replica of the Katoubia Minaret that stands in Marrakesh. The buildings have great religious significance and so lights from the IllumiNations celebration are not on the Moroccan pavilion buildings. The Bab Boujouloud gate, which divides the ville nouvelle (new city) and Medina (old city) is modeled after a gateway in the city of Fez. There is a working water wheel that irrigates the gardens of the pavilion.
AllEars® Photographers share some photos of Morocco:
RELATED LINKS:

Morocco Pavilion: http://allears.net/tp/ep/e_morc.htm
Moroccan Style -- The Art of Personal Adornment:
http://land.allears.net/blogs/jackspence/2008/12/epcot_new_morocco_exhibit.html
= = = = = = = = = = = = = = = = =


HIDDEN MICKEYS ALERT
= = = = = = = = = = = = = = = = =
Steve Barrett, author of the Hidden Mickeys books and webmaster of www.HiddenMickeysGuide.com brings you a few Hidden Mickeys from the Magic Kingdom.
1. Along the exit hallway in the Haunted Mansion, stand slightly to the left and under the last chandelier. Two lights on the left side shine on the ceiling and form the "ears" for the circular chandelier's "head." This image has remained in place for a few years, so I hope it's here to stay! (Thanks to David.)
http://allears.net/btp/hm263.jpg
2. In Minnie's Country House, Minnie is in a picture (one of the "Minnie's Cartoon Country Living" magazine covers) in the hallway to her kitchen. Mickey ears sit on the top of her mirror. (Thanks to Carla Williams.)
http://allears.net/btp/hm264.jpg
3. In Minnie's Country House, Red Barns is in a picture (one of the "Minnie's Cartoon Country Living" magazine covers) in the hallway to Minnie's kitchen. His string tie clasp is a classic Mickey. (Thanks to Carla Williams and Sharon Dale.)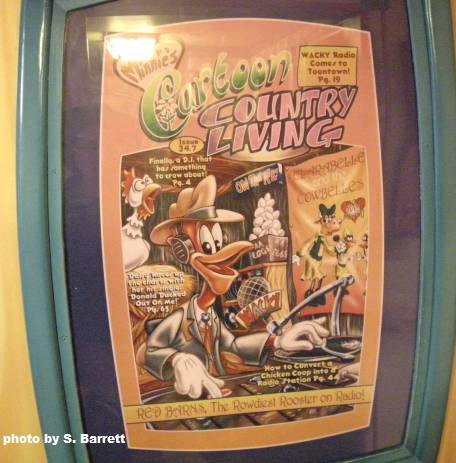 http://allears.net/btp/hm265.jpg
See archived Hidden Mickey Alerts here: http://allears.net/btp/hiddenm2.htm
Read Steve's blog at AllEars® Blog Central: http://allearsnet.com/blogs/stevebarrett/
= = = = = = = = = = = = = = = = =



MOUSETEARS:
THE PHENOMENON

= = = = = = = = = = = = = = = = =
by AllEars® Feature Writer Mike Scopa
It's been going on for years. I can sort of describe it and show you when it's happening... but just don't ask me to explain why this phenomenon occurs in me. I like to call it MouseTears, and simply put it's the sudden appearance of those salty drops we call tears as we experience Walt Disney World.

It's been happening to me for years and I bet... wait... I know how best to explain this to you. Perhaps if I recall for you exactly where I was struck by this phenomenon you will discover for yourself exactly when you experienced the same.
There are so many times when this phenomenon has hit me that I feel it best to give you my top 10 MousTears memories, starting from #10.
#10 Cinderella Castle
This happens to everyone. As soon as you emerge from underneath Magic Kingdom's train station you begin to stretch your neck to look for that icon, that symbol, that landmark that ensures you are where you want to be. It's that structure that we all remember being there from the first visit to now. We know it's the most photographed structure in the world and we love it. I'm usually good when I first see the castle, but quite a few times I will just stop at first glance and feel the joy, knowing that I am about to spend the near future bathing in the glow of WDW and all its glory... and that's when I fight back the tears.
#9 The Roy Disney Statue
If you know anything about the story of the brothers Disney you would know that Roy was rubbing Walt's feet as the latter's life slowly ebbed away. You would also know that Roy dedicated himself to seeing that Walt Disney World would open without a hitch. Roy lived to see the resort open, but just barely. A few months after WDW opened and Roy gave his speech dedicating the resort to his brother, Roy passed away. When you think of the devotion that these two brothers had for one another and you look at Roy on that bench... well, it gets to me.
Read the rest of Mike's article on MouseTears and see what #8 to #1 are:
http://allears.net/btp/mousetears.htm
= = = = = = = = = = = = = = = = =


MONTHLY REMIND-EARS
= = = = = = = = = = = = = = = = =
EVENTS
Magic Kingdom
Mickey's Not So Scary Halloween Party begins on September 4! Other September dates are: 11, 15, 18, 22, 25, 29. The party continues until November 1! AllEars® will be reporting on this annual event in early September, so check back for details. For more information visit: http://allears.net/tp/mk/mnssh.htm
Epcot
Epcot International Food and Wine Festival kicks off on September 25 and runs through November 8. Reservations for ticketed events began August 11.

Once again, Eat to the Beat! concerts will be held during this year's Epcot Food and Wine Festival The lineup includes five performers playing the festival for the first time: Richard Marx, Better Than Ezra, Vanessa Carlton, John Waite and Billy Ocean. Concerts, which are included with Epcot admission, are held in the park's America Gardens Theatre daily and begin at 5:15, 6:30 and 7:45 p.m. The lineup (subject to change):

September 25-27: Big Bad Voodoo Daddy ("You & Me & The Bottle Makes 3 Tonight (Baby)"
September 28-29: Richard Marx ("Hold On to the Nights")
September 30-October 3: Starship starring Mickey Thomas ("We Built This City")
October 4-6: En Vogue ("Free Your Mind")

For more information visit: http://allears.net/tp/ep/foodwine.htm
Disney's Hollywood Studios
Night of Joy, a contemporary Christian music festival, will be held on September 11-12, 2009, from 7 p.m. to 12:30 a.m. each night. The line-up (subject to change) is:

September 11: P.O.D., newsboys, Kutless, Tomlin, NEEDTOBREATHE, Leeland and Superchick.
September 12: Skillet, MercyMe, Jars of Clay, Flyleaf, Family Force 5, Grits and Mandisa.

One-night tickets purchased in advance (up to the day prior to the event) are $49.95 plus tax (on event day, if available, tickets are $54.95). Two-night tickets are $84.95 plus tax. Purchase tickets by phone at 407-W-DISNEY (407-934-7639). Groups of 10 or more can purchase tickets (special group rates available) by phone by calling 877-NITE-JOY (877-648-3569).

The Disney Studios Animation Gallery at Disney's Hollywood Studios will unveil the newest addition to its Disney Theme Park Exclusive Ink & Paint Cel Series, Mickey Mouse as Indiana Jones, on Saturday, September 12, 2009. Mickey Mouse as Indiana Jones is a limited edition, hand-painted cel with an edition size of only 1500 pieces. An exclusively designed pin has been created to commemorate the release of the new cel. The pin is only available with the first 750 orders placed for a framed cel only. Special guests for the cel's debut include Disney Design Group Artist Costa Alavezos, and Ink and Paint Artists James Bonserio, Erin Magill, Theodora M. DeLaney, David Rippberger, Lynn Rippberger, and Sharon K.Vincent. The artists will be on hand to sign the cel at 10 a.m. -1 p.m. and 2 - 5 p.m. at the Studios Animation Gallery. For more information or to preorder, visit:

http://psc.disney.go.com/eventservices/artofdisneyparks/event/wdw_mickeymouseasindianajones.html
Animal Kingdom Villas
The Kidani Village Phase 2, the opening of the Pembe Savanna, is scheduled for early September.
Disney's Wide World of Sports
September 18-20 -- Athletes for a Cure Triathlon -- A percentage of the registration fee goes to Athletes for a Cure - Prostate Cancer Foundation. This international distance triathlon will feature a 1.5 K swim (.9 miles) a 40 K bike (24.8 miles) and a 10 K run. (6.2 miles). The event will be held at Disney's Fort Wilderness Resort & Campground.

September 26 -- Expedition Everest Challenge -- Race through the dark, exotic terrain of Disney's Animal Kingdom on a thrilling 5K trek in the shadows of the Forbidden Mountain. There are plenty of clues, but only a few will escape the Yeti, known as the abominable snowman! The team needs to earn all of the stamps in their Expedition Passport to conquer the challenge. Then the real excitement begins as the teams celebrate their finish at an exclusive after-hours party at Disney's Animal Kingdom.
D23 Expo - Disney fans will be given unprecedented access to never-before-seen movies, TV shows, park experiences, collectibles and more from Sept. 10 to Sept. 13 at the Anaheim Convention Center when Disney and D23: The Official Community for Disney Fans present the first-ever D23 EXPO. Tickets to the D23 EXPO are still available at http://www.D23Expo.com. Admission includes access to all experiences and entertainment at the D23 EXPO and can be purchased for single days or for the full four days of festivities. Admission is discounted for members of D23.
AllEars.Net's Deb Wills, Debra Martin Koma and Laura Gilbreath will be at the D23 EXPO providing live coverage! We'll post a link on the splash page once things get started. Please be sure to stop and say hello if you see us out and about.
September 11 and 12 mark the Walt Disney World Resort debut of the latest releases from the Precious Moments in the Parks Collection, featuring some of Disney's most beloved characters, including a Disney theme park exclusive, Merry Christmas to All. Precious Moments Master Sculptor Hiko Maeda will be on hand for a special appearance and signing as follows: September 11 -- 11 a.m. - 1 p.m. at Uptown Jewelers at Magic Kingdom, and 3 - 5 p.m. at the Animation Gallery at Disney's Hollywood Studios; and September 12 --10 - noon, and 3 - 5 p.m. at the Art of Disney at Downtown Disney Marketplace. For more information about this event, visit: http://psc.disney.go.com/eventservices/artofdisneyparks/event/wdw_preciousmoments09/09.html
Don't forget to check our Events page for current updates: http://allears.net/pl/events.htm
-=-=-=-=-=-=-=-=-=-=-=-=-=-=-=-=-=-=-
REHABS AND CLOSINGS
Animal Kingdom
Flights of Wonder will be dark September 13 through October 23.
Magic Kingdom
Space Mountain will be closed from April 19, 2009 until November 21, 2009 for refurbishment.

Tomorrowland Transit Authority - is scheduled to reopen on September 1.

Liberty Square Riverboat will be closed September 13 - 19.

Donald's Boat in Toon Town Fair will be closed September 7 - 13.
Epcot
Raytheon Company plans to unveil an interactive, math-based experience at Innoventions at Epcot, set to open fall 2009. "The Sum of All Thrills" will engage children through a fun and educational experience that helps instill a lifelong passion for math, science and technology. The new exhibit will be a core component of Raytheon's MathMovesU program, an initiative designed to engage middle school students in math and science, and help create the next generation of innovators for the U.S.

Living with the Land in Epcot's Land pavilion is closed through November 1, 2009, for refurbishment.
Old Key West Resort - The quiet pool on Miller Road will be closed for refurbishment August 24 through September 11.
-=-=-=-=-=-=-
A complete list of rehabs can be found here: http://allears.net/tp/rehabs.htm
= = = = = = = = = = = = = = = = =


MAGICAL MOMENTS
= = = = = = = = = = = = = = = = =
Each month we share reports of guests at Walt Disney World and Disneyland experiencing special Magic, and also special celebrations as part of the "What Will You Celebrate?" program.
Stacy Bald: To celebrate my 40th birthday, my husband arranged for us to spend a week at Disney World. I was thinking it was going to be just the three of us all week, but to my surprise on my birthday, he had arranged for our friends to surprise me just as we were getting off Soarin'. I couldn't believe that so many of our friends had kept this surprise from me for months and that they would opt to spend the day celebrating and doing everything I wanted to do all day. As the day was winding down, we decided to do one more ride in the Seas with Nemo and Friends, then walk through looking at the dolphins swimming in the tank. There was a cast member leading a dive in the aquarium and one of our friends started to describe what that experience had been like for them. Conversation continued about various diving things, when the cast member observed my birthday button and swam closer to the window and motioned me over with my friends. He proceeded to lead them in singing "Happy Birthday" to me and then quickly dove down to the bottom of the tank, picked up a fistful of shells and then tossed them in front of the window to make it look like confetti. People walking around us quickly joined in singing and wishing me Happy Birthday. Then at the end, he blew a kiss and swam away. I will never forget how I chose to celebrate my 40th birthday.
******************
The Johnson Family: During Extra Magic Hours, we stayed at the Magic Kingdom until 2 a.m. My entire family and I love to stay at the parks as long as possible, not wanting the fun to end. While we were walking out, we passed in front of Cinderella's Golden Carrousel, where we were greeted by Pluto. What a special treat! My children were very enthusiastic to see him and the helper with him invited us to ride the carousel with him one last time before the night ended. To make it even more special, we had Donald Duck sit right beside my son, while Pluto rode with my daughter and held her hand. Chip and Dale were in front of us as well as Goofy! After the ride, we were able to see who else was on the carousel... Mickey and Minnie were behind us! After our ride, we all got to take pictures of the characters as they played around, then said goodnight. It was magical and something we will remember forever!
******************
Sandy Miller: We just returned from my birthday trip to WDW. It was really great to be wished happy birthday by nearly every cast member I passed. Some really went out of their way to make me feel special. But what really surprised me, was the other guests who made a point of wishing me happy birthday. But the best surprise happened at Pizzafari in Animal Kingdom. I had placed our order and stood at the counter waiting for our tray. One of the cast members had nodded at me. I wondered what was going on, the cast members whispered to each other and then one brought my tray over and announced in a loud voice that it was my birthday and asked everyone to join her and sing happy birthday to me. So there in the middle of the busy lunch rush, everyone stopped what they were doing and sang to me! It really was awesome! On my tray was a special birthday cupcake also. I felt my cheeks going red, but it really made my day! Thank you staff at Pizzafari! You made this 46-year-old feel like a kid again!
******************
Adam Vincent: For the first time in more than 30 years of my wife's family trips to WDW, her grandfather wasn't there, as he passed away two months prior to us leaving. So, I contacted the Voices of Liberty to see if they would sing a song just for him, which they gladly agreed to do. The one song that was perfect for him was When You Wish Upon a Star, even more fitting because one of his great-grandchildren, Spencer, pointed to the sky the night after he died and said that was Grampy's star. So I got my wife's family (all 17 of us) to see them sing, and they did a wonderful job, opening the show with the song. Needless to say, my in-laws were quite moved. But on the second song, Skip to My Lou, one of the singers went right up to my nephew Spencer and started singing, "I'll never find one cute as you." Well, he is only 4, so he was quite embarrassed and tried to hide behind one of his uncles. Probably the most memorable moment of our trip.
-=-=-=-=-=-=-=-=-=-=-=-=-=-=-=-=-=-=-=-
AllEars® Readers also have shared their Magical Moments in photographs! This month we feature Magical Character Meetings and Greetings in Wandering the World:
http://allears.net/tp/wander/wander.htm
Send your Magical Moments to: allearsnet@yahoo.com
-o-o-o-o-o-o-o-o-o-o-o-
Editor's Note: This story/information was accurate when it was published. Please be sure to confirm all current rates, information and other details before planning your trip.