When the Epcot International Festival of the Arts returns this coming January 18, guests will again have the chance to participate in a variety of hands-on activities, workshops and seminars dedicated to the visual arts.
Booking for the workshops and the popular Paint with a Disney Artist program opened today and spots are filling fast!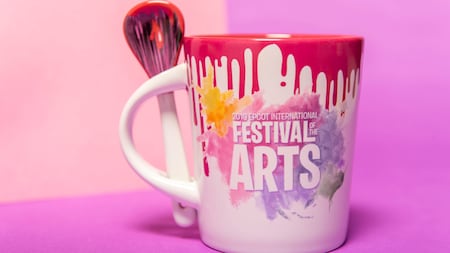 The 39-day event, now in its third year, will hold the interactive workshops and seminars in Epcot's Odyssey Festival Showplace.
The workshops allow you to create your own work of art to take home. In these sessions, you can learn artistic techniques from professionals skilled in floral design, ink and paint, photography, and more. They run about 75 minutes and are offered Friday-Monday for an additional fee.
The Paint with a Disney Artist experience is only offered select Fridays and Sundays. During the session, a Disney artist will guide you as you create your own work of art. The event is designed for all skill levels. A continental breakfast is also included in the $259 price tag.
For more information or to book one of these programs, call (407) WDW-TOUR / (407) 939-8687.
The half-hour seminars can be reserved on the day at the Odyssey Festival Showplace. They are included with your theme park admission.
Are you as excited for this year's Epcot International Festival of the Arts as we are? Take a look at the workshops and seminars on offer and let us know if you'll be attending in the comments below!
Heard about our FREE weekly newsletter? It's full of tips, news, features and fun! Subscribe by clicking the link below, and you'll get our FREE download of 109 Tips for the Perfect Disney World Vacation!