To all who come to this photo trivia game, Welcome! Along the way, the photos can make us relive memories and see details Walt's Imagineers put into everything we love in Walt Disney World!
I forgot to wish you Happy Halloween and the traditional:
Another day is coming up in the US: Daylight Savings Time. Let me express how glad I am that it's going to be dark by 4pm.
Now for Challenge #560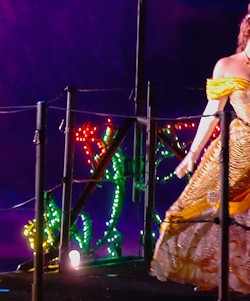 And here's the answer: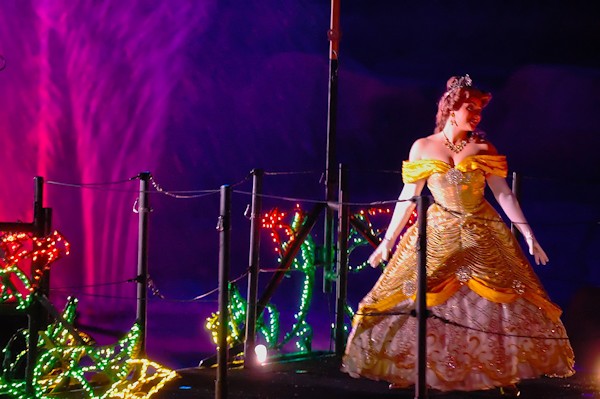 It's Belle dancing on her barge in Fantasmic!
Barbara Shaurette was the first to send in the correct answer! Congratulations to Barbara and to all our winners this week!  Larissa Huda, Todd, Phyllis, Steph R, Theresa Rucando, Mike and Jackie McLucas, Sandie Albrecht, Gloria Martin, Jamie Steiner, George Mundy Jr., The Kertes Family, Emily Hudson, Linda Scrivano, Tammy Warmouth, K Beasley, Claire Gregory, Team Hill, Amy Buettner, Adolph and Kimberly Timm, Joseph M. Zafia, Melissa Haeberle, JoAnn Albrecht, Luis Rodriguez, Arlene Vicek, Bob and Kathy McKim, Kris Nixon, Linda Hoffman, Chris Kelly, Lindsey Walkup, Julia and Carol Wickware, Belicia, Jim Finley, Scott C, Vicki Britt, Josh Weiss, Mis Jamie Marie, Jim Wieczorek, Maureen and Warren Handy, Sue and Ed Adams, N. Cole, Smitty, Antoinette LeBlanc, Grumpy's Groupies, Andreas Beer, The Sands Family, Dee Dee Kenney, Denise Sanders, Phil Vickers, Kenneth Jackson, Chris, Karen Ramirez, Bob Patterson, Jeremy A Hardy, Nan Amor, Andy Hickey, Patricia Morin, Randy, The Rider Family, Erin Hammer, Susie Howard, Jim & Lorie Sonnen, Janet T Thorn, Bob Carr, Ed Suscreba, Theresa Maradei, Andrew Carrieri, Katie Melfi, Hunter Armstrong, Vera and Izzy Williams, Scott C., Kenneth Jackson, Adolph and Kimberly Timm, Jim Wieczorek, Gloria Martin, Rebecca Keenan, Donald Purney, Mark Hardy, Jackie Graebel, Karrie Rodriguez, The Boring Family, John Casey, Hitomi Kayama, Herb Miller, Tricia Petty, and Erin Hammer!
Time for the monthly winner! And that Player is: Andy Hickey! Congratulations, Andy! I will be contacting you shortly about getting your prize!
_______________________________________________________
Challenge #561 Where in the world is this?
Switching parks!
Do you know? Do you have a guess? Please send in your answer before the end of the day on Thursday, November 8th, by clicking on the blue box below.
Please do not post your answers on this blog post.
See you soon, Players!

_____________________________________________________________________
Everyone who sends in a correct answer to a Where in the World Challenge this month will be entered in a drawing at the end of the month for some special AllEars® goodies!