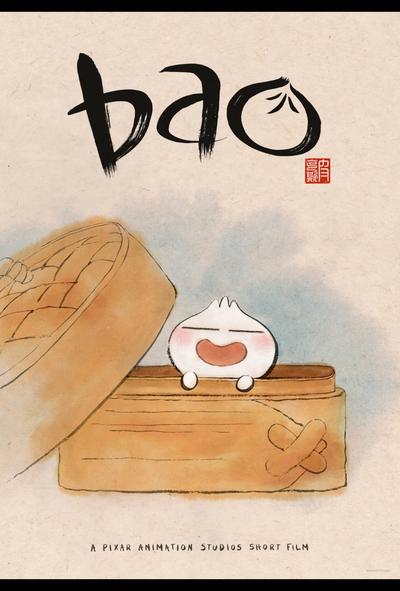 Earlier this year, Disney-Pixar invited AllEars down to Pixar Studios to take an early look at their upcoming "Incredibles 2" and its accompanying short "Bao."
[Unattributed photos and video provided by Disney]
The first half of the day was detailed in Early Press Day for "Incredibles 2" Part 1 and the second half in Early Press Day for "Incredibles 2" Part 2.
To tell us more about the short "Bao" which will be opening with "Incredibles 2," were filmmakers Domee Shi (Director), Becky Neiman (Producer) and Rona Liu (Production Designer.)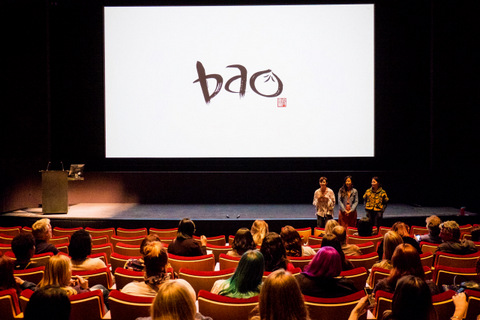 –"Bao" has two meanings in Chinese: Said one way, it means "steamed bun," but said another, it means "treasure," or "something precious."
–While working as a story artist on "Inside Out," Shi felt the need to do an independent project all her own on weekends and decided to make an animated short on one of her life passions: Food.
–In Chinese culture, food and family go hand in hand. When you want to show you care about someone, you don't say "I love you," but "have you eaten yet?"
–As an only child, Shi's Mom was very present in her life growing up, and her difficulty letting go was the beginning inspiration for "Bao."
–Shi's mother is also a great cook and Dumpling Master who got a Cultural Consultant credit on the short.
–The setting is inspired by Toronto's Chinatown, where Shi grew up, and honors the Chinatown Grannies whose colorfulness, vivacity, and determination is mirrored in Bao's mother.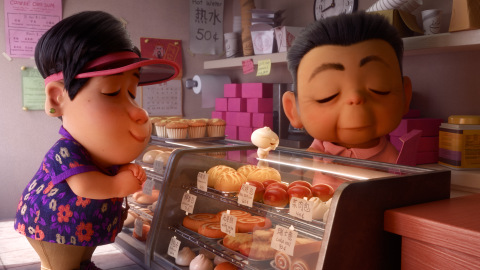 –"Bao" was picked to be developed and released as a theatrical short after Shi submitted it in an open call at Pixar.
–Visual influences included Japanese animation such as Studio Ghibli's "My Neighbors the Yamadas."
–The challenge was to balance the cartoon-y exaggeration of a character made of dough, with a believable portrayal of a Chinese Mom's life.
–In Asian art, there is often an emphasis on imperfection, so they made a choice to avoid perfectly straight lines. Tops of counters wobble slightly and none of the edges exactly meet.
–Because Mom is an immigrant, her home is a mix of East meets West–the built-ins are Western, but anything the Mom might have brought to the house is Chinese.
–All the scenes with food were challenging to make authentic, because everyone knows what food looks like, how it reflects light, and how it feels to take a bite out of it.
Later, Shi and Neiman were able to take some time with AllEars to touch on some more topics:

Domee Shi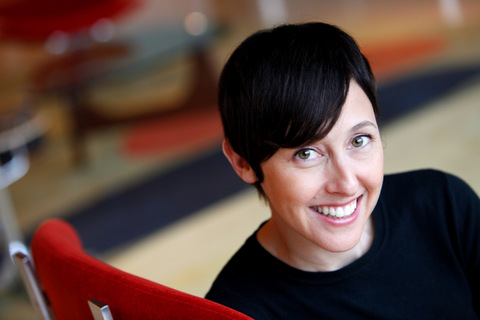 Becky Neiman
Shi on filmmaking Influences: "Growing up, I've always been a huge fan of classic Disney movies as well as Japanese anime, but my favorite Disney film is probably '101 Dalmations.' A lot of Asian filmmakers too–I love (Yasujirō) Ozu's films like 'Tokyo Story' where he just explores, like, the guilt of adult children having to deal with their parents getting older. I really loved Edward Yang's work; 'Yi Yi' is a great film that we referenced…and I loved Ang Lee's film 'Eat Drink Man Woman'–that was also a huge influence on me too, especially the opening (and) that relationship between parents and children, and then food being the center of it."
Shi on differences between Eastern and Western storytelling: "I definitely feel like a lot of Asian films, they really highlight the little moments in life, like the slice-of-life details: How a person wakes up in the morning and prepares breakfast or like little details in Miyazaki movies. I just love how he sweats over every detail of making breakfast, like cracking the eggs, letting the bacon simmer, and the way the characters would eat food is not just biting, he would be very observant of real life and how you would actually bite into a bun, and we really wanted to pay tribute to that in this short too."
Neiman: "Those kinds of details help with that authenticity, and it also helps with the believability, and makes it feel more universal. The thing that we have found is that it resonates with everybody, regardless of background and upbringing. It's just such a universal theme of family and food bringing people together."
On Pixar in the parks: Shi: "I don't go to the parks a lot…"
Neiman: "There's the Pixar Lounge. So at California Adventure, they're opening up 'Pixar Pier,'
and one of the attractions is a restaurant/lounge area, and a lot of the artists…"
Shi: "Oh! So one of the coasters is going to have sketches and drawings by artists at Pixar, and I donated a couple of my drawings, so hopefully one of mine will be there."
Neiman: "And might have Bao on it!"
"Incredibles 2" with "Bao" comes to US theaters June 15, 2018.