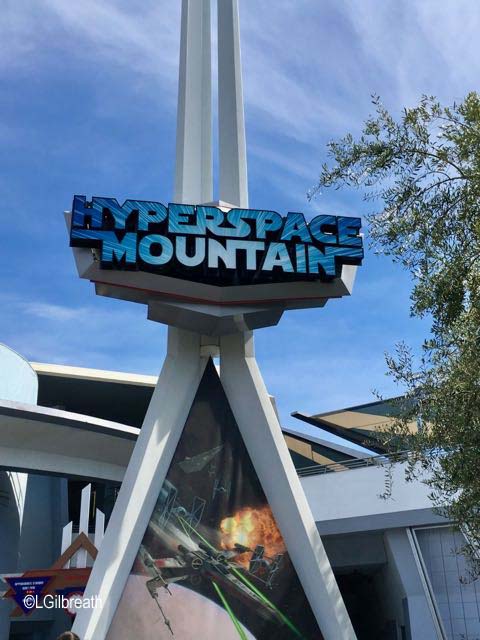 Disneyland celebrated May the Fourth (aka Star Wars Day) with the addition of some new Star Wars entertainment and the return of Hyperspace Mountain. At this point there's no end date specified, but I personally expect it all to be around through the summer season. I didn't get a chance to ride Hyperspace Mountain on Friday, but I look forward to experiencing it again. That Star Wars music makes it even more thrilling.
March of the First Order is one of the new entertainment offerings. Captain Phasma leads a squad of First Order Stormtroopers through Tomorrowland. The show begins with sound effects of the troop transport landing nearby. The stormtroopers start on the second floor of the Launch Bay and march down the ramp and into Tomorrowland where they stop near the Star Trader. Phasma warns guests about conspiring with the Resistance, and then the squad moves on toward the Astro Orbitor where Phasma issues another warning, then they return to the Launch Bay ramp. The Stormtroopers gather on the ground level while Phasma proceeds partway up the ramp and gives them additional orders. They eventually join her and they all march up the ramp.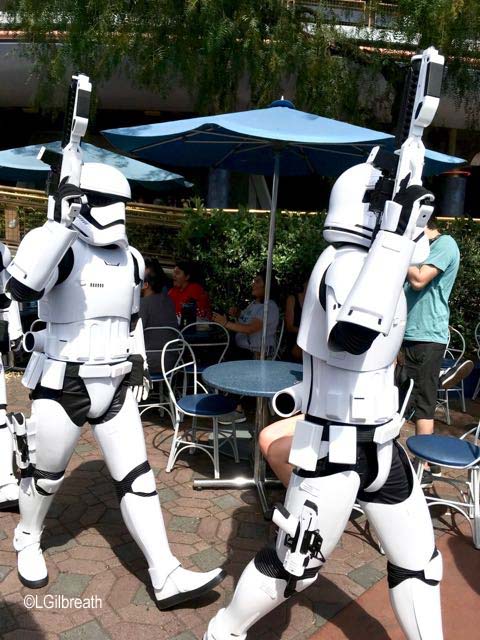 It's difficult to see the entire show because they are on the move through Tomorrowland, though that gives more guests the opportunity for a closer look at them. Sometimes a VERY close look if you're in the front row at one of the places they stop. 🙂 The show is scheduled multiple times per day. Cast members mark some areas in Tomorrowland with blue tape – that's an indication of a good place to watch for them.
Rey has joined Chewbacca inside the Launch Bay in the Light Side meet and greet area. The wait was 45 minutes when I was there, so I didn't see her. I expected that she would be very popular. Darth Vader and Kylo Ren still represent the Dark Side.
This has nothing to do with Star Wars, but on May 4 Disneyland announced that a new character will be strolling the streets of New Orleans Square this summer: Redd, the redheaded pirate wench, who will also be assuming a new role in the Pirates of the Caribbean attraction when it re-opens this summer. (Image © Disney)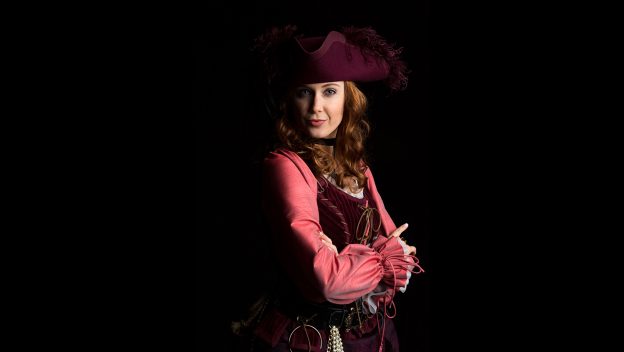 I saw some of the performance of the Main Street Straw Hatters. Several Disney characters joined in. That's always fun to see – and it's something that you don't see at Walt Disney World where characters seem so much less accessible than they are at the Disneyland Resort. There are other musical groups that perform with characters, too. The performance times of the Hook and Ladder Co. (performing at the Fire House) and the Pearly Band (Castle Forecourt) aren't often listed on the paper Times Guide, though they are on the web site and in the Disneyland app. If they are performing when you're in the area I recommend staying to watch them and the characters who join them.
The Dumbo attraction re-opened recently. It has a new queue, which is now shaded by a brightly colored circus tent canopy. That's a welcome addition to this ride that's so popular with young children and their parents.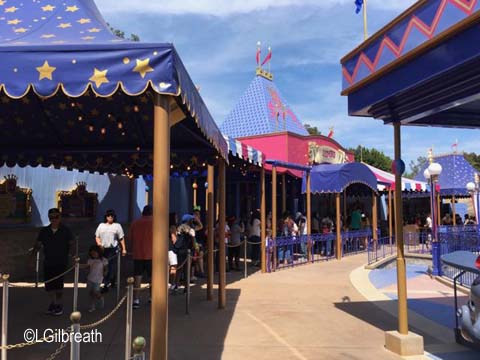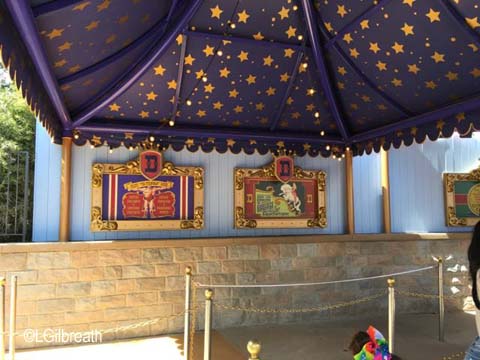 Over at Disney California Adventure, the first of the new Pixar Pier restaurants opened last week. Adorable Snowman Frosted Treats replaced the Paradise Pier Ice Cream Co., which had replaced the original Catch a Flave stand.
In addition to vanilla and chocolate soft serve, the Adorable Snowman offers a non-dairy lemon option. Very much like Dole Whip, except lemon-flavored. It's not an overwhelmingly lemon flavor, fortunately.
The most popular item is the new Pixar Pier Parfait, with layers of lemon soft serve and blue raspberry slush, topped with a cherry. It's really very colorful and attractive. Be aware that the slush melts much faster than the lemon soft serve, making that top swirl of lemon a little bit unstable.
The line was long every time I went by – a 15-20 minute wait. Almost everyone was getting the parfait. The other specialty is lemon topped with a white chocolate snowcap.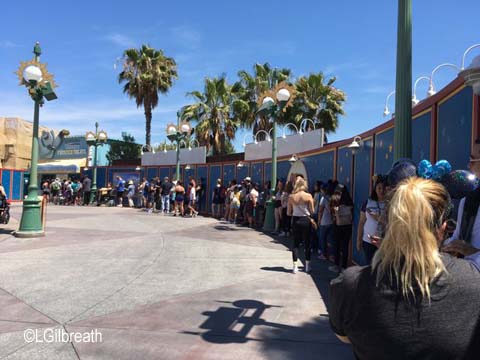 Adorable Snowman Frosted Treats Menu
Vehicle testing of the new Incredicoaster was going on periodically throughout the day.
I was able to get a few decent photos of the new vehicles.
The ever-changing archway at Paradise Gardens has another new look for Pixar Fest. 🙂
In the gazebo is the Pixar Pals meet and greet, featuring pairs of Pixar characters such as Buzz and Woody, Mike and Sulley, and Flik and Atta.
There's a Coco display next to that, where guests can take their own photos with figures of Hector and Miguel and Dante.
This was my first opportunity to see the Pixarmonic Orchestra – sponsored by TripleDent Gum. 🙂 They play some unusual instruments – the clip below features kazoos, duck calls, cow bells, and even a siren. The percussionist gets a little crazy with all kinds of different effects at 1:01. They are a lot of fun, and I'm surprised that they perform only on the relatively small Paradise Garden Bandstand. It would be nice to see them at the larger Paradise Bay venue. Especially right now when World of Color is under refurbishment and there's nothing going on there.
"a bug's land" will be closing at some point in the not-too-distant future to make way for the new Marvel/Avengers Super Hero-themed land. For the moment there's a new kid's activity area just outside Flik's Fun Faire: Blueberry Scout Jamboree. There is free face painting and tables where kids can color. Also available there is a map for a scavenger hunt in Flik's Fun Faire. Worth noting: the area is mostly shaded by trees and umbrellas.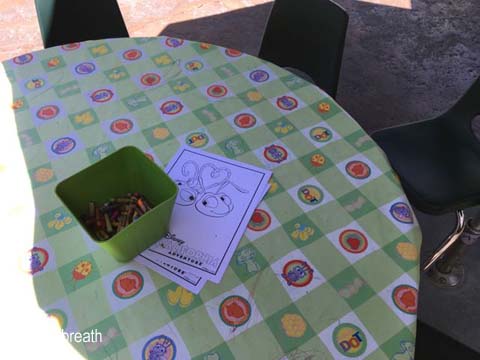 If you want to meet Marvel characters, Hollywood Land is the place to be. Captain Marvel and Spider-Man have separate meet and greet areas now. And there are some unlikely pairings: Thor and Gamora meet guests next to the Hollywood Backlot Stage and Black Widow has joined Black Panther at Stage 17. Loki wanders around occasionally, and this summer Dr. Strange will be featured, also.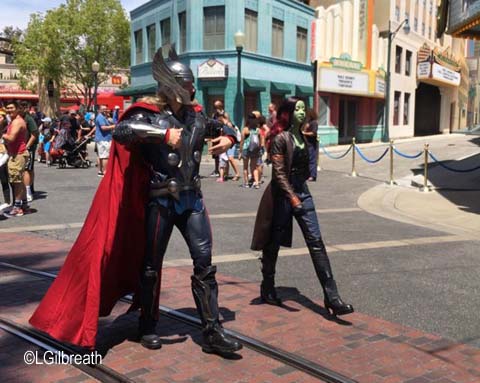 New Annual Passholder merchandise was released recently. There are Passholder shirts for men and women.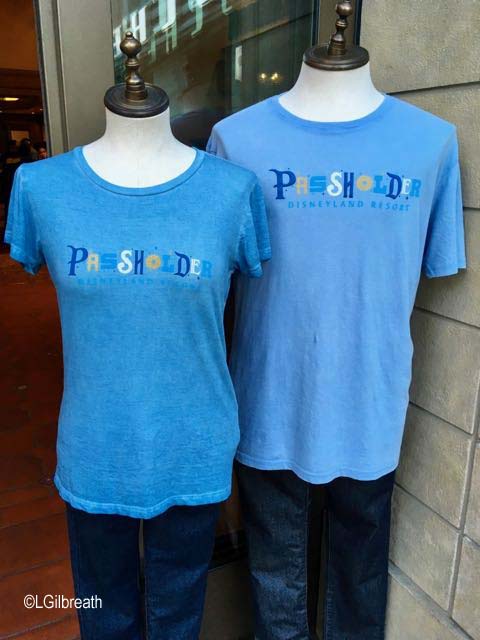 I like the spelling of "Passholder" on the back.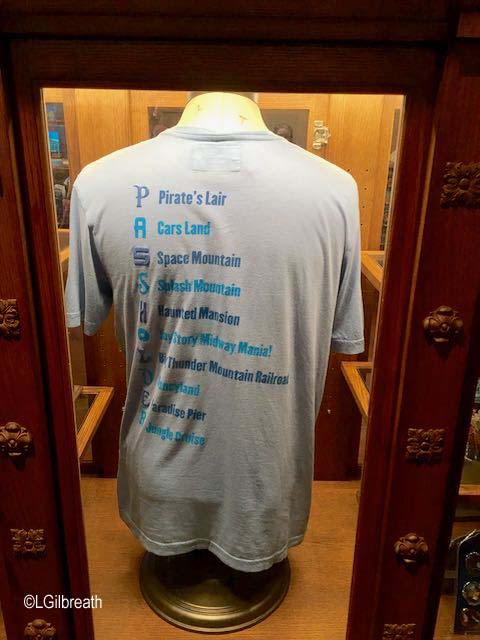 There's also a hat, tumbler, and pin set.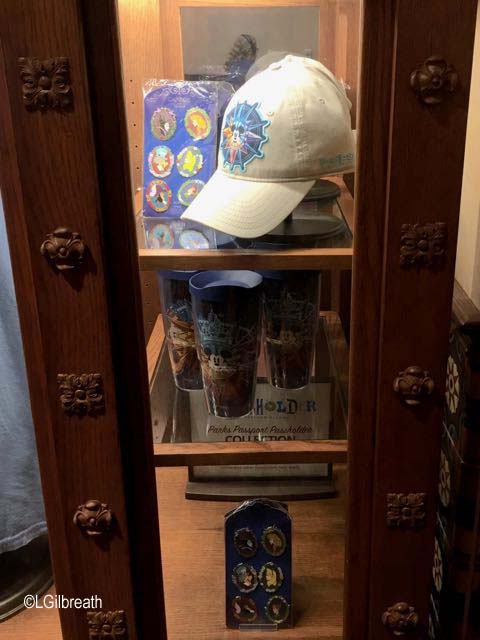 As announced in March, passholders can get the "AP" logo embroidered on select items such as shirts, baseball caps and Mickey ear hats. $7.99 and a same-day purchase receipt is required. (Image © Disney)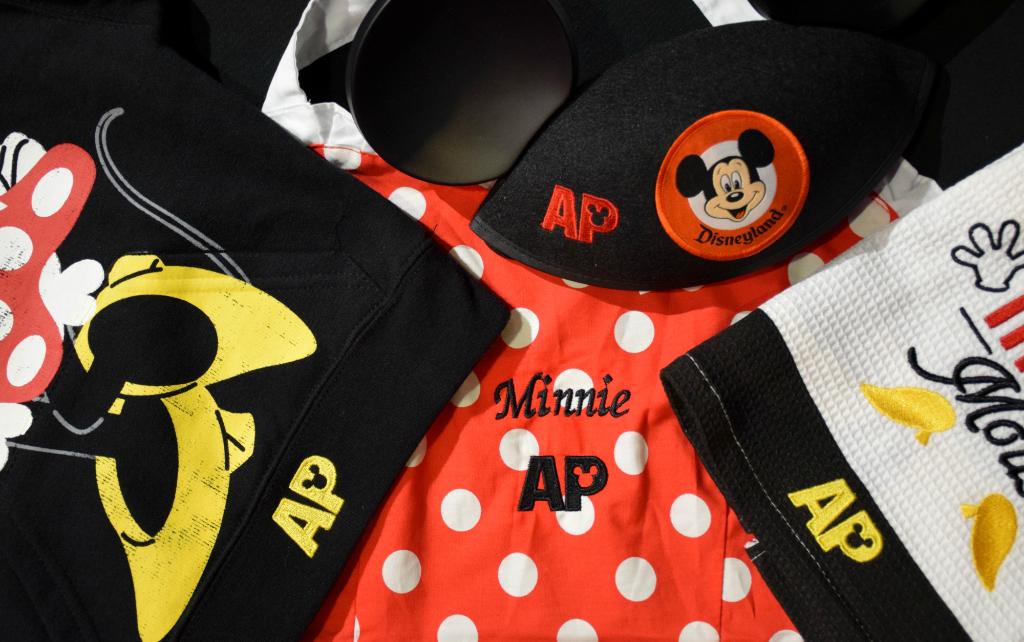 No Galaxy's Edge construction updates from me, but Jason has a new photo set from Friday on his site: www.disneygeek.com.