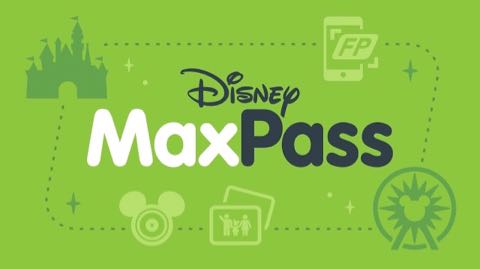 The Disneyland Resort rolled out the new Disney MaxPass feature on July 19. You can read about Maxpass HERE, but essentially, for an extra fee, it gives guests unlimited PhotoPass downloads and the ability to make digital Fastpass selections.
Unlimited PhotoPass downloads really isn't anything new – several Disneyland annual passes have that feature, and it's available in several forms for purchase. With MaxPass you can use the Disneyland app to link attraction photos and character dining photos to your account, in addition to any park photos taken during the day.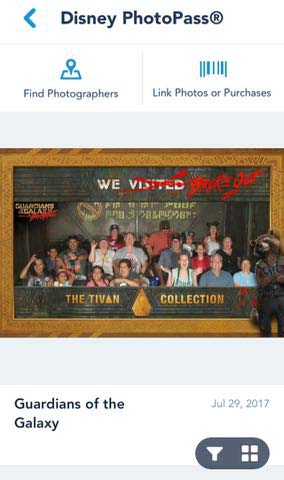 I think the most intriguing feature of MaxPass is digital Fastpasses. Lee and I tried it on Saturday, so here are some of my thoughts on our experience with it.
First, some things to know about the digital Fastpass feature of MaxPass:
MaxPass does not replace traditional Fastpasses. Those are still free, and are obtained by going to an attraction's Fastpass kiosk. In recent months Disney changed from using paper Fastpasses to scanning a barcode at an attraction's Fastpass entry points. (BTW, we think that the barcode scanning works much better/faster than the Magic Bands at Walt Disney World.)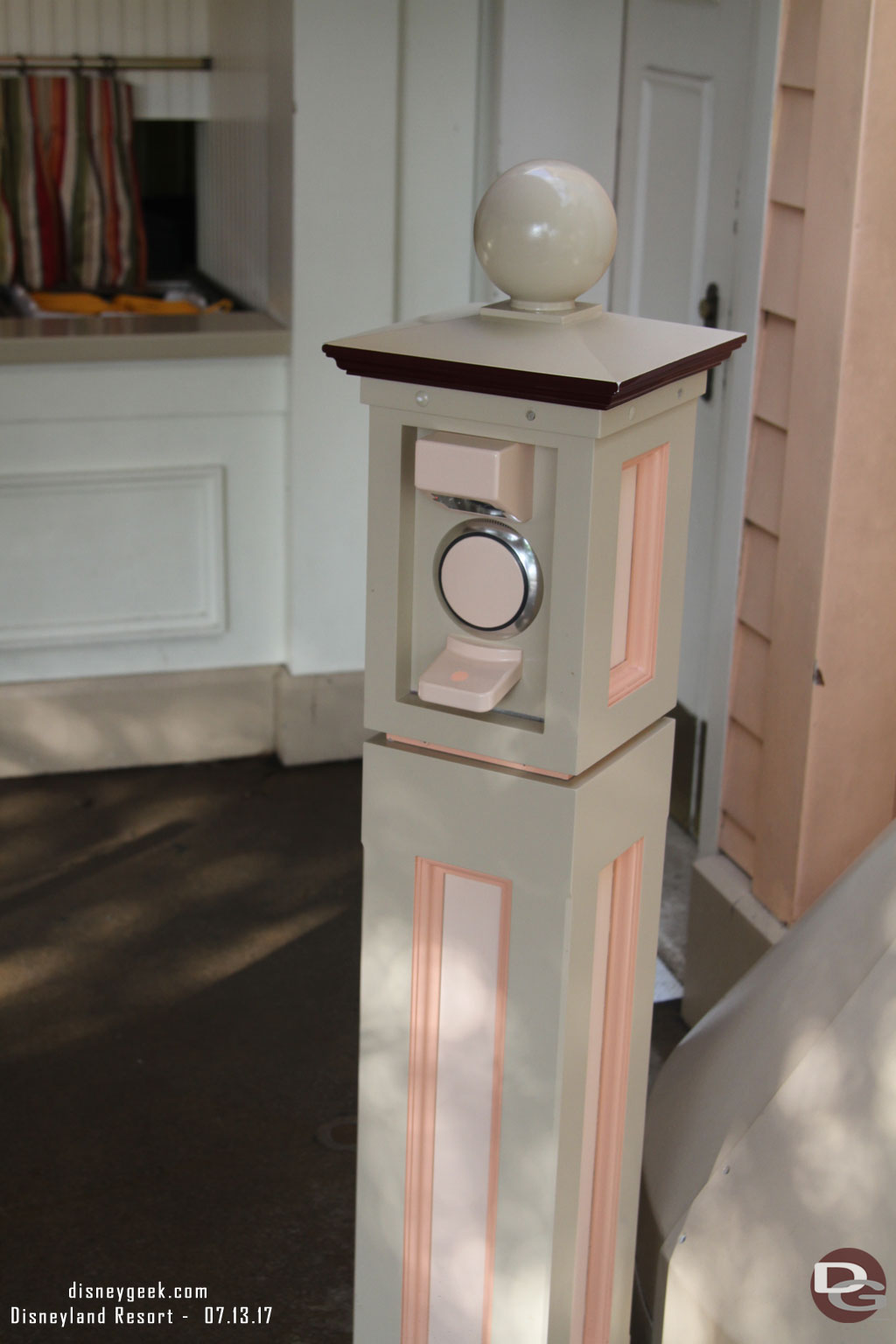 The barcode is either the one on your park ticket or the one on your phone generated by MaxPass. (While the Fastpass kiosk still generates a ticket, it's simply a reminder of your Fastpass return time and when you can obtain your next Fastpass. It is no longer used at the attraction's Fastpass entrance.)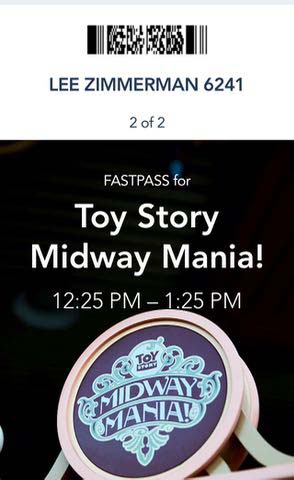 MaxPass can only be used to make Fastpass selections for the 16 Fastpass attractions – 9 in Disneyland, 7 in Disney California Adventure. You can not use it to get Fastpasses for shows like Fantasmic! and World of Color.
MaxPass is included with Disneyland Signature Plus and Premier annual passports, but for single and multi-day tickets and other types of annual passports it's an add-on of $10 per person per day. Those Disneyland AP holders who don't have it can purchase MaxPass as an add-on for $75 and it will be valid until the pass expires. That could be ten months or two months away, but it's still $75 no matter when the pass expires. Passholders don't have to get the add-on – they can choose to purchase it day-by-day instead.
At least one member of your party must have the Disneyland app on their mobile device to use MaxPass. All members must have MaxPass to use the digital Fastpass feature. While technically each person could manage their own Fastpasses, we found that it was easier for one person to do it – that way the return times were coordinated.
Unlike Fastpass+ at Walt Disney World, you can not use MaxPass to reserve Fastpasses in advance. In fact, you can not do anything useful with MaxPass until you have entered one of the parks. If you need to purchase MaxPass for the day you can't even do that until you have entered a park.
MaxPass does not give you unlimited Fastpasses, nor guarantee that you'll be able to get a certain number of Fastpasses. You can not select a return time. Just like traditional Fastpasses, you'll receive the next available Fastpass return time. The exception is that a MaxPass user can cancel a Fastpass, and if they do, that Fastpass will become available to another MaxPass user.
You can use MaxPass to make a Fastpass selection at either park, no matter which park you're physically in. We got a Fastpass for Indiana Jones while we were still in Disney California Adventure.
Lee and I have Disneyland Signature APs, so MaxPass is not included. We were at Disneyland with Lee's family, who had MaxPass on their tickets, so we bought it for the day. Besides, we wanted to try it out.
I'll have a step-by-step with screen shots later, but essentially to get a digital Fastpass the process is:
1. Enter either Disneyland or Disney California Adventure.
2. Bring up the Disneyland app and "Create a Fastpass Party". The first time you'll need to link any additional tickets for other members of your group.
3. Purchase MaxPass for anyone who doesn't have it. You do this within the app, and you'll need a credit card.
4. Continue the Fastpass selection process and "Choose a Park". This brings up a list of Fastpass attractions in whichever park you select, and you can see the available return times.
5. Tap on the return time for the attraction and confirm the Fastpass time.
6. When the Fastpass time arrives and you are ready to use the Fastpass, tap "Redeem Fastpass". Scan the barcode at each Fastpass point (some attractions have two, so don't put the phone away too soon).
7. Tap "Get a Fastpass" to make a new Fastpass selection. Note that you can do this as soon as you are allowed to do so – you don't have to redeem an existing Fastpass first. You also have the advantage that you don't have to visit the new attraction to do it.
We were at the parks on a day that was not very busy. Wait times for the really popular attractions were about an hour, and many attractions were only 15-20 minutes. Fastpasses were available for Radiator Springs Racers until after noon, and still available for Space Mountain at 7:00 p.m. We easily made eight Fastpass selections with MaxPass throughout the day, and after about 5:00 we stopped trying. That's certainly better than I've ever done with traditional Fastpasses. But I don't know if our experience would be typical on a busier day.
I'd say the best thing about MaxPass is the ability to reserve Fastpasses without having to go to the attraction to do it. That really saves a lot of time! In the MaxPass part of the app it's also very easy to tell which attractions still have Fastpasses available. While you can see the available Fastpass return times in the Disneyland app, it's not as straightforward – or at least I haven't found an easy way to do it. With MaxPass we felt like we had better visibility into what Fastpasses were available at what times, and could better analyze which attraction to choose next. And sometimes the standby waits were short enough that we didn't even need a Fastpass. On a busy day, that combination of visibility and not having to go to the attraction might help you be able to get a few more Fastpasses than you could without MaxPass. Also, as I mentioned before, we could reserve a Fastpass for an attraction in the other park. That gave us a head start when we moved from Disney California Adventure to Disneyland.
I was pleasantly surprised at how well it worked. The app was pretty straightforward and easy to use. The most complex part was purchasing MaxPass and linking the tickets.
Prior to using it, one of my questions about MaxPass was whether or not different people in your Fastpass Party could have different Fastpasses. And yes, they can. Each time you "Get a Fastpass" you have to create a Fastpass party from the linked tickets. This allows you to get separate Fastpasses if you wish.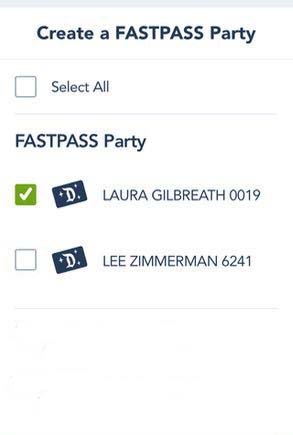 My experience with traditional Fastpasses has been that the return time will always be at least 30 minutes in the future – but with MaxPass we found that the return time was sometimes only a few minutes away! Unfortunately I never remembered to check at those attractions to see if the advertised return time there was the same. The one time I did check, at Indiana Jones, the Fastpass return time matched what was in the app, and was more than an hour in the future.
We had a few time anomalies. I was managing the Fastpasses for Lee and me, and his brother was managing the four for his family. On multiple occasions, even though we were booking Fastpasses at the same time, his Fastpass return time was 5-10 minutes sooner than mine. In one case it was 45 minutes sooner! That one might have been a canceled Fastpass, but that doesn't explain all of the others.
It is worth the extra $10/person? If you are trying to maximize your attraction experience, then I'd say yes. You'll also do a lot less walking since you won't need to visit each Fastpass attraction twice. If it were me, I'd probably pick one day of my trip to use MaxPass, rather than get it every day.
I haven't said too much about the PhotoPass aspect. As I mentioned before, there are other ways to get unlimited PhotoPass downloads. Though at this point MaxPass is the least expensive option. If you were using it just for PhotoPass, then only one person in your party would have to purchase it. I found it was quite easy to link attraction photos – just remember to take a picture of the photo so that you have a record of the code that you need!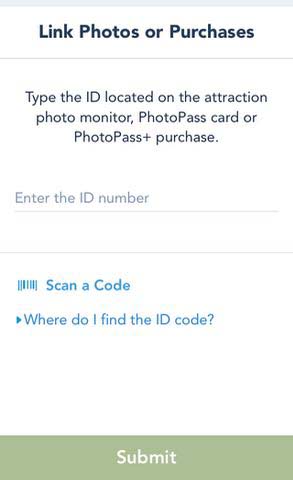 One change to annual pass benefits with the introduction of MaxPass: The PhotoPass download feature, which had been a benefit of the Signature, Signature Plus, and Premier APs, is no longer a benefit for new Signature APs. (It's still part of the other two, since they include MaxPass.) Those like us who already have Signature APs will be allowed to keep the PhotoPass download feature as long as we renew prior to the expiration date. Something for us to keep in mind when renewal time rolls around.
Here's a more detailed look at how MaxPass and digital Fastpasses work.
As I mentioned earlier, the first thing you have to do is go through the entrance turnstiles at one of the parks. If you don't, you'll eventually see this message: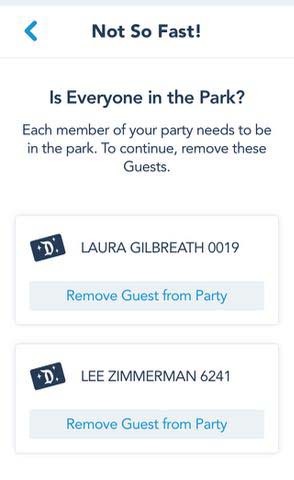 Then start the Disneyland app. You'll need to sign into your account if you haven't already done so. The first time it took me straight to MaxPass, but subsequently I had to go to the "My Plans" page and tap "Get Fastpass".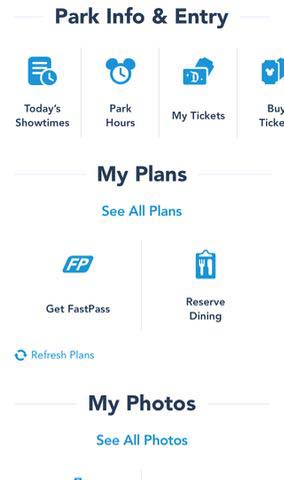 Create a Fastpass Party. If your ticket/AP is already linked to the account it will show up. The first time you use it you'll need to link the tickets for other people in your Fastpass party by tapping "Link a ticket or pass". Each time you get a new Fastpass you'll have to select the people in the Fastpass party, but you'll only have to link the tickets the first time.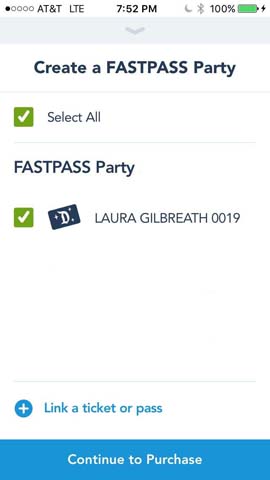 On the next screen you can use the camera on your phone to scan the barcode of the ticket, or you can enter the number manually. We found that the barcode scan worked very well. Annual passes will show up with the name of the passholder, but for regular tickets you'll want to use the "Note" field to identify who it belongs to. Remember that everyone has to have entered a park that day.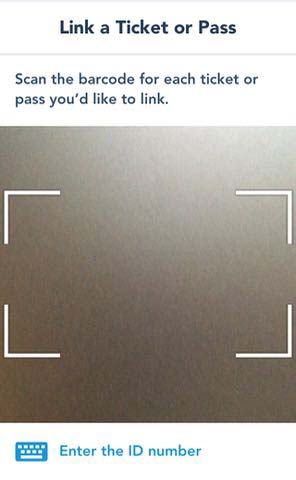 Once you've scanned the tickets for everyone in your party, tap on "Continue to Purchase" to pay for MaxPass for anyone who does not already have the feature for the day.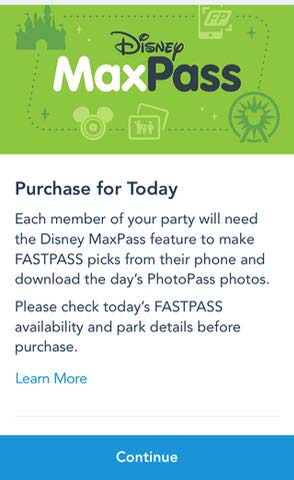 Follow the instructions for payment. You can use the phone camera to scan your credit card or input the information manually.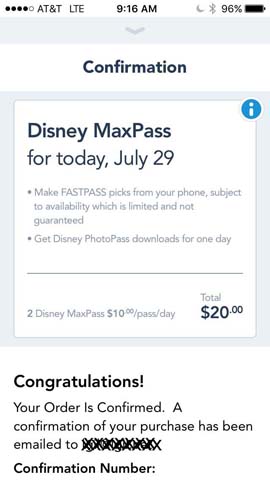 You'll repeat the "Create a Fastpass Party" step and all of the steps below anytime you get a new Fastpass.
"Choose a Park". This brings up a list of Fastpass attractions in whichever park you select, and you can see the available Fastpass return times.
Select the attraction by tapping on the return time. If you tap on the name of the attraction the app brings up information on the attraction instead.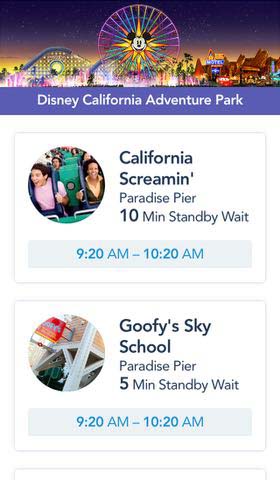 If the return time is acceptable, tap "Confirm", otherwise go back to the previous screen to select a different attraction.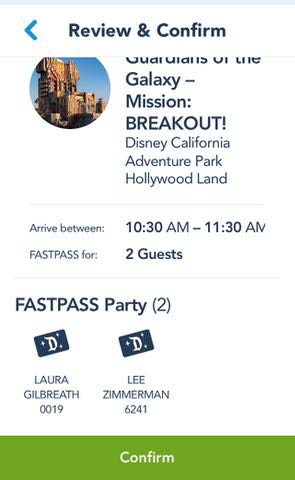 When you confirm the next screen will tell you when you can make your next Fastpass selection.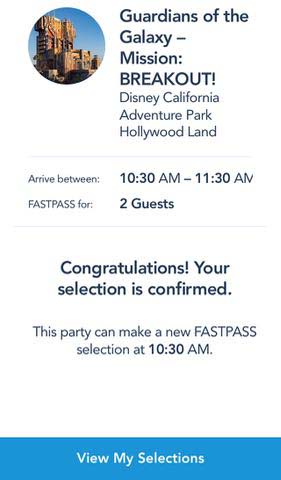 If the Fastpass return time was more than 90 minutes away, then our next Fastpass seemed to be available 90 minutes later.
You can always go to "My Plans" to see your current Fastpass selection(s).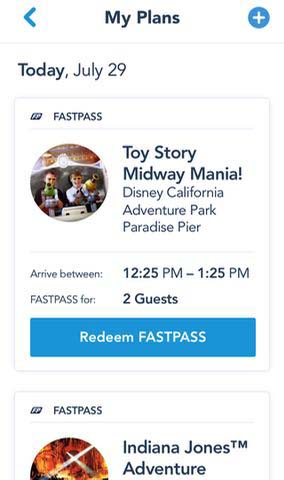 When your Fastpass time arrives, tap "Redeem Fastpass" to pull up the barcode screen. At that time you can also make another Fastpass selection – you don't need to redeem your first Fastpass before you can get another one.
The app will have Fastpasses for all members of your party. After scanning the first one at the Fastpass entrance, simply swipe left to get to each subsequent Fastpass. Rather than using the app each member of your party could scan their park ticket, or if they also have the Disneyland app with their ticket linked to it they will have the barcode for their own Fastpass in the app.
Repeat the process to get additional Fastpasses.
As I said, we had a good experience with it. We don't often go the parks to ride a lot of attractions, but if we did, it would be fun to use every once in a while. For guests who are not frequent visitors, and/or really do want to maximize their ride experiences, I think it's worth considering the purchase of MaxPass for a day.
Do you have additional questions on MaxPass? Do you think it's something you would use? Click on the "Feedback Form" below to submit any questions or comments, and I'll do my best to address them.
FOLLOWUP: Several of you asked if MaxPass could be purchased on runDisney race days
and then the PhotoPass feature used to download your PhotoPass photos from the race. The answer is: YES. Thank you to Don for providing that information!