by Stephanie Wien
AllEars® Guest Blogger
Do you remember the first time you entered a Disney theme park and were entranced by its immersive environment, marveling at all of its wonderful details?
MouseAdventure, a puzzle hunt game, recreates that experience as players rediscover the Disney theme parks with a renewed focus. Design elements that you once rushed past on your way to the next ride now become the main attraction, drawing you in to appreciate the individual parts that make up the larger whole.
Team "Texas Turtles" dress in matching shirts.
MouseAdventure began almost 20 years ago, in the early days of internet message boards, with a modest audience of about 70 people (about 20 teams), and has since grown to consistently draw hundreds of people for its west coast games at the Disneyland Resort. In 2009, MouseAdventure expanded to include the Walt Disney World Resort in Florida, and held its sixth successful event in 2016 during the Epcot International Flower and Garden Festival. Third Gate Games (TGG), formed in 2016 from the core group who had been writing and running the event for many years, currently produces the event.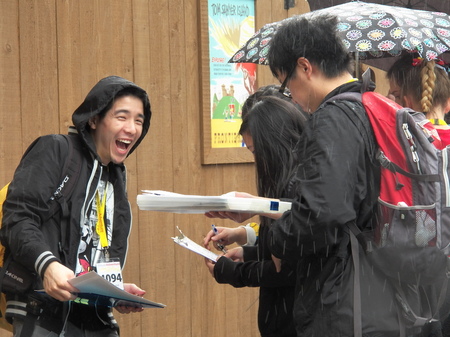 MouseAdventure happens rain or shine, and teams take the weather in stride.
What is a puzzle hunt?
Although it's often referred to as a scavenger hunt, MouseAdventure is better classified as a puzzle hunt; teams aren't just looking to check items off a list or collect condiment packets (although they have been asked to do that from time to time). A puzzle hunt challenges teams to solve a series of puzzles, which MouseAdventure calls quests. Imagineers work hard to include lots of theming when designing the theme parks; quests use these details as clues to lead teams to a final question, answerable only within the boundaries set for that particular puzzle.
For example, in the most recent WDW event (MouseAdventure: Silly Symphonies), the quest writers used the informational signs for the Flower and Garden Festival's cactus garden as the basic information for a quest. Teams matched each plant type to a fact about that plant, then placed the appropriate plant name in the proper location on a path designed to look like a garden hose. Following the hose from spigot to spout, teams collected letters to spell out the final question, which lead to another nearby garden display with the answer.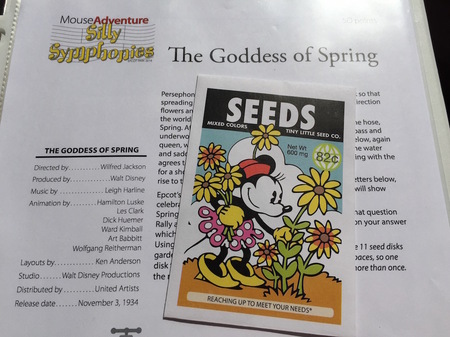 Players received a packet of "seed" discs to place along the hose path.
Placing the plant discs along the hose path revealed the final question.
Who is on a team?
Two to four people make up a single team, and often include groups of friends or even family members. Some teams are competitive, and aim to place; these teams often register in the Advanced Division, if it is separately offered from the usual Basic Division. Advanced teams receive more quests for a given event, and the difficulty of the quests may be higher. Competitive teams who have had three wins move into the ranks of the Master Division, where they can still play the game, but only for bragging rights, not prizes.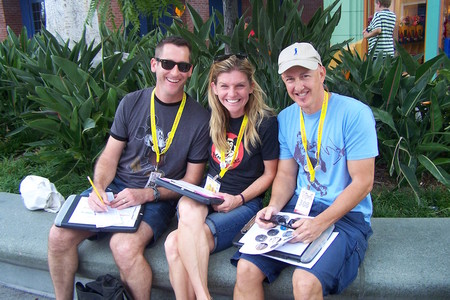 The "San Diego Mouse Catchers" compete in the Advanced Division.
Other teams are just in it for a day of fun at a Disney theme park outside of the usual rides and shows. Children six and under don't count as a team member, and there are many teams who have played with young children, or even while pregnant. A family team includes at least one team member under the age of 13; if there are enough family teams registered for a MouseAdventure event, the top family team receives a prize.
People in wheelchairs, scooters, or with other physical challenges are welcome to play. MouseAdventure rules provide accommodations for team members who may not be able to experience certain attractions or areas of the theme park included in the game.
How long is the event?
MouseAdventure starts in the morning, with check in typically around 9 a.m., depending on the location. Start times may vary based on theme park hours. Teams check in to receive their packets, and then are given a rundown of the day's timeline and a review of the rules. All teams are given their quest packets at the same time, and then it's off to the races (fast walking only, please).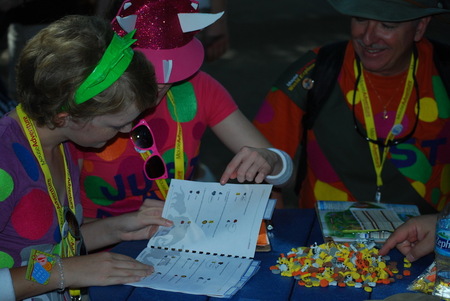 Jussst a Dino examine their packet in Animal Kingdom.
An event is typically eight to eleven quests, solved over the course of about six or seven hours. Staff and crew are on hand to provide assistance and keep things orderly. Teams may check in at a pre-determined central location from time to time to pick up additional, time-sensitive material, get help on how a puzzle works, or to get a hint to find an elusive clue. At the end of the day, the staff collects answer sheets at a specified time and location within the park, and then heads off to quickly grade. Winners are announced within a few hours of the game's conclusion; all team scores are posted online within a few days of the event.
Team Plutonium strikes a familiar MouseAdventure pose in Disneyland's Frontierland.
Recently, MouseAdventure has moved away from a formal post-game event at Disneyland. At Walt Disney World, we take advantage of the wedding pavilion on the edge of Crescent Lake between the Boardwalk and Beach Club Resorts to hold an informal gathering after the event. MouseAdventure staff members announce the winners, hand out awards, and answer questions about quests. It's also a time for players to meet the creators and mingle with fellow players.
What is Third Gate Games?
Third Gate Games formed in 2016 to take over production of MouseAdventure and expand the concept to hold similar events at locations outside of Disney theme parks. The TGG team was involved with production of MouseAdventure when it was still under the MousePlanet banner, working as quest writers, designers, emcees, and more. We all started out as MouseAdventure players, so we know the thrill of victory and the frustration of counting tiles that our teams experience each time they play.
Why play MouseAdventure?
Puzzle fans enjoy the variety of different types that each event uses: Traditional crossword puzzles, word searches, logic puzzles, letter elimination and more. Disney fans enjoy discovering locations inside the theme parks that they might have previously overlooked. There are prizes for the top three teams in each division, with the third place teams receiving a Disney gift card with value equal to the price of the game.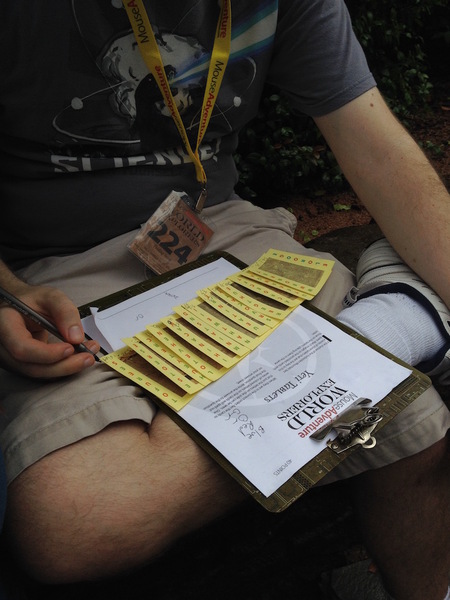 Decoding the tablets near Expedition Everest at Animal Kingdom requires a sharp eye.
However, prizes aren't the main reason to play. The goal of the MouseAdventure staff is for all of our players to have a fun time, even if that can involves some challenge and frustration. We always enjoy seeing the realization dawn on the faces of players as they figure out a quest.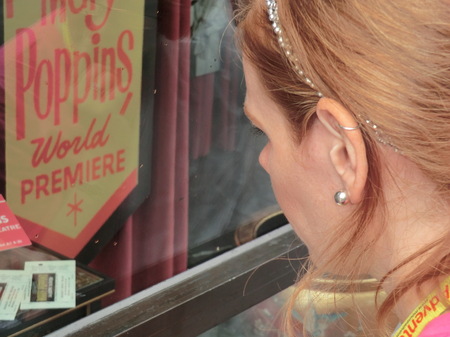 A player examines a window in Disney's Hollywood Studios.
Rediscover the Vacation Kingdom of the World at the crossroads of the state. MouseAdventure: The Florida Project is the next upcoming event at Walt Disney World's Magic Kingdom and its neighboring resort hotels on March 4. Registration is currently open at mouseadventure.com. Assemble your team, grab a clipboard, and get ready to stare intently at window displays and obscure signs. Are you game?