I've been traveling a lot, but I wanted to make another visit to Disneyland during the holiday season. When I renewed my annual pass earlier this year I opted for the Signature AP, which is blocked out during the Christmas holidays – December 19-January 1 – so this weekend was my final opportunity before that. (I really don't WANT to be at Disneyland during those two weeks anyway!) Jason (Disneygeek) met me there on Friday afternoon and we wandered around for the rest of the day and evening.
We had a rare southern California rainstorm on Thursday and Friday, but according to the forecast the rain would be over in Anaheim by noon. When I left San Diego at 10:30 it was still raining there, but by the time I reached Anaheim the roads were dry and there was even a little bit of blue sky. As the day went on the clouds completely cleared off and we had a sunny day, though it was cool by southern California standards – only about 60 degrees.
Some major changes at Disneyland this week: most of the security checkpoints have been moved. Downtown Disney is now a "secure" area, so guests coming from the Mickey and Friends garage go through security before boarding a tram. I was surprised to see a fence up along the tram route where it goes through the garage. If you park on the first level then you cross the tram route inside the garage rather than from the Pinocchio parking lot as it was before.
The bag check is still done manually, and then everyone goes through a metal detector. I wish they'd installed x-ray machines rather than the manual check. I arrived about 12:20, and things weren't very busy then, so I got through quickly.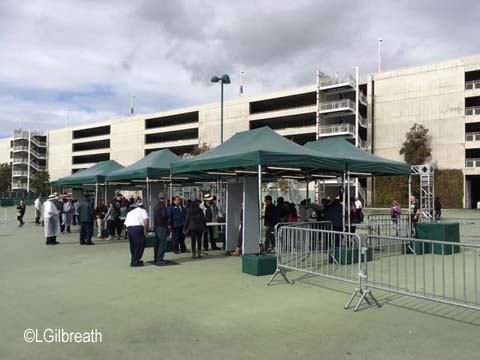 There are additional security checkpoints set up at the other entrances to Downtown Disney. From the Downtown Disney parking lot:
From the Grand Californian: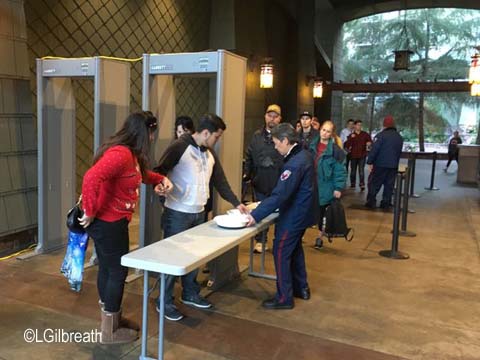 There's also one from the Disneyland Hotel, though I didn't get a photo of it. The security setup on the east side of the esplanade (for guests coming from the Toy Story parking lot and the hotels on Harbor Blvd) is unchanged. They still go through security on the east side of the esplanade.
From the tram I could see the demolition that's occurring at the former House of Blues location. According to a recent Disney Parks Blog post, Splitsville Luxury Lanes will be opening there in late 2017.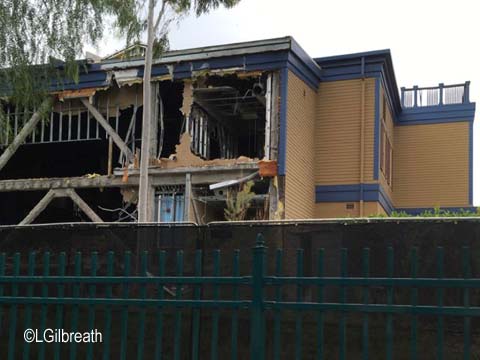 When I got off the tram, it was great to be able to walk directly to the esplanade without going through security! And the esplanade looks so open now! Jason reminded me that the security tents at the esplanade had been in place for over 15 years. Wow.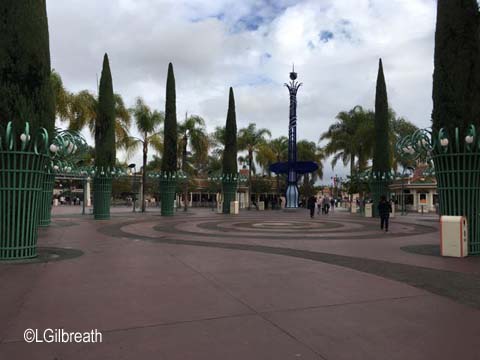 This was the first time I'd been to DCA during the day this holiday season.
My first order was to have something to eat, so I visited a couple of the Festival of Holidays Marketplaces. I never saw any lines at any of the booths except the Brews & Bites booth that sells beer. As I mentioned in my initial review of the Festival, I think the prices are just too high.
This time I tried the Harvest Puff Pastry with Leeks and Parmesan from the "Treats for Santa" booth. $4.25. I was surprised that it wasn't served warm. But it was pretty tasty, and I thought $4.25 wasn't a bad price, since it was a good-sized serving. Much more in line with the price I expect.
From "Mosaic Delights" I tried the Mini Falafel Donuts with Pickled Vegetables & Tahini Drizzle. This one was $7.00 – and it should have been $4.25. 🙂 Though it says "donuts", it's really a savory dish. I liked the flavor of the falafel and the pickled vegetables. It was just too expensive.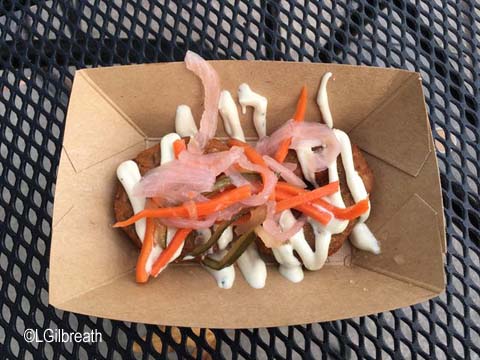 I felt really badly for the cast members working the food booths – they had very little to do, and I'm sure that makes their shifts seem really long.
Jason and I met at the World of Color Fastpass machines. Even though it was almost 1:00, we were still able to get Fastpasses in the Blue section (the best of the non-dining package sections) for the 9:00 showing of Season of Light. Because of the rain there weren't too many people out and about yet. There was a second show scheduled for 10:15…I have a feeling it was very sparsely attended.
Since I'm writing this resort update instead of Jason there's going to be more words than photos, so if you're interested in Jason's excellent photos and construction update please visit his web site: www.disneygeek.com.
There's an AP Corner for Annual Passholders set up in the Grizzly Peak Recreation area. It opened November 11 and is available through January 8. Pretty minimal offerings compared to some of these in the past. There's a button, a photo backdrop, and a coloring area. But no character greeting opportunity or refreshments like water and popcorn as there have been at previous AP areas. Also, there's only a single button for the event, rather than a different one each week (you can see my button on the left in the photo below). There were no guests there when we arrived, and the cast members looked pretty cold! The location is out of the way, and a little hard to find, though there were signs for it at the entrance.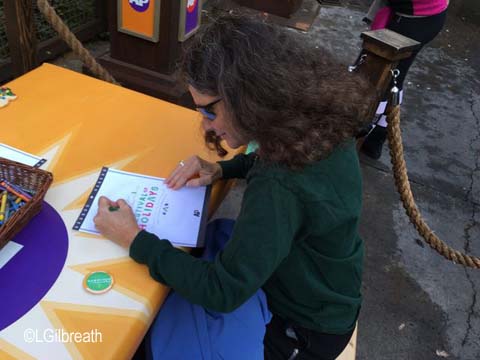 There were additional craft opportunities along the parade corridor. This one was Christmas-themed, but I saw one for Kwanzaa also.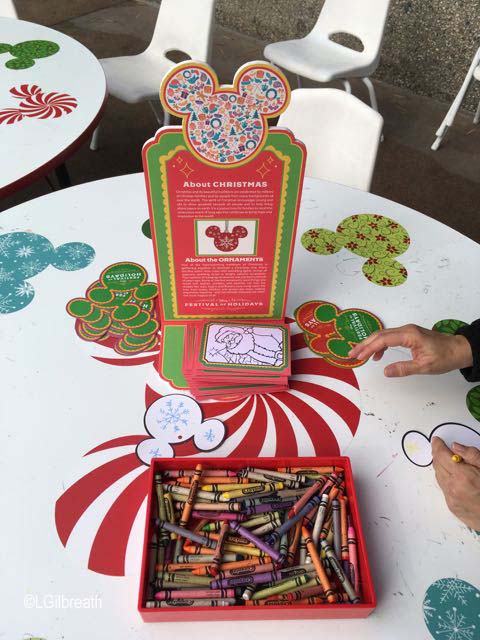 Our next destination was Disneyland, so that I could see the "A Christmas Fantasy Parade" for the first time this season. We went all the way back to the parade start at "it's a small world". Not real crowded, but there were more people back there than i expected. We still had a spot behind just one row of people, though.
For some reason the toy soldiers were missing when the parade first started this holiday season, but they are back now. Always one of my favorite parts of the parade.
We left our viewing spot just before the final float appeared so that we could get in line for "it's a small world" Holiday before the crowds descended on it after the parade was over. We had a good view of that last float with Santa Claus from the line.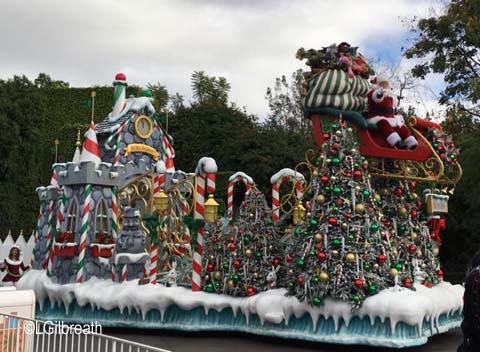 "it's a small world" Holiday is celebrating its 20th holiday season this year. In recognition of that, some number of "hidden 20s" have been placed in the attraction this year. Jason is very good at spotting them and pointed them out to me, though the only one I was able to photograph was this one at the exit.
We went back to Frontierland to take a look at the Star Wars Land construction progress. This is the first time I've seen anything other than piles of dirt!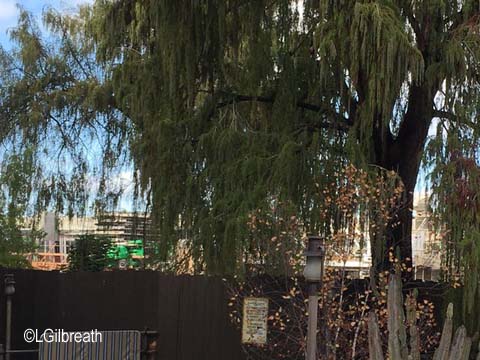 And this looks interesting. No idea what it is, though. There's still no official word out of Disney as to when Star Wars Land might open, but at least now there's actual construction underway. As I mentioned, Jason has a lot more (and better) photos available on his www.disneygeek.com site.
On Main Street we caught the end of the performance of the Dickens Yuletide Band. In the clip below they perform a medley from "The Nutcracker."
We were planning to see some of the holiday entertainment over at DCA, so went across the esplanade back over there. But first we went back to Hollywood to check on Fastpasses for Tower of Terror. After dark, the Tower of Terror offers "Late Check-Out", where the attraction takes place in the dark, with no soundtrack. Fastpasses were not originally available for the after dark part, but that changed recently. We were there about 3:00, and there was a sign out to that effect.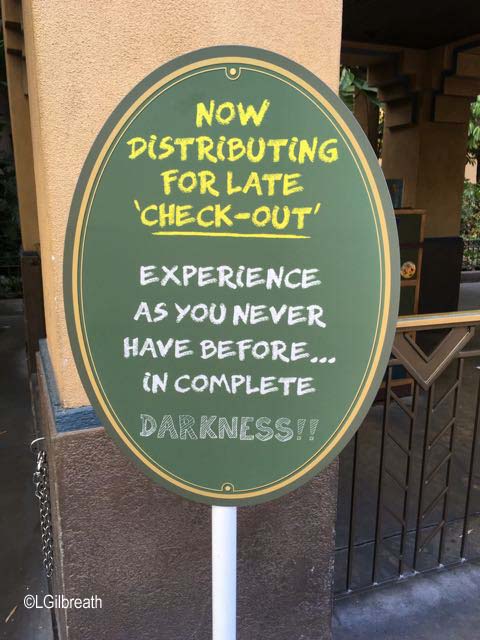 And the Fastpasses themselves denote Late Check-Out.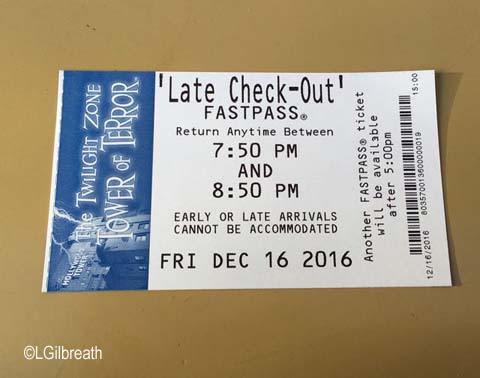 We still had some time before the first holiday act, so we went for a spin on Luigi's Rollickin' Roadsters, since it had a short line. For the holiday season there's a new song: Jingle Bells. We heard it as we were walking to the attraction, but it wasn't the song that played for our ride.
The Holiday Toy Drummers was the first entertainment offering we saw, and they are my new favorites. They were so much fun to watch – especially since they seem to be having so much fun themselves. This is a video Jason took of them several weeks ago – they don't have any variation in their sets.
Holiday entertainment takes place in a number of different locations around DCA. The drummers were near the Boudin Bakery in Pacific Wharf, and from there we went to Paradise Gardens to see Princess Elena's Musical Grand Arrival. It was pretty well-attended. Elena sang several songs, including two Christmas songs.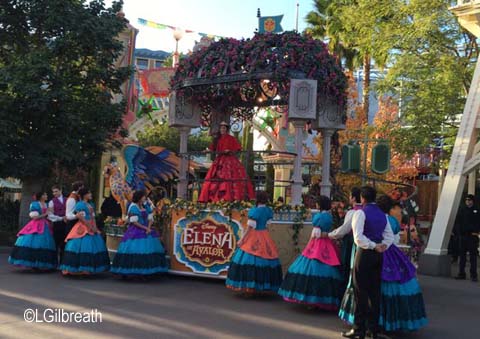 The Stilt Circus performs along the parade corridor, though both time we saw them they were in Carthay Circle.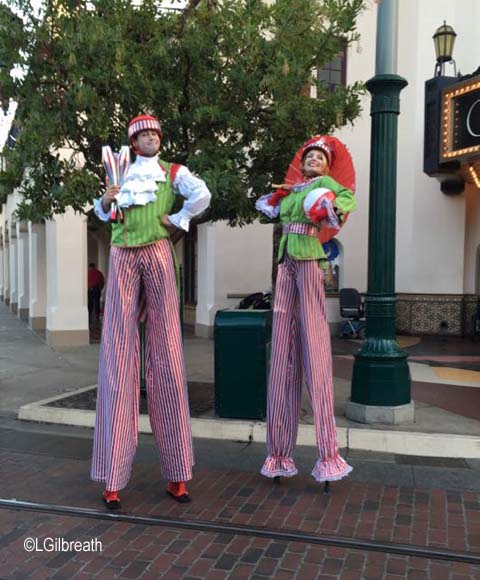 To get to Downtown Disney we exited through the Grand Californian. I hadn't seen the gingerbread hotel in its finished state – they were still decorating it when I was there in November. Pretty impressive structure.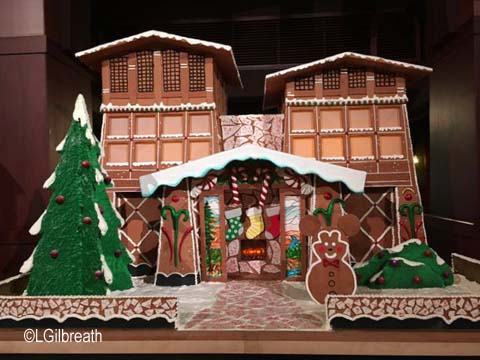 There's a new Pandora store in Downtown Disney now, right next to Jamba Juice.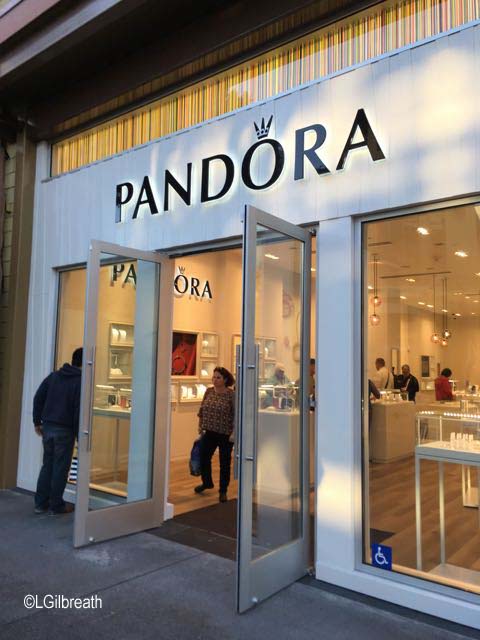 I was surprised to see a very large outdoor seating area outside Tortilla Jo's. During most of the year that might be pretty attractive, but it was a chilly afternoon and we didn't see anyone sitting outside.
The tree in Downtown Disney is in a new location this year. No skating rink, probably because of the construction of the fence for the security perimeter.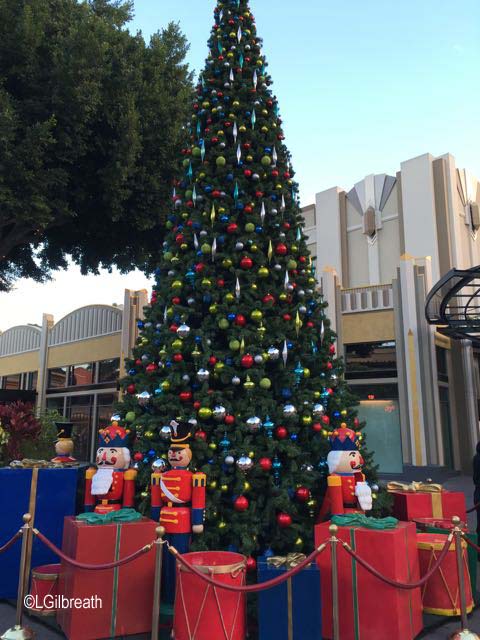 We took the monorail back to Disneyland from Downtown Disney. It was very nice not to have to go through a bag check there. And there was no line for the monorail, in fact some of the cars were empty. Jason and I were the only people in our car. We saw the start of sunset on our ride.
At the Star Wars Launch Bay cast members were distributing Rogue One – A Star Wars Story buttons since the movie had just opened. There were a couple of display cases with costumes and props from the movie – pretty much the same as what I saw in Florida the week before.
The lights weren't on yet, but the castle was decorated for the holidays.
We had dinner at Village Haus, largely so that we could sit inside where it was warm. There weren't very many people in there, and it was so quiet that we could actually hear the background music! It was the same holiday track that is played on Main Street. It was very nice to hear it.
The castle lights were on as we walked through the castle after dinner.
The Jambalaya Jazz group has added some holiday cheer to their set.
After dark their last song is White Christmas, and it snows.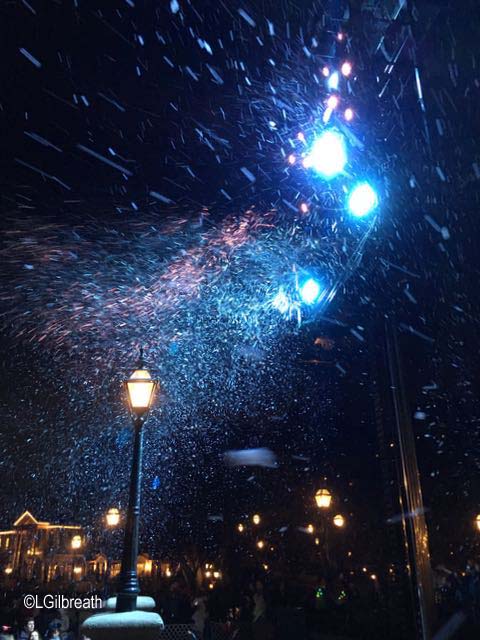 When we walked by Tropical Imports in Adventureland we noticed a sign for a new dessert – a Pineapple Parfait. Layered pineapple mousse, vanilla cake and pineapple topped with whipped cream and a chocolate Heart of Tefiti pendant. Normally I would've tried this, but it was a cold dessert and I was already cold enough.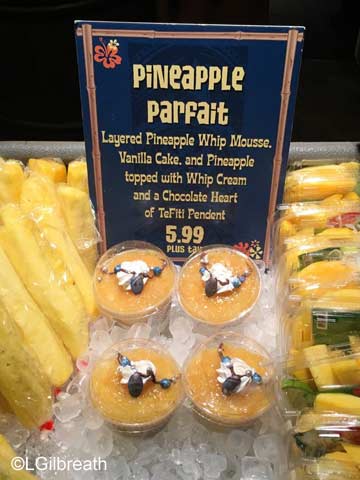 Back to DCA to catch some more of the Festival of Holidays entertainment. Starting at 5:30 there are four different acts in a row at the stage in Paradise Park. We missed the first one, but we saw RAISE – an acapella group, Mariachi Divas, and Mostly Kosher. The latter are pictured below. They were surprisingly entertaining.
The wind had come up and it was quite chilly by the water after we'd been sitting there for almost an hour. I suggested we go "under the sea" to warm up. 🙂 We walked right onto the clamshell vehicle.
There was still over an hour until it was time to be back for World of Color. I was looking for warm places, and we went into the Animation Building. There were a number of other people with the same idea, but we lucked out and there was a sofa we could sit on. I always enjoy sitting in there and watching the animation clips and artwork and listening to the music. I saw something I hadn't noticed before – it looks like there was a "Coppertone moment" in Frozen during the "In Summer" song. Cute.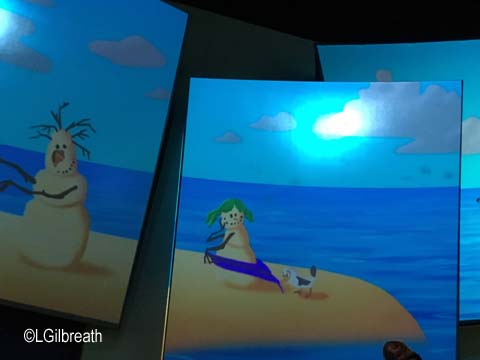 On the way back to Paradise Bay we stopped at Award Weiners so that I could get some hot chocolate. That tasted pretty good – and it felt good in my hands. 🙂
Jason knows the spots, and found us an excellent location to watch World of Color – Season of Light. We were just behind the dessert party area, so there was no one standing in front of us.
It was windy, but not enough to cancel the show. It made for some interesting effects on the fountains. I was surprised at how clear the projections still were, despite the wind.
This is such a good show. All of the effects work so well together.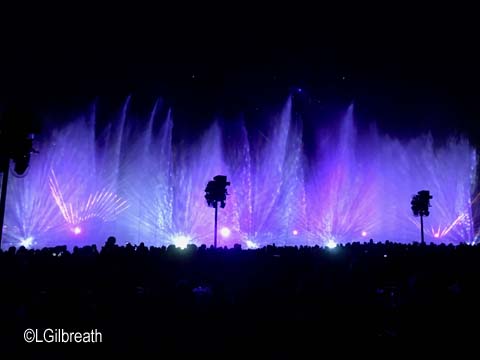 We made the right decision to choose to see World of Color and not the fireworks show at Disneyland – it was canceled because of the wind.
That was the end of our day. When we arrived back at the Mickey and Friends garage I was surprised to see that almost all of the security check lanes were still open. It was almost 10:00 – not too many people arriving at that time of night.
It was a good day – I was able to see all of the entertainment that I'd wanted to see. And thanks to the rain and the cool weather the parks weren't very crowded at all.