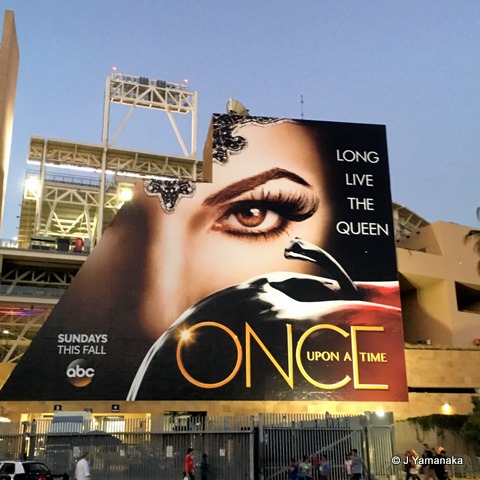 One branch of Disney that was pretty heavily represented at SDCC this year was its television divisions–both Marvel and ABC.
[Unattributed photos and videos courtesy of Disney, Marvel, and ABC.]
For fans of the Netflix series "Daredevil" and "Jessica Jones," the new spin-off "Marvel's Luke Cage" had its own panel, complete with the main cast and crew. Unfortunately, security was so tight that they actually made me delete the photos I took of Head of Marvel TV, Jeph Loeb, while they watched…and about ten minutes later appeared to have abandoned the whole thing, as everyone else took photos of everything else afterwards with no problems. Alas.
On the panel, showrunner Cheo Hodari Coker, Frank (Detective Scarfe) Whaley, Simone (Misty Knight) Missick, Theo (Shades) Rossi, Alfre (Mariah Dillard) Woodard, and Mike (Luke Cage) Colter discussed the new series, including the smartness of the script which they described as primarily a drama set in a superhero world. It will premiere on September 30.
Along with the announcement that "Daredevil" had been picked up for a 3rd season, the audience was treated to glimpses of the upcoming Marvel TV series "Iron Fist" and "The Defenders."
[It probably goes without saying, but Netflix series tend to be more graphic/intense than usual broadcast TV. You may want to review them in advance, to decide whether they are friendly for your family, is what I am saying.]
The big panel of the weekend was the Marvel Studios presentation in Hall H, an enormous room that seats around 6,000 people. In theory, you're supposed to line up at a certain time the evening before, they hand out wristbands, and as long as you're back by 7:30am, you get a seat in the room for the day. I tried it, but it turns out that a) people actually start lining up for the wristbands like a day ahead of time, and b) people apparently started charging/cutting into the line as the wristbands started getting handed out causing enough riotous chaos that they had to stop handing out the wristbands for a considerable amount of time while they tried to restore order. Consequently, it was after 1am by the time the part of the line I was at was told that they were out of wristbands, giving everyone feelings of failure mixed with relief that we didn't have to get back in line in a few hours.
So, I didn't get to see it. If you haven't read the announcements from that panel from every other more effective blogger in the world, you can read them on the Marvel recap here.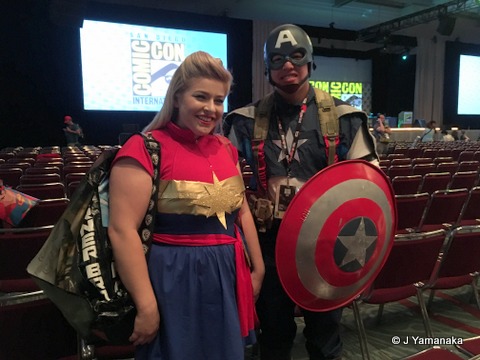 A panel I did get to see however, was "Once Upon A Time," in which co-creators and executive producers Edward Kitsis and Adam Horowitz were joined with cast members Jared (Henry) Gilmore, Emilie (Belle) de Ravin, Rebecca (Zelena) Mader, Josh (David) Dallas, Colin (Hook) O'Donoghue, Lana (Regina) Parilla, and Jennifer (Emma) Morrison.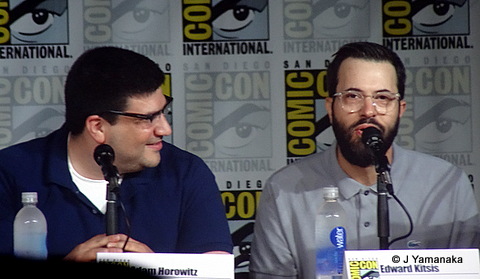 Kitsis and Horowitz on the definition of "hope."
Horowitz: "My definition of hope is the belief that things will get better."
Kitsis: "My definition of hope is the belief that Eddie is right."
Kitsis on whether Zeus can intervene in all eternal matters: "I feel like that was a one-time only Zeus interference."
Morrison: "Thank you Zeus!"
O'Donoghue: "He could have given me back mah hand!"
Horowitz on why the Olympian Crystal worked differently on Hades and Robin: "Well…everything that was said about the Olympian Crystal was said by Hades…so I don't know. He's God of the Underworld…I don't know. Can we trust him? I would say in all seriousness, that's a question that I think some of our characters should and will ask."
Kitsis: "I would say, for a show about Hope, I would choose not to believe Hades, but we'll find out."
Gilmore on how Henry sees himself fitting in: "I think that now that Henry is The Author, he's gained that thing that I am the hero now, and my way of helping people is by being able to give them their stories and help them figure things out. I think Henry has found his place, and he believes that now he is a part of the heroes and…I think he likes it. He loves it."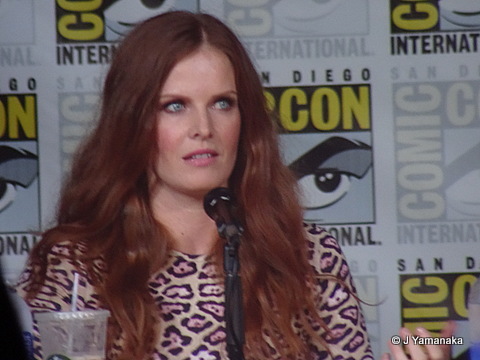 Mader on what changed Zelina most–having a baby, reconciling with Regina, or finding true love with Hades: "I think it's a plethora. It's a cacophony if you will, of everything. I mean, it's a lot happened all at once in terms of life breaking down Zelina's heart, you know. I think the reason she got pregnant was for horrible reasons, but then it ended up really changing her, and I don't think she really expected or understood that having a baby meant having unconditional love, and I think that melted her heart a little bit. It was also hard for her to accept and believe that a man could actually love her because she had such a rubbish life, and then all of a sudden her sister gave her her trust when she really, quite frankly, didn't deserve it. So it's like these three people who loved her even though she didn't feel like she was worth it, and I think that's changed her in powerful fundamental ways that's been really fun to play."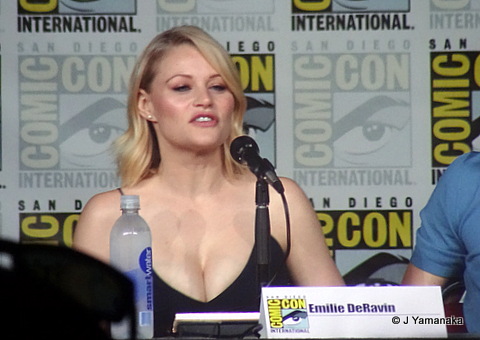 de Ravin on why Belle continues to believe in Rumple: "Part of that pull is him being a bad guy. She likes that. Deep down, yes–she sees the good in him, she sees the…loving person he could be, but that darkness…she likes that. There's a side of that that definitely pulls her in."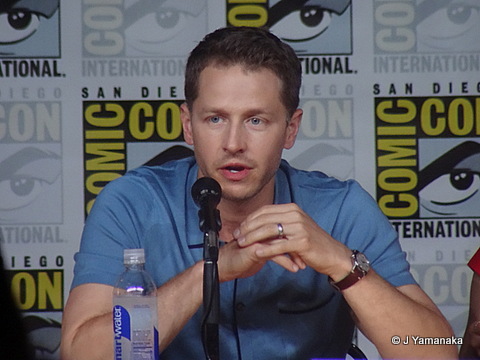 Dallas on playing the dual roles of Charming and his evil brother James: "It was great, you know. It was a chance for Charming to see everything that he didn't want to be, or everything he didn't want to ever become. He wanted to have a relationship with his brother, and he always felt a connection with him, and he wishes he could have gotten to know him, but that just wasn't the case. But his brother was a reminder to him of everything that he wanted to avoid and stay away from and not become."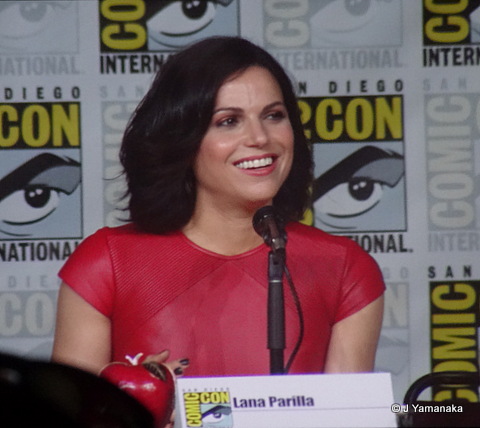 Parilla on whether Regina is now all good: "Regina's still sassy. She's not going to lose her sass…That's Regina. She's sarcastic and that's what we love about her, so she's not going to lose that. But the Evil Queen is slightly different than she used to be, I think. She's now without a conscience, so she's pure evil. And a lot of fun."
Morrison on Emma's relationship with the separated Regina and Evil Queen: "I think it's going to be complicated for Emma to navigate because she wants to believe in Regina, and she wants to believe that Good can win, but she also knows she needs to protect everyone she loves, including everyone in her family…and that includes Regina. So it's like, how do you separate the two mentally, and figure out where to draw the line and how do you do that in a way where you're not betraying the trust that you've developed with this friend for so long, so I think it's going to be complicated."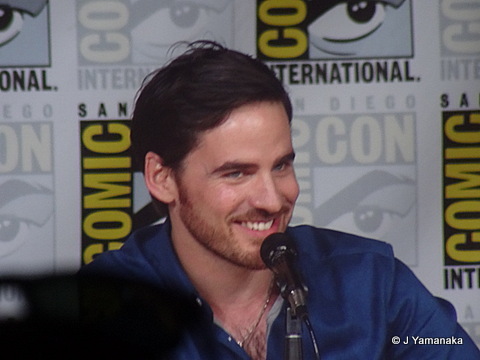 O'Donoghue on whether Hook has been changed from being dead: "I think he's still pretty much the same Hook. I mean he…now that they know that it's True Love with Emma and Hook…they're trying to figure out how to navigate being together and that sort of world now…so at the minute he's the same Hook, but who knows? I think we might find out a few things about his past…"
Also mentioned: Hot Topic will be introducing a "Once Upon A Time" inspired collection this Fall in stores and online.