Sunday – Avengers Half Marathon
Jet lag caught up to me Saturday night and I went to bed at 8:30. I never even heard the Disneyland fireworks! So 3:30 didn't seem quite so early – I was awake before then. We had our usual yogurt and bagels in the room. Lee also went to the Hearthstone Lounge (which opened at 4:00) to get coffee.
Today our costumes were Princess Captain America (finally able to wear my tiara again!) and Hawkeye. Same costumes we wore last year, but why mess with a good thing? Unlike last year, this year there were actually two people who recognized that I was Princess Captain America. Lee's Hawkeye costume got most of the attention, though. There weren't too many Hawkeyes out there, plus he looked really good (though I told him he was smiling too much. 😉 )
It was another perfect morning for running! 54 degrees, 55% humidity and no wind. There was not going to be a repeat of last year's Santa Ana wind event that sandblasted us. That was pretty challenging. No shortening of the race course for us this week – we were going to have to run the full 13.1! 🙂
Even though there were more participants in this race (11,000 as opposed to 7,000 the day before) we ended up a little further forward in Corral A than we had the day before. Before the race started they brought Captain America on the start line stage along with runners who were representatives of each branch of the Armed Forces.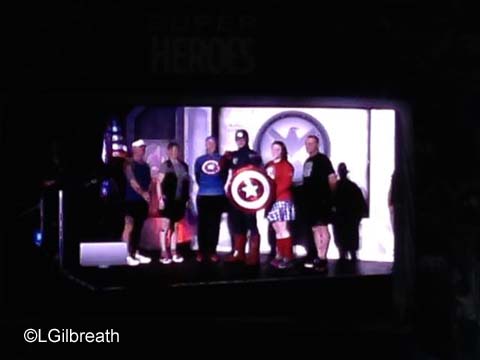 The National anthem was performed by a serviceman – unfortunately I do not remember his name or rank.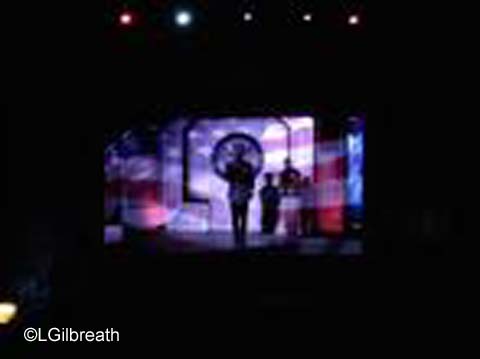 The race started a few minutes late, but we were off and running. The first part of the course was like last year, and from Disneyland Drive we very quickly turned left to run behind DCA. What I do not like about this course is that the parks portion is very short: by mile 2.5 we are out of the parks.
Because we stopped for all of the characters the day before we were only planning to stop for Hawkeye this time. Black Widow was near the Golden Vine Winery and had a pretty long line. Hawkeye was near the exit to DCA. His line was longer than any that we waited in yesterday – almost 5 minutes.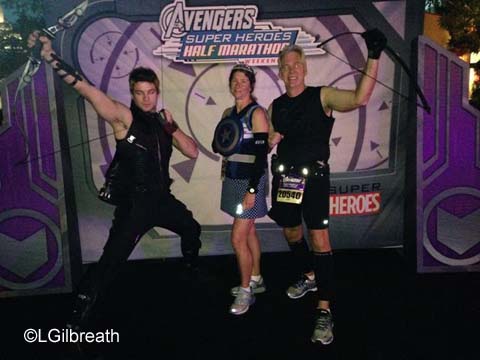 There was another Hawkeye in line behind us. 🙂
We ran across the Esplanade into Disneyland. Thor and Captain America were in Disneyland but both had lines and we didn't stop. Besides, there was no way I was going to top my Captain America encounter from the day before! 🙂
It was disappointing that there were only the four characters again. Though I guess the advantage is that if you run multiple races you have multiple chances to get at least one photo taken with them. There were S.H.I.E.L.D agents in various areas of the parks who were cheering us on, and even some HYDRA agents. (I kept getting suspicious anytime that we were told to "HYDRAte HYDRAte HYDRAte.")
My biggest issue with this race is the lack of park time: by mile 2.5 we were out of the parks and out onto the streets. We still had some entertainment – there were lots of cheerleaders in the business areas. But some parts of the course during miles 4-7 had us running by houses and apartment buildings and that was quiet since people were still sleeping.
At least this year there was no wind to blow all of the mile markers down! 🙂
The course was a little different this year – it seemed like we were on the Santa Ana Trail longer. And we were running on the east side of the trail and not the west like last year. The cosplayers were along the trail again. It seemed to me like there were fewer than last year, but it might be that they were closer together. I wish I'd taken more photos – there was a really amazing Loki!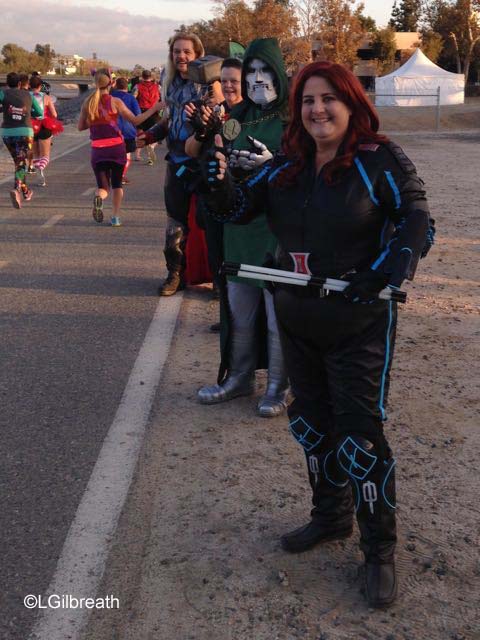 We were surprised to see our friend Caitlin cheering – it was great to see her! (And I loved her Peggy Carter outfit.)
There were banners with different Avengers characters placed along the trail – they'd had these outside the Expo entrance originally.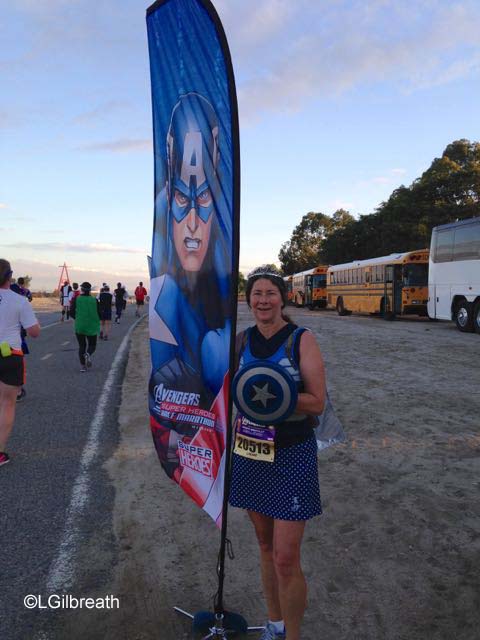 We exited the Santa Ana Trail at Angel Stadium.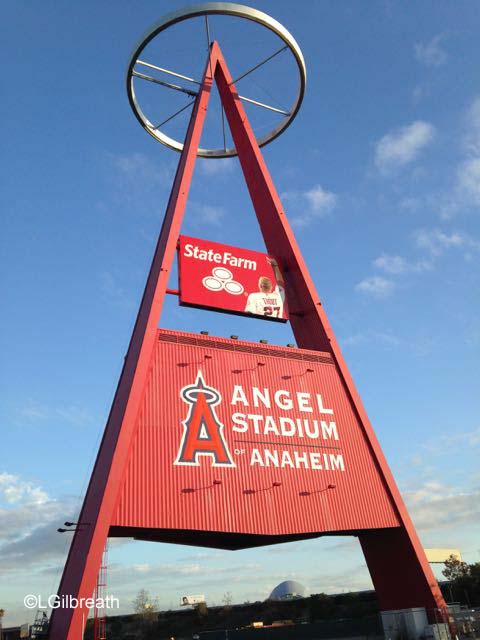 There were lots of cheerleaders in the stands, rather than the Boy and Girl Scouts that we see during the Disneyland Half Marathon.
In the parking lot outside there were the military re-enactors. They looked terrific, and they were very enthusiastic!
There was also a group of swing dancers, but they weren't performing when we ran by.
The newest Avenger movie hero, Antman, was also represented on some of the signs and banners. I'm used to the Disneyland Half Marathon course where this point is mile 10, but it was only mile 9 – that was a little discouraging. We had to take a longer route back to make up the extra mile to the finish area.
More S.H.I.E.L.D. agents were waiting for us at mile 12. We were ready to be finished. That half mile behind DCA is a little tough because there's very few people cheering for us – just a few cast members. They do their best but lack the numbers to really energize us. It's a lot better once we cross Disneyland Drive as there are always a lot of cheerleaders next to the Paradise Pier Hotel and they generate plenty of energy. From there to the finish there are lots of spectators lining the course to cheer us to the end.
I got a nice shout out from race announcer Rudy Novotny as I approached the finish line. And the announcers were counting Hawkeyes – Lee was number four. 🙂 I finished in 2:22:29 – anytime I finish a Disney half marathon in under 2:25 I'm very happy with that.
We collected our half marathon and Infinity Gauntlet medals. The Gauntlet medal is interesting – it has a big purple stone on the back, and the word: "SPACE". I wonder whether the medals will be different next year? I guess that's one way to keep people coming back…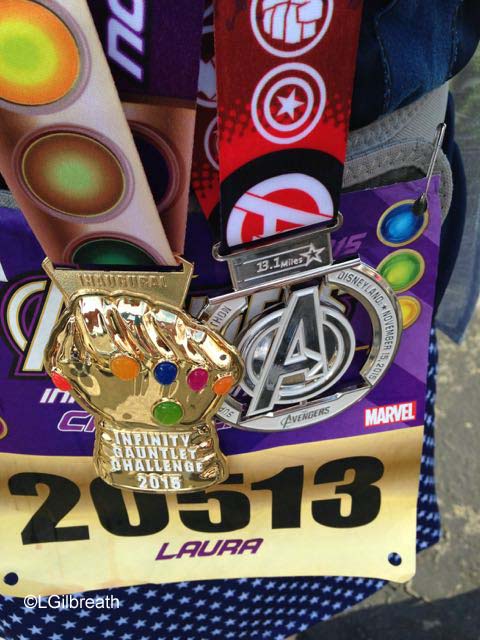 We didn't linger in the finish area – we needed to get back to our room to shower and pack, since we were checking out and (finally) going home that day after 11 days of food, fun, and running.
I enjoyed the race a lot more than last year since the weather was so much better. We lucked out with the wind, though – the day after the race we again had very strong winds in southern California!
There were some minor changes to the course this year which I think made it better, though the entrance to the Santa Ana Trail we used this time was pretty narrow and had a sharp turn. Later in the race that might have been congested, though it wasn't bad for us. I enjoyed running along the trail. The area we ran was all paved, though I wouldn't have minded running on dirt!
It was again wonderful to see all of the cosplayers come out and support the runners – they were terrific.
I think this race is a lot of fun if you want to run in costume – it's pretty easy to find an appropriate shirt, and then decide how much more you want to put into it. While there were lots of Captain Americas, Thors, Iron Men, and Hulks, I saw a number of Wonder Womans, Spidermans, and even some Guardians of the Galaxy characters. I was surprised at all of the people who carried hammers and Captain America shields for the entire half marathon (I carried a shield, but it was a small one).
Thank you to all of the volunteers, cast members, cheerleaders, bands, cosplayers, and spectators for all of your support – we couldn't do it without you!
Even now that I've run this race twice, this second time in optimal weather conditions, I'm still not quite sure what I think of it. I really enjoy the Avengers/Super Heroes theme, but there should be more characters on the course. It's a great time of year for a race weekend in southern California because the temperature is generally going to be cool – MUCH better than conditions for the Disneyland Half Marathon weekend. I enjoy the Santa Ana Trail part of the course, but there's too little park time. The Star Wars and Tinker Bell weekends at Disneyland are still my favorites, but I think Avengers edges out Disneyland because of the weather – it's just too hot in September.
I'm glad runDisney added the 10K this year. It's a great distance, and I really like the course. Two miles in the beginning to let us spread out, and then all on Disney property with lots of park time.
That said, I'm not sure if I will run this race next year…or maybe I'll just run the 10K. Registration opens April 5, 2016, so I have some time to think about it.
Thanks for reading!