by Guest Blogger Phil Creglow
I think it's safe to say that golf isn't at the top of the priority list for a lot of guests who are planning a vacation at Walt Disney World. As an avid golfer, I will admit that golf is a niche sport that can be expensive, time consuming, and at times is frustrating for everyone who plays the game. Does that mean that a round of golf would fail to make for an enjoyable experience at Disney? Can guests looking for a break from the parks find fun and relaxation on a golf course? I wanted an answer to those questions and made a visit to Disney's Oak Trail golf course.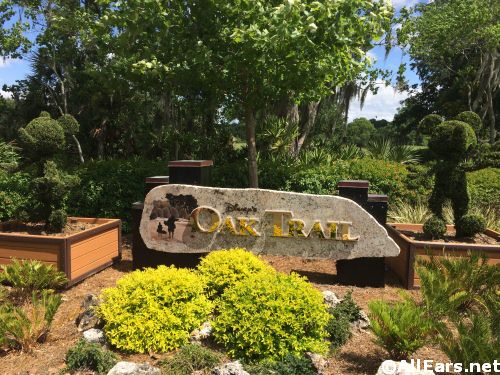 Disney's Oak Trail golf course is a 9-hole course that is surrounded by the more famous Disney Magnolia 18-hole golf course. Oak Trail is listed as a walking course suitable for families and golfers of all skill levels. The par-36 course offers a variety of tees – 2,913 yards for adults to 1,713 yards for kids – and includes access to the Magnolia driving range and putting green. As a Disney Premium Annual Passholder, I was eligible for complimentary green fees at Oak Trail, so I made a tee time online for 9:32 AM on a Wednesday.
I started my morning by checking in at the pro shop 45 minutes prior to my tee time. For me, every round of golf requires a warm-up at the driving range. Complimentary range balls were not provided so I had to purchase a small bucket of range balls for $7. That is overpriced in comparison to most courses but I paid for them anyway just to keep my normal pre-round routine. The driving range was rather narrow but offered decent turf conditions and several target greens at various yardages. The 1st tee at Oak Trail is conveniently located near the driving range so I could take some time warming up and then proceed to check-in with the starter just prior to my tee time.
The first hole at Oak Trail (photo below) is a very short par 4 and advanced players will be tempted to try and drive the green.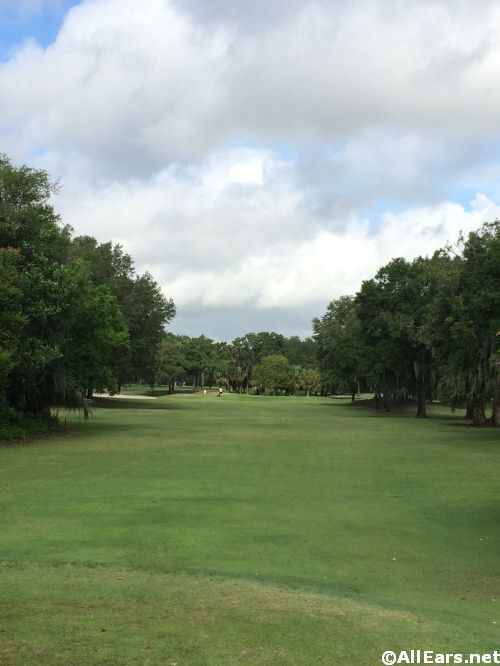 This is followed by a short par 3 and then two average length par 4s. These holes are bunched together and it's not uncommon to see players from other holes wandering into your fairway to hit stray shots. Trees line the fairways but there are plenty of openings to place your ball back into play. The greens are small on all four holes making it easier to putt for beginners and kids, yet provide challenging targets for advanced players. Sand bunkers guard all four greens. (Hole #5 shown below.)
After leaving the 4th green, the course changes dramatically. The next three holes are longer – including two par 5s – and water does come into play. The par 5 5th hole features a S-shaped design requiring three precise shots for an opportunity at a birdie putt. The par 4 6th hole (photo below) requires players to hit over a water hazard in order to reach the green in two. Dense woods surround the green so accuracy is required.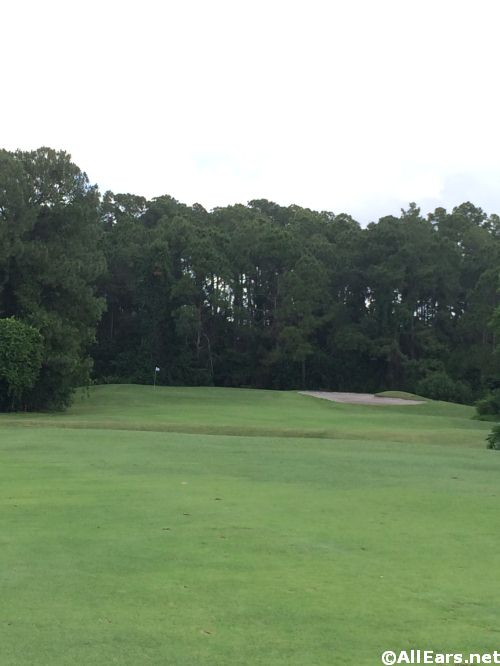 The par 5 7th hole is short for a par 5 but sand bunkers guard the front side of the narrow, elevated green. These three holes will be demanding for beginners, especially the carry over the water on the 6th hole. Advanced players will also be challenged here, more so than any other holes on the course. This is also your opportunity to take in the natural surroundings, which on this day featured massive wild turkeys near the 5th green and two gators in the pond between holes 5 and 7. This area of the course offers one of the more peaceful settings I have experienced on Disney property.
Finally, the course finishes with the par 4 8th hole and the par 3 9th hole. Shorter hitters will find that water is in play along the left side of the 8th fairway. The 9th hole is very short but the greenside sand bunker is deceiving and intimidating. This hole is where you return to the familiar sounds of Disney as the Walt Disney World Railroad whistles in the background.
Now for a few tips regarding Oak Trail:
– If you drive your own vehicle to the course, be prepared to show your photo ID. The pro shop shares property with the Shades of Green Resort, which is an Armed Forces Recreation Center. Just tell the security guard you have a tee time at the golf course and you are on your way.
– The pro shop will not recognize Magic Bands to pay for golf or claim discounts! Be sure to bring your Disney Vacation Club card, annual pass or resort hotel card if you will be claiming available discounts.
– Food and beverages are available outside of the pro shop. A beverage cart was parked just past the 4th green but had left by the time I approached the 8th tee. Take this into consideration if you require beverages or food on the course. You will want to stock up before your round just in case beverage cart service is not available. There is a drinking fountain near the 6th tee box.
– If you are like me and require a warm-up session at the driving range, only buy the $7 small basket of range balls. Why? $7 is expensive for a small basket and you are likely to find plenty of extra range balls that have been left behind by other guests. The putting green is behind the pro shop; so start there first before making the walk to the driving range.
– If you are a single or a twosome, be prepared to pair up with other players, especially on busy days. This was nice since I prefer not to play golf by myself, was paired with three other players and we all had an enjoyable round discussing all things Disney, Orlando and sports.
– You can call (407) WDW-GOLF or visit golfwdw.com to make a tee time online. Green fees are listed at $38 but are either discounted or complimentary depending on whether you are resort guest, Disney Vacation Club member or annual passholder. Junior and twilight rates are also available.
– Club rentals, shoe rentals and pull carts are available for use at Oak Trail. Check with the pro shop in advance for availability and pricing. Like the green fees, equipment rental discounts are available for resort guests, Disney Vacation Club members and annual passholders.
I completed my round in 2 hours. Course conditions were good but not pristine. A couple of greens had areas under repair and I noticed two sand bunkers that were damaged by either heavy rain or just poor drainage. As of this writing, Oak Trail is closed for refurbishment and is scheduled to reopen on June 4, 2014.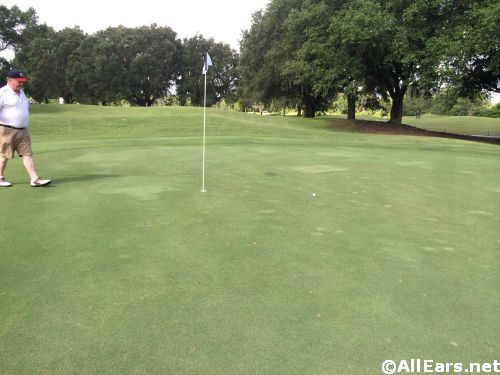 With the reasonable pace of play, the opportunity to walk, and complimentary green fees as a Premium Annual Passholder, Oak Trail will be a regular golf destination for me. Avid golfers with more time and money to spend may be better off playing one of Disney's 18-hole courses, which include Magnolia, Palm and Lake Buena Vista. While Oak Trail is advertised as a family-friendly golf course, I did not see any kids playing the course during my visit. My playing partners were all taking the morning to play golf and then reconnect with their family and friends either for lunch or in the parks later that afternoon.
Fun? Yes. Relaxing? Yes. I think my playing partner Art from New York had it right when he said, "Oak Trail is my vacation from my vacation."
Phil Creglow rediscovered Disney two years ago following a twelve year hiatus. After relocating to Orlando in 2014, he is on a mission to make up for lost time by making frequent visits to the Disney parks, participating in runDisney events, and sampling the best food and beverages available at Walt Disney World.