Today, June 17, D23 is launching a completely re-worked version of its website, complete with around 98% new archival content, specifically for D23 members.
On accessing the home page, it is readily evident what content is available only for registered members, by the gold Mickey key in the corner of the article's banner.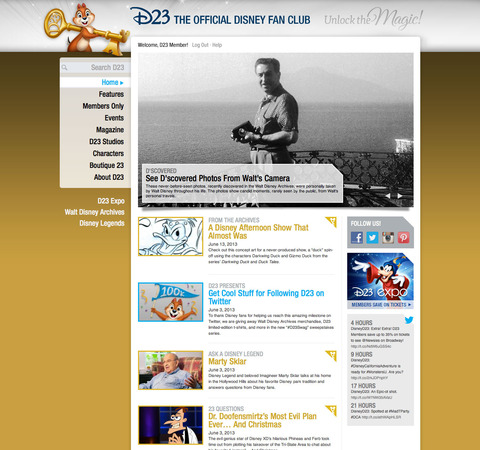 Once the member has logged in, the background of the page turns to gold, and all the material is unlocked for perusal.
One exciting new feature is an updated electronic version of Dave Smith's Disney encyclopedia
"Disney A to Z," which is going live with 7,034 pages on launch. Another is "D'scovered," in which the Disney Archives will share photos and images often never before seen by the public. Recently, some canisters of film from Walt's desk were developed, yielding personal photos not even seen by his daughter, Diane Disney Miller–for the first 23 days, the website will display a different one each day.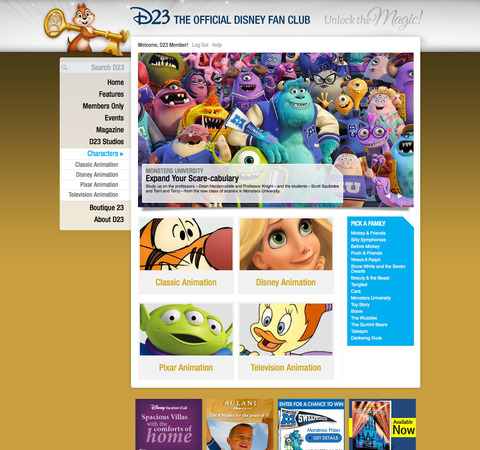 Other reference materials will include a digitized version of "The Quotable Walt Disney," and a section on character profiles. If you still can't find the answer to your question, you can submit it to "Ask a Legend," in which various Disney Legends (starting off with Marty Sklar,) will do video interviews in response to fan questions.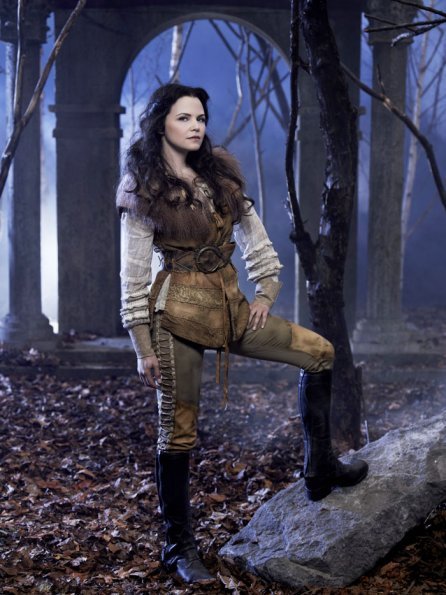 To balance all the historical content, there will be articles on more contemporary subjects as well–audio interviews with Ginnifer Goodwin, Snow White from the ABC show Once Upon A Time, and Dr. Heinz Doofenschmirtz, Evil Mastermind from Phineas and Ferb. The "First Look" department will also focus on the new and upcoming projects from different branches of the company.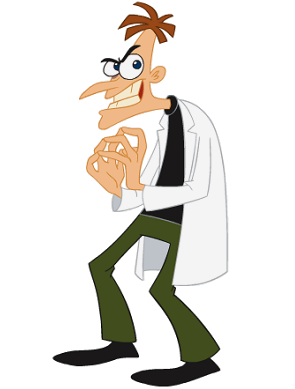 While membership is required to see the bulk of the new website content, D23 is also adding a new, free, tier of membership. Members at this level will receive, in addition to website access, opportunities to buy exclusive D23 merchandise, and discounted tickets to the D23 Expo 2013. Silver members will still receive all their usual discounts and event opportunities, and Gold members will now be the exclusive recipients of the Disney twenty-three magazine. Memberships take 24hrs to process, so count on that amount of lag time between signing up and logging in.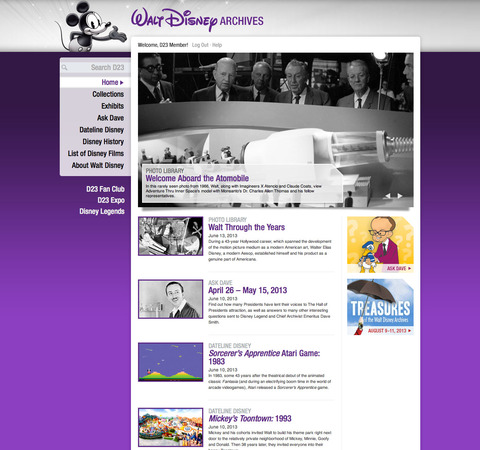 At the same time, D23 will also be launching three sister websites: The Walt Disney Archives, D23 Expo, and Disney Legends. Registration will not be required to access these sites.
If you have any interest in the past, present, or future of the Disney company, or if you ever find yourself in need of reference material for anything Disney, signing up for the free D23 membership versus depending on the sometimes-sketchy information on Wikipedia seems like a no-brainer. Registration can be accomplished at www.D23.com or www.DisneyStore.com/D23