There are plenty of things to do at Walt Disney World without going to a theme park!
A couple of years ago, while we were heading home from Florida's Gulf Coast in our motor home, we stopped for a four-day stay at Disney's Fort Wilderness Resort & Campground. Our Annual Passes had expired; we each had a One-Day Base Pass. We decided that we would not renew our AP's; we would use the One-Day Base tickets to spend a day at EPCOT and enjoy the Flower & Garden Festival. The rest of the time was "park-free" and we kept very busy. In fact we were so busy with non-park activities that we added two extra days to our vacation!
It is truly amazing the wide variety of things you can do at Walt Disney World outside the parks. Carol and I are just like most Disney guests, we often get so focussed on the theme parks that we miss out on many other exciting opportunities for fun. Some of them are even free!
Let's take a few minutes to look at what you can do when you "Think outside the parks"
Let's start with Downtown Disney. This is where Carol likes to shop, shop, shop. But of course there's plenty to do without shopping. Take a free boat ride along the Sassagoula River to the Port Orleans resorts, Old Key West or Saratoga Springs. You pass some breathtaking scenery along the way. Check out all the giant Lego figures outside the Lego Store.
Watch a movie at the AMC Theatre; there are 24 screens! How about bowling? Splitsville will be opening at Downtown Disney in the fall of 2012. There are always children's entertainers, shows, choirs and bands performing at the Waterside Stage near the World of Disney Store. Sit for a while at the open air amphitheatre and enjoy the show while you relax and wait for those die-hard shoppers!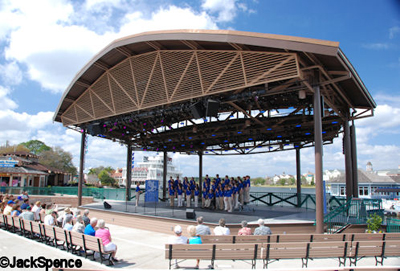 Disney Quest offers five floors of video games and virtual reality fun. Don't forget Cirque du Soleil . . . Carol and I have seen close to a dozen different Cirque shows and La Nouba is at the top of our list of favourites!
After you've had your fun at Downtown Disney you might want to play a round or two of mini-golf. There are two great courses, Fantasia Gardens located near the Swan Resort's Convention Centre on EPCOT Resorts Boulevard and Winter Summerland near the entrance to Blizzard Beach. Fantasia Gardens features pirouetting gators, tutu-clad hippos and dancing water fountains. Putt your way through five musical sequences from Fantasia.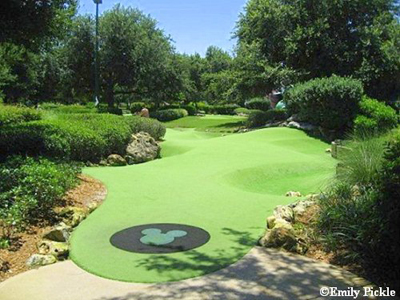 Winter Summerland is themed as Santa's permanent off-season retreat. The elf-sized course is divided into two 18-hole experiences. One course carries the snow-clad Florida look reminiscent of Blizzard Beach, and the other has a more tropical holiday theme, with Christmas ornaments hanging from palm trees.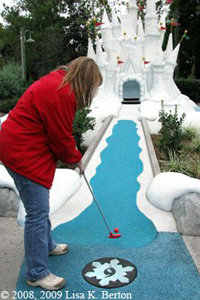 Whichever course you choose you are sure to have a good time!
If you're a real golfer and you'd prefer a full-sized golf experience you are in luck! Walt Disney World is home to four beautiful 18-hole golf courses; the Palm, Magnolia, Osprey Ridge and Lake Buena Vista courses as well as a 9-hole course, Oak Trail. Didn't bring your clubs? Not to worry, they have plenty of rentals!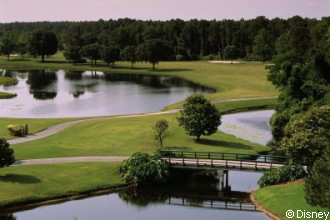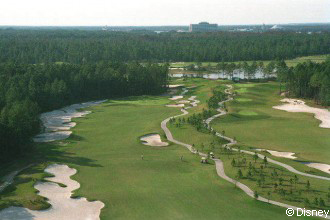 If your interests lean more toward water sports you won't be disappointed. There are two great water parks, Blizzard Beach and Typhoon Lagoon. Blizzard Beach is themed as a ski resort which has had a "meltdown". Slalom courses, bobsled and toboggan runs are now downhill waterslides. The creek of melted snow that formed at the base of the mountain is a relaxing "lazy river" tube ride. The chairlift now carries swimmers instead of skiers and the former ski jump is the tallest and fastest water slide in the world.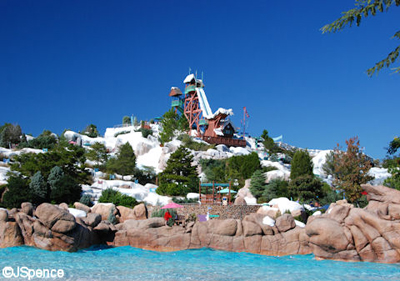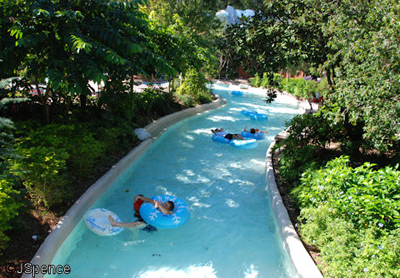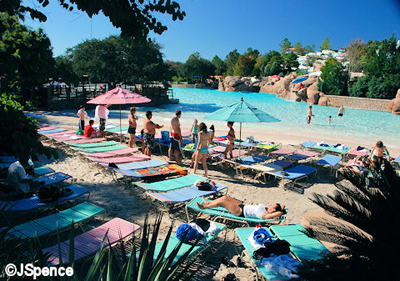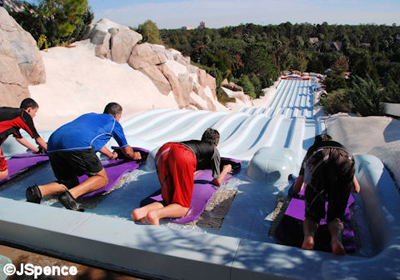 The second water park, Typhoon Lagoon, is a lush tropical paradise. There are water slides galore, a lazy river and the wave pool is truly awesome. You can take a surfing lesson in the wave pool! Looking for more adventure? Try swimming with the sharks or take a plunge down Crushin' Gusher – a wild and crazy water roller coaster!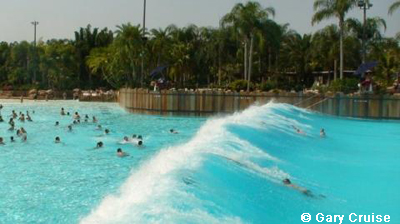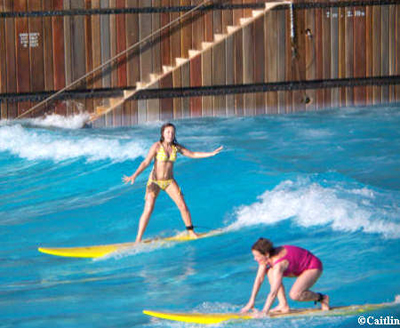 Would you like to take a boat ride on your own? Many Disney resorts have marinas where you can rent a Sea Raycer personal watercraft or rent a pontoon boat for a family outing. The Disney property has plenty of lakes and rivers to explore! And fishing is allowed, catch and release only!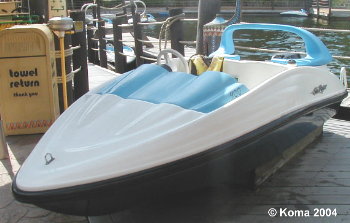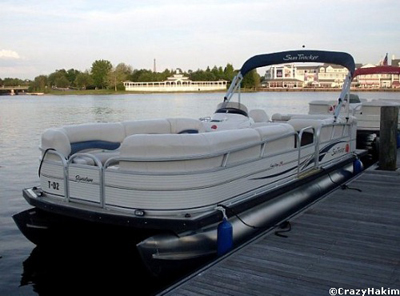 If you like to live on the edge, how about Para-sailing? Head to the Contemporary Resort. At the marina you'll find Sammy Duvall's Watersports Centre where you can book your aerial adventure!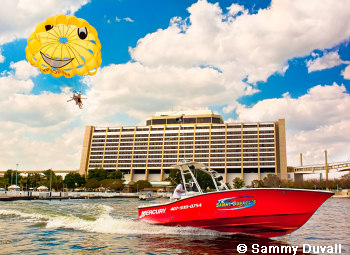 Attention NASCAR Fans: Next to the Ticket & Transportation Centre is Walt Disney World Speedway, home of The Richard Petty Driving Experience. Here's your chance to drive or ride in cars that were used in past Indianapolis 500 events. Or you can hop behind the wheel of a supercar by Ferrari, Lamborghini, Audi, or Porsche and take a few laps. What are you thrill-seekers waiting for?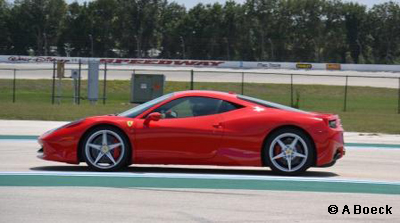 Take advantage of Disney's terrific transportation system to do a bit of resort hopping. All the resorts feature amazing themeing and some wonderful pools, most with afternoon activities for children. Enjoy a movie on the beach at the Polynesian Resort some evening, then watch Wishes from the beach. So romantic!
At Port Orleans Riverside visit the River Roost Lounge where Yee Haw Bob performs Wednesday through Saturday from 8:30 p.m. to midnight. This free show is a foot-stompin' sing-along. You and your children will love it.
Just down the road, at Port Orleans French Quarter, Elliot Dyson performs Wednesday to Saturday, 8:30 p.m. to midnight at Scat Cat's Club. Elliot plays a mean saxophone, a bluesy guitar and sometimes adds some steel drums to the mix. You'll be singing along at Scat Cat's too!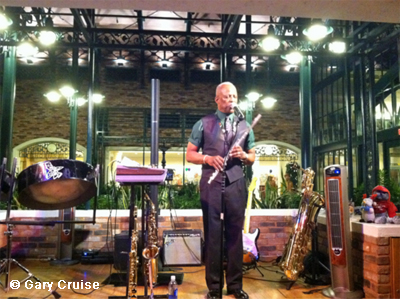 While you're at Port Orleans take a horse-drawn carriage ride along the beautiful Sassagoula River. It's a very romantic way to wrap up a day at Disney with the special person in your life!
See the Electric Water Pageant as it passes by the Magic Kingdom area resorts. This amazing (and free) show has been running every night since October 26, 1971. It will pass by the resorts the same time every evening. Polynesian Resort – 9 p.m., Grand Floridian – 9:15 p.m., Wilderness Lodge – 9:35 p.m., Fort Wilderness – 9:45 p.m., Contemporary Resort – 10:05 p.m., Magic Kingdom – 10:20 p.m. (only when the park is open past 10:00 p.m.)
If you are at the Polynesian Resort at 6:00 p.m. watch the Torch Lighting Ceremony just outside the main lobby door. The short show features an authentic Polynesian dancer who does a traditional fire-knife dance, and lights the torches leading into the Great Ceremonial House. Another Polynesian entertainer completes the scene with chants and authentic drumming. The ceremony is presented each evening, Tuesday through Saturday, at 6 p.m.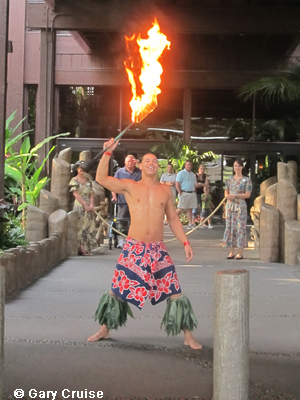 The Spirit of Aloha Dinner Show at the Polynesian Resort is a real treat. The cast of Polynesian singers and dancers will capture your attention as they tell the story of their culture with humour, song and dance. The grand finale, the fire dance, will leave you speechless.
Enjoy a walking tour of Wilderness Lodge with a Ranger. The "Wonders of the Lodge" tour is offered at 9 a.m. on Wednesdays, Thursdays, Fridays and Saturdays. The tour focuses on the resort's architecture and how the Lodge was built. The ranger takes you outside, talks about landscaping, and then goes back inside and talks about the artwork, the metal work, the Totem Poles and the paintings.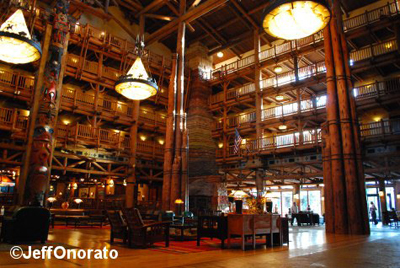 Check out Animal Kingdom Lodge.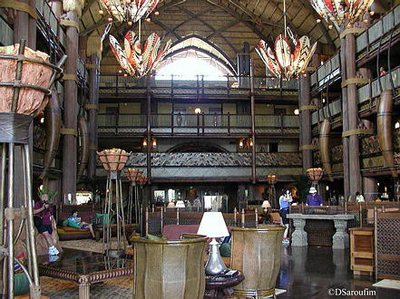 After you have admired the amazing African artefacts in the lobby walk out the doors opposite the main entrance and you will find the Arusha Rock Savannah. There are over 100 animals grazing on three different savannahs. You can see Ankole Cattle, Bongo, Blesbok, Eland, Grant's Zebra, Greater Kudu, Impala, Reticulated Giraffe, Thomson's Gazelle, Waterbuck, Red River Hogs, White-Bearded Wildebeest, Abyssinian Ground Hornbill, Blue Crane, East African Crowned Crane, Greater Flamingo, Marabou Stork, Ostrich, Pink-Backed Pelican, and Ruppel's Griffon Vulture.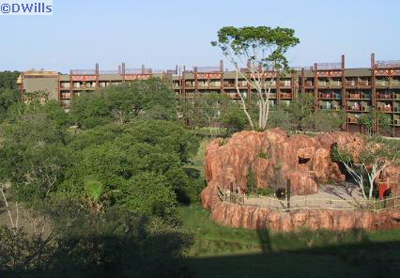 If you visit the Arusha Rock Savannah after dark you might enjoy a special treat. The African guides on duty often have night-vision glasses which you can use to spot the animals in the dark.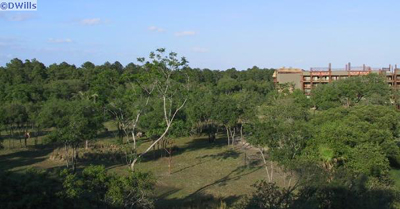 Just before you return to the lobby you will see a huge fire-pit surrounded by wooden chairs. Guides light up the fire and tell African folk tales here every night at Arusha Firepit.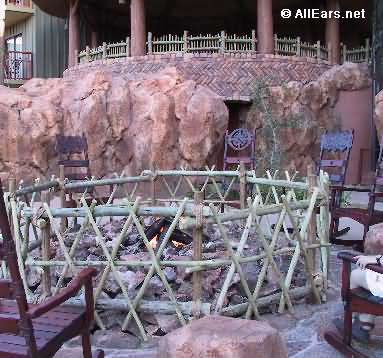 You can feed flamingos at the Flamingo Pond, play wildlife games in the Sunset Lounge, decorate cookies at Boma . . . there are almost limitless things to do at Animal Kingdom Lodge. Ask at the front desk for a list of activities and times.
At the EPCOT Resort Area you can tour around Disney's Boardwalk and check out the many restaurants and shops. Stop into Beaches and Cream – even if you don't have the appetite for a Kitchen Sink Sundae you can still enjoy watching someone else eat one!
Rent a surrey bike and tour the area.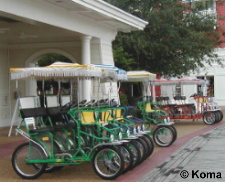 Watch street performers who appear throughout the day. Tour the adjacent Yacht Club, Beach Club and Swan & Dolphin Resorts. Check out the Stormalong Bay Swimming Pool shared by the Yacht & Beach Clubs. Wow!
Are you convinced yet? Walt Disney World offers just so many things to do without going to a theme park. The things I have mentioned so far just scratch the surface. There are so many more activities . . .
I have visited Walt Disney World more than thirty times and there are plenty of things I haven't gotten to yet! It's a challenge and I'm working at it!
I know, I know, you're probably thinking . . . "But Gary, you haven't mentioned Fort Wilderness!" Fort Wilderness Resort & Campground is a hidden gem. If you have not visited the campground you don't know what you're missing. As a matter of fact there is so much to do at the campground that it will be a chapter of its own.
I will cover "The Fort" in Part 2 of this blog. Stay tuned!
P.S. – I'm always looking for new subjects to blog about. Is there anything you would like to see me cover in a future blog?