People often ask Carol and I which we prefer, Walt Disney World in Florida or Disneyland in California. They are always surprised when we respond, "You can't compare the two; they're really quite different."
Our friends often protest, "But they're both Disney resorts, they have many of the same rides and attractions at both. They must be comparable!"
No, they are not . . . at least not in our opinion.
We have been going to Walt Disney World regularly since 1977 and we are huge fans. In 2005 we took our "once in a lifetime" trip to Disneyland, it was the 50th Anniversary year. Wow! We were blown away. It was wonderful, so wonderful that we have now been there seven times in the past seven years. So much for "once in a lifetime".
Walt Disney World is the most popular and the largest vacation destination in the world. It covers 47 square miles, has four theme parks, over 20 Disney owned and operated hotels, a huge campground, countless restaurants, two water parks, a five story video arcade, a shopping district, several golf courses and a Richard Petty track. All of the facilities are connected by a transportation system which includes hundreds of buses, scores of boats and a monorail. It's a self contained city which employs about 66,000 people and hosts tens of millions of tourists every year.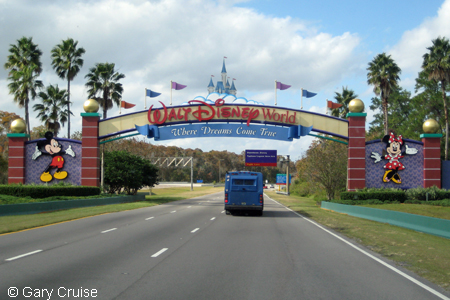 Disneyland is a classic. It was the world's first theme park and it led the way for all the others. This is the park I grew up dreaming of . . . I would rush home from school every day to watch The Mickey Mouse Club on television. Spin & Marty, Davy Crockett, the Mousketeers and Annette. Oh yes . . . Annette! Every boy in my generation had a crush on Annette! Each Sunday night Walt Disney was on TV showing us a bit of Adventureland, Fantasyland, Frontierland or Tomorrowland; he captured our imaginations and whet our appetites. It was almost 50 years before I fulfilled my boyhood dream and took the trip west to Disneyland.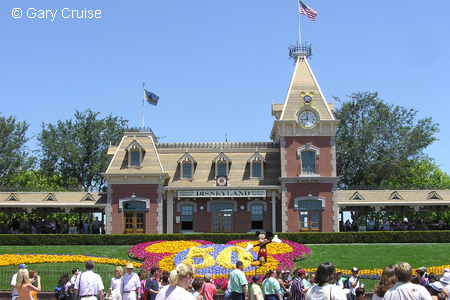 The scope and scale of the properties is so much different. Disneyland is in an urban area and is surrounded by fully developed properties. Walt Disney World has lots of room to grow; only about a third of the 47 square miles has been developed so far. The entire Disney property in California would fit inside the parking lot at Florida's Magic Kingdom.
This disparity in size makes for some big differences in the experience you have at each resort. In California you can walk between the theme parks or to any of the hotels and other attractions in just a few minutes. In Florida you rely on the free Disney transportation system to get from your resort to the parks and attractions. This leads you to some wonderful sights you can see from the boats or on the monorail.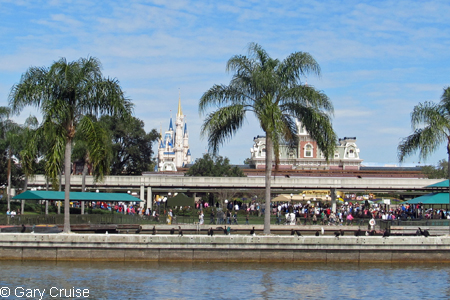 Approaching Florida's Magic Kingdom by boat
In California the monorail is considered an attraction; in Florida it's a vital transportation link. In California everything is close and convenient; in Florida it's vast and diverse.
Do they have the same attractions? Yes and no!
Both parks have Pirates of the Caribbean, but they are different! Both parks have It's a Small World, but they are different! Both parks have a castle but they are different!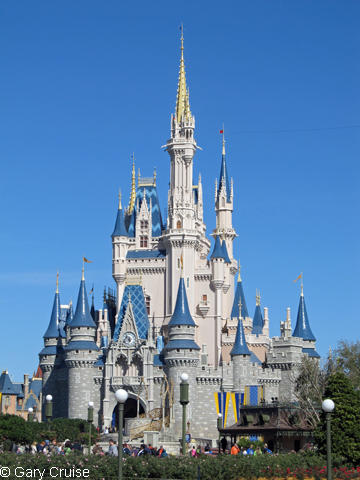 Walt Disney World's Cinderella Castle
When we first arrived at Disneyland in 2005 Carol headed off to the Bank of Main Street (now the Art Gallery) to pick up her Annual Pass while I headed to the upper deck of the Train Station to get a picture of Sleeping Beauty Castle. As I took my first look down Main Street USA the first thought I had was, "Where's the castle?"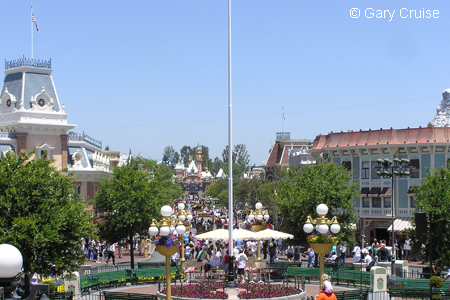 Where's the castle?
Then I saw it . . . so much smaller than Cinderella Castle in Florida. It's only 77 feet tall, less than half the 189 foot height of Cindy's place which serves as the focal point in the Magic Kingdom.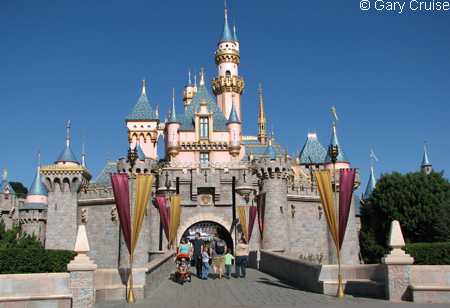 Disneyland's Sleeping Beauty Castle
In Disneyland if you are disoriented you look for The Matterhorn (147 feet) to get your bearings.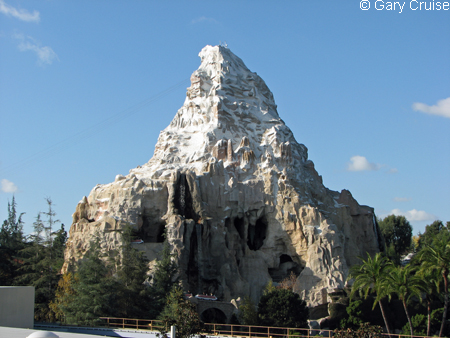 The Matterhorn
While the California castle is smaller than its Florida counterpart it has some very interesting features. You can walk through several hallways and see a diorama of scenes from Sleeping Beauty. Don't miss this attraction!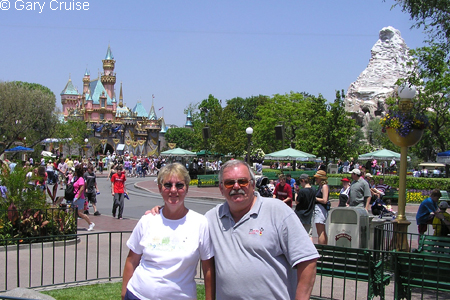 In Florida Tinker Bell flies every night from Cinderella Castle but in California, where The Matterhorn dominates the skyline, she flies from the peak. She disappears for a while and then she flies back for an encore. It's an amazing sight in Florida but it's amazingly spectacular in California.
Many attractions appear in both parks but each coast has a number of unique ones as well. In California Country Bear Jamboree closed in 2001 but carries on in Florida. Mr. Toads Wild Ride, based on The Wind in the Willows by Kenneth Grahame, continues to operate in California but closed in Florida in 1998. Oddly enough, each of the attractions was closed to make room for Winnie The Pooh!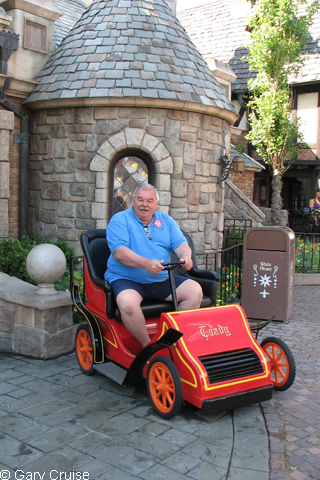 Mr. Toad's Wild Ride
Almost all the attractions which are duplicated in each park have unique differences. In California you line up outdoors for It's A Small World and you board the boats outside before you sail into the attraction. In Florida you board inside. The interior configuration and displays are quite different as well. The exterior façade of the California version is lavishly lit at Christmas and the nightly The Magic, The Memories and You show is projected on it. It's a very busy area every evening.

Disneyland's It's a Small World loading area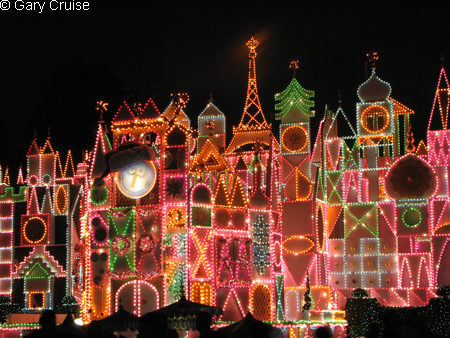 Disneyland's It's a Small World at Christmas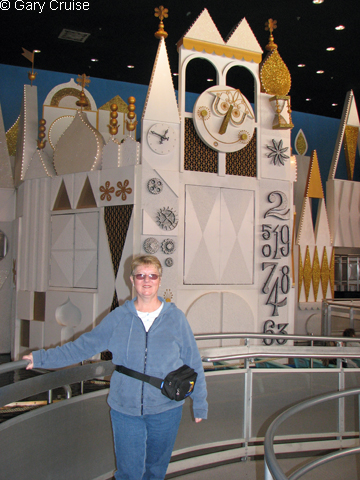 Florida's It's a Small World loading area
The Haunted Mansions in each destination have some of the same scenes but on the whole they are very different. Carol and I much prefer the California version which is located in New Orleans Square rather than Liberty Square like the Florida mansion. Try to schedule a visit to California between Halloween and Christmas. They shut the mansion down for a few weeks before Halloween and after Christmas in order to add the Nightmare Before Christmas overlay and then remove it. They don't just tweak the ride, it's a complete makeover. If you are a Nightmare fan you simply must see the Disneyland Haunted Mansion with the overlay. It is mind-blowing!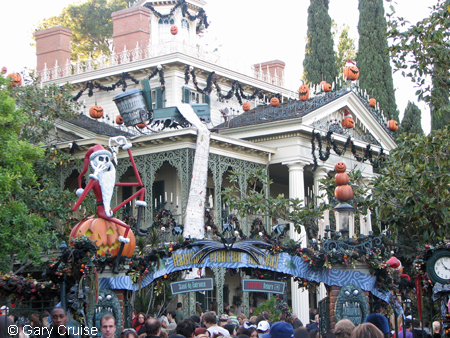 Disneyland Haunted Mansion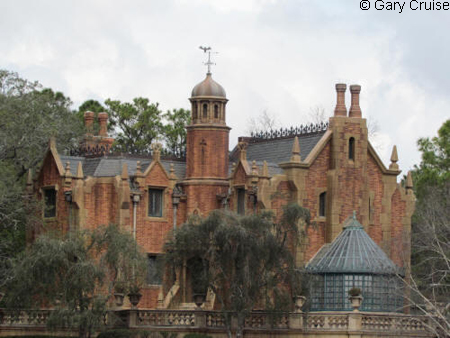 Walt Disney World Haunted Mansion
We also prefer the California version of Pirates of the Caribbean which is set in New Orleans Square. You board your boat at Lafitte's Landing and get a peek at the dining area of the Blue Bayou Restaurant as you sail through the bayou before plunging into the pirate's grotto.

Disneyland Pirates of the Caribbean
In Florida the Pirate's attraction is part of Adventureland. You pass through a golden Spanish fort called Castillo Del Morro (inspired by Castillo de San Felipe del Morro in San Juan) before you board the boat for your descent into Pirate's Cove.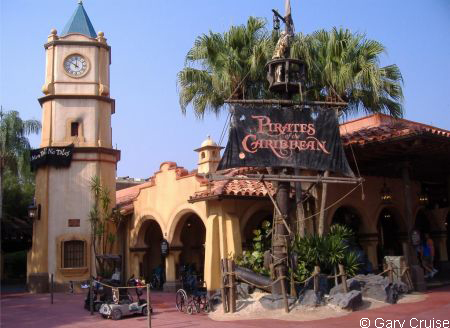 Walt Disney World Pirates of the Caribbean
I must also mention my favourite entertainers at Disneyland, Billy Hill & the Hilbillies! This quartet plays regularly at the Golden Horseshoe Saloon and the show is always a laugh-fest. They are all talented musicians and they are all complete hams.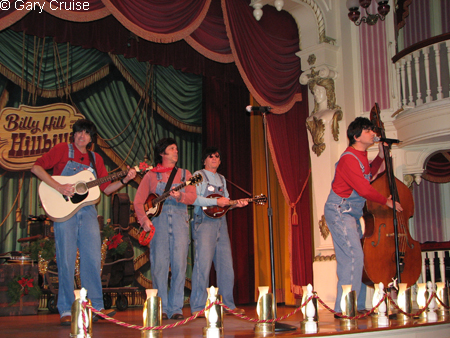 We make it a point to sit through several of their 25 minute shows each time we visit. When I walk past the empty Diamond Horseshoe Saloon in Florida's Magic Kingdom I always lament that Florida doesn't have Billy Hill.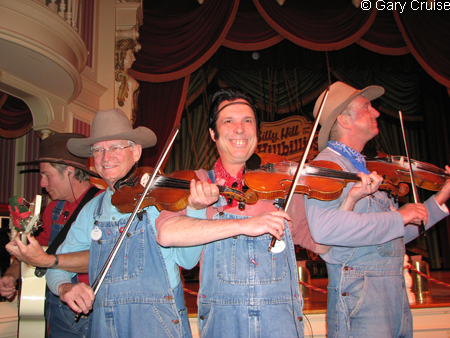 We need to stage a sit-in or some sort of protest . . . each of us carrying a "We Want Billy Hill" sign. OK . . . OK, all you folks in California relax, we're not trying to steal Kurt and the boys, we just need a group like them!
There are so many other differences, the Aladdin Show, an awesome Toontown, Storybookland, the California Screamin' roller coaster, the Alice In Wonderland Ride, New Orleans Square and so much more in California.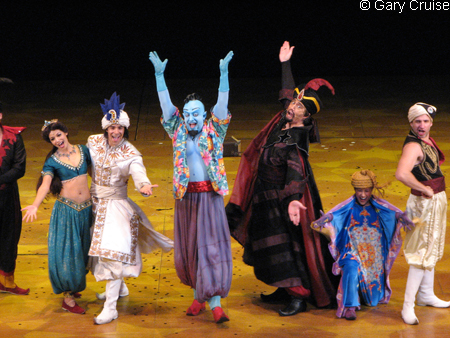 Aladdin Show at California Adventure's Hyperion Theatre

Disneyland's Storybookland

Disneyland's Toontown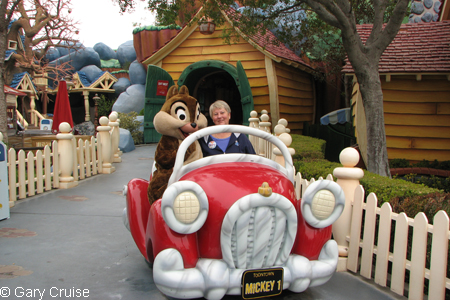 Disneyland's Toontown
Florida has Mission Space, the Finding Nemo show, the Festival of the Lion King show, The Great Movie Ride, the Lights, Motors, Action stunt driving show, The Universe of Energy and plenty of other unique attractions.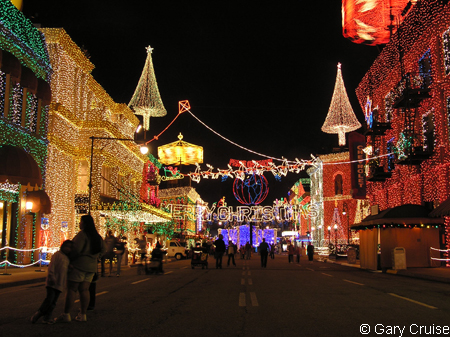 Hollywood Studio's Osborne Spectacle of Dancing Lights

Lego figures at Downtown Disney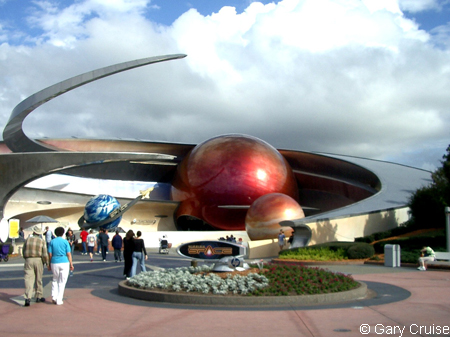 EPCOT's Mission Space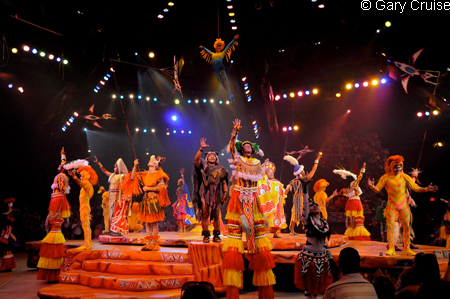 Animal Kingdom's Festival of the Lion King
In California they have just opened an exciting new area in the California Adventure park. Carsland looks amazing, I can't wait until we see it this December. Of course in Florida they have opened some of the new attractions in the totally redeveloped Fantasyland. It seems that there's always something fresh at each destination.
If you still don't believe me when I say, "You can't compare the two; they're really quite different." there is only one thing for you to do. Visit both just as soon as you can . . . then you can draw your own conclusions.
I'm sure you'll agree with me then!