We were at sea the next day, and went to Palo for brunch with some of the AllEars/Mouse Fan Travel group. Lee and I had never had brunch at Palo before, so it was a real treat for us. We were in the private dining room, with Daniel as our server.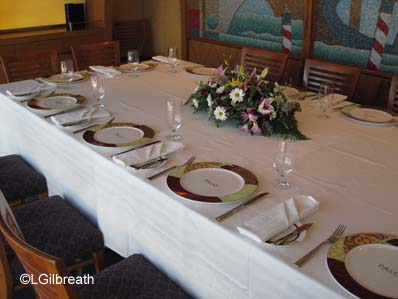 Daniel took those in our group (there were 2-3 other people, also) who had not been to brunch before and showed us around the different stations. Oh my…so much great food, and not nearly a big enough stomach to try enough of it! It might have been my favorite meal
of the cruise.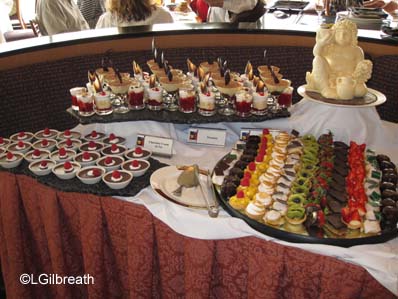 Here's my "first round" plate: Bloody Mary shrimp cocktail, peeled shrimp. some kind of pastry, an olive roll, olives, roasted fingerling potatoes, melon, roasted vegetables, a cream puff,
sun-dried tomatoes, and mozzarella and tomato salad with basil. There's also a couple of piece of port wine and cheddar cheese under the melon, I think. Oh, and I see the tip of the prosciutto-wrapped asparagus, too. And yes, I pretty much ate all of it.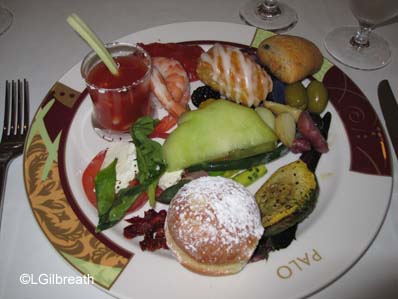 We were served mimosas to drink – those were yummy (we could have had sparkling wine, instead).
Lee went more artsy with his plate: roasted vegetables, proscuitto-wrapped melon, breasola, some of that port wine and cheddar cheese, a mini pizza, crab leg, shrimp, olives, green beans,
mushrooms, and sun-dried tomatoes.
Daniel brought us a selection pizzas to try, though I didn't photograph any of those, but there were margarita, Gorgonzola and grape, goat cheese and sun-dried tomato, and sausage.
In addition to all of the buffet items we could also order from a selection of hot entrees. I had the vegetable fritatta. It was just ok.
Lee had the Eggs Benedict. He'd never had that before but really enjoyed it and would order it again. They had three kinds of Eggs Benedict – one with traditional ham, one with salmon, and one with spinach.
This is one of the pastas of the day, with shrimp and cheese sauce.
My dessert plate – I tried everything that had chocolate in it. There's tiramisu, a sort of walnut cake bar topped with chocolate, a chocolate ganache-covered cake, chocolate cream de pot, and chocolate-covered strawberries.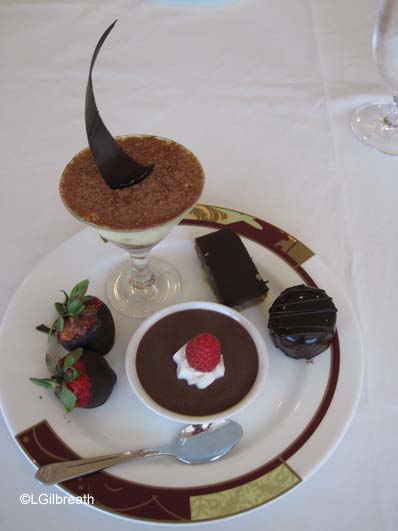 Lee's dessert plate included fresh fruit chocolate cream de pot, and a sticky bun.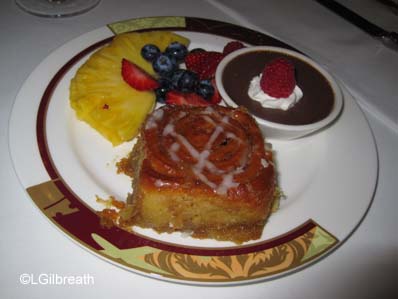 It was semi-formal night and the ship-wide menu was Captain's Gala. We were back in Parrot Cay again (third dinner there on this cruise – it was sort of an odd dining rotation on the six-night cruise).
We had the same appetizer – the Garlic and Herb Sauteed Shrimp, served on some thin-sliced vegetables. The only problem with this was that there wasn't enough of it – the shrimp was really good!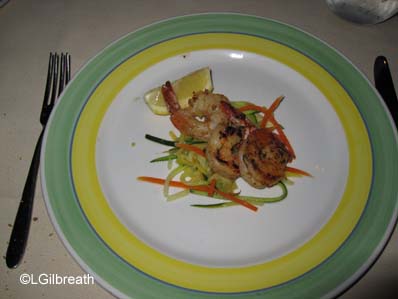 Jeanine had the Oysters Rockefeller on the Half Shell. She said it was notable for having almost microscopic bits of oyster in it.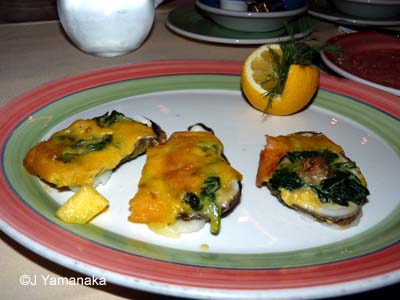 My second course was the Garden Fresh Salad with tomato chips and balsamic dressing.
Lee had the Wild Forest Mushroom Soup. This really doesn't photograph very well, but fortunately it tasted a lot better than it looked.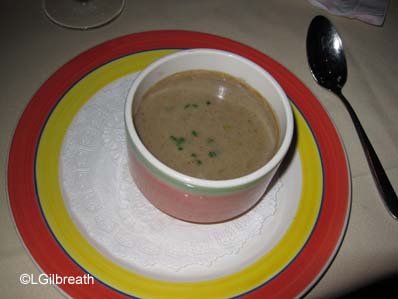 I tried something quite different as my entree: Pan-Seared Venison Medallions. It came with marinated red cabbage and potato croquettes. There were three medallions – the first was a little tough but the other two were more tender and flavorful.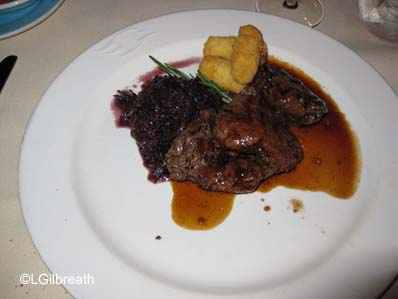 Lee had the Fettuccine with Parmesan-Crusted Chicken. It had a parmesan cheese crust and a cheddar cheese sauce.
Carol ordered the signature entree – the Baked Lobster Tail. Balwan removed the tail from the shell for her – he gently chastised her for attempting to do it herself. 🙂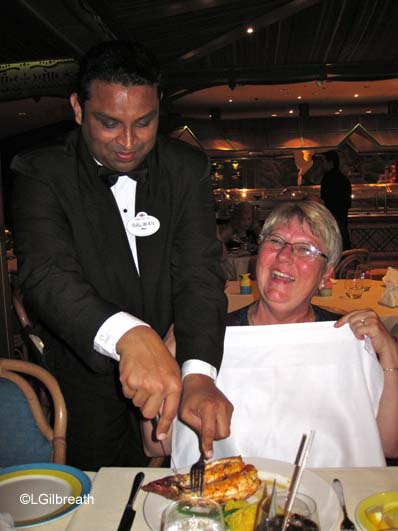 As you can see it's quite an attractive dish!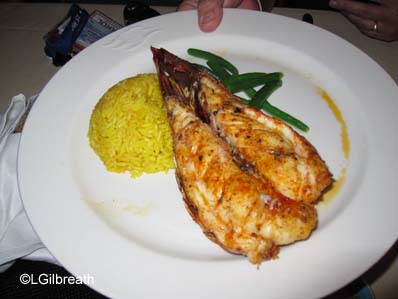 This is the Gingered Soba Noodles with eggplant and shiitake mushrooms.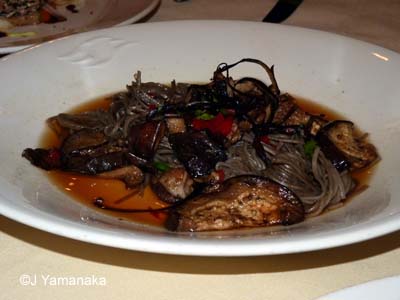 Sesame Seared Tuna Loin with bok choy, daikon, and carrots.
It was Gary's birthday, and our head server brought us some slices of cheesecake.
I had the No Sugar Added Chocolate Cheesecake. This was quite disappointing – it didn't have much chocolate flavor at all.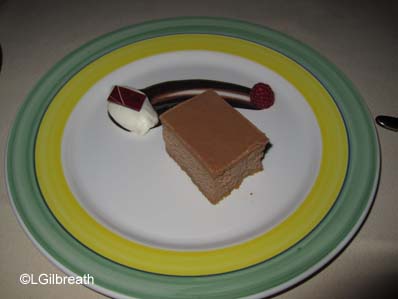 Lee had the Warm Chocolate Lava Cake. It was covered in chocolate sauce and served with vanilla ice cream. It was warm and very good. Though Jeanine had the same thing, and she thought it was overcooked so it was just cake – nothing lava about it.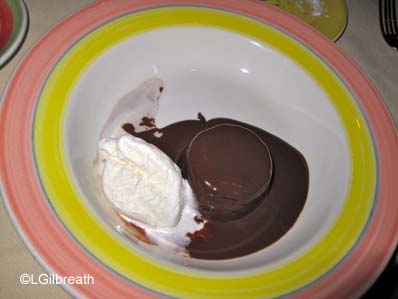 Gary had the Banana Creme Brulee.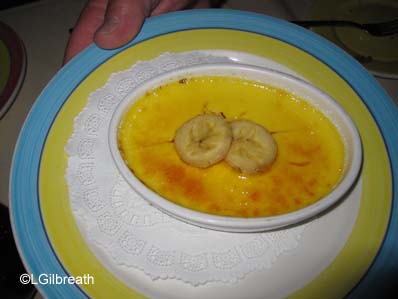 Our final dinner on the repo cruise was 'Til We Meet Again in Triton's. Our napkins were in an interesting shape – Peter Pan's foot, maybe?
Here's our most excellent table.
Lee and I had the same first two course – great minds think alike. 🙂 Appetizer was the Grilled Chicken Sate. This was a generous serving for an appetizer, and the chicken had good flavor.
Jeanine tried the Chilled Seafood Medley and thought it was very good.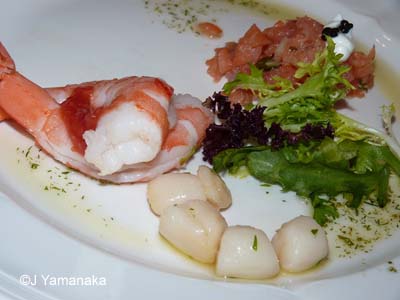 This is the Sesame-Crusted Tuna Sashimi, with wasabi and American caviar.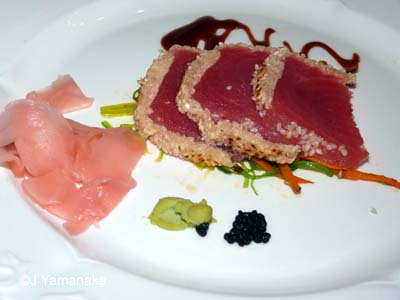 We also had the Potato Leek Soup, topped with sour cream and chives. This was quite a surprise because it was way too salty. Someone got carried away with the salt shaker. 🙁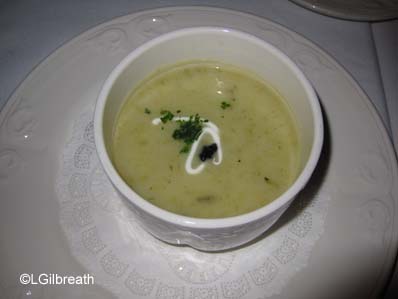 I made up my own entree – I requested the vegetable streudel with the side dishes from the beef tenderloin – Williams potatoes, asparagus spears and baby vegetables. I was hoping that the streudel wouldn't have peppers in it, but it did, so I had to kind of pick through it. I enjoyed the sides a lot, though.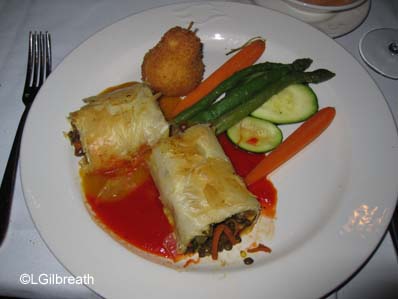 Lee had the Yachtsman Steakhouse Center Cut Grilled Beef Tenderloin.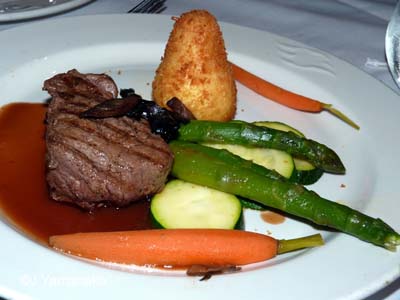 This is the Seafood Linguini Pasta.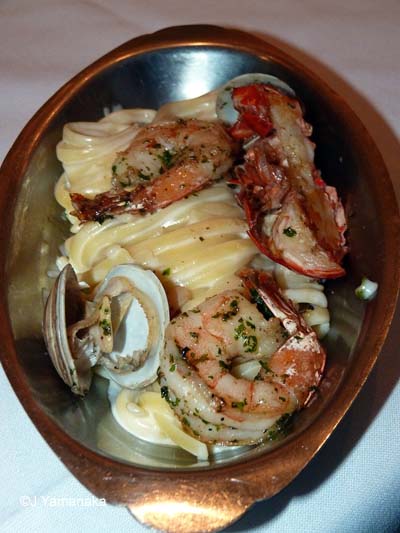 And this is the Garlic and Rosemary-Marinated Lamb Sirloin with potato gratin.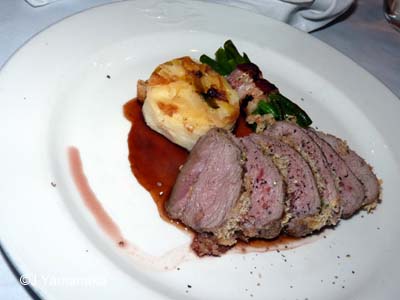 It was time for the flaming baked Alaska parade of nations – that's always fun.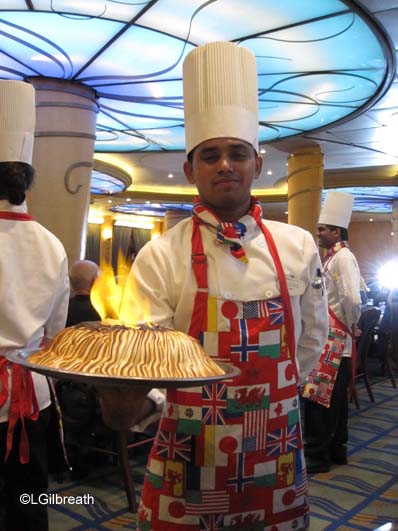 My dessert was the Chocolate Decadence. It's actually a dessert trio, with a chocolate mousse cake topped with chocolate ganache, some whipped cream and chocolate sauce, and a chocolate meringue cookie.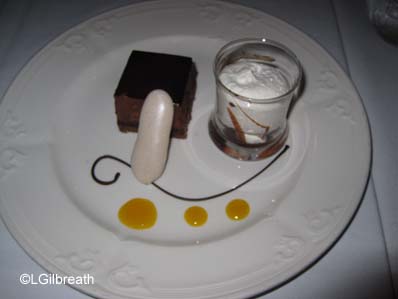 Lee had the Baked Alaska – that's what he always has. 🙂
Balwan brought Linda a very special dessert.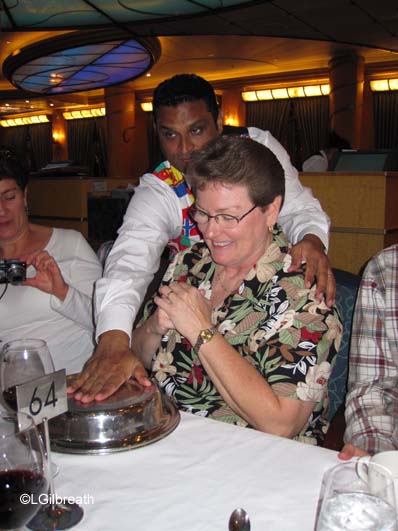 It was exactly what she had ordered. 🙂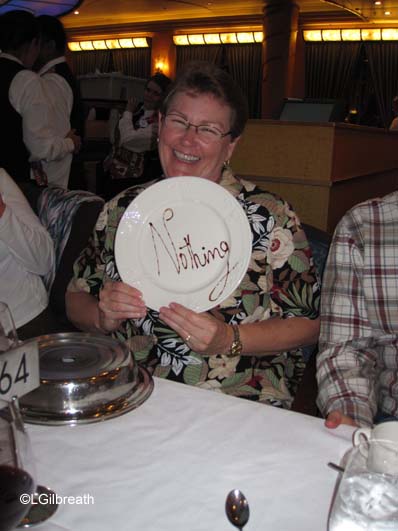 We were the only ones at our table for breakfast on the final morning, when we were back in Triton's again.
I had a fairly light breakfast – sliced fruit, tea, and Nature's Muesli. This was not what I expected from the description – I was expecting something more granola-like, but it was more like yogurt with small bits of almonds, seeds, oatmeal, and dried fruits. Not something I'll order again.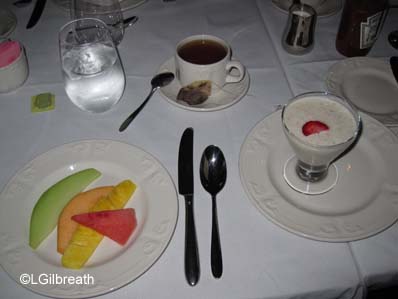 Lee had what was his favorite breakfast of the cruise, the Route 66: scrambled eggs, bacon, and hash browns.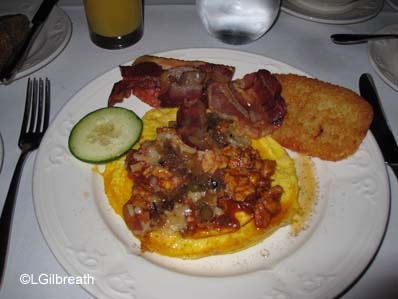 So, that brings us to the end of the repositioning cruise. We had some menu items we really enjoyed, and some things that didn't appeal to us very much. You'd think that I would've learned by now that the menu descriptions (especially on dessert) don't always match up with what I think I will be getting. I'm not sure if that's because they don't get the ingredients, or the chef wants to prepare it a little differently, or both. I guess it does make for a surprise a mealtimes!
The food blogs for the Alaska cruise are coming soon.