Hey guys! I don't know if you've heard, but the Disney Cruise Line has a new ship called the Dream! And it's 40% bigger! And…wait, where are you all going…?
So OK, maybe you've suffered a severe case of Dream publicity burn-out. I get that. That's why I've deliberately procrastinated on blogging about my Dream cruise until absolutely no one is talking about it anymore.
Since AllEars already has an incredibly comprehensive section on the nuts and bolts of the Dream, I figured I'd just briefly rip off the Betamouse podcast's "Win, Fail, and Meh" segment…because there is really very little anyone could reasonably consider "Ugly" about it.
The Win:
Enchanted Artwork: The pictures on the walls that are magically brought to life by your presence are, in fact, enchanting. It's technologically impressive, but made even more effective by the unobtrusive way they're presented. Nothing about any of the artwork would make you think there's anything special about them…unless you stop to really look at them for a moment. They work to give the guest the feeling that anything magical could happen at any time.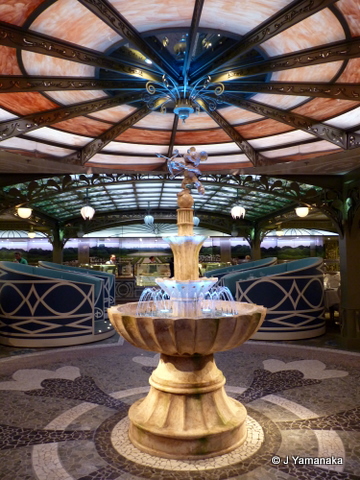 Enchanted Garden: I have thought that Parrot Cay was the weak link in the dining room triad for a long time; the Enchanted Garden is a vast improvement. The food quality seems improved and the changing lighting with opening flower lights and fans is a huge step up from what used to be something trading on the Tiki Room nostalgia without providing the same quality of theming.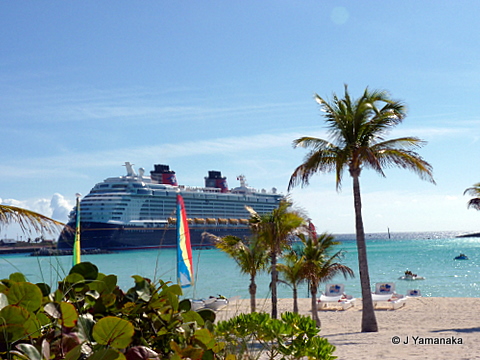 Wave Phones: Sure, there's a few problems with their implementation–they don't always work, they're set perpetually on vibrate, and they don't have a belt clip. They're still a huge improvement over constantly having to run across the ship back to your room to see if anyone left you a message. So what if you have to punch "7" 4 times to text "S?"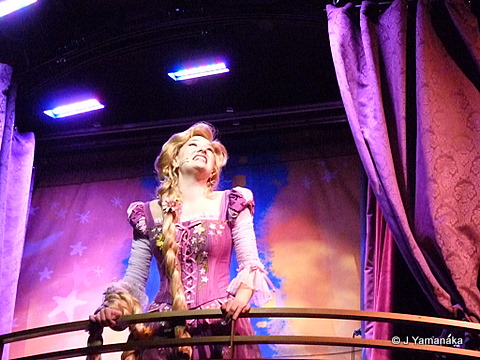 Golden Mickeys: It's nice to see this show updated with some of the songs from Disney's newer musical hits. One of the things I've always liked about it is its relatively straight portrayal of the numbers, rather than trying to work them into "hipper" versions–I've never been sure the world needs a beat-box version of "Yo Ho."
Pirate Night show: Although the fireworks have always been a nice touch, the Pirate deck show has become a little familiar over the years, remaining basically unchanged across time and ships. This version, with the more child-friendly character segment done before the late dinner seating, and the older-themed Jack Sparrow/supernatural pirate dance segment done after, switches it up a little so it feels like a fresher experience.
The Fail:
Royal Palace breakfast: So this was a total disappointment. One thing that's always been fun for us is, when we manage to get up early enough, having breakfast at the sit-down restaurant on board. The menus are usually themed to whatever the dining room is (either Little Mermaid or Beauty and the Beast,) with item names like "Mrs. Pott's French Toast" or whatever. On the Dream, the breakfast menu had all the character of the menu you get on transatlantic flights, as if they made it purposely generic in order to print the same ones for all the ships. I typically order the same thing–waffles–each time. Here's what it looked like in 2008…
And here's what it looked like on the Dream:
I mean, serious? Not only were these not Belgian waffles, as before, they were like Eggo Waffles, made by someone who didn't totally understand how a toaster worked. My Mom had the Eggs Benedict, which came out with the eggs more or less hard-boiled on top. This needs a great deal of work–I couldn't recommend going here for breakfast, versus heading out to one of the buffets.
The Navigators: When I first started cruising, the navigators were pretty much monocolor, with no pictures. They did, however, tell you all about the different events occurring each day, with a map and legend of the ship so you could tell where everything was taking place. Now, the Navigators are in Technicolor, with the front page taken up largely with pictures and advertisements for the shops and repeat booking desk. The back has a list of operating hours, surrounded with more ads for additional-fee opportunities. The inside is a colored schedule which tells you in little boxes what time events are occurring. Unfortunately, there are hardly any descriptions of any of the events, so if it's not obvious from the title, you're pretty much out of luck (what's "Magic Mirror?" "Jet Set Live?" "Family Fun Time?" You'll have to show up, to find out.)
Some things weren't listed at all. On Pirate night, they had their usual Pirate buffet, but put it inside Cabana instead of out on the deck, as on the other ships. While this might have worked out better, it was never listed in the Navigator so as a result, I never found anyone who even knew it was there. By the time I found it, after the fireworks, it had pretty much been broken down already.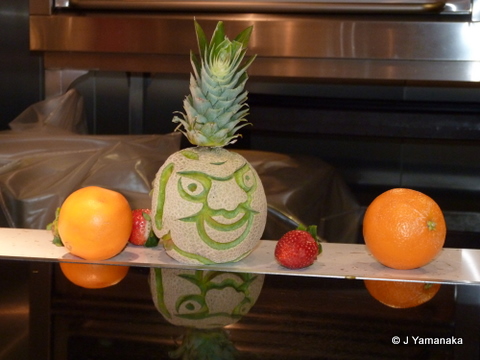 Pirate Night menu: This menu, which I feel is one of the weakest on board, remains more or less the same as always. It really needs an update, unless they're using it to make the prospect of paying the upcharge to eat at Palo that night, more attractive.
The Meh:
Animator's Palate II: While most of the new eateries were an improvement, this was the only one that seemed like it took a step back. Whereas the old show was an all-encompassing environmental change that utilized lighting, animation, and music to gradually change from black and white to color, the new Animator's Palate is pretty much Turtle Talk with Crush, with Food. It's entertaining enough, but hard to watch without thinking that this is aimed squarely at children, as opposed to the old show which was a little more sophisticated. It's also hurt a little by the lack of server involvement–before the servers used to change vests with the evolving coloration, and do a little parade. On this ship, the concept of the server parade is eliminated, as the dining rooms are serving 40% more people–thus leaving barely enough space between tables for people to squeeze into their chairs a lot of the time, much less character parades.
There is some hope however, as Imagineer Jerry Rees (http://www.jerryrees.com/index.html) reports having finished a second show, utilizing classic Disney characters, for Animator's Palate that hasn't quite gotten installed yet, but which should alternate with Turtle Talk on cruises that have two nights dining there. A new show that doesn't seem meant for the Playhouse Disney crowd is an exciting prospect.
Believe: The new show created for the Dream. It has a lot of really great numbers, but the framework story really does very little for me. In the first place, I continue to have problems with shows where actresses are playing roles around the age of 10, when they're clearly in their twenties. In the second place, the show revolves around a father and daughter whose relationship is damaged when he has to work on her birthday. Honestly, the idea that the father should be totally guilt-stricken when she has a fit because he won't drop everything and play magic/fairies with her seemed like asking a lot: It wasn't like he forgot her birthday–he had already given her a present and clearly had planned something for her later. Maybe workaholic fathers will relate with this, but it just left me thinking that some children need to learn how to entertain themselves a little better.
Get beyond that though, and it was a fun show. There was a plethora of really elaborate musical numbers that aren't commonly performed, with some terrific sets. I'd actually rather see it as a straight revue, with the framing story dropped.
Adult activities: Here's the thing: The Dream has a vast number of places and activities dedicated to children, and a bunch of hip and involving areas for teens to enjoy. For adults, there are around 10 bars, and a number of nightclubs. So there's plenty to do, assuming you're a child, or a teen, or you like to drink and/or go clubbing. If you're not…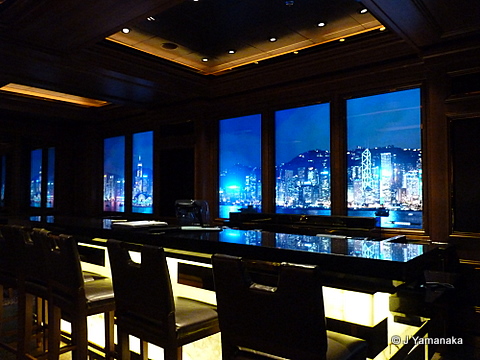 It should probably be admitted that everyone has different interests and enjoys different things. In the Real World, however, there are assumptions that people will generally fit into certain circumscribed roles. As an adult, there are usually a handful of things considered appropriate to have as interests: Sports; Politics; Children (yours/others,) Drinking; Nightclubbing; etc. If you don't happen to share those interests, then a visit to the Disney environment can represent a relief from constantly being made to feel like a poster child for arrested development. Additionally, as a non-drinker, I find Disney cruises particularly appealing for not having the same crowds of drunks lurching around, laughing raucously that other cruise lines sometimes attract.
So it's a little disquieting that virtually everywhere you turn on the Dream, there's a bar. Even more so when it becomes evident that almost all the adult spaces on board, even the pool, are pretty much exclusively designed for drinking. It's not that there's nothing else on board for adults to do, but that there is nothing so evident exclusively for adults to do as drinking that seems a little…unimaginative.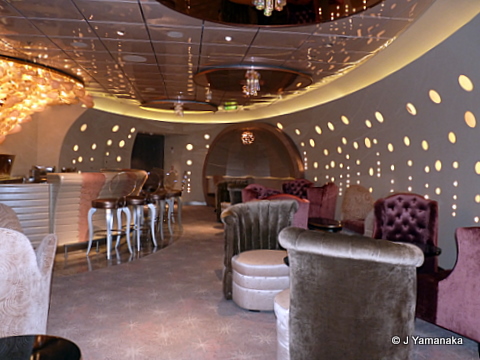 All in all though, these little complaints are minor compared to the wonderful experience cruising on the Dream really is. It's managed to streamline the whole mechanical process of cruising with great new technology without losing a lot of the little touches that make the Disney experience as magical as we always hope it will be. Happy cruising!