DISNEY CHANNEL FANS ARE INVITED TO A MAGICAL AFTERNOON
WITH THE CAST OF THE HIT COMEDY "WIZARDS OF WAVERLY PLACE"
AT DISNEY'S D23 EXPO, SUNDAY, SEPTEMBER 13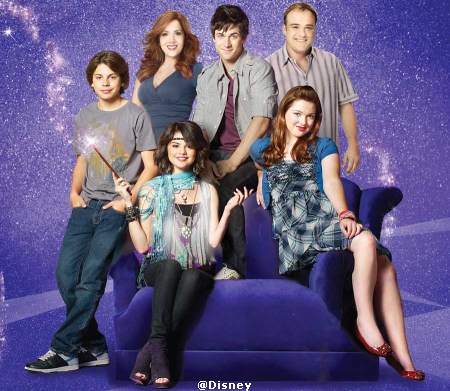 — Exclusive Screening of Season Premiere Episode and
Surprise Live Musical Performance Included
— Radio Disney's Ernie D Joins Fans on Expo Floor
Disney Channel will present a fun-filled, must-see event for kids, tweens and families, "A Magical Afternoon with the cast of 'Wizards of Waverly Place'" — Selena Gomez, David Henrie, Jake T. Austin, Jennifer Stone, Maria Canals-Barrera and David DeLuise, and executive producer Peter Murietta — at the largest Disney fan gathering ever, D23 EXPO on SUNDAY, SEPTEMBER 13 (2:00-5:00 p.m.) at the Anaheim Convention Center in Anaheim, California. Summer to date, "Wizards of Waverly Place" is TV's #1 program among Kids 6-11 and Tweens 9-14. This D23 EXPO exclusive Q&A session provides a chance for fans to ask their favorite stars about the Emmy-nominated series and the Disney Channel Original Movie it has inspired.
The afternoon will include an exclusive preview screening of the "Wizards of Waverly Place" season premiere episode and a surprise musical performance.
Popular radio personality Ernie D from Radio Disney, the 24-hour contemporary hits radio network and the only radio broadcaster for kids and families, will join in the fun at "A Magical Afternoon with 'Wizards of Waverly Place'" event. Ernie D will also make appearances with the Radio Disney on-air team – Jake, Candice and Blake – Thursday, September 10 through Sunday, September 13 (schedule to be announced) on the D23 EXPO floor. In addition, the Radio Disney Road Crew will be on hand with the "JONAS" Fan Van, playing music and inviting young fans to win prizes.
Tickets to the D23 EXPO are available at www.D23Expo.com. Admission includes access to all experiences and entertainment at the D23 EXPO and can be purchased for single days or for the full four days of festivities. Admission is $37 for a one-day adult ticket and $27 for children 3-12. Four-day passes are $111 for adults and $81 for children. Members of D23: The Official Community for Disney Fans will receive a discount on up to four same-day admissions, as well as early entry to each day of the D23 EXPO for themselves and their guests.
Many more details about D23 EXPO entertainment, events and special guests will be announced in the coming weeks. Fans can keep up with all the news by visiting www.D23EXPO.com, as well as by following "Disney D23" at Twitter and on Facebook.
Disney Channel is a 24-hour kid-driven, family inclusive television network that taps into the world of kids and families through original series and movies. Currently available on basic cable in over 97 million U.S. homes and to millions of other viewers on Disney Channels around the world, Disney Channel is part of the Disney-ABC Television Group.
Radio Disney is the #1, 24-hour radio network devoted to kids, tweens and families. Kids help pick the music that is played and are encouraged to interact via a toll-free phone line to the Radio Disney studio. The network's current playlist, driven by listener requests and representing major record labels, includes recording artists Miley Cyrus, Hannah Montana, Jonas Brothers, Taylor Swift, Demi Lovato, David Archuleta, Jordin Sparks and Mitchel Musso. The network is available on 49 terrestrial radio stations and via RadioDisney.com, Sirius and XM satellite radio, iTunes Radio Tuner, XM/DIRECTV and mobile phones. Its brand extensions include multiple Radio Disney Jams CDs from Walt Disney Records and iTunes offerings.