Jack Spence Blogger and Feature Writer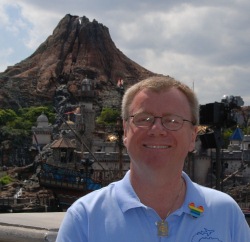 Jack Spence first visited Disneyland in 1957 when he was 5 years old. Growing up in Southern California he continued to visit "The Happiest Place On Earth" several times a year. At age 12, he asked for and received a share of Disney stock for his birthday. When he turned 18, he went to work at Disneyland and was employed there for the next nine years. Six of these years were spent working at the Blue Bayou Restaurant and the last three he was the maitre d' at the Club 33. He also completed a six-month assignment as a Disney University Leader and conducted Orientation classes for new cast members.
Jumping ahead a number of years, Jack was able to take an early retirement from Pacific Bell (SBC/AT&T), and decided he wanted to live near the flagship of Disney parks and moved to Orlando. He immediately bought an annual pass and started his regular visits to the parks and numerous resorts. He has eaten at almost every food venue at Walt Disney World multiple times and is on a first name basis with several of the servers.
Jack has visited every Disney park — including the Celebrity Sports Center. He would have to rank Tokyo DisneySea as his favorite park, followed closely by Disneyland Paris.
His top seven attractions worldwide — in no particular order are:
Winnie the Pooh – Tokyo Disneyland
CineMagique – Walt Disney Studios Paris
Indiana Jones – Disneyland
American Adventure – Epcot
Pirates of the Caribbean – Disneyland Paris
Splash Mountain – Magic Kingdom
Tower of Terror – Disney-MGM Studios

In addition to his AllEars® Feature Articles, Jack also blogs "The World According to Jack".
History of the Hall of Presidents, 7/7/09 (#511)
Dining Out and About: Favorite Counter Service Restaurants, 3/24/09 (#496)
Dining Out and About: Coral Reef, 2/24/09 (#492)
Dining Out and About: Citricos, 12/16/08 (#482)
The Significance of Steam Trains, Part 2, 10/21/08 (#474)
The Significance of Steam Trains, Part 1, 10/21/08 (#474)
Grand Floridian Resort and Spa, a Review, 9/9/08 (#468)
Dining Out and About: Boatwrights Dining Hall, 7/1/08 (#458)
Polynesian Paradise, 4/22/08 (#448)
Dining Out and About: Flying Fish Cafe, 2/12/08 (#438)
Dining Out and About: Le Cellier Steakhouse, 12/18/07 (#430)
Artist Point Winemaker's Luncheon, 11/20/07 (#426)
Dining Out and About: Cap'n Jack's Restaurant, 10/23/07 (#422)
The Contemporary Resort is Contemporary Again, 9/11/2007 (#416)
Dining Out and About: Sci-Fi Dine-In Theater, 7/3/07 (#406)
Dining Out and About: The Plaza Restaurant –A Hidden Treasure, 5/15/07 (#399)
Dining Out and About – Yacht Club Galley, 3/20/07 (#391)
Ships Ahoy – Renting Pontoon Boats, 2/27/07 (#388)
Dining Out and About: The Garden Grill, 2/6/07 (#385)
Dining Out and About: Turf Club Bar and Grill, 10/24/06 (#370)
Dining Out and About: Concourse Steakhouse, 9/5/06 (#363)
Dining Out and About: Olivia's Cafe, 7/11/06 (#355)
Dining Out and About: Trails End Restaurant, 6/13/06 (#351)
Dining Out and About: The Sand Trap Bar & Grill, 4/18/06 (#343)
Dining Out and About: The Official All Star Cafe, 3/7/06 (#337)