Dining Out and About:
Jack's Favorite Counter Service Restaurants
by Jack Spence
AllEars® Feature Writer
Feature Article
This article appeared in the March 24, 2009 Issue #496 of ALL EARS® (ISSN: 1533-0753)
Last month, Senior Editor Deb Koma wrote an article about dining at some of Disney's moderately priced restaurants. She pointed out that there are some good, lower-priced alternatives to Disney's stellar restaurants. After reading her review, I wanted to take this concept a step further. In this day and age of tightening budgets, what are some of the better choices when it comes to counter service restaurants? These are the places that I feel offer a good combination of atmosphere and food -- something besides a hamburger and fries. My choices below should only cost you $10-$13 (including a beverage) per person.
=====================
MAGIC KINGDOM
=====================
Let's start at the Magic Kingdom. This is an easy choice for me: the Columbia Harbour House. Located in Liberty Square, this restaurant has a strong nautical theme. Dark woods and seafaring memorabilia are scattered everywhere and sea shanties play in the background. Listen carefully and you'll hear "A Whale of a Tale" from "20,000 Leagues Under the Sea."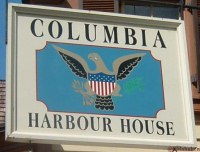 The menu offers several selections worth noting. I especially like the Anchors Aweigh Sandwich ($8.09). It features white tuna with lettuce and tomato on toasted multigrain bread. It comes with chips, but you can upgrade to fries if you like.
If you're in the mood for something a little lighter, try the BLT Salad ($7.19). It comes with mixed greens, crispy chicken, bacon, egg, and tomato. Since the crispy chicken is actually chicken nuggets, you really can't call this a "healthy" meal - but it tastes real good. Instead of using one of the salad dressings that comes with this meal, I pick up several honey-mustard sauces available at the condiment counter.
My third recommendation here is the Bowl of New England Clam Chowder ($4.49). This is the same delicious soup that is offered at the Liberty Tree Tavern. Even on a hot day, there is always room for this treat.
Besides enjoying the food here, I really like the atmosphere at the Columbia Harbour House. It has multiple dining rooms which help keep the noise level down and it provides a more intimate dining experience. This restaurant also offers additional seating on the second floor -- an even better choice if you want to escape from the masses.
If the Tomorrowland Terrace Noodle Station was open more consistently, I could also recommend this spot -- but it isn't. And I love listening to Sonny Eclipse at Cosmic Ray's Starlight Cafe. His lounge act is truly out of this world. But for me, the crowds there are always huge and this detracts from my enjoyment.
Columbia Harbour House Menu: http://allears.net/dining/menu/columbia-harbour-house/lunch-dinner
Reader Reviews: http://land.allears.net/reviewpost/showproduct.php?product=58&cat=36
=====================
EPCOT - FUTURE WORLD
=====================
Next, let's move to Epcot. Since this park is divided in two, I'm going to pick two restaurants -- one in Future World and one in World Showcase.
Since there are only two counter service restaurants in Future World, the Electric Umbrella and Sunshine Seasons food court, I don't have a lot to choose from. But the choice is easy, Sunshine Seasons, located in The Land Pavilion, takes the prize.
I'm not particularly fond of the crowds that this eatery draws, but I feel the food is so superior to the Electric Umbrella that I have to pick this spot. Here, everything is made fresh, much of it while you wait. Even some of the "pre-made" sandwiches were only prepared a short time earlier. It was Disney's intent when they remodeled this restaurant a few years ago to create an upscale, counter service eatery. I believe they accomplished their goal. Below are a few of my favorites.
Black Forest Ham and Salami Grinder Sandwich ($7.09): This is a big meal. Light eaters could split a sandwich and be satisfied. If you eat the whole thing yourself, you may not want dinner.
Half Rotisserie Chicken with two sides ($9.99): This is a complete meal and the chicken falls off of the bone. Like many of the offerings here, this is not what you would typically classify as "counter service" fare. This is a good choice if you're tired of junk food.
My last recommendation at Sunshine Seasons is the Caesar Salad with Oak-fired Chicken ($8.49). A cast member will create your meal as you watch. Want more dressing? Just ask. Want more parmesan cheese? Just ask.
Beverages here are self-serve. This means you can go back for refills as long as you're still enjoying your meal.
The seating for Sunshine Seasons is divided into four sections, Spring, Summer, Autumn, and Winter. Look closely at the carpet and table tops and you can tell the difference. I usually sit in the Winter section. This area is located near the queue for the Living with the Land attraction and the exit for the Circle of Life movie. I choose this spot as it is often the last to fill up and remains a little less hectic than the others.
Sunshine Seasons Menu: http://allears.net/dining/menu/sunshine-seasons/all-day
Reader Reviews: http://land.allears.net/reviewpost/showproduct.php?product=98&cat=34
=====================
EPCOT - WORLD SHOWCASE
=====================
In World Showcase I have another easy pick: the Yakitori House in the Japan Pavilion. Located atop a hill on the left side of the pavilion, this is one of the most tranquil spots in all of Epcot.
The restaurant is housed in what looks like a traditional Japanese home. Rough-hewn logs hold up the thatched roof while faux shoji screens make up three walls of the building. The ordering counter makes up the fourth. Most tables are long, seat six, and are meant to be shared with strangers, but rarely are. The views from here are peaceful as you look out over much of the Japan Pavilion. Outdoor seating is also available and tables are situated next to a waterfall while paper lanterns hang from above. Whether you eat indoors or out, the mood here is serene.
I usually order the Shogun Combination ($8.49). This includes teriyaki chicken thigh, sukiyaki beef, and steamed rice with a dab of ginger on top. This meal is consistently good and I'm always pleased with my selection.
Since I've begun writing for AllEars.Net, I've had the good fortune to meet some of my readers. Last year I was able to get together with one of my foreign fans, Katsumi from Japan. When I told him that I enjoyed the Shogun Combination, he laughed and told me that it really isn't authentic Japanese cuisine. He suggested that I try the Japanese Curry ($7.49) if I wanted something more indicative of his country. This dish is a combination of spicy curry sauce, onions, carrots, potatoes and beef served over steamed rice.
I have to admit, I like the Shogun Combination so much that it was difficult for me to break from old habits and try something new. But I finally did and was most pleased. I would recommend this meal to others. I still like the Shogun Combination better, but this is a nice runner-up.
UPDATE: Yakitori House is now named Katsura Grill.
Yakitori House Menu: http://allears.net/dining/menu/katsura-grill/lunch-dinner
Reader Reviews: http://land.allears.net/reviewpost/showproduct.php?product=638&title=katsura-grill-japan&cat=34
=====================
DISNEY'S HOLLYWOOD
STUDIOS
=====================
Disney's Hollywood Studios is my least favorite park when it comes to counter service restaurants. The Backlot Express doesn't appeal to me because you're eating in a warehouse. This is not my idea of a pleasant atmosphere. I'm also not too enamored with the Studio Catering Company. Once again, the surroundings leave me cold. The food is uninspired at the ABC Commissary and the Sunset Ranch Market. And Toy Story Pizza Planet is way too noisy.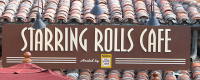 But there is hope and it's called Starring Rolls Cafe. This is a small eatery located next to the Brown Derby on Sunset Boulevard. Every day at 11:30 a.m., this restaurant switches over from breakfast to lunch and offers three very nice choices. These are the Black Forest Ham Sandwich, Turkey Focaccia (both $9.19), and a Whole Wheat Veggie Pita ($8.89). Each is served with your choice of fresh fruit or chips. All three of these offerings are long on substance and short on bread. In other words, they're stacked high with meat or vegetables.
A wonderful selection of tempting desserts is also on hand. Praline Cheesecake, Tiramisu, Fresh Fruit Tarts, and Strawberry Parfaits are just a few of the great offerings here. Mind you, if you order one of these taste-treats, you'll go over my original goal of eating for under $13 -- but it just might be worth it.
This restaurant does have one drawback -- it's small. There are only 14 tables and all of them are outside. And unfortunately, several of these sit in close proximity to a smoking section. But if you can't find an open table, there are a number of park benches close by. Not ideal, but acceptable. And seating at the Sunset Ranch Market is just a short walk away.
Starring Rolls Menu: http://allears.net/dining/menu/starring-rolls-cafe/all-day
Reader Reviews: http://land.allears.net/reviewpost/showproduct.php?product=311&cat=35
=====================
DISNEY'S ANIMAL KINGDOM
=====================
At Disney's Animal Kingdom it's impossible for me to narrow my selection to just one counter service restaurant. This park has two very good choices and my mood on any particular day is what dictates where I eat. Let's start with Pizzafari.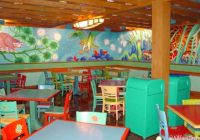 Located on the west (left) side of Discovery Island, Pizzafari is a great spot for lunch. It also serves my all-time favorite Disney counter service meal, the Hot Italian Style Sandwich ($8.79). This comes with turkey, ham, Swiss and Provolone Cheese topped with Caesar salad and pesto-marinated tomatoes. If you were to order this same sandwich at any table-service restaurant, you could expect to pay twice the price. This is a great deal of a meal.
I also like the Caesar Salad with Chicken ($7.19). The dressing has a nice tang to it and it's loaded with meat. In fact, I've received less chicken on Caesar Salads at some of Disney's table-service restaurants. If you can persuade someone else in your party to also order this salad, you might want to think about splitting an order of bread sticks. You get four, soft, cheesy sticks with marinara sauce. I could make a meal out of these alone.
Pizzafari has four indoor dining rooms and several outdoor seating areas. Once again, this arrangement helps give the restaurant a more intimate feel and reduces the noise.
Pay attention to the animals painted on the walls in the four dining rooms. Each depicts a different theme. One room features animals that are nocturnal. Another is all about camouflage. I'll let you figure out the other two.
Also, listen to the music being played in the background. All of the songs have to do with animals. Two of my favorites are the theme song from the Mr. Ed TV show and the Tiki Room.
Pizzafari Menu: http://allears.net/dining/menu/pizzafari/lunch-dinner
Reader Reviews: http://land.allears.net/reviewpost/showproduct.php?product=49&cat=33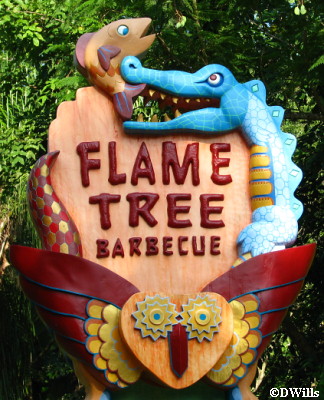 On the other side of Discovery Island is the Flame Tree Barbeque. This fanciful spot offers -- you guessed it -- BBQ. I have two favorites here, the 1/2 Slab of St. Louis Ribs ($10.49) and the Smoked 1/2 Chicken ($9.49). Both come with baked beans and a corn muffin. The chicken has a traditional BBQ flavor, but the ribs have a distinct taste unique to this location. You won't be disappointed with either choice.
If you want to go beyond the $13 budget, share an order of onion rings ($3.79). They're great!
Seating at the Flame Tree Barbeque is all outdoors. For covered seating, head for one of the several lanais scattered around the area. These cozy spots are nestled among the tropical growth and have overhead fans to help cool you down. One of the best lanais sits on Discovery Lake and offers fantastic views of Expedition: Everest. But because of this view, this spot is often the first to fill up and can get crowded.
In the middle of the seating area is a reflecting pool and waterfall. Fanciful statues and more greenery create a wonderful atmosphere that transports you a thousand miles away from Orlando. A number of tables and chairs surround this area and many native birds cool off in the water here. Remember, as tempting as it is, it's not a good idea to feed these cute little beggars. French fries really aren't good for them.
Flame Tree Menu: http://allears.net/dining/menu/flame-tree-bbq/lunch-dinner
Reader Reviews: http://land.allears.net/reviewpost/showproduct.php?product=48&cat=33
If you wish to beat the crowds, I suggest being at these restaurants by 11:30 for lunch and 5 p.m. for dinner. Also note, the registers where the cast members take your order are two-sided. (It always bothers me when I see a line of people on one side and no one on the other.)
So there you have it, my choices for a decent meal for under $13 at Walt Disney World.
-=-=-=-=-=-=-=-=-=-=-=-=-=-=-
RELATED LINKS:

Finding Middle Ground: Moderately Priced Table Service Restaurants:
http://allears.net/ae/issue490.htm
Cuisine Scene: Finding Middle Ground, Again: http://allears.net/ae/issue374.htm
Cuisine Scene: Finding Middle Ground: http://allears.net/din/rev_mid.htm
Restaurant Photo Gallery: http://allears.net/din/gall_res.htm
Other articles by Jack Spence:
http://allears.net/btp/jacks.htm
Jack Spence's blog, The World According to Jack:
http://land.allears.net/blogs/jackspence/
-o-o-o-o-o-o-o-o-o-o-o-
Editor's Note: This story/information was accurate when it was published. Please be sure to confirm all current rates, information and other details before planning your trip.