The Princess Experience
by Debra Martin Koma
AllEars® Senior Editor
Feature Article
This article appeared in the June 7, 2011 Issue #611 of ALL EARS® (ISSN: 1533-0753)
My only child is of the male variety, so as a result, I never really have had the chance to enjoy what you might call "The Princess Experience" at Walt Disney World. That all changed when I visited Walt Disney World last month with my cousin, who was bringing her nearly 4-year-old little girl, Alivia, to Mickey's place for the first time.
I hear frequently from people who perceive that Disney caters to the little princesses much moreso than it does to the princes — as mom to a prince/knight, I often thought so myself, especially when we would consider dining at a character meal. But I never really had the chance to observe what all the fuss was about first-hand. Is there some imbalance in the way Disney doles out the "royal treatment?" Are our little sons snubbed? This was the perfect opportunity for me to see just how much Disney wooed the littlest Her Majesties — and their parents-in-attendance.
You might imagine that a princess or princess-lover would automatically target the Magic Kingdom to get her royalty on, but my Princess Experience started instead with the less obvious choice of Disney's Hollywood Studios.
There are actually a number of stops in the Studios that captured the attention of our princess. The Beauty and the Beast Live! show, for example, captivated our young lady-in-waiting. From the moment Belle stepped on stage and started singing, the show held her attention. The lavish costumes and sets, the familiar music — Alivia couldn't look away. As the show neared its finale, Belle and the Beast (who by now had transformed into Prince Philip) descended the staircase, Belle in her gorgeous yellow ball gown. It was a magical moment of pure rapture, as you might be able to tell from the photo at right.
Also in the Studios is the Voyage of the Little Mermaid show. Any Disney Princess fan knows the story of Ariel and her journey to becoming human to win her prince, and this rendition faithfully recreates the animated classic using live action sequences, snippets of film, puppets and other sensory techniques. (There's mist and bubbles, thunder and lightning, and more.) The show met with high approval from the critical princess among us.
Conversely, our princess had little to no interest in the Indiana Jones or the Lights! Motors! Action! stunt shows — shows my son tries to see each time we're at the parks. Star Tours had not reopened at the time, but still, I'm not sure the princess had any interest in traveling to Naboo or Hoth, so I'd say that the Studios was about even on prince vs. princess appeal.
Animal Kingdom didn't hold any particularly princess-y must-dos for us, and if you're really just there for the princesses you might skip that park, but Epcot is another story. In Epcot, we could have shared a meal with a variety of princesses (Belle, Jasmine, Snow White, Aurora AKA Sleeping Beauty, and Mulan) at the Norway pavilion's popular all-day Princess Storybook Dining at Akershus Royal Banquet Hall. Then we could have gone around the World Showcase to all of the character meets that feature nearly every Disney princess or heroine that you can think of. (This is a far cry from my early trips to Epcot, by the way, during which I heard many complaints that the park had practically NO characters at all!) But let's see… in China you can meet Mulan, Snow White is in Germany, in Morocco there's Jasmine, and in France both Aurora (Sleeping Beauty) and Belle (we won't even mention Tinker Bell and her fairy friends over at the Pixie Hollow Garden, even though I suppose that technically they are royalty of a different kind!). There were some male counterparts with these princesses — Aladdin, the Beast — but not many, so the Princess factor was definitely a bit higher here. I didn't tour Epcot with Princess Alivia and her entourage, but heard that they had their fill of royalty before their day there was over.
Of course, the Magic Kingdom is where Princess fans can really get their fix. I have to admit that after years of being admonished in stores by my son, "don't go down the pink aisle, Mom!" touring this park with a little girl was an eye-opening experience. I definitely had ventured into The Princess Zone.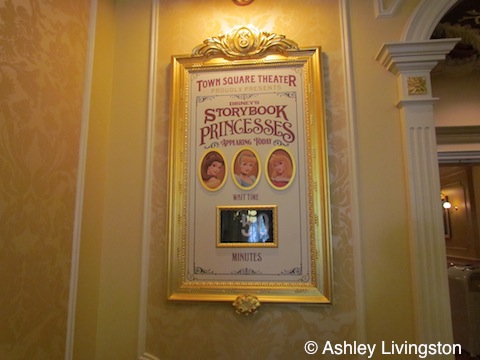 It's not that there are a lot of attractions specifically geared to attract young princesses, though. The Magic Kingdom surprisingly doesn't have many attractions that you could call "princess-oriented" — unless you count Snow White's Scary Adventures in Fantasyland. Even the merry-go-round, formerly known as Cinderella's Golden Carrousel, was recently renamed "Prince Charming's Regal Carrousel."
Still, from the moment you step into the park, you are surrounded with opportunities to meet your favorite royal ladies, whoever they might be.
It starts right in Town Square, in the new Town Square Theater, where the Disney Storybook Princesses are currently sharing meet and greet space with Mickey and Minnie — and they are giving the head mice a run for their money, popularity-wise. On our visit, one hour after opening one weekday morning, the standby wait times were about 25 minutes for the three Princesses on hand, only 15 minutes for Mickey and Minnie.
After you get through Town Square and make your way up Main Street USA, you'll find two of what might be the ultimate Princess experiences in Walt Disney World, both located in Cinderella Castle, in fact: Fairytale Dining at Cinderella's Royal Table and the Bibbidi Bobbidi Boutique.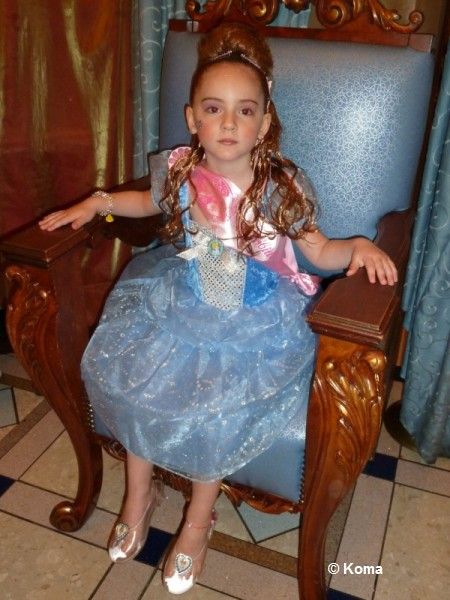 We opted to skip Cinderella's Royal Table for a chance to dine with Her Majesty at another location — the Grand Floridian Resort and Spa (more on that later). But plenty of little princesses choose to have breakfast, lunch and/or dinner there, where they can meet the downtrodden girl who lives the fairytale and becomes a princess — Cinderella herself — and have a photo taken with her. While in the Castle, they also have the chance to perhaps brush elbows with the Fairy Godmother, Belle, Aurora, and Snow White (characters vary by day). As far as I could tell, no princes are currently making an appearance there — it's definitely all about the Princesses.
Though we missed eating in the Castle, we could not, however, pass by the other prime princess experience the Castle offers — a makeover at the Bibbidi Bobbidi Boutique. This pint-sized salon transforms little girls into Disney princesses with hairstyling, make-up, and mini-manicures. Our little Princess Alivia had brought her own Cinderella gown from home, but could have purchased one there — or had she changed her mind, she could have dressed as Jasmine, Tiana, Belle… There were also items for the entire ensemble: shoes, gloves, hair accessories, wands, crowns, tiaras — the possibilities were endless.
What was the BBB experience like? Well, after arriving early for the appointment, as instructed, we were told to come back closer to the actual appointment time. The salon was fairly overflowing with young girls waiting their turn to be princess-ified. Even upon our return at the designated appointement time, our little princess was kept waiting for more than 15 minutes before she was finally escorted back to a changing room to change into her gown. She was then led to a regally appointed chair, where her "Fairy Godmother" proceeded to style her hair into the "Disney Diva" look her mother had selected. After much hair-teasing, primping, nail polish (a sedate and sparkly clear pink), the slightest hint of makeup (neutral eyeshadow, pale pink lip gloss, a touch of blush), the application of a jeweled flower to her cheek, a sprinkle of pixie dust and the addition of a BBB sash, Princess Alivia was told to cross her ankles in the demure royal way, and then was spun around in her chair toward the mirror for the Big Reveal. She did not smile, but displayed a regal, almost haughty, look of satisfaction at her reflection. Priceless. The entire transformation took about an hour, and cost around $60 including tax. (She received the Crown package — hairstyle with sparkly barrettes, nails, makeup, and sash. Other packages are both more and less expensive. And to be fair, a Knight Package, which includes hairstyling with sparkly gel, a sword and shield, is also offered for young sirs.) Our princess then held court as we led her around "her" Magic Kingdom for the remainder of the afternoon, careful not to get blisters on her glass-slippered feet (her shoes were plastic but without socks on a hot afternoon… well, you know what happens!).
Her Royal Highness Alivia also attempted to meet another Princess — Rapunzel, who now has a meet-and-greet with her "Tangled" co-star Flynn Ryder located in the Fairytale Garden near the Castle. Unfortunately, the lines to meet this newest Disney Princess were literally hours long, and we had a disappointed majesty on our hands after several tries over the course of a few days.
Not to worry though, there was more Princess-ness to come, as I learned that a lot of what Disney World offers little princesses is outside of the four main theme parks.
Our dinner that evening was Cinderella's Happily Ever After Character Dinner at 1900 Park Fare at the Grand Floridian. An all-you-care-to-eat buffet, the character dinner features a chance to meet not only Cinderella, but her Prince Charming, as well as her nasty stepmother Lady Tremaine, and wicked stepsisters Anastasia and Drizella (some characters may only be in the lobby for photos). Both Cinderella and her Prince make grand entrances periodically throughout the meal, and even dance a little waltz to the delight of those looking on. Our little princess Alivia was transfixed at her first glimpse of the Prince, though she adored her meeting with Cinderella. It seemed that all of the little princesses on hand shared Alivia's sentiment, as did more than a few of the more mature "ladies-in-waiting" attending them. He certainly was dashing!
It soon became clear to me that even though we had done quite a few princess-y things around the World, there were still others that we wouldn't have time for. Some of those experiences that might interest the Princess fans among you:
— The other, original location of the Bibbidi Bobbidi Boutique, found in the back of the World of Disney at Downtown Disney Marketplace. It provides the same princess transformations as its sister location in a slightly more spacious location.
— My Disney Girl's Perfectly Princess Tea held at the Grand Floridian Resort and Spa on Sunday, Monday, Wednesday, Thursday & Friday 10:30am – Noon. Your little girl can dress up and have a special tea party with Princess Aurora (Sleeping Beauty). The tea party is hosted by "Rose Petal" a magical rose from Aurora's garden, who will lead sing-alongs, storytelling and a princess parade. In addition to the tea party, princess cake and meet and great with Aurora, each guest from 3-11 will receive a "My Disney Girl" collectible doll plus accessories; a princess tiara and bracelet, princess scrapbook page, special rose, and a "Best Friend" certificate.
But it's what is to come in the next few years that has many Princess fans holding their collective breath. The Fantasyland expansion project, currently underway and scheduled to begin phased openings in late 2012, will see the addition of another castle (themed to Beauty and the Beast) along with a new Belle "adventure," a Little Mermaid attraction, and the Princess Fairytale Hall, where Aurora, Cinderella and other Disney princesses, such as Tiana and Rapunzel, will greet guests in their new home, an elegant royal court. Princesses galore!
In addition, Disney World recently announced that it will be converting 500-plus rooms in the Magnolia Bend section of the Port Orleans Riverside Resort into Royal Guest Rooms. Though there may be some tweaking of the final storyline surrounding these rooms, currently they are designed around the following story: Princess Tiana (from the film, Princess and the Frog) has invited her other princess friends for a vacation, and each of the invitees has brought a gift that has a place somewhere in the room. You be able to start booking these rooms by late September or October of this year, with stays starting early 2012. While these guest rooms are generically named "royal", I think you can see that their appeal to princesses, young and older, will be high.
But that will be then. By then, there may be more and new announcements regarding attractions and activities that will have an expressly Prince-like focus.
As for now, though, I'd have to say that yes, Disney does offer quite a lot for those with a penchant for Princesses. But I also have to admit that there's something wonderful about seeing those little princesses' eyes light up when they catch a glimpse of their favorite fairytale character come to life or better yet, are able to have an interactive Magical Moment with them. So it's kind of hard to not want to indulge those Princesses in their Disney dreams.
But I'll tell you what — I'll be happy to tag along if someone wants to take me on a Prince or Pirate Experience some day… just to give them equal time. There's the Pirates' League makeover, we can visit the Jedi Training Academy, and there's… well, let's start making a list!
= = = = = = = = = = = = =
RELATED LINKS
= = = = = = = = = = = = =
Bibbidi Bobbidi Boutique:
http://allears.net/btp/bibbidi.htm
My Disney Girl's Perfectly Princess Tea Party:
http://allears.net/din/girlstea.htm
Princess Storybook Dining at Akershus:
http://allears.net/dining/menu/akershus-royal-banquet-hall/breakfast
Fairytale Dining at Cinderella's Royal Table:
http://allears.net/menu/menus.htm#mk
Tangled Meet and Greet:
http://allears.net/tp/mk/tangled.htm
=-=-=-=-=-=-=-=-=-=-=-=-=
ABOUT THE AUTHOR:
Debra Martin Koma, AllEars.Net's Senior Editor (and, now you know, closet Star Wars fan) fell in love with Walt Disney World on her first visit there — when she was 35! She's lost count of how often she's returned to her Laughing Place in the ensuing (16!) years, but knows that she still isn't tired of it — and doubts she ever will be. Read more of her writing for AllEars® here: http://allears.net/btp/dkoma.htm
-o-o-o-o-o-o-o-o-o-o-o-
Editor's Note: This story/information was accurate when it was published. Please be sure to confirm all current rates, information and other details before planning your trip.