October 2014 Walt Disney World Bits and Bites
Feature Article
This article appeared in the September 30, 2014 Issue #784 of ALL EARS® (ISSN: 1533-0753)
Editor's Note: This story/information was accurate when it was published. Please be sure to confirm all current rates, information and other details before planning your trip.
= = = = = = = = = = = = = = = = =


STEP BACK IN TIME
= = = = = = = = = = = = = = = = =
by Deb Koma
AllEars® Editor
Each month, we rummage around in our archives for this featurette, which indulges in a bit of nostalgia, taking you back in history for a glimpse of Walt Disney World and The Walt Disney Company through the ages. This month, we take a look back to October 1996, when the Magic Kingdom celebrated its 25th anniversary.
As most Walt Disney World fans know, October is an important anniversary month for the Florida theme parks. The Magic Kingdom opened on October 1, 1971, and Epcot opened on October 1, 1982. (Disney Legend Julie Andrews was also born on this date, in 1935, but maybe it's just me who celebrates the birth of the Mary Poppins actress!) And while Disney may not be big on observing little anniversaries, when it's a major milestone, they do it up in a big way. That's why I've been remembering October 1996 and the 25th anniversary celebration of the Magic Kingdom. More specifically, I've been thinking about what became quite a controversial symbol of that anniversary — the conversion of Cinderella Castle into a bright pink, candy-coated Castle Cake, known as the "Cakestle" by some.
I know it's not a popular opinion, but I loved the Cakestle, which, at 185-feet tall, was billed at the time as the world's largest birthday cake. Maybe it's because that's how I remember the Castle from my second-ever trip to Disney. There it stood at the end of Main Street, U.S.A., all pink and frosted, with Lifesavers ringing the candle-topped spires and gumdrops dotting the sides. It was so festive, how could you not love it? To me, it was like a Hansel-and-Gretel dream come true, and I thought it celebrated the landmark anniversary in spectacular fashion.
I know, I know… not everyone felt that way. Some compared the pink color to the shade of Pepto-Bismol, others complained about the tacky desecration of the most revered symbol of the Most Magical Place on Earth. I think that Disney heard the dissatisfaction loud and clear. It was returned to its former grandeur after the celebration ended in January 1998 and has been relatively unaltered since. Yes, the castle was gilded a bit during the celebration of Disneyland's 50th, but it was subtle in comparison to the Cakestle. And no one complains about the magical "Dream Lights" that have been setting the castle a-twinkle the past few winters because they are beautifully well done. No, I'm fairly certain this beloved icon won't undergo any drastic transformations like the Cakestle ever again.
But as a tribute to its memory, which lingers on in the memories of many, here are some fun facts about that Cakestle that make it one of my fondest Walt Disney World memories:
— It took 55,040 tablespoons of three shades of pink paint icing to cover the castle. (I think that translated into something like 400 gallons!)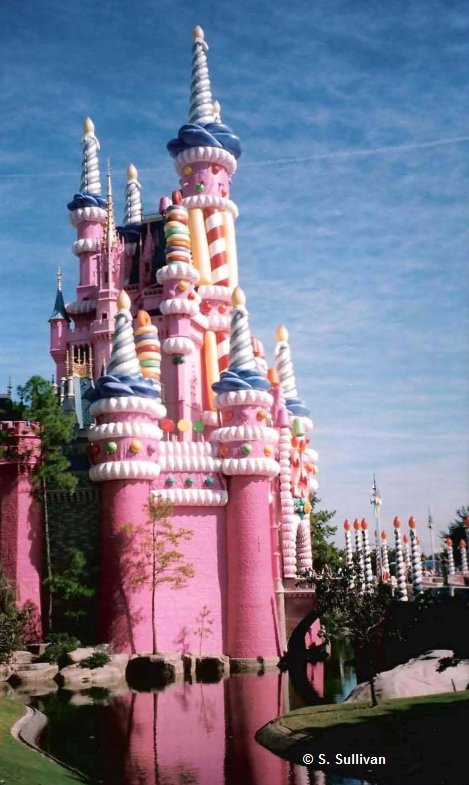 — There were 25 glowing candles atop the castle spires, plus one to grow on, ranging in height from 12 feet to 36 feet.
— There were more than 120 pieces of "candy," which included: 16 green candy stars, each two feet wide; 16 red candy hearts, each five feet wide; 12 gumdrops, five feet high; 30 lollipops, three feet wide each; 50 giant gumballs; three candy stacks with basketball-sized bonbons; 20-foot-tall peppermint candy sticks; and 25-foot high stacks of tractor-tire-sized Lifesavers.
Doesn't that sound fantastic, not to mention delicious, to you? No? Well, don't worry. I'm sure the castle is safe from another such a makeover, even though Walt Disney World's 45th anniversary IS coming up in 2016.
What about you? Did love the Cakestle? Or did you loathe it? I can't be alone, can I? Have any photos you'd like to share? Please send them along to [email protected] with CASTLE CAKE in the subject line.
=-=-=-=-=-=-=-=-=-=-=
RELATED LINKS
Walt Disney World Chronicles: Cinderella Castle:
http://allears.net/ae/issue760.htm
Cinderella Castle in Gold for the 50th Anniversary:
http://allears.net/tp/mk/castlegold.htm
Remembering October 1971:
http://allears.net/ae/issue630.htm
Castle Dream Lights:
http://allears.net/tp/castle-dream-lights-magic-kingdom.htm
Magic Kingdom's 25th Anniversary:
http://allears.net/tp/mk/25anv.htm
= = = = = = = = = = = = = = = = =


PAPER MAGIC
= = = = = = = = = = = = = = = = =
by Laura Schmitt
AllEars® Guest Columnist
It's an age-old tradition that highlighted our holidays each year when we were children. Like so many of you, we made a paper chain with a different Disney image on each piece to help us count down the days until our next big trip to Walt Disney World. The girls took off the first piece this morning, and we're down to 19. One more and it won't be dragging on the floor anymore. In a blink, this paper chain will be a distant memory, as will our whole trip. As always, it seems that time is just moving too fast on most levels. Today, however, we get to squeal with delight over a piece of paper showcasing a character we love, as we will continue to do each and every day from now until we reach the doorknob. What happens then? Well, then we're off to re experience that joy high, that magical pull, that satisfying overwhelming ride we call a family vacation in Disney World.
Only 19 pieces of paper stand in the path of us and a lifetime of memories. I want to soak in every breath of excitement, so to help push myself over the edge of that nutty cliff I find myself back on (the one where Disney obsession and excitement take precedence over all things reality), I pulled out the slideshow I made for our first trip. The girls and I sat down to relive moments captured over the course of 200 images as they rotated across my screen, dancing to songs like "When You Wish Upon a Star," "Bibbidi Bobbidi Boo," "A Dream is a Wish Your Heart Makes" and so on. Each song seemed to line up perfectly with the frozen moments of our family vacation. I noticed that beam of joy shooting from Bella's face during the parade series. It's surprisingly difficult to capture that full expression on film. It never seems as full on reflection as it did when we were there, in the moment. I remember, vividly, watching my little 4-year-old bubble over with excitement, giddy and squealing and smiling so hard her cheeks seemed to be forming new dimples. Those are the moments I never can quite capture on film, but just seeing those old photos always brings it back to me with a whimsical delight.
I loved seeing the photos of my husband with the girls. He looked so happy, so joyful, and so young! My recollection of events placed him in the camp of being decidedly princess weary on that trip, but upon this recent slideshow viewing, I was second-guessing my memory. He seemed to be having the time of his life with his little girls taking turns riding his shoulders, flying on Dumbo with him, pointing out bad guys while staying close to Dad for protection, and so on. He looked so happy. I can't wait to get those three people I love more than the world itself, and take them back. I am certain I will always look forward to another trip, another moment, another chance to share that kind of happy with my loved ones. When I look into our future, I see college, aging, health focus, grandkids, career changes… I see many ways in which our family will grow, change, and stretch our wings, but I also see us making time to regroup and love each other in that land of magic. I see us sitting on that bench with the Goofy statue for a photo, en route to another beautiful day together. But today, back in Chicago, I just flipped through my photos and I wondered which character is on piece number 19 of our paper chain. Just a matter of hours before we get to pull that off and inch our way closer to number one.
ABOUT THE AUTHOR: Laura Schmitt is a freelance writer, an avid Disney World enthusiast, and a certified nutrition educator. She and her family of four travel to Disney each year for the fun, food and memories.
= = = = = = = = = = = = = = = = =


HIDDEN MICKEYS ALERT
= = = = = = = = = = = = = = = = =
Steve Barrett, author of the Hidden Mickeys books and webmaster of www.HiddenMickeyGuy.com, presents to you a few more Hidden Mickeys at Walt Disney World in and near the Magic Kingdom. Finding these Hidden Mickeys is worth the effort!
1. Along the interactive "Scenic Route" left-side entrance queue to the Haunted Mansion, a classic (three-circle) Mickey made of barnacles is on a huge bathtub with the words "Here Floats Captain Culpepper Clyne." The classic Mickey is tilted right and is below and between the letters "R" and "C" in the name. (Thanks to Kailah Spratt, Chris Shank, Elaine Smith, and Rick Moore.)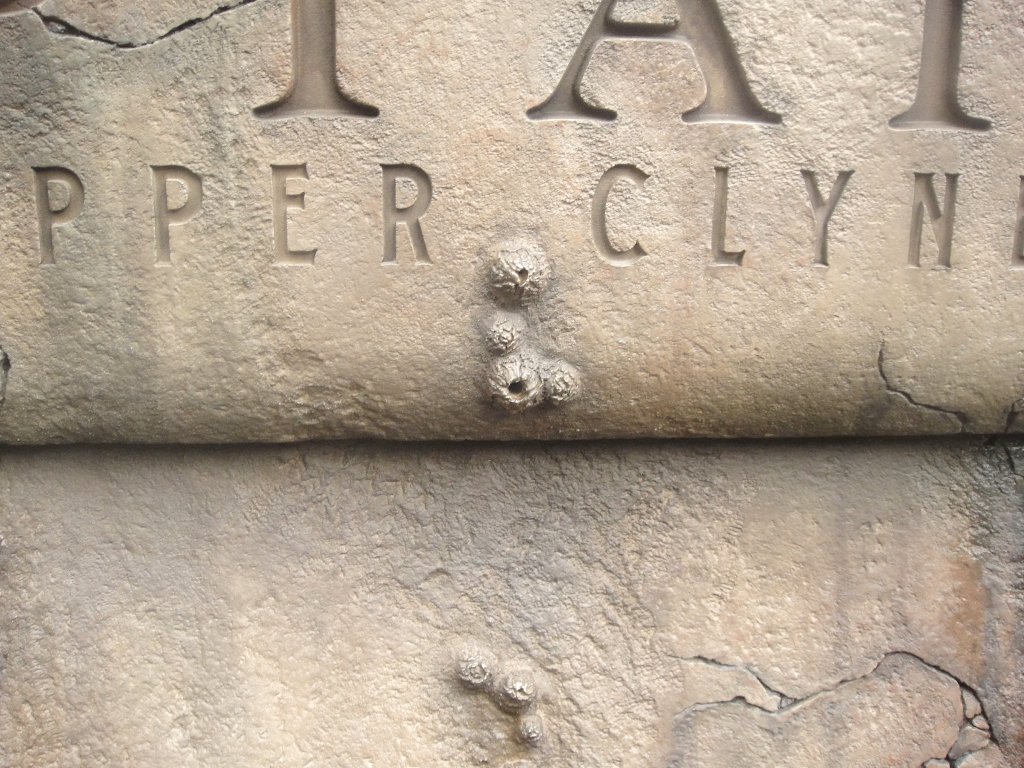 http://allears.net/btp/images/hidden-mickey-444.jpg
2. Inside Trail's End Restaurant at Fort Wilderness, a classic Mickey is formed by frying pans hanging from hooks on the wall behind the food serving station. (Thanks to Michael DeRose, Bill Cote, Barbara, and Monte Kremin).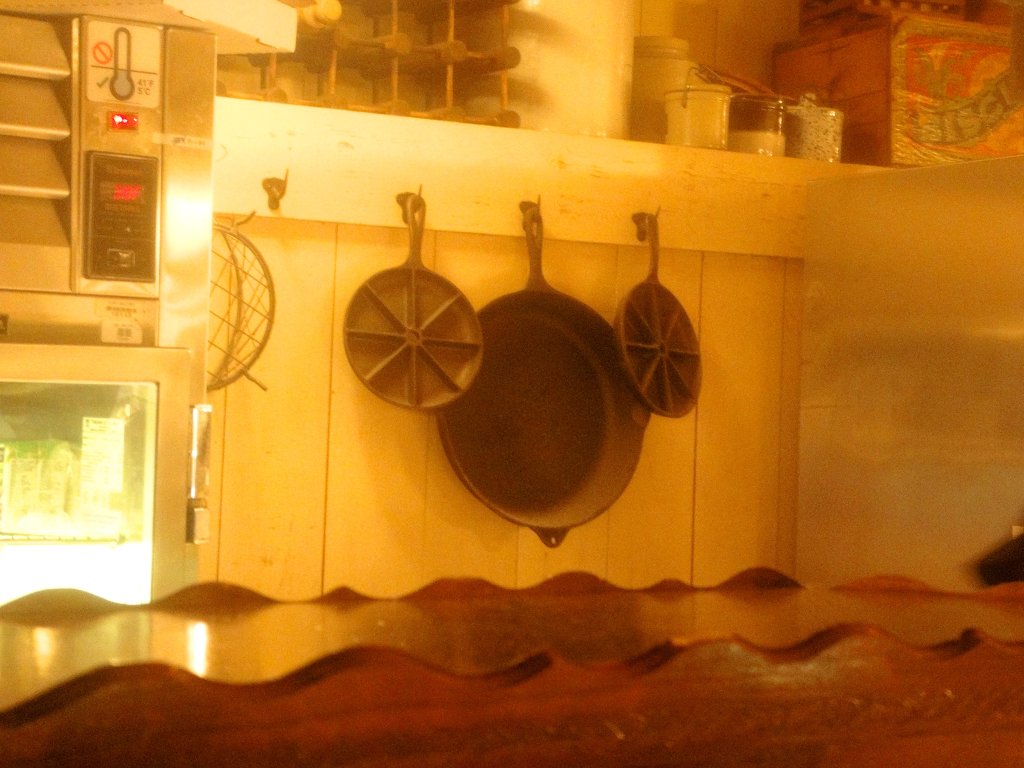 http://allears.net/btp/images/hidden-mickey-445.jpg
3. At the Grand Floridian Resort, a classic Mickey made of circular depressions in the rock is two-thirds of the way up the huge rock wall at the side of the main pool. The Hidden Mickey is behind the waterfall and is sometimes difficult to make out if the water flow is heavy and obscures it. (Thanks to Sharon Dale, and Charles Tyner).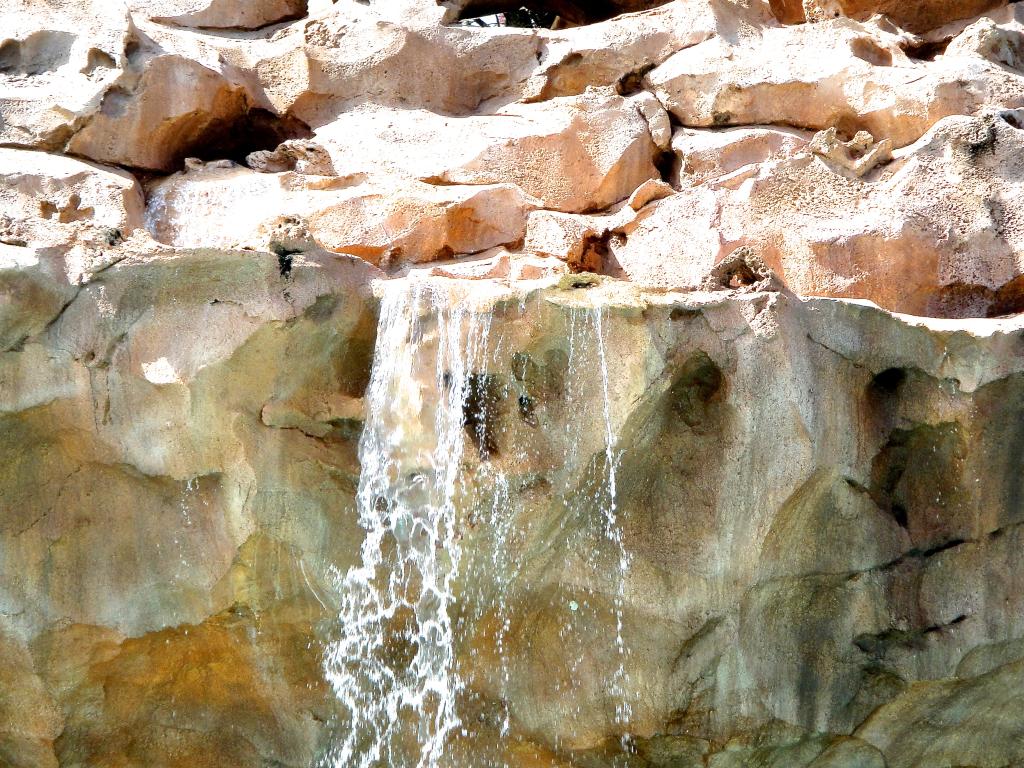 http://allears.net/btp/images/hidden-mickey-446.jpg
=-=-=-=-=-=-=-=-=-=-=-=-=-=-=-=
You can find a selection of past Hidden Mickey Alerts here:
http://allears.net/btp/hiddenm2.htm
And check out our latest Searching Disney with Steve blog:
http://land.allears.net/blogs/stevebarrett/
= = = = = = = = = = = = = = = = =

RATE AND REVIEW
= = = = = = = = = = = = = = = = =
Compiled by AllEars® Team Member Cathy Bock:
In this monthly featurette, we take a look at recent comments made in the AllEars.Net Rate & Review section about a particular restaurant, resort, event, etc. This month, we examine what AllEars® readers are saying about the Coral Reef Restaurant, which is located at the Living Seas at Epcot.
Coral Reef is a table service restaurant serving lunch and dinner. AllEars® reviewers give it an average rating of 7.4 and it is recommended by 81% of reviewers.
From recent reviews:
Food (general): "food is amazing"; "overall, it was pretty good"; "food was beautifully arranged on the plates, but tasted bland and fishy"; "food is always good".
Entrees: "always order the Mahi Mahi and Shrimp and every time it comes out perfect"; "mashed potatoes were amazing"; "pasta was the shell kind and was very under done. There was very little lobster and the sauce was watery and bland"; "son had the lobster & shrimp "mac & Cheese" which he loved"; "salmon which was cooked perfectly"; "husband got the steak and it was horrible"; "got the pasta with lobster and shrimp. The shrimp were tiny, the cream sauce was watery and the asparagus was cut up so tiny it had no taste".
Desserts: "dessert was the best part of the meal"; "desserts were beautiful and the turtle cheesecake was pretty yummy"; "recommend the chocolate wave and the cupcakes for the kiddos".
Service: "service was decent"; "service was quite good"; "service was wonderful"; "so poor reported to management who basically shrugged it off"; "every employee was friendly"; "messed up our bill".
Atmosphere: "atmosphere and location are great too with being next to the large fish tank"; "love looking at the fish and sea animals in the tanks"; "aquarium is magnificent"; "you won't be seeing much unless you are on the floor level near the tanks"; "excellent to sit there watching the fish and turtles"; "atmosphere was nice".
Overall: "definitely recommend!"; "will come back"; "doubt we will be coming back to the Coral Reef anytime soon"; "our experience was anything but wonderful"; "we won't be going back"; "Recommend but watch the service".
If you have recently eaten at the Coral Reef Restaurant, we'd love to have your review!
http://land.allears.net/reviewpost/showproduct.php?product=83&title=coral-reef-lunch-dinner&cat=34
And don't forget to check out the rest of our Rate & Review boards here:
http://land.allears.net/reviewpost/
= = = = = = = = = = = = = = = = =


MONTHLY REMIND-EARS
= = = = = = = = = = = = = = = = =
EVENTS
Mickey's Not So Scary Halloween Party – Remaining dates: October 2, 3, 5, 9, 10, 13, 16, 17, 19, 21, 23, 24, 26, 28, 30, 31. Advance Purchase Prices: October Dates: Ages 10+ $67.00 + tax / Ages 3-9 $62.00 + tax. Some discounted prices available. Tickets went on sale in May.
EDITOR'S NOTE: Halloween Night (October 31) is already SOLD OUT!
Disney's Hollywood Studios
The Twilight Zone Tower of Terror 10-Miler Weekend — October 3 – 4, 2014. The weekend features a nighttime 10-mile race starting at Disney's Hollywood Studios, running through ESPN Wide World of Sports Complex and finishing, appropriately enough, near The Twilight Zone Tower of Terror. Additional weekend festivities include a two-day runDisney Health and Fitness Expo, the Disney Villains Hollywood Bash post-race party, the Disney Happy Haunted 5K Trail Run and runDisney Kids' Races.
Epcot International Food and Wine Festival continues through November 10.
This year's Epcot International Food & Wine Festival will once again feature nightly entertainment in the form of the Eat to the Beat concert series. The concerts, which are included with Epcot admission, will be at the America Gardens Theatre nightly at 5:30, 6:45 and 8 p.m. Check out the October schedule below:
— September 30-October 2 — Air Supply
— October 3-5 — STARSHIP starring Mickey Thomas
— October 6-8 — Sugar Ray
— October 9-10 — Fuel
— October 11-12 — Sister Hazel
— October 13-14 — Richard Marx
— October 15-16 — Billy Ocean
— October 17-19 — Night Ranger
— October 20-22 — Smash Mouth
— October 23-24 — Jim Brickman
— October 25-26 — Los Lonely Boys
— October 27-28 — Wilson Phillips
— October 29-31 — Dennis DeYoung, original member of STYX
Along with all the other activities surrounding the Food and Wine Festival, there will be a number of artist appearances/signings occurring in the Festival Center. The tentative schedule is:
— October 3 and 24, and November 7: Paola Guiterrez, 4 to 6 p.m.
— October 4 and 18, and November 1: William Silvers , 1 to 5 p.m.
Walt Disney World Swan and Dolphin
The Walt Disney World Swan and Dolphin Food & Wine Classic returns for a fifth year this October 31 – November 1, featuring more than 40 food and wine stations; 10 food and wine seminars and the opportunity to meet the masters behind the culinary magic. The two-night event runs from 5:30 to 9 p.m. each night and offers an array of culinary options from the hotel's award-winning signature restaurants: Il Mulino New York Trattoria, Shula's Steak House and Todd English's bluezoo, as well as wine and spirits sampling from around the globe. New to the event this year are: a beer garden; Cheese Course seminar, which "pays homage to fromage"; the Fine Art of Sushi and Sake seminar; a hands-on Caipirinha seminar; Tequila University. Returning seminars include: pasta-making, Italian wines, modern mixology, beer, wine-blending and champagne. All seminars require separate tickets in addition to the causeway tickets, and space is limited. Guests can enjoy a meet and greet with celebrity chef Todd English, the namesake of the hotel's Todd English's bluezoo restaurant. Tickets to the Swan and Dolphin Food & Wine Classic are available as part of a hotel package starting at $315 per night or individually. Advance purchase event-only tickets are available for $95 per person, including taxes and provide unlimited food and beverage samples on the causeway. Upgraded tickets that include the beer garden are $115 per person, including taxes. Beverage seminars are $45 per person, per class including taxes. Pasta-making and pairing seminars are $60 per person including taxes. For more information or to book, visit www.SwanDolphinFoodandWineClassic.com or call 1-800-227-1500.
http://land.allears.net/blogs/dnews/2014/09/walt_disney_world_swan_and_dol_7.html
ESPN Wide World of Sports Complex
The first-ever Disney Princess Cup Soccer Event is set for October 10-12 and will feature a 6 versus 6 player format involving girls ages 9-14. The tournament is open to teams and individual players and will also include a pep rally featuring a Disney Music recording artist, an awards ceremony, a speaker series geared towards empowering young girls, and designated free time for teams and parents to visit the Disney theme parks. All participating athletes will receive a pair of soccer cleats from Puma, the official soccer equipment sponsor of Disney Soccer. Register for the Disney Princess Cup at www.espnwwos.com.
The Florida State men's tennis program is hosting the third annual USTA Collegiate Clay Court Invitational at the ESPN Wide World of Sports Complex from October 30 to November 2. The event will feature more than 40 schools from around the country, the most in its three-year history. A collaboration between Disney, the USTA and Florida State, the Collegiate Clay Court Invitational is the most televised collegiate tennis event in the country. Fans can purchase tickets for general admission each day at the ESPN Wide World of Sports Complex Box Office. For more information, visit www.seminoles.com or contact Derril Beech at (850) 645-8296.
-=-=-=-=-=-=-=-=-=-
Don't forget to check our Events page for current updates: http://allears.net/pl/events.htm
-=-=-=-=-=-=-=-=-=-=-=-=-=-=-=-=-=-=-
REHABS AND CLOSINGS
Monorail
Current operating hours for the three monorail lines are as follows:
Magic Kingdom Resorts line : 8:30 a.m. to 11 p.m. (extended to midnight on hard-ticket event nights)
Magic Kingdom Express line : 9:30 a.m. to one hour after Magic Kingdom fireworks
Epcot line : 9 a.m. to 11 p.m.
Bus and boat service are increased when monorail service is limited. No word on how long this schedule will remain in place.
Several enhancements to the Central Plaza area between the end of Main Street and Cinderella Castle in Walt Disney World's Magic Kingdom are coming over the next few months. Among the changes being made: the addition of sculpted gardens and pathways, expanded restaurant seating and even a special viewing area for fireworks and other performances. In fact, the seating outside of Casey's Corner and The Plaza restaurant will nearly double in size. The project has already begun and is scheduled to be completed in 2015.
Due to unforeseen track maintenance, the Walt Disney World Railroad will be under refurbishment from September 28-November 8. Because of the refurbishment Disney's Magic Behind Our Steam Trains Tour will be unavailable during that time.
Yankee Trader in Liberty Square closed for refurbishment on July 27. When it reopens later this year, it will be a new merchandise shop inspired by the Haunted Mansion's Madame Leota, and will feature select items from the upcoming Haunted Mansion Authentic program, including apparel, home goods, souvenirs, and more.
Epcot
The Maelstrom, located in the Norway pavilion in Epcot's World Showcase, will close October 5 to make way for a new attraction based on the animated film, "Frozen." The new attraction will take guests to the film's land of Arendelle and is expected to open in early 2016. The Norway pavilion will also again host a royal greeting location where the characters Anna and Elsa can meet guests.
http://land.allears.net/blogs/dnews/2014/09/frozen_attraction_to_replace_m.html
All-Star Music Resort
The Intermission Food Court at Disney's All-Star Music Resort is closed for a lengthy refurbishment through December 20, 2014. Grab 'n' Go food and beverages will be available in the Note'able Games Arcade. Bus transportation will also be provided to neighboring resort hotels — All-Star Sports Resort and All-Star Movies Resort — where you can dine at the End Zone Food Court or World Premiere Food Court.
BoardWalk
BoardWalk Inn is undergoing a room refurbishment. All guest rooms will get new carpets, curtains, tubs, and bed linens.
Kouzzina by Cat Cora will cease operation on September 30, 2014. A new Italian restaurant, Trattoria al Forno, will open on the site in December. The new trattoria will serve a variety of Neopolitan-style pizzas baked in wood-burning ovens, as well as other "simple food" made with "Old World techniques." Menu items include handcrafted mozzarella made daily, cavatelli (small dumpling-shaped pasta) and other pasta, seasonal risottos and fresh seafood and vegetables. Dishes will spotlight Italy's various regions, such as braised beef with house-made cavatelli from Bologna, semolina tagliatelli carbonara from Latium (Rome), and a pork chop named for Milan. Classic Italian desserts will include tiramisu, lemon panna cotta with almond crunch and berries, gelatos, and the signature bomboloni (Italian donut holes) with dark chocolate and vanilla gelato. The restaurant will feature more than 60 different Italian wines by the bottle and more than 25 wines by the glass. The trattoria will also serve signature cocktails, Italian beers and sodas, as well as a signature-blend Italian coffee roasted just for them. Reservations will be accepted in several weeks.
http://land.allears.net/blogs/dnews/2014/07/trattoria_al_forno_replaces_ko_1.html
Disney's Caribbean Beach Resort is currently undergoing refurbishment, scheduled to be completed in spring 2015. During this time, all rooms (with the exception of King Bed rooms and Pirate Rooms) will be upgrading to queen beds. Many rooms (but not all) will then have the ability to accommodate up to five, with the addition of a bunk-size fold down bed. These rooms will be located in all of the resort's villages.
Great Ceremonial House Lobby – Now – December 2014. The atrium is being reimagined to highlight the cultural elements of Polynesia and provide more expansive views. At certain times of day, there may be some noise and alternative paths of travel may be needed throughout the Great Ceremonial House.
The Nanea Volcano Pool is closed and will not reopen until sometime in 2015. Several enhancements are scheduled, including a new aquatic playground with children's slides, a new hot tub, and a larger deck with more guest seating. As an alternative, resort guests are being notified that they will receive free, single-day admission to Disney's Blizzard Beach Water Park. Transportation will be provided to the water park, where a dedicated Polynesian guest check-in will be available, at which you can receive your complimentary tickets and towels. The Polynesian's leisure pool will remain open during the Nanea pool refurbishment.
The previously announced Trader Sam's Grog Grotto will not open until 2015.
Wilderness Lodge
The Silver Creek Springs pool at Disney's Wilderness Lodge is scheduled to be closed through Thursday, November 27, 2014, for general refurbishment and maintenance. Wilderness Lodge guests will be permitted to use the feature pools at the Contemporary Resort and Fort Wilderness. Shuttle transportation will be provided. There is no word on whether modifications will be made to the pool during the closure. The Trout Pass Pool Bar will be closed while the Silver Creek Springs pool is closed.
The multi-year transformation of Downtown Disney into Disney Springs will treat guests to more shopping, dining and entertainment amid open-air promenades, springs and waterfront charm. Disney Springs will feature an eclectic and contemporary mix from Disney and other noteworthy brands, from boutique shops to unique flagship anchor stores. Disney Springs will double the number of shops, restaurants and other venues for guests to explore, resulting in more than 150 establishments. Drawing inspiration from Florida's waterfront towns and natural beauty, Disney Springs will include four outdoor neighborhoods interconnected by a flowing spring and vibrant lakefront.
As part of the Disney Springs expansion, Downtown Disney parking lots H-K (near West Side locations such as AMC Theatres and House of Blues) closed to make room for a parking garage expected to open in late 2014. To compensate for the closed areas, "overflow" parking areas have been designated and will be open most Fridays, Saturdays and Sundays, as well as holidays, special events and other busy days throughout the next few years of the expansion project. Overflow lots include those at Team Disney, Casting and SunTrust. Signage along Buena Vista Drive will direct guests to parking areas. Shuttles will operate from 5 p.m. to 3 a.m. on days that overflow parking is open to transport guests between Team Disney and Downtown Disney West Side near Cirque du Soleil. If you have reservations at a Downtown Disney location, be sure to allow ample time for parking under these new conditions.
As part of the transformation of Downtown Disney into Disney Springs, road work on Buena Vista Drive has begun and will continue in phases through Spring 2016. The roadway will be widened to 10 lanes, adding a dedicated bus lane. In addition, two pedestrian bridges will be constructed, which will allow guests to safely cross over Buena Vista Drive. Visitors to the Downtown Disney area should plan for extra travel time due to construction and lane closures.
Typhoon Lagoon Water Park will close for its annual refurbishment October 26 through December 20, 2014.
-=-=-=-=-=-=-=-=-=-
A complete list of rehabs can be found here: http://allears.net/tp/rehabs.htm
= = = = = = = = = = = = = = = = =


MAGICAL MOMENTS
= = = = = = = = = = = = = = = = =
Robin Tater: After viewing the Electrical Water Pageant from the beach at Wilderness Lodge, we hopped a boat over to Fort Wilderness. My kids and I were the only ones on the boat. Our driver heard my youngest daughter going on and on about the crocodile in the pageant and did his best to get us over toward it before the parade ended. Sadly we weren't quite fast enough. He then radioed over and suddenly the crocodile was back on just for her! My daughter was thrilled to see her beloved crocodile again, and I teared up knowing how such a simple gesture can mean so much. Thank you for making a little girl's day. She talked about it nonstop for a week.
Sheila Spohn: My young grandson had a terrible migraine and was so ill he could not leave the room. I stayed with him so the others could enjoy going to the parks. When he was able to eat, all he wanted was a bowl of chicken soup. I called the All Star Music desk and they said they did not make chicken soup at any of the eating areas there. About an hour later, there was a knock on the door. A chef stood with a huge hot bowl of chicken soup for my grandson! What a wonderful surprise! I offered to pay and offered a tip and both were rejected. My grandson ate every bit of the soup. We have never forgotten this act of generosity and magical moment. Thank you, Disney.
Loretta Flaherty: I just want to tell your readers that even adults have magical moments in Walt Disney World. I have a handsome, 24-year-old, autistic son who adores Snow White. He beams when he sees her. We make it a point to stop by Germany in Epcot for just such an encounter, and to take some photos. Of course, if he's happy, we're happy. Well, one visit, after that was done and we started to walk away, Snow White called out, "Mom, I want to give you a hug." I walked back to her, and it was like I was a kid all over again. My husband had two beaming "kids" on his hands for the rest of the day.
-=-=-=-=-=-=-=-=-=-=-=-=-=-=-=-=-=-=-=-=-
We just bet you have a story to tell about an unforgettable moment during your Disney vacation! Please send your favorite memory for inclusion in a future AllEars® to: [email protected]
Thank you all for sharing!
-o-o-o-o-o-o-o-o-o-o-o-
Editor's Note: This story/information was accurate when it was published. Please be sure to confirm all current rates, information and other details before planning your trip.