WDW Chronicles: Year One - Remembering October 1971
by Jim Korkis
Disney Historian
Feature Article
This article appeared in the October 18, 2011 Issue #630 of ALL EARS® (ISSN: 1533-0753)
Forty years ago this month, Walt Disney World opened as a vacation destination unlike anything that anyone had ever seen. The Disney Company is famous for making it all seem seamless and magical, but there were some significant challenges along the way to that historical moment.
In May, with the realization that Walt Disney World might miss its opening deadline, Donn Tatum and Card Walker asked Dick Nunis (then executive vice president of both Disneyland and Walt Disney World) to take charge. He often had meetings as early as 6 a.m. and carried around a tape recorder and dictated all day. At night, secretaries typed up the memos and sent them out the next morning. Nunis often slept on a cot in his office. His name pops up in a lot of memories that people have of those early days, including some in this column.
Most Walt Disney World fans would not recognize the name of Bill Spidle but for 14 years (beginning in 1969) he was the photographer at Walt Disney World. One of his memories of that time period was the photo that graced the cover of "Life" magazine on the October 15, 1971 issue:
"Life editors called and wanted to do a cover, showing the Magic Kingdom castle. Posed in front of the castle would be a cast of thousands. This was quickly negotiated down to a cast of a hundred or so. A Life cover was considered something of a big deal, and even though this was mid-August, and people were busy as hell doing a hundred things, all on deadline, everybody in the Magic Kingdom sort of switched from worker to spectator the minute the Life team arrived. With the October opening right on his shoulder, this was just the thing that drove Nunis crazy.
"They decided they'd roll out the complete cast of Magic Kingdom characters... in full costume. Then they added all the ride attendants, guides, cooks, clean-up crews, musicians, assorted Disney brass, and got them set up with the castle in the background. It was a typical August day, about 96.3 in the shade -- and no shade. The photographer, Yale Joel, set up lights, equipment and himself on two cherry-pickers and started running tests. An hour went by. Several people fainted. New people had to be costumed and positioned.
"It's bright sunlight out and I can't figure what he's testing, but I'm not a Life photographer, right? Anyway, he's testing this and that, and in the process testing the hell out of Nunis. He's going absolutely nuts. People are just standing around! Time is being wasted! Me?I'm having a good time taking pictures. I looked up at one point and realized I had shot six rolls of 35mm -- and the Life photographer is still testing. I know he's only going to be perfect, but I don't think Nunis is going to survive. After three or four hours of testing, he got off that one shot. I'll have to admit it was a helluva picture."
"The turning point was Labor Day," remembered Nunis. "We couldn't get the construction crews to work that day. We decided if they wouldn't work, we would. We would have to show them what it's all about. We opened up the theme park and all of us turned out to man the attractions. We invited the construction workers to come out with their families and enjoy the day on us. There were some very large families (laughs, indicating that the families might have been "extended" families).
"We had ten to twelve thousand people. Kids would say to their daddies, 'Daddy, did you really build that?' It gave the men a feeling of importance. And it worked.
"They picnicked and played out here all day.And you know, it was amazing the amount of work we got done the rest of that week. Pride is a wonderful thing."
On Thursday, September 30, 1971, the Contemporary Resort looked austere as it rose above the empty landscape. There was no grass, no bushes or trees to be seen. Dick Nunis took charge and shortly before 5 p.m., about 15 hours before the Magic Kingdom would open to guests for the first time, Nunis began directing like a general a ragtag troop of people to make Disney magic.
As remembered by landscaper and Disney Legend Bill Evans, "Planting a few palm trees would be no problem, but we also figured it would take about four-and-a-half acres of sod just to make the place look presentable. Given the timetable, most everyone thought it an impossible task. Everyone but Nunis. He made the calls to have the sod trucked in, hired about a hundred extra men, none of whom knew anything about laying sod, grabbed anybody else that was standing around and began turning the brown earth green."
It grew dark as the precious hours ticked by and the workers (some of them cast members who were "volunteered" for the task) lugged heavy clumps of grass across the vast expanse. However, for decades, the one thing that people remembered about that night was Nunis in a loud and hoarse voice proclaiming, "Green side up!Remember, green side up!"
"Before we were finished, we saw we weren't going to have enough sod. Bill Evans drew a big circle and said, 'We'll leave this bare. People will think it is a planter.' Guests walked around the circled area as if it had been planned that way," said Nunis.
By 6 in the morning the Contemporary was ready for the guests and the press just like magic. Three weeks later, the area was more formally landscaped and most of that last-minute sod was thrown away.
"September 30, 1971, 11:30 p.m. -- the press room at the Polynesian Village was a mess," recalled Charles Ridgway, who was in charge of Disney media at the time. "Bare hanging light bulbs, no wallpaper, no desks, no phones.Two hundred reporters expected at 5 a.m. for a behind-the-scenes tour. I went home at midnight. Overslept. When I dashed in at 4:59 a.m., chandeliers were glowing, wallpaper and carpets were in, press staff was answering 10 ever-ringing phones and 30 press were waiting in line. The tour went off without a hitch. Everything was smooth."
In December 1969, Debbie Dane (now Brown, and a mother) was 18 years old when she heard that Walt Disney World was looking for 14 hostesses for their new Preview Center.She was among the first hired and spent her days explaining to curious tourists what Walt Disney World would be like when it opened, because there were many misconceptions. She was born and raised in Forest City, Florida.
In 1970, she became the first Walt Disney World Ambassador, and as part of her responsibilities she took people out to the construction site and gave tours. She would point to balloons hovering over the property and explain what was going to be built in that particular location.Her term lasted a few months longer than the normal year for Disney park ambassadors so that she could participate in the opening month activities.
"It was almost like the place was a child and I was watching it grow. I began to feel a part of it in many ways. I remember driving across Bay Lake after they had drained it and parking for awhile right at the middle. Now I go back and point it out to my kids and tell them how I once parked there."
Debbie was one of the many cast members who helped lay sod at the Contemporary the night before the Opening Day. However, she left early to spend the night with her parents at their Forest City home, so that she would be fresh and sharp in the morning.However, Debbie remembered that neither she nor her parents seemed to get much sleep.
"All three of us woke about three in the morning. Nobody could get back to sleep, so everyone piled into the car and we headed for the Polynesian Hotel, where I was scheduled to report at five. Near the park entrance, traffic was incredible. I later learned these were people who had spent the night cruising back and forth on I-4, jockeying to be the first family at the ticket gate. We finally had to call security to escort us to the hotel.
"We fussed around, getting ready for the big moment. Just the anticipation was a delicious kind of crazy. Nobody knew how it would be. I was filled with every kind of emotion. Walking near Cinderella Castle, I watched all the Big Guys (company executives) watching the entrances. You knew they were probably as nervous as anyone. Finally the gates opened and Mickey and I went to meet the family being honored as Disney World's first guests.
"They had this cute little boy. He was about 2. Mickey and I each grabbed a hand and started him on the tour. He was just overwhelmed, of course. At one point he looked up at me wide-eyed and said, 'This is better than Christmas!' I haven't heard anything in all these years that can match that in describing Disney World."
That night, there was a celebration at the Polynesian Village Resort as remembered by Edward Prizer, then the editor of "Orlando Magazine":"I brought my wife Artice out to the Polynesian for dinner in the glittering new Papeete Bay dining room. The room was filled with handsomely dressed Disney officials, the people who had created all this, relaxing for the first time in years. Tahitian drums throbbed and Polynesian dancers undulated under the spotlight on stage. Champagne corks popped. New crystal and silver sparkled. Looking out the broad windows, through the palms and torches across the lagoon, we gazed at the gem-like radiance of the Cinderella Castle in the distance. Was it even now just all a dream?"
It was indeed a dream finally come true and a feeling that is still felt by many guests at Walt Disney World 40 years later.
= = = = = = = = = = = = = = = =
RELATED LINKS
= = = = = = = = = = = = = = = =>
As part of the Walt Disney World 40th anniversary celebration, AllEars.Net had the chance to speak with several cast members who were working at the Magic Kingdom on opening day in 1971:

Kevin Myers, now Vice President of Resort Operations:
http://land.allears.net/blogs/debwills/2011/10/spotlight_on_40_year_walt_disn.html

Darlene Kennedy, Manager of Creative Costuming:
http://land.allears.net/blogs/debwills/2011/10/spotlight_on_40_year_cast_memb.html

Heather Will-Browne, now Horticulture Area Manager:
http://land.allears.net/blogs/debwills/2011/10/spotlight_on_40_year_cast_memb_1.html
Magic Kingdom's 40th Anniversary Ceremony Photo Gallery:
http://allears.net/tp/mk/magic-kingdom-40th-anniversary.htm
-=-=-=-=-=-=-=-=-=-=-=-=-=-=-=-=-=-=-=-=-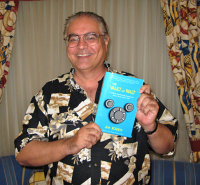 ABOUT THE AUTHOR: Jim Korkis is an internationally respected Disney Historian who has written hundreds of articles about all things Disney for more than three decades. He is the author of the popular recently published book The Vault of Walt, which contains nearly 40 chapters of untold Disney stories. As a former Walt Disney World cast member, his skills and historical knowledge were utilized by Disney Entertainment, Imagineering, Disney Design Group, Yellow Shoes Marketing, Disney Cruise Line, Disney Feature Animation Florida, Disney Institute, WDW Travel Company, Disney Vacation Club and many other departments.>

Read more about The Vault of Walt: http://astore.amazon.com/debsunoffiwaltdi/detail/0615402429
Jim Korkis, along with Greg Ehrbar, author of "Mouse Tracks: The Story of Walt Disney Records", will share some rarely told anecdotes, as well as some special audio-visual surprises about the early years of Walt Disney World at a special presentation at the Winter Park Public Library on Sunday, October 23, 2 to 3:30 p.m. Both authors have ventured deep into their private archives to find some treasures to celebrate the 40th anniversary of Walt Disney World opening in October 1971. The presentation and parking at the library are FREE. Register online at: http://tinyurl.com/q46dno or call 407-623-3279. The library is located at 460 E. New England Ave., Winter Park, FL, 32789, less than five minutes north from downtown Orlando on I-4.
Jim will also be speaking on the history of the Carousel of Progress at AllEars.Net's It's a Great Big Beautiful Meet! (sponsored by Maple Leaf Tickets), part of our December to Remember 15th anniversary celebration, on Thursday, December 8, 2011, 1 - 4 p.m. at the Contemporary Resort and Carousel of Progress in the Magic Kingdom.
-o-o-o-o-o-o-o-o-o-o-o-
Editor's Note: This story/information was accurate when it was published. Please be sure to confirm all current rates, information and other details before planning your trip.