October 2012 Walt Disney World Bits and Bites
Feature Article
This article appeared in the September 25, 2012 Issue #679 of ALL EARS® (ISSN: 1533-0753)
= = = = = = = = = = = = = = = = =


STEP BACK IN TIME
= = = = = = = = = = = = = = = = =
by Deb Wills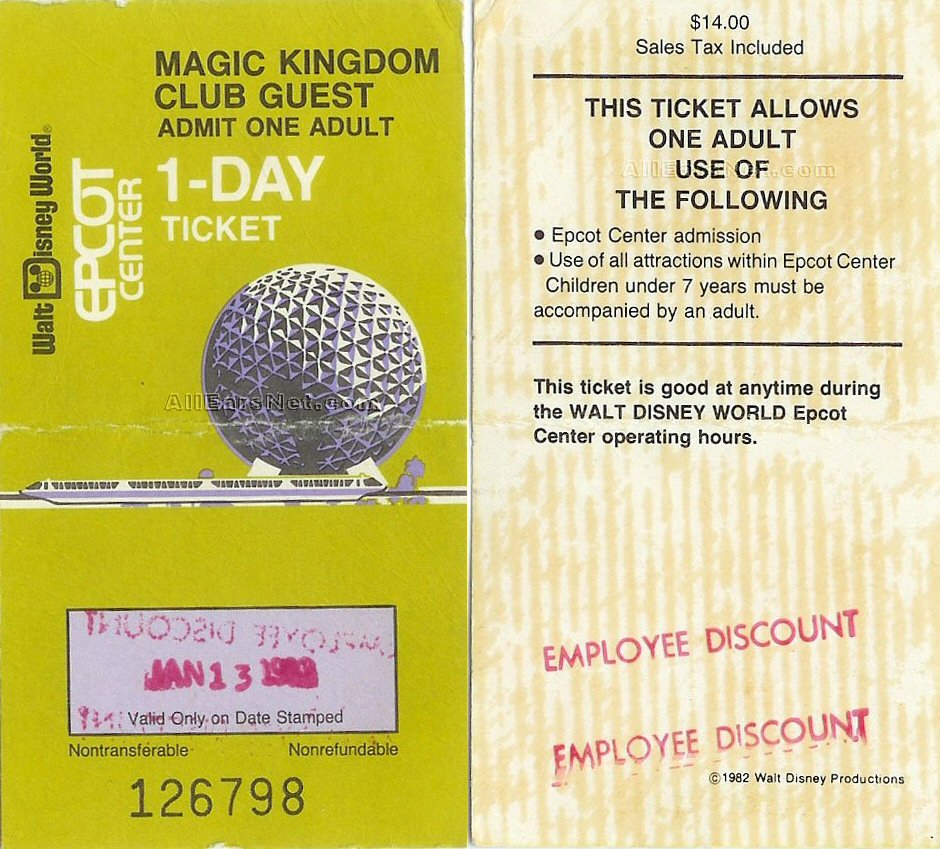 Each month, we rummage around in our archives for this featurette, which indulges in a bit of nostalgia, taking you back in history for a glimpse of Walt Disney World and The Walt Disney Company through the ages. This month, in honor of the upcoming 30th anniversary of Epcot on October 1, we take a look at the history of the World Passport.
Thirty days prior to Epcot's 1982 opening, Walt Disney Productions produced a one-page, daily flyer called "Epcot Center News Briefs" to keep everyone updated about goings-on leading up to the park's opening. The flyer dated September 4, 1982, talks about the brand-new ticketing system:
"Introducing World Passports — an unlimited passport good for a year, entitling guests to visit both the Magic Kingdom and Epcot Center. These tickets, known as Annual World Passports, are available at all WDW ticket sales location. Sporting a photograph of the bearer, the passports sell for: Adults MKC $90, Day Guest $100; Junior MKC $83, Day Guest $93; Chilld MKC $72, day guest $80. To purchase a ticket, guests will pay at the selling location and receive a certificate of purchase. They will then proceed to a photograph center, located at both the Magic Kingdom or Epcot Center Guest Relations (the latter opening October 1). Here, they will be photographed and will receive their passports. This system was designed to limit photo location and to facilitate a gift certificate situation. The Annual Pass is good for a one-year period after the date of issuance listed on the photo ID. Therefore, guests may purchase a certificate and return at a later date to receive the actual passport and still receive a full year's use of the passport. Also included in the World Passport collection are 3-, 4- and 6-day passports. One day World Passports will not be available. Instead, passports for either Epcot Center or the Magic Kingdom good for one day will be sold. The 6-day passport is similar to the Main Gate Pass used now for cast members. It's a fold-out card with 6 blocks for date stamps and a place for the guests's signature. When visiting WDW, the guest will sign in at the pass gate. Signatures will be compared to verify identification. These passports are also available at all WDW ticket locations. They sell for: Adults MKC $54, Day Guest $60; Junior MKC $50, Day Guest $56; Chilld MKC $42, day guest $48."
If you have an original World Passport, we'd love a photograph for our Ticket History page. Please send your photos to allearsnet@yahoo.com with "World Passport" in the subject title.
EDITOR'S NOTE: There will be a few activities marking Epcot's 30th anniversary in the theme park on October 1, 2012. For more details, see "NEWS BITES" below.
= = = = = = = = = = = = = = = = =


VEGAN TIPS
= = = = = = = = = = = = = = = = =
by Emily Woesthoff
General Manager for BabyCakes NYC at Downtown Disney
This month's tip takes us to Germany! Tucked away toward the back of the pavilion, Sommerfest is a quick service location that features Bratwurst, Frankfurters, and Bavarian Cheesecake among its menu items. It's no wonder I had never ventured back there before! Never, that is, until an AllEars® subscriber, Michael, sent me a question about their pretzels. The pretzels offered at Sommerfest are different than the ones you will find at the snack kiosks throughout the parks, and are worth a try if you're looking for a buttery taste without the butter. The "butter" flavor is completely artificial. The ingredient labeled as "natural butter flavor" is made with dextrose, corn starch, natural flavors, silica gel, and ethyl alcohol. After looking up all questionable ingredients, it appears that this item is completely vegan. Yes, the "silica gel" made me feel a little uneasy as well, even if the Internet deems it harmless. This particular brand seems to be a new offering, as a previous version used to contain dairy, so please be sure to ask at the counter for the ingredient book before ordering. Danke!
Missed previous Vegan Tips from Emily? We're compiling them here:
http://allears.net/din/vegantips.htm
= = = = = = = = = = = = = = = = =


HIDDEN MICKEYS ALERT
= = = = = = = = = = = = = = = = =
Steven Barrett, author of the Hidden Mickeys books and webmaster of www.HiddenMickeyGuy.com, encourages you to check out three classic Hidden Mickeys at California Adventure:
1. Along Buena Vista Street, a white candy mountain rises up inside a display window with the label "Trolley Treats." Go in the Trolley Candy Treats store and study the candy mountain from the inside window. Find the miniature brown "wood" (chocolate) lattice and look behind the lattice inside the opening or passageway through the mountain. Just behind the lattice is a sugar crystal snowman wearing Mickey Mouse ears! You must position yourself at the left side of the window and try different visual perspectives to spot the snowman. It's very difficult to photograph! (Thanks to Peter Brown.)
http://allears.net/btp/images/hidden-mickey-375.jpg
2. Inside the 1901 Lounge (for Club 33 members), next to Carthay Circle Restaurant on Buena Vista Street, a Hidden Mickey made of three doilies is under glass atop a small table next to a side wall. (Thanks to Heather Sievers.)
http://allears.net/btp/images/hidden-mickey-376.jpg
3. In the Animation Academy theater inside the Disney Animation Building in Hollywood Land, a Hidden Mickey is formed of impressions in the side of a clay vase sitting at the left side of the stage. (Thanks to Murray Bishop.)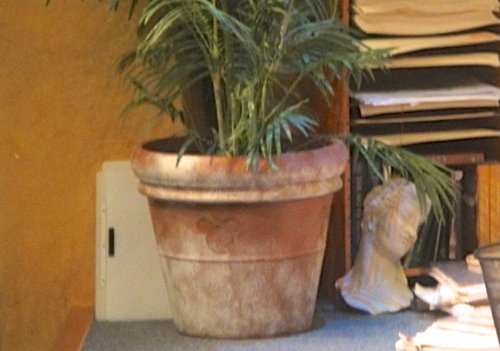 http://allears.net/btp/images/hidden-mickey-377.jpg
You can find a selection of past Hidden Mickeys Alerts here:
http://allears.net/btp/hiddenm2.htm
And check out our Searching Disney with Steve blog:
http://land.allears.net/blogs/stevebarrett/
= = = = = = = = = = = = = = = = = =

RATE & REVIEW SPOTLIGHT
= = = = = = = = = = = = = = = = = =
Compiled by AllEars® Team Member Cathy Bock
In this monthly featurette, we take a look at recent comments made in the AllEars.Net Rate & Review section about a particular restaurant, resort, event, etc. This month, we examine what AllEars® readers are saying about Yachtsman Steakhouse, which is located at the Yacht Club.
Yachtsman Steakhouse is a full service restaurant open for dinner. AllEars® reviewers give it an average rating of 8.2 and it is recommended by 85% of reviewers.
From recent reviews:
Food (general): "cheese platter was more than I expected"; "while the lobster bisque was very good I could have used more lobster meat in it"; "hand pressed coffee is strong and earthy"; "rolls are very good"; "ordered the Caesar salad, which was yummy, but overpriced"; "(truffle) mac 'n' cheese was very good, but also VERY overwhelming"; "a bit disappointed in the small beer selection"; "Charcuterie board appetizer was fabulous"; "appetizers and desserts were very good"; "roasted garlic and bread appetizer is my favorite"; "Caesar a bit disappointing — small head of Romaine on a plate, no anchovy"; "wine list is excellent".
Entrees: "steaks were prepared to our specifications and were tender and delicious"; "they were already out of lobster tail. That was a huge disappointment "; "Filet as you'd expect was flawless"; "NY Strip was filled with gristle and somewhat tough"; "they serve the best steaks in Disney"; "husband had the 'Prime' New York Strip. Hands-down he said this was the best steak he's ever had in his life!"; "chicken dish was nice, nothing too fantastic about it"; "Steak perfectly cooked to order"; "Filet Mignon and NY Strip were done perfectly"; "Awesome 28-ounce Porterhouse steak cooked to a perfect medium"; "steaks were very good (not melt in your mouth, but truly good flavor)".
Desserts: "only disappointment was the banana Napoleon was not on the menu"; "got the new dessert, which had a little log of white chocolate mousse, a cherry compote, pistachio ice cream, and a pistachio cake. It was very good"; "kids loved doing the Mickey puzzle dessert"; "had the flourless habanero chocolate cake, which was very yummy and rich, with a bit of a kick"; "Dessert, especially Creme Brulee, lovely".
Service: "was fantastic. He was attentive without hovering"; "service(by Oscar) was outstanding"; "waiter, Al, was great"; "Darrell, our server, was excellent and allowed us as much or as little time as we wanted between courses"; "they treat you very well".
Atmosphere: "truly felt like a good, sophisticated place"; "Nice atmosphere".
Overall: "while pricey (as expected) it was an amazing meal and for another special dinner would go again"; "a great experience and the food is the best we've had at Disney"; "Well worth the 2 table service credits if you're on the Disney Dining Plan"; "a highlight of our trip!"; "highly recommend this restaurant"; "a little pricey but they treat you very well"; "I know many prefer Le Cellier, but for my 2 table service credits, Yachtsman wins hands down"; "have always had great experiences at Yachtsman".
If you have recently eaten at Yachtsman Steakhouse, we'd love to have your review!
http://land.allears.net/reviewpost/showproduct.php?product=215&cat=54
= = = = = = = = = = = = = = = = = =


MONTHY REMIND-EARS
= = = = = = = = = = = = = = = = =
EVENTS
Elephant Awareness Day – September 26: A variety of interactive activities will be available around the park.
Mickey's Not So Scary Halloween Party dates: October 4, 5, 8, 11, 12, 14, 16, 18, 21, 23, 25, 26, 28, 30 and 31; November 2.
The Epcot International Food and Wine Festival — runs through November 12. In addition to nearly 30 international marketplaces (food booths) populating the area around World Showcase Lagoon, there are paid programs requiring separate admission that feature a lineup of renowned winemakers, guest chefs and speakers participating in elegant dinners, luncheons, seminars and wine schools. To make reservations, call 407-WDW-FEST (939-3378).
The http://allears.net/tp/ep/fw12/2012-epcot-food-and-wine-festival-eat-to-the-beat-concerts.htm line-up for October (subject to change) is as follows:
— October 1-3: Sugar Ray
— October 4-7: STARSHIP starring Mickey Thomas
— October 8-10: Boyz II Men
— October 11-12: Smash Mouth
— October 13-14: Javier Colon, winner of "The Voice"
— October 15-17: Air Supply
— October 18-19: Gin Blossoms
— October 20-21: Survivor
— October 22-23: Hanson
— October 24-25: The Pointer Sisters
— October 26-28: Sister Hazel
— October 29-31: Billy Ocean
The concerts, which are included with Epcot admission, will be at the America Gardens Theatre nightly at 5:30, 6:45 and 8 p.m.
Art of Disney hosts internationally recognized artist Larry Dotson, known for his oil paintings of scenes around the Disney parks, September 28 – October 2. Dotson's work can be found at the four Walt Disney World theme parks, Animal Kingdom Lodge, Caribbean Beach Resort, Disney Golf Course Pro Shops, Art of Disney Galleries, and on the Disney Cruise Line. Check with the individual location for exact times.
Disney's Pin Traders will host Disney Design Group artist Mike Sullivan, designer of the Monorails Attraction Poster Pin featuring Stitch, on October 12. The artist will be meeting with fans and signing pins from 5 to 7 p.m.
Walt Disney World Swan and Dolphin Resort
The Third Annual Swan and Dolphin Food & Wine Classic is this October 12-13. Each evening from 5:30 to 9 p.m., you will be able to stroll the Swan/Dolphin causeway on Crescent Lake sampling tastes from the resort's award-winning restaurants and lounges. Celebrity chef Todd English of bluezoo and a host of other award-winning chefs will be on hand. You'll also have the chance to attend hour-long beverage seminars led by certified experts. This year's beverage seminars include Riesling Rendezvous; Beer, Please!; Spanish Wines; Modern Mixology; Wine Blending, All Things Sake; and Base to Bubbles. For ticket details and vacation package information, visit:
http://www.swandolphinfoodandwineclassic.com/ears.html
Join Deb Wills, Deb Koma, Jack Spence, Kristin Ford and Jack Marshall of the AllEars.Net Team at 11:30 a.m., Tuesday, October 2 in the United Kingdom pavilion in Epcot's World Showcase. We'll gather in the back garden, where the hedge maze is, for a chance to talk about the Food and Wine Festival, Epcot's 30th Anniversary and more! Bring your AllEars.Net Trading Cards if you have them! http://www.facebook.com/events/273209049455369/
-=-=-=-=-=-=-=-=-=-
Don't forget to check our Events page for current updates: http://allears.net/pl/events.htm
-=-=-=-=-=-=-=-=-=-=-=-=-=-=-=-=-=-=-
The Honey, I Shrunk the Kids Movie Set Adventure will be closed for refurbishment October 8-31.
The Studio Backlot Tour, as well as the American Film Institute Showcase located at the attraction's exit, will be closed for refurbishment October 8 through November 16.
Hurricane Hanna's is closed through December 14, 2012. Guests will find some "grab and go" items set up in other areas of the resort.
Disney's Grand Floridian Resort
Disney's Saratoga Springs Resort & Spa
Splitsville at Downtown Disney West Side is expected to open this fall, combining bowling with billiards, dining, music and nightlife. Splitsville will include 45,000 square feet with 30 lanes on two floors. Bowlers can feast on hand-tossed pizza, fresh-rolled sushi, hand-cut filet sliders and other menu items served right at the lane, all while enjoying an entertaining atmosphere. The all-new day-and-nighttime venue also will be available for birthday parties and corporate events. Splitsville will join other new offerings at Downtown Disney, such as BLINK by Wet Seal, Apricot Lane, a completely redesigned Sunglass Icon by Sunglass Hut, an extensive renovation of Basin and an exterior remodel at Rainforest Cafe (see below). Take a sneak peek into Splitsville courtesy of the Disney Parks Blog:
http://disneyparks.disney.go.com/blog/galleries/2012/08/first-look-peek-inside-splitsville-coming-soon-to-downtown-disney-at-walt-disney-world-resort/
On Pleasure Island, some buildings have been removed, but plans for the site are being reevaluated, which means previously announced construction plans have been delayed.
http://disneyparks.disney.go.com/blog/2011/07/downtown-disney-update/
Rainforest Cafe in Downtown Disney Orlando is undergoing refurbishment. During the renovation, the restaurant will remain open. Upon completion in October 2012, a new lounge area, exterior updates and an updated volcano will be unveiled.
Typhoon Lagoon will be closed for its annual refurbishment October 28, 2012, through January 5, 2013.
=-=-=-=-=-=-=-=-=-=-
A complete list of rehabs can be found here: http://allears.net/tp/rehabs.htm
= = = = = = = = = = = = = = = = =


MAGICAL MOMENTS
= = = = = = = = = = = = = = = = =
Tarie Curtiss: We had taken our granddaughter, Libby (age 4), on her first trip to Disney World. We were enjoying the character dinner at 1900 Park Fare at The Grand Floridian. We had seen and spoken to Cinderella and Prince Charming, and were in the middle of meeting the wicked stepsisters when Libby started to cry. She apparently was afraid of the stepsisters. At the sound of Libby crying, from clear across the restaurant, Cinderella popped up and hurried back to our table. She knelt down and talked to Libby and calmed her fears, and even returned later to make sure Libby was all right. Going the extra mile made such an impression on our entire family… especially on one little girl.
Charles Durrenberger: It was our last day at Art of Animation Resort after a week at Walt Disney World this August. We wanted to grab a quick lunch before hopping aboard Magical Express. I had just sat down with my food at Landscape of Flavors Food Court when my wife, Laura, walked up carrying her tray with a huge smile on her face. She then told me how she was standing at the register about to pay when a generous man walked up and bought her lunch. He said he had Disney Dining Plan meals left over and wanted to see them put to good use. They certainly were!

Tanya Durham: I took my son Jarod to Disney World for his 10th birthday (and left his other three siblings at home; I did the same thing with my daughter and will do the same thing with his younger brothers). We were eating breakfast at Tusker House, and a cast member came up to our table and asked if we would be interested in participating in Mickey's Jammin' Jungle Parade. Well, of course we said yes, and we got to ride in the first float with Rafiki. It was quite a way to celebrate a 10th birthday, and it was really cool to go "backstage" and see everything that goes into the making of such a cool parade. It was certainly an unforgettable Disney moment, and I was so glad it happened to Jarod and me!
-=-=-=-=-=-=-=-=-=-=-=-=-=-=-=-=-=-=-=-=-
We just bet you have a story to tell about an unforgettable moment during your Disney vacation! Please send your favorite memory for inclusion in a future AllEars® to: allearsnet@yahoo.com
This month we also have a collection of readers' visual magical moments meeting Mickey and Minnie in our photo feature, "Wandering the World":
http://allears.net/tp/wander/wander.htm
Thank you all for sharing!
-o-o-o-o-o-o-o-o-o-o-o-
Editor's Note: This story/information was accurate when it was published. Please be sure to confirm all current rates, information and other details before planning your trip.