November 2014 Walt Disney World Bits and Bites
Feature Article
This article appeared in the October 28, 2014 Issue #788 of ALL EARS® (ISSN: 1533-0753)
Editor's Note: This story/information was accurate when it was published. Please be sure to confirm all current rates, information and other details before planning your trip.
Feature Article
This article appeared in the October 28, 2014 Issue #788 of ALL EARS® (ISSN: 1533-0753)
Editor's Note: This story/information was accurate when it was published. Please be sure to confirm all current rates, information and other details before planning your trip.

= = = = = = = = = = = = = = = = =
STEP BACK IN TIME
= = = = = = = = = = = = = = = = =
by Deb Wills
AllEars® Editor-in-Chief
Each month, we rummage around in our archives for this featurette, which indulges in a bit of nostalgia, taking you back in history for a glimpse of Walt Disney World and The Walt Disney Company through the ages. This month, we go 20 years back, all the way to November 1994!
At that time, Honey I Shrunk the Audience, an interactive 3-D adventure, opened in Epcot's Future World, replacing Captain EO, a 3-D film that starred singer Michael Jackson. It was one of the most creative and multi-sensory 3D experiences of its time. Water sprayed, the seating platform moved and rats ran around your feet.
The 20-minute misadventure followed Professor Wayne Szalinski (Rick Moranis) and was based on the "Honey, I Shrunk the Kids" series of films. In the attraction, Professor Szalinski was about to accept the Inventor of the Year Award from Nigel Channing (ex-Monty Python comedian Eric Idle). Szalinkski has a little mishap with the remote for his hoverpod and flies out of control around the Imagination Institute. As part of the award ceremony, Professor Szalinski then demonstrates his Dimensional Duplicator and Incredible Shrinking Machine. The audience, too, is then shrunk as part of the misdirected laser beam. There were some super special effects, including feeling the wind from the hoverpod when the Professor flies into the theater. It was a VERY realistic 3-D motion picture. If you do not like snakes, lions, or mice, then you may not have enjoyed this experience. Parts of this movie were quite loud and may have been too much for young children.
The show was produced by Kodak.
In a rather circular turn of events, after the death of Michael Jackson in 2010, the original Captain EO film was brought back and replaced Honey, I Shrunk the Audience.
A sad side note: Marcia Strassman, who played Szalinski's wife in the "Honey, I Shrunk…" films and the attraction, passed away this past week at the age of 66, from breast cancer.
=-=-=-=-=-=-=-=-=-=-=
RELATED LINKS
Captain EO attraction page

Captain EO Archive
Honey, I Shrunk the Audience – Disneyland

= = = = = = = = = = = = = = = = =
HIDDEN MICKEYS ALERT
= = = = = = = = = = = = = = = = =
Steve Barrett, author of the Hidden Mickeys books and webmaster of www.HiddenMickeyGuy.com, brings you a few more Hidden Mickeys to search for at Walt Disney World. Hidden Mickeys form only a part of the amazing and intricate detail that surrounds you at Disney!
1. Mickey is sometimes hidden in the Disney Guidemaps! Squint for this one: on the Disney's Hollywood Studios map, a row of tiny pink classic (three-circle) Hidden Mickeys adorns the right side of the entrance plaza. Map images change at times, but this Hidden Mickey has been in place for a while now! (Thanks to Toni-Lynn Miles.)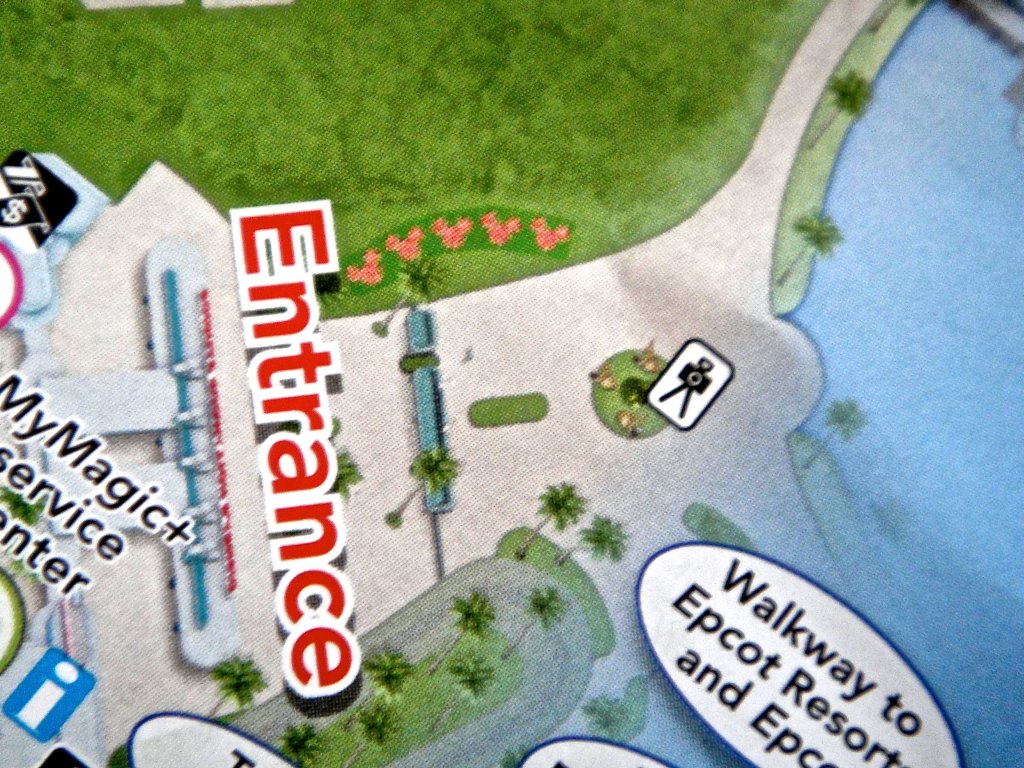 2. While we're in the Studios, queue up for the Backlot Tour. As you stroll through the prop storage building, look to the left and near the end of the second aisle. A framed photo of Mickey and Minnie sits inside a wire basket on top of a white bureau. (Thanks to Devon Newport, David and Aubree Serkoch, Sharon Dale, and Justin Lewicki.)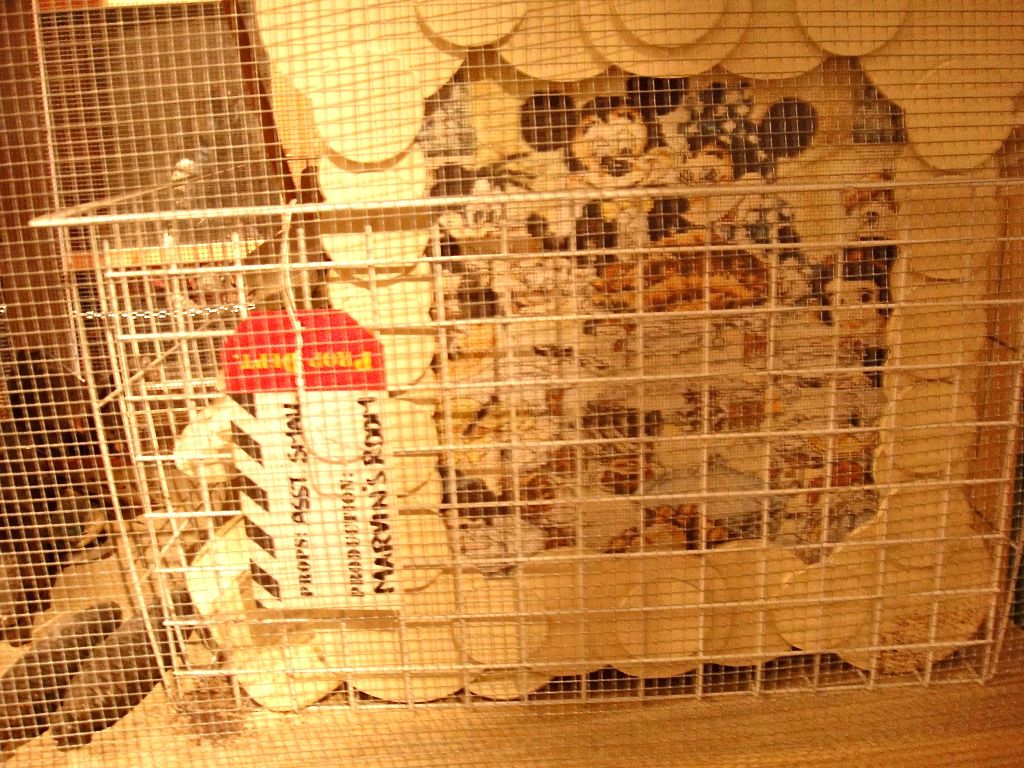 3. This Hidden Mickey in the Magic Kingdom is difficult to find! In Fantasyland's Castle Couture shop, walk through the entrance doors to the right of the Cinderella fountain. Then turn right and look up at the bronze horizontal frieze near the ceiling. You'll spot a series of arches over bushes with flowers. Walk forward to the far end of the frieze and count back six arches to a bush with three flowers at its upper left that form a classic Mickey. Cast Members say this is the only flower arranged like Mickey in the entire frieze. (Thanks to Rick Moore.)
=-=-=-=-=-=-=-=-=-=-=-=-=-=-=-=
You can find a selection of past Hidden Mickey Alerts HERE.
And check out our latest Searching Disney with Steve blog.
= = = = = = = = = = = = = = = = =
RATE AND REVIEW
= = = = = = = = = = = = = = = = =
Compiled by AllEars® Team Member Cathy Bock
In this monthly featurette, we take a look at recent comments made in the AllEars.Net Rate & Review section about a particular restaurant, resort, event, etc. This month, we examine what AllEars® readers are saying about Mickey's Very Merry Christmas Party, which starts this year on November 7! If you're thinking of going, here are some reader comments from our Rate & Review section on last year's party that might help you make up your mind.
Mickey's Very Merry Christmas Party is recommended by 82 percent of our reviewers, with an average rating of 7 out of 10.
— "For the money paid, not sure it was worth it. The lines to see the parades, fireworks, etc. were just wayyyy too crowded. Felt like a sardine… One main reason to go was to see "unique" character meet-and-greets. Line for 7 Dwarfs was 1-1/2 hours. Really? Forget that… Did have a lot of short lines for rides, which was nice. It was all just too much in too short of time. Go to see special events or go to have short lines for the rides and skip the other offerings, but not both because you'll be unhappy like me."
— "We attended the party on December 12 (second time we have attended). It was less crowded than I have seen in the past, but still pretty difficult to maneuver around. We loved the snow on Main Street and ended up with a very good spot for the parade. (We never attempted to find a spot on Main Street because it was just too crowded.)"
— "We visit Magic Kingdom many times a year and at this party we had the best position we've EVER had for fireworks, the parade, and very little wait time in lines… usually only as long as it took us to walk through the waiting area. The cookies and hot chocolate were nothing exceptional, but certainly satisfied us… Though I never saw anyone escorted out, I personally witnessed the cast members checking wristbands just to enter a store. And the crowds certainly thinned quickly after 7 p.m. We all thought it was absolutely magical… one of the best days/nights we've EVER had at Magic Kingdom."
— "This was our fourth MVMCP and probably our last until Disney can fix the crowd problem. We attended on December 5, which was sold out. We have visited many times and know that there are always going to be crowds in the Magic Kingdom, but what we experienced this night was completely unacceptable. The crowd on Main Street and around the castle between the parades and during the fireworks was unimaginable!"
— "All in all, everything we saw we enjoyed, but was it worth $180? Not sure."
— "We went for the first party of the season, which has been sold out for over a week. It wasn't packed full of people at all. We were able to get right onto rides, got to have a front row seat and sit for the parade by the castle, enjoyed the fireworks in peace. Also we walked right up and got cookies and hot chocolate with little to no waiting at all. It was amazing. Also, we saw many, many, many people getting escorted out by cast members when they did not have a bracelet."
Want to read more? Check out other Mickey's Very Merry Christmas Party comments from our Rate & Review section.
And don't forget to check out the rest of our Rate & Review boards!

= = = = = = = = = = = = = = = = =
MONTHLY REMIND-EARS
= = = = = = = = = = = = = = = = =
EVENTS
Mickey's Very Merry Christmas Party – Dates: November 7, 10, 13, 14, 16, 20, 21, and 30; December 2, 4, 7, 9, 11, 12, 14, 16, 18, and 19. Advance Purchase Prices: All Dates: Ages 10+: $67.00 + tax/Ages 3-9 $62.00 + tax. Some discounted prices available.
EDITOR'S NOTE: The first night of the MVMCP, November 7, has already SOLD OUT!
Epcot International Food and Wine Festival – continues through November 10. The 2014 festival features new marketplace menus and is debuting a variety of premium dining events.
If you've already had a chance to sample the menu items at the International Marketplaces, be sure to take the AllEars.Net Food Booth Survey:
https://www.surveymonkey.com/s/ZKZV6MK
Eat to the Beat concert series November schedule:
— November 1-2 — 38 Special
— November 3-5 — Boyz II Men
— November 6-7 — David Cook
— November 8-10 — Big Bad Voodoo Daddy
The concerts, which are included with Epcot admission, will be at the America Gardens Theatre nightly at 5:30, 6:45 and 8 p.m.
Along with all the other activities surrounding the Food and Wine Festival, there will be a number of artist appearances/signings occurring in the Festival Center. The tentative schedule is:
— November 1: William Silvers, 1 to 5 p.m.
— November 7: Paola Guiterrez, 4 to 6 p.m.
Josh Kilmer-Purcell and Brent Ridge, otherwise known as The Fabulous Beekman Boys, will make an appearance and sign their best-selling books, The Beekman 1802 Heirloom Dessert Cookbook and The Beekman 1802 Heirloom Vegetable Cookbook , at Heritage Manor at the American Adventure Pavilion in Epcot, on Saturday, November 8 from 2 to 4 p.m. Limit two, non-personal items signed per guest.
Holidays Around the World in Epcot: November 28 – December 30, 2014.
Epcot's 2014 Candlelight Processional, the annual retelling of the story of Christmas that features a mass choir and a full orchestra, will take place November 28 through December 30. These packages start at $35 for lunch and $50 for dinner for adults, include a meal at an Epcot restaurant and a guaranteed seat for one of the Candlelight Processional performances and pre-arranged fireworks viewing. Call 407-WDW-DINE (407-939-3463) or book online at www.disneyworld.com/holidays.
Here is the schedule of those who will appear as narrators for the Candlelight Processional:
— 11/28 – 11/29: Jodi Benson
— 11/30 – 12/2: Neil Patrick Harris
— 12/3 – 12/4: Jonathan Groff
— 12/5 – 12/6: Whoopi Goldberg
— 12/7 – 12/9: Levar Burton
— 12/10 – 12/11: Edward James Olmos
— 12/12 – 12/14: Joe Morton
— 12/15 – 12/17: Chita Rivera
— 12/18 – 12/20: Ana Gasteyer
— 12/21 – 12/23: Marlee Matlin
— 12/24 – 12/25: Isabella Rossellini
— 12/26 – 12/27: Blair Underwood
— 12/28 – 12/30: Steven Curtis Chapman
Narrators are subject to change without notice. Show Times are at 5, 6:45 and 8:15 p.m., except December 7, when show times are 6:45 and 8:15 p.m. only.
Disney's Hollywood Studios
The Osborne Family Spectacle of Dancing Lights, which takes place annually at Disney's Hollywood Studios along the Streets of America, will run November 7, 2014, through January 4, 2015. Click HERE to see photos from last year's Osborne Lights.
Disney's Hollywood Studios has announced a new Frozen Holiday Premium package, available November 7-19, November 21 – December 9 and December 11 – January 4, 2015. For $89 per adult plus tax ($59 per child plus tax) you will receive:
— reserved seating for the First Time in Forever: A Frozen Sing-Along Celebration at the Premiere Theatre
— reserved viewing of the Osborne Family Spectacle of Dancing Lights
— a Frozen-themed dessert party (including mini Anna and Elsa cupcakes)
— a holiday-themed lithograph
— a Frozen pin
You must have your own admission for Disney's Hollywood Studios (admission is not part of the package). Call 407-939-1854 to reserve your spot.
Downtown Disney
No Festival of the Masters in 2014! The Downtown Disney area is undergoing the largest expansion in its history, as it transitions to becoming Disney Springs. Since much of the area that traditionally houses the Festival of the Masters is unavailable due to expansion work, the Disney Parks Blog has reported that the event will not be held this year.
Disney Wine & Dine Half Marathon Weekend — November 7-8. Weekend events will also include Mickey's Jingle Jungle 5K and runDisney kids' races. There will also be a Disney Wine & Dine Pre-Race Taste on November 7, at Disney's Hollywood Studios. This special ticketed evening event offers runners and fans a private reception on the set of Lights, Motor, Action! Extreme Stunt Show, featuring food and beverages from the Epcot International Food & Wine Festival, music and meet & greets with Disney characters. The race weekend kicks off with the Disney Health and Fitness Expo on November 7-8, at ESPN Wide World of Sports Complex. The expo is free and open to the public, and offers a speaker series featuring running experts such as runDisney official training consultant Jeff Galloway. www.runDisney.com
The Walt Disney World Swan and Dolphin Food & Wine Classic returns for a fifth year this October 31 – November 1, featuring more than 40 food and wine stations; 10 food and wine seminars and the opportunity to meet the masters behind the culinary magic. The two-night event runs from 5:30 to 9 p.m. each night and offers an array of culinary options from the hotel's award-winning signature restaurants. Tickets to the Swan and Dolphin Food & Wine Classic are available as part of a hotel package starting at $315 per night or individually. Advance purchase event-only tickets are available for $95 per person, including taxes and include unlimited food and beverage samples on the causeway. Upgraded tickets that include the beer garden are $115 per person, including taxes. Beverage seminars are $45 per person, per class including taxes. Pasta-making and pairing seminars are $60 per person including taxes. For more information or to book, visit www.SwanDolphinFoodandWineClassic.com or call 1-800-227-1500.
The Florida State men's tennis program is hosting the third annual USTA Collegiate Clay Court Invitational at the ESPN Wide World of Sports Complex from October 30 to November 2. The event will feature more than 40 schools from around the country, the most in its three-year history. A collaboration between Disney, the USTA and Florida State, the Collegiate Clay Court Invitational is the most televised collegiate tennis event in the country. Fans can purchase tickets for general admission each day at the ESPN Wide World of Sports Complex Box Office. For more information, visit www.seminoles.com or contact Derril Beech at (850) 645-8296.
-=-=-=-=-=-=-=-=-=-
Don't forget to check our Events page for current news.
-=-=-=-=-=-=-=-=-=-=-=-=-=-=-=-=-=-=-
REHABS AND CLOSINGS
Effective September 1, 2014, Walt Disney World has implemented changes to the operating schedule for its monorail system. Current operating hours for the three monorail lines are as follows:
Magic Kingdom Resorts line : 8:30 a.m. to 11 p.m. (extended to midnight on hard-ticket event nights)
Magic Kingdom Express line : 9:30 a.m. to one hour after Magic Kingdom fireworks
Epcot line : 9 a.m. to 11 p.m.
Bus and boat service are increased when monorail service is limited. No word on how long this schedule will remain in place.
Several enhancements to the Central Plaza area between the end of Main Street and Cinderella Castle in Walt Disney World's Magic Kingdom are coming over the next few months. Among the changes being made: the addition of sculpted gardens and pathways, expanded restaurant seating and even a special viewing area for fireworks and other performances. In fact, the seating outside of Casey's Corner and The Plaza restaurant will nearly double in size. The project has already begun and is scheduled to be completed in 2015.
Due to unforeseen track maintenance, the Walt Disney World Railroad will be under refurbishment from September 28-November 8. Because of the refurbishment Disney's Magic Behind Our Steam Trains Tour will be unavailable during that time.
Magic Carpets of Aladdin will be closed for refurbishment November 10-21.
Once again this year, the Magic Kingdom's Jungle Cruise will temporarily transform into the "Jingle Cruise" for the holiday season. There will be festive decor in the attraction queue and boathouse, holiday names for the Jungle Cruise boats and a slew of seasonal jokes from the Skippers. The holiday transformation of the attraction will debut November 7.
The Maelstrom attraction and Spirit of Norway movie, located in the Norway pavilion in Epcot's World Showcase, have closed to make way for a new attraction based on the animated film, "Frozen." The new attraction will take guests to the film's land of Arendelle and is expected to open in early 2016. The Norway pavilion will also again host a royal greeting location where the characters Anna and Elsa can meet guests.
Fantasmic! will not be performed November 19-21.
The Studios Backlot Tour in Disney's Hollywood Studios has closed. No other details related to this closure have been announced.
The LA Prop and Cinema Storage Shop at the corner of Hollywood and Sunset Boulevards in Disney's Hollywood Studios will reopen in early 2015 as The Trolley Car Cafe, a new food and beverage location serving Starbucks coffee and Disney favorites. Cast members at this new location will wear costumes themed to blend with the classic look and feel of Hollywood Boulevard and its surroundings. The Trolley Car Cafe will serve Starbucks coffee and espresso beverages, frappuccino blended beverages and signature breakfast sandwiches and Starbucks La Boulange pastry items along with other Disney baked goods. The location will accept Starbucks gift cards.
The Pangani Reseach Center and Aviary and Hippo viewing areas are closed until November 14.
All-Star Music Resort
The Intermission Food Court at Disney's All-Star Music Resort is closed for a lengthy refurbishment from August 1 – December 20, 2014. Grab 'n' Go food and beverages are available in the Note'able Games Arcade. Bus transportation is provided to neighboring resort hotels — All-Star Sports Resort and All-Star Movies Resort — where you can dine at the End Zone Food Court or World Premiere Food Court.
BoardWalk
Kouzzina by Cat Cora closed September 30, 2014. A new Italian restaurant, Trattoria al Forno, will open on the site on December 18. The new trattoria will serve a variety of Neopolitan-style pizzas baked in wood-burning ovens, as well as other "simple food" made with "Old World techniques." Menu items include handcrafted mozzarella made daily, cavatelli (small dumpling-shaped pasta) and other pasta, seasonal risottos and fresh seafood and vegetables. Dishes will spotlight Italy's various regions, such as braised beef with house-made cavatelli from Bologna, semolina tagliatelli carbonara from Latium (Rome), and a pork chop named for Milan. Classic Italian desserts will include tiramisu, lemon panna cotta with almond crunch and berries, gelatos, and the signature bomboloni (Italian donut holes) with dark chocolate and vanilla gelato. The restaurant will feature more than 60 different Italian wines by the bottle and more than 25 wines by the glass. The trattoria will also serve signature cocktails, Italian beers and sodas, as well as a signature-blend Italian coffee roasted just for them. Reservations are now being accepted. During the wait for the new restaurant, breakfast will be served at the Flying Fish Cafe.
Disney's Caribbean Beach Resort is currently undergoing refurbishment, scheduled to be completed in spring 2015. During this time, all rooms (with the exception of King Bed rooms and Pirate Rooms) will be upgrading to queen beds. Many rooms (but not all) will then have the ability to accommodate up to five, with the addition of a bunk-size fold down bed. These rooms will be located in all of the resort's villages.
Great Ceremonial House Lobby – Now – December 2014. The atrium is being reimagined to highlight the cultural elements of Polynesia and provide more expansive views. At certain times of day, there may be some noise and alternative paths of travel may be needed throughout the Great Ceremonial House.
The Nanea Volcano Pool closed July 26, 2014, and will not reopen until sometime in 2015. Several enhancements are scheduled, including a new aquatic playground with children's slides, a new hot tub, and a larger deck with more guest seating. As an alternative, resort guests are being notified that they will receive free, single-day admission to Disney's Blizzard Beach Water Park. Transportation will be provided to the water park, where a dedicated Polynesian guest check-in will be available, at which you can receive your complimentary tickets and towels. The Polynesian's leisure pool will remain open during the Nanea pool refurbishment.
The previously announced Trader Sam's Grog Grotto will not open until 2015.
Wilderness Lodge
The Silver Creek Springs pool at Disney's Wilderness Lodge is scheduled to be closed through Thursday, November 27, 2014, for general refurbishment and maintenance. Wilderness Lodge guests will also be permitted to use the feature pools at the Contemporary Resort and Fort Wilderness. Shuttle transportation will be provided. There is no word on whether modifications will be made to the pool during the closure. The Trout Pass Pool Bar will be closed while the Silver Creek Springs pool is closed.
The multi-year transformation of Downtown Disney into Disney Springs will treat guests to more shopping, dining and entertainment amid open-air promenades, springs and waterfront charm. Disney Springs will feature an eclectic and contemporary mix from Disney and other noteworthy brands, from boutique shops to unique flagship anchor stores. Disney Springs will double the number of shops, restaurants and other venues for guests to explore, resulting in more than 150 establishments. Drawing inspiration from Florida's waterfront towns and natural beauty, Disney Springs will include four outdoor neighborhoods interconnected by a flowing spring and vibrant lakefront.
As part of the Disney Springs expansion, Downtown Disney parking lots H-K (near West Side locations such as AMC Theatres and House of Blues) closed to make room for a parking garage expected to open in late 2014. To compensate for the closed areas, "overflow" parking areas have been designated and will be open most Fridays, Saturdays and Sundays, as well as holidays, special events and other busy days throughout the next few years of the expansion project. Overflow lots include those at Team Disney, Casting and SunTrust. Signage along Buena Vista Drive will direct guests to parking areas. Shuttles will operate from 5 p.m. to 3 a.m. on days that overflow parking is open to transport guests between Team Disney and Downtown Disney West Side near Cirque du Soleil. If you have reservations at a Downtown Disney location, be sure to allow ample time for parking under these new conditions.
As part of the transformation of Downtown Disney into Disney Springs, road work on Buena Vista Drive has begun and will continue in phases through Spring 2016. The roadway will be widened to 10 lanes, adding a dedicated bus lane. In addition, two pedestrian bridges will be constructed, which will allow guests to safely cross over Buena Vista Drive. Visitors to the Downtown Disney area should plan for extra travel time due to construction and lane closures.
Typhoon Lagoon Water Park closed for its annual refurbishment October 26 through December 20, 2014.
-=-=-=-=-=-=-=-=-=-
A complete list of rehabs can be found HERE.

= = = = = = = = = = = = = = = = =
MAGICAL MOMENTS
= = = = = = = = = = = = = = = = =
Stacey M. Krieger: My husband and I went to Epcot for our first anniversary. We had on the complimentary "Happy Anniversary" pins. As we walked into the American Adventure the greeter hustled up to us and asked us where we were from. I told him and he said, "We've been waiting for you!" and ushered us into a little private room off to the left of the viewing area for the Voices of Liberty. He dialed something on a telephone and handed it to me. It was Mickey Mouse calling to wish us a Happy Anniversary! Very cute. It made our grins just a little bigger as we celebrated our special day!
Maureen Kolis:One of our favorites during every trip to Disney World for my husband and me is the Safari. We've never been disappointed during the experience… the animals are always out and active, and our Safari guides have provided informative and entertaining commentary. Our most recent vacation, however, provided us with an unforgettable experience on the Safari. We had "FastPassed," hoping to take one of the last Safaris of the day to see the animals migrating back to their overnight shelters for their food. As it turned out, the day was rainy and the temperature had dipped into the 50s. The park was emptying of people, so when we arrived we were boarded onto one of the vehicles all by ourselves. We waited for others to arrive, but time was running out since it was the end of the day, so our driver, Tim, told us we would have our own personal Safari experience! And what an experience it was! He asked us to move to the seat right behind him, and then proceeded to treat us to a most amazing Safari, even stopping for extra time so he could point out things that we had never seen before! And we did see the "parade" of elephants, giraffes, zebras, and so many other beautiful creatures as they went "home" for the night. We've never experienced anything like that before… and I'm sure we never will again! OUR magic was provided by Tim, and we'll never forget his generous sharing!
Cindy W.: Back in 2002, on our very first trip to Walt Disney World, we stayed a week on-site and went to all the parks twice! We made many memories, but the best was on our third day: We got up early to be first in line at Animal Kingdom, first through the gate and at the front by the ropes. Our aim was be first in line at Kilimanjaro Safari. As we were waiting for the park to open, a cast member approached my daughter, who was celebrating her 10th birthday (though the cast member didn't know that), and asked if she wanted to help open the park! Our 5-year-old son was invited along as well. Soon they were dressed in safari hats and were introduced to Minnie and Mickey and several other characters, all dressed in their safari garb. My daughter was given the microphone to welcome everyone to Animal Kingdom before the gates opened. Our children were given Animal Kingdom pins by the cast members, and had a special photo shoot with Minnie and Mickey and all the other characters. What a magical day that was! We still made it on one of the first safari rides too!
We just bet you have a story to tell about an unforgettable moment during your Disney vacation! Please send your favorite memory for inclusion in a future AllEars® to: allearsnet@yahoo.com Thank you all for sharing!
-=-=-=-=-=-=-=-=-=-=-=-=-=-=-=-=-=-=-=-=-
We have more Magical Moments, pictorial ones, in our Wandering the World featurette! In our September 30 newsletter, we asked what you thought about the Castle Cake (aka "Cakestle"), which commemorated the 25th anniversary of Walt Disney World. Thanks to all who responded!
-o-o-o-o-o-o-o-o-o-o-o-
Editor's Note: This story/information was accurate when it was published. Please be sure to confirm all current rates, information and other details before planning your trip.