November 2012 Walt Disney World Bits and Bites
Feature Article
This article appeared in the October 30, 2012 Issue #684 of ALL EARS® (ISSN: 1533-0753)
= = = = = = = = = = = = = = = = =


STEP BACK IN TIME
= = = = = = = = = = = = = = = = =
Each month, we rummage around in our archives for this featurette, which indulges in a bit of nostalgia, taking you back in history for a glimpse of Walt Disney World and The Walt Disney Company through the ages. This month, we take a look at the Norway pavilion in Epcot's World Showcase.
Can you remember a time when Epcot's World Showcase only had 10 pavilions? I can't, but that's because I didn't make my first visit to Walt Disney World until 1994. But it was only just six short years before that, that the 11th and final (at least, to date) pavilion was added — the Norway pavilion.
The original concept was to create a Scandinavian Pavilion with elements of Norway, Denmark, and Sweden featured. As negotiations with the various countries progressed, it was the corporate investors in Norway who eventually came up with the $30 million required, and so it was that Norway secured an "exclusive" national showplace. (Disney also contributed one-third of the construction costs.)
The 58,000-square-foot Norway pavilion is designed to look like a coastal Norwegian village. Imagineers relied on the communities of Bergen, Oslo, Alesund and the Setesdal Valley for architectural inspiration.
As you approach the Norway pavilion, you can't help but notice a tall, wooden building. This is a representation of a "stavkirke," or Stave Church, of the kind seen in Norway. This particular Stave Church is inspired by the Gol Church of Hallingdal, built around 1250 A.D. Inside the church is one of World Showcase's cultural museums. The exhibit currently on display is "Vikings: Conquerors of the Seas," a collection of authentic Norse weapons and artifacts.
Another key structure in the pavilion is the building that houses its restaurant, Akershus Royal Banquet Hall. The restaurant is styled after a 14th century fortress, also called Akershus, which stands in the heart of Oslo's harbor.
The pavilion also is home to a small bakery that features a number of delectable savories and sweets, including personal favorites Rice Dream (a creamy rice pudding topped with strawberry sauce) and School Bread (a light doughtnut injected with a squirt of sweet custard and topped with coconut). You may have noticed near the bakery's covered seating area a statue of a woman. This is Grete Waitz, a Norwegian runner who won nine New York City Marathons between 1978 and 1988, more than any other runner in history. She also won a silver medal at the 1984 Summer Olympics in Los Angeles and a gold medal at the 1983 World Championships in Athletics in Helsinki.
Maelstrom, a cruise on a "troll-tormented" Viking ship that takes you through the history of the country, is located at the back of the pavilion. When the Norway pavilion opened, it also featured a full-scale Viking ship, designed to resemble a famous ship, the Oseberg, which was a children's play area.
The Norway pavilion "soft opened" on May 6, 1988. Its official debut followed two months later on July 5. Norway's Crown Prince Harald V attended the opening ceremony, which was broadcast live to Norway.
Did you ever notice that during the evening laser and pyrotechnics show, IllumiNations: Reflections of Earth, the Stave Church is not lit up as most of the other pavilions around World Showcase? This is due to its position directly across the lagoon from the Morocco pavilion. For religious reasons, the Moroccan landmark is prohibited from having any kind of lighting attached, so for symmetry's sake, the Norwegian landmark is not lit either.
The pavilion's Norwegian investors sold their interests to Disney in 1992. The Norwegian government continued its sponsorship, though, and signed a five-year agreement paying $200,000 annual dues. Though this contract was renewed in 1997, in 2002 it was allowed to lapse. Now, Disney has sole responsibility for the pavilion.
Do you have any early photos of the Norway pavilion? Or of World Showcase BEFORE Norway was added? We'd love to see them! Email them to: allearsnet@yahoo.com
You can read more on the history and evolution of the Norway pavilion in Jack Spence's two-part blog:
http://land.allears.net/blogs/jackspence/walt_disney_world/theme_parks/epcot/norway/
= = = = = = = = = = = = = = = = =


SOUVEN-EARS
= = = = = = = = = = = = = = = = =
If you're visiting Walt Disney World in the next few weeks, you'll surely be stopping by the Epcot International Food and Wine Festival. When you do, you'll be impressed by the number of little specialty items you can take home as souvenirs for yourself or for favorite foodie.
There's a wide assortment of Festival logo merchandise this year, perhaps even more than in previous years. Along with the usual t-shirts, caps, and tote bags, there are items for those who like to dabble in the kitchen and behind the bar, such as logo aprons ($24.95), oven mitt/potholder combos ($19.95), and shakers ($14.95). And of course, there's Duffy the Disney Bear, in his chef's toque, sporting a Food and Wine Festival emblem ($30).
But if you're looking for more unusual items, take a look in the Wine Shop in the Festival Center. There are miniature tequila bottles painted to resemble small "Day of the Dead" skulls for $9.95. The pretty bottle of Bohae Black Raspberry Wine (Bokbunjajoo), with its Asian influences apparent, makes a nice little gift, too, and sells for just $10.95. Another interesting bottle, not necessarily for what's outside, but more for what's on the inside, is that of the Chocolate Crave liqueurs. Made by John deKuyper and Sons, these sweet spirits feature Chocolate Chili, Chocolate Mint and Chocolate Cherry flavors and sell for $21.95. They've only been out about a year, and are distinctively different — especially the Chocolate Chili. (Just remember, if you're flying home, you'll have to pack these liquid items in your checked luggage!)
If you're a fan of the Disney artist NOAH, you'll want to snap up a few of the Festival art pieces he's had a hand in designing this year. Aside from the Festival poster ($24.95), you'll find his designs, which deceptively resemble photography, but are actually paintings of bottles and wine in warm brown and golden hues, on clocks ($39.95), cutting boards, coasters, mugs, ceramic tile trivets, serving dishes and more. There are even some fine art pieces by NOAH, including some framed artwork that cost more than $1000. (OK, maybe those aren't exactly souven-ears, but they were so impressive I had to mention them — I even spotted a Hidden Mickey in one piece.)
In addition to the merchandise specific to the event, the Festival Center has done a good job of bringing together an array of other food-related Disney-designed items in one location. Mickey, Goofy and Donald each seem to have their own distinct lines of items, including aprons, clocks, and cutting boards — all of which would make great take-home gifts.
For more festival merchandise, see the AllEars.Net Team blog:
http://land.allears.net/blogs/allearsteam/
= = = = = = = = = = = = = = = = =


HIDDEN MICKEYS ALERT
= = = = = = = = = = = = = = = = =
Steven Barrett, author of the Hidden Mickeys books and webmaster of www.HiddenMickeyGuy.com, highlights a few more Hidden Images in Disney California Adventure, at Buena Vista Street and Cars Land.
1. Walk through the entrance to California Adventure and head for Clarabelle's Hand-Scooped Ice Cream Shop. It's on the right side and at the end of Buena Vista Street, near the walkway to Condor Flats. Inside Clarabelle's, look on the shelves behind the service counters at the milk bottles. A tiny black classic Mickey is on the middle side of each cow. (Thanks to Rosemary & Neil.)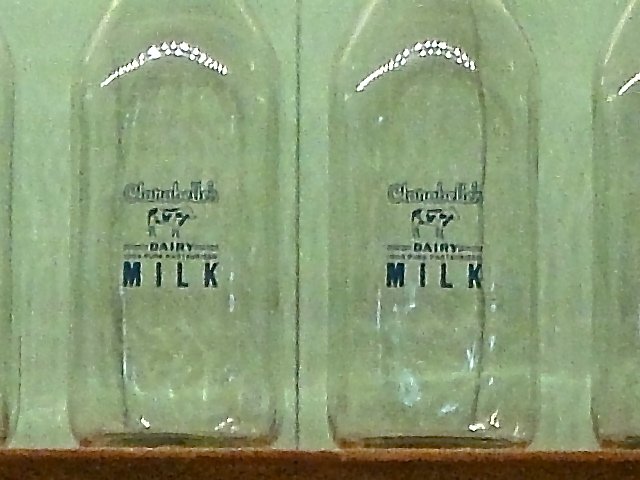 http://allears.net/btp/images/hidden-mickey-378.jpg
2. Stroll down Route 66 in Cars Land and check out Ramone's House of Body Art (a merchandise shop). Inside the store, classic Mickeys are traced in paint on a few merchandise boxes that are splattered with colorful paint. (Thanks to Rosemary & Neil and Krystle McClung.)
http://allears.net/btp/images/hidden-mickey-379.jpg
3. Gaze inside the Cozy Cone Motel office from a rear window and spot Buzz Lightyear peeking out from under an orange cone on a shelf at the end of a counter. This office is locked and closed off to guests, so I hope Buzz stays in place for a while! (Thanks to Tamera.)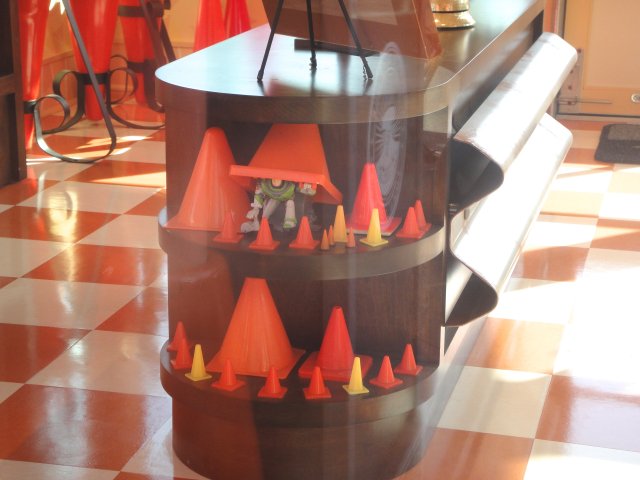 http://allears.net/btp/images/hidden-mickey-380.jpg
You can find a selection of past Hidden Mickeys Alerts here:
http://allears.net/btp/hiddenm2.htm
And check out our Searching Disney with Steve blog:
http://land.allears.net/blogs/stevebarrett/
= = = = = = = = = = = = = = = = = =

RATE & REVIEW ROUND-UP
= = = = = = = = = = = = = = = = = =
With just a few more weeks of the 17th Annual Epcot Food and Wine Festival left, we thought you might be interested in seeing what our readers have been saying about this year's event.
In our annual survey of the International Marketplace food items, the highest rated savory item is the new entry from the Canada booth, the "Le Cellier" Wild Mushroom Beef Filet Mignon with Truffle Butter Sauce, which 84.5 percent have deemed "a winner." Another entry from Canada, the Canadian Cheddar Cheese Soup, is in second place (a "winner" according to 83.7 percent). Rounding out the top three? The Grilled Beef Skewer with Chimichurri Sauce and Boniato Puree from the Argentina booth (loved by 80.0 percent).
In the sweets department, the Warm Chocolate Lava Cake with Baileys Ganache has 84.6 percent of the top votes, while the perennial favorite Belgian Waffle with Berry Compote and Whipped Cream has garnered 79.9 percent. Finishing third (so far) is Morocco's Baklava (76.2 percent).
It's interesting to note that the new vegan items from the Terra marketplace have been well-received. The Chili Colorado with House Made Chips & Cashew Cheese, featuring Gardein Beefless Tips and the Trick'n Chick'n Curry with Basmati Rice featuring Gardein Chick'n Breast are considered at least worth a try by about 95 percent of survey respondents.
Our readers' least favorite items to date? The Mung Bean Pancake with Shrimp and Kimchi Sauce of South Korea was rated "did not like" by 26.4 percent of those who tried it, while surprisingly, Linda Bean's Lobster Claw Cuddler Chilled with Herb Mayonnaise and the Cheese booth's Fondue with Sourdough Bread were disliked by about one-quarter of those who tried them.
Other readers have been sharing their thoughts on other aspects of the Food and Wine Festival in our Rate and Review section. Some random quotes:
— The Bacardi mixology demonstration was my husband's favorite demo experience during Food & Wine. The Bacardi staff really kept us entertained, enticed, and interested the entire time. They showed use how to make three delicious drinks using Bacardi's torched cherry, dragonberry, and spiced rum and then we sampled each one. I would definitely do this demo again next year!
— The Patron mixology demonstration was especially interesting and informative because it had three different Patron employees who spoke about the company's history, products, and global efforts, plus a great mixologist who showed us how to make the drinks and gave us useful bartending tips. Of the three liquors that we tried, Ultimate vodka, Pyrat rum, and Patron XO, I especially enjoyed the Patron XO's coffee-like flavor and aromas. I really enjoyed the overall experience of this demo, and would recommend it to others.
— My wife and I were fortunate enough to do the Marketplace VIP Access Chef Tour and to say that we loved it would be an understatement. The tour was very similar to the review posted on AllEars.Net except they added a surprise menu item for us from Greece. All of the other food and drinks chosen were outstanding and the high point was clearly time spent talking to Chef Jens. He could not have been any more gracious with his time and he was wonderful about taking questions and sharing his insights into the dishes. Our tour was different in that the Passport books we received were stamped ahead of time with all of our stops and they were always offering us bottled water. My only suggestion would be to add some more tables for when we stopped to sample food as sometimes we still had drinks and so that got a little tricky, but that is very, very minor when compared to the overall experience. Definitely would do it again!
— As a 30-year Disney vet, I was so excited about the highly touted Food and Wine Festival, but in the end was very disappointed with the experience. First, the crowds were unbelievable. I realize it was the first weekend, but I honestly did not expect it to be close to summer crowd levels. Second, the quality of the food was severely below what I have come to expect of Disney. I tried about 20 different items, including the popular favorites, and none of them were dishes about which I could rave. They were just OK, none of them offering extreme amounts of flavor, and they suffered from the assembly-line process that was necessary to serve so many people. Third, for the prices that were being charged, the dishes either should have been outstanding or at least MUCH, much larger. I paid $3.50 for a cannoli that was two and a half inches long. When the cast member put it in front of me, I thought it was a joke. Be warned: the dishes are not appetizer-sized, they are BITE-sized… Fourth, by 4 o'clock, the crowds were getting raucous… We didn't even have the kids with us on this trip, and still we left by 6 o'clock just to get away from the rowdy people. We missed the fireworks, and really felt cheated out of the full day at the park for which we paid $94 per person, all because the crowds were so out of control.
We'd love to hear your thoughts and experiences, too! Take our survey of the International Marketplace items here:
http://www.surveymonkey.com/s/P7WW5MQ
And if you'd like to rate other Food and Wine Festival experiences, visit our Rate and Review section here:
http://land.allears.net/reviewpost/showcat.php?cat=68
= = = = = = = = = = = = = = = = = =


MONTHY REMIND-EARS
= = = = = = = = = = = = = = = = =
EVENTS
A number of special previews for the New Fantasyland will be held in November for Passholders, DVC Members, D23 Members.
The Disney Parks Blog announced it will host a Be Our Guest Meet-Up (with an appearance by Walt Disney Imagineers) at the restaurant on the evening of November 17.
Mickey's Not So Scary Halloween Party: November 2. Last Halloween party of the season.
Mickey's Very Merry Christmas Party begins this month! November dates : November 9, 12, 15, 16, 25, 27, 29, 30. Call 407-WDISNEY (407-934-7639) to purchase tickets.
The 2012 Epcot International Food and Wine Festival runs through November 12. To make reservations for any remaining events, call 407-WDW-FEST (939-3378).
The 2012 Eat to the Beat Concert series line-up, which runs during the Epcot International Food and Wine Festival (subject to change, of course), is as follows:
— November 1-2: .38 Special
— November 3-4: Howard Jones LIVE
— November 5-6: Blues Traveler
— November 7-8: Dennis DeYoung, original member of the group STYX
— November 9-11: Big Bad Voodoo Daddy
The concerts, which are included with Epcot admission, will be at the America Gardens Theatre nightly at 5:15, 6:30 and 7:45 p.m.
http://allears.net/tp/ep/fw12/2012-epcot-food-and-wine-festival-eat-to-the-beat-concerts.htm
Holidays Around the World in Epcot — November 23 – December 30, 2012
Candlelight Processional — The annual retelling of the story of Christmas that features a mass choir and a full orchestra will run November 23- December 30, at 5, 6:45 and 8:15 p.m. The list of celebrity narrators appearing in November for the 2012 Candlelight Processional (subject to change):
— November 23 – 25: Geena Davis
— November 26 – November 29: Neil Patrick Harris
— November 30 – December 1: Whoopi Goldberg
Candlelight Processional Lunch and Dinner packages, which include a meal, reserved seating at the Candlelight Processional show and pre-arranged fireworks viewing, went on sale June 26, 2012.
Downtown Disney
Festival of the Masters – November 9 – 11, 2012
Disney's Pin Traders will host Disney Design Group artist Adrianne Draude, designer of the Piece of Disney Movie pin featuring Beauty and the Beast, on November 23. The artist will be meeting with fans and signing pins from 5 to 7 p.m.
ESPN Wide World of Sports Complex
The 2012 Old Spice Classic, to be held Thanksgiving weekend (November 22, 23 and 25) at the HP Field House at ESPN Wide World of Sports Complex, will feature the basketball teams of Vanderbilt and Gonzaga, both preseason top 25 teams, along with Clemson, Davidson, Marist, Oklahoma, UTEP and West Virginia. The 2012 Old Spice Classic, a bracket-format tournament, will feature 12 games over the three days. Each team will compete in one game per day. The two teams that remain undefeated throughout will face off in a championship match November 25.
runDisney
Disney's Wine and Dine Half Marathon Weekend, November 9 and 10. The weekend includes a variety of races, from kids' runs to a family 5K race, to the main event — the Half Marathon that runs through the theme parks at night and finishes at Epcot with an exclusive after-hours party inside the Epcot International Food & Wine Festival.
A Disney Trading Night will be held on November 2 from 4 to 9 p.m. at Disney's Contemporary Resort, Fantasia A – G Ballroom. Guests of all ages are invited to trade pins and share Disney magic at this free activity. That night will also see the release of a special limited edition (500) Duffy the Disney Bear pin . This pin commemorates the Disney Trading Night and features a hinged element that reveals Duffy the Disney Bear.
The Children's Miracle Network Hospitals Classic will be held at Disney's Magnolia & Palm Courses November 8-11, 2012. The tournament marks the 42nd consecutive year that Disney's Magnolia Course has hosted the PGA TOUR, and will feature 128 PGA TOUR players, plus 128 amateurs during the first two rounds. The event features a Pro-Am November 8-9; the Kodak Challenge also finishes at the CMNH Classic. Luke Donald was the 2011 winner, securing the PGA TOUR Money Title with his win at the Disney event. This year's winner will receive $846,000 from a purse of $4.7 million. For more information on the CMNH Classic, visit http://classic.childrensmiraclenetworkhospitals.org/.
-=-=-=-=-=-=-=-=-=-
Don't forget to check our Events page for current updates: http://allears.net/pl/events.htm
-=-=-=-=-=-=-=-=-=-=-=-=-=-=-=-=-=-=-
REHABS AND CLOSINGS
The Studio Backlot Tour, as well as the American Film Institute Showcase located at the attraction's exit, will be closed for refurbishment October 8 through November 16.
Due to a private event on the evening of Thursday, November 8, Disney's Hollywood Studios will close early. Operating hours that day will be 8 a.m.- 4 p.m. In addition, there will be no Fantasmic! show that evening.
Test Track in Epcot's Future World closed for refurbishment April 16, 2012. It is expected to reopen as Test Track Presented by Chevrolet on December 6, 2012. The re-imagined attraction will transform into the "Chevrolet Design Center at Epcot" with interactive design and styling workstations at which you will be able to create custom concept vehicles. Also included will be a "SimCar" ride vehicle experience where you can put your design through its paces on the Test Track circuit. The post-show area will feature the latest Chevrolet vehicles in an all-new, state-of-the-art showroom, as well as lots of special effects.
Bistro de Paris restaurant in the France pavilion is closed through the end of November for renovations.
The Character Spot located in Epcot's Future World closed on October 21 for refurbishment. It is scheduled to reopen February 2013. A temporary location is available near the Fountain View Ice Cream shop where you'll be able to see Mickey, Minnie and Pluto. Also, Goofy is now appearing at Epcot's main entrance, near Spaceship Earth.
Fantasyland Expansion: The ongoing Fantasyland expansion project continues as areas of Fantasyland will open in phases throughout this year and next. The next major phase opening will be December 6, 2012. Attractions opening at that time will be: Under the Sea ~ Journey of The Little Mermaid, Be Our Guest Restaurant, Enchanted Tales with Belle, Ariel's Grotto, Gaston's Tavern, and Bonjour! Village Gifts. Previews of these attractions will begin November 19. As previously planned, the New Fantasyland expansion will continue with the opening of Princess Fairytale Hall in 2013 and the debut of a new Disney "mountain" in the form of the Seven Dwarfs Mine Train in 2014.
To make way for a new show, The Magic, The Memories and You castle projection show in the Magic Kingdom ended on September 3, 2012. A brand-new nighttime show called Celebrate the Magic will debut in November. Popular elements from The Magic, The Memories and You will be retained, but the all-new music, stories and special effects will be exclusive to the Magic Kingdom in Walt Disney World. Guest photographs will no longer be displayed on the Castle.
Hurricane Hanna's is closed through December 14, 2012. Guests will find some "grab and go" items set up in other areas of the resort.
The spa at the Grand Floridian Resort and Spa closed on September 19, 2011, for 18 months as part of a planned renovation at the resort, and the addition of Disney Vacation Club units. During this downtime, enhancements are also being planned for the spa. Note that the health club at Disney's Grand Floridian Resort & Spa is still open. In addition, the Ivy Trellis Beauty and Barber Shop remain open in the main building of the Grand Floridian.
http://land.allears.net/blogs/dnews/2011/12/disney_vacation_club_announces.html
A number of refurbishments will be taking place at the Grand Floridian Resort and Spa between now and the end of the year:
The current refurbishment schedule is as follows:
Gasparilla Grill and Games – Closed September 13 – December 16. Gasparilla Grill and Games will be renovated to include additional seating. During this time, an extended menu will be available at the Beach Pool Bar and a selection of pre-packaged food will be available at Mizner's Lounge.
The Mouseketeer Club will be closed during the refurbishment at Gasparilla Grill and Games.
The Courtyard pool and Courtyard Kiddie Pool temporarily closed beginning September 15, reopening late December 2012. During this time, a new zero-entry slope will be added as well as a new splash area for kids. The Beach Pool and Slide will remain open during this time.
Sandy Cove closed August 21 for refurbishment and reopens November 18. While closed, you can purchase sundries at the M. Mouse Mercantile on the second floor.
Ivy Trellis Salon will be closed October 20 to December 3, 2012.
The amenities at the Polynesian (including the pool and Never Land Club) will be open to Grand Floridian guests during this time.
Splitsville at Downtown Disney West Side is expected to have its grand opening December 6, 2012, combining bowling with billiards, dining, music and nightlife. Splitsville will include 45,000 square feet with 30 lanes on two floors. Bowlers can feast on hand-tossed pizza, fresh-rolled sushi, hand-cut filet sliders and other menu items served right at the lane, all while enjoying an entertaining atmosphere. The all-new day-and-nighttime venue also will be available for birthday parties and corporate events. Splitsville will join other new offerings at Downtown Disney, such as BLINK by Wet Seal, Apricot Lane, a completely redesigned Sunglass Icon by Sunglass Hut, an extensive renovation of Basin and an exterior remodel at Rainforest Cafe (see below). Take a sneak peek into Splitsville courtesy of the Disney Parks Blog:
http://disneyparks.disney.go.com/blog/galleries/2012/08/first-look-peek-inside-splitsville-coming-soon-to-downtown-disney-at-walt-disney-world-resort/
On Pleasure Island, some buildings have been removed, but plans for the site are being reevaluated, which means previously announced construction plans have been delayed.
http://disneyparks.disney.go.com/blog/2011/07/downtown-disney-update/
Typhoon Lagoon closed for its annual refurbishment on October 28, 2012, and will be closed through January 5, 2013.
=-=-=-=-=-=-=-=-=-=-
A complete list of rehabs can be found here: http://allears.net/tp/rehabs.htm
= = = = = = = = = = = = = = = = =


MAGICAL MOMENTS
= = = = = = = = = = = = = = = = =
Diane Peters: We took my 2-year-old granddaughter, Aeryn, to the Norway Pavilion for breakfast. At first, we were disappointed at not being seated in the main dining room, however, we shortly overcame that disappointment. We were seated in a side room with my granddaughter and her parents on the side of the table facing a side door. Just as we were finishing breakfast, out of that door walked Princesses! Aeryn noticed immediately with a "WOW!" After visiting with each of them, Aeryn was asked by Mary Poppins if she would go on the parade with her, and all smiles, she agreed. However, by the time she came back around the room she was in tears because she could no longer see her family from the other side of the dining room. Mary Poppins sent her back over to her parents, but before leaving the dining room she stopped at our table again to make sure Aeryn was OK and gave her a hug and chatted with her. Needless to say, Mary Poppins was her favorite of the day.
John Baker: My daughter Emily (13) and I took a quick trip down to Walt Disney World to commemorate her liberation from a cast all summer. This was a make-up summer vacation. The last day, we had entered Magic Kingdom for 5:15 dinner reservations, and were stopped by Dan from the Dapper Dans. During our conversation, Dan asked my daughter how old and what grade she was in. He then proceeded to tell her that they needed someone to lead The Pledge of Allegiance during the flag lowering ceremony. She was grinning from ear to ear and, of course, did a wonderful job. You never know when Disney Magic will strike!
Jennifer Poore: My husband and I were on board the Magical Express heading back to the airport with the usual end of vacation blues. We boarded the bus at Old Key West and had one more stop at Saratoga Springs before heading to the airport. As we were driving through Saratoga Springs, the bus driver stopped, and then all of a sudden backed up. No one on the bus knew what was going on and we were even more puzzled when our driver got off the bus. The next thing I knew, the driver was crossing the road toward one of the large pond areas with a tiny little turtle in his hand. It was so small that there would have been room for a couple of them in his hand. He placed the turtle off the road near the pond and got back on the bus greeted by a round of applause and cheers. Some people might not think it was really a magical moment, but it sure brought a nice bright spot to an otherwise very depressing ride to the airport!
-=-=-=-=-=-=-=-=-=-=-=-=-=-=-=-=-=-=-=-=-
We just bet you have a story to tell about an unforgettable moment during your Disney vacation! Please send your favorite memory for inclusion in a future AllEars® to: allearsnet@yahoo.com
This month we also have a collection of readers' visual magical moments meeting Goofy in our photo feature, "Wandering the World":
http://allears.net/tp/wander/wander144.htm
We welcome any Magical Moments photos you might want to send it, as well!
Thank you all for sharing!
-o-o-o-o-o-o-o-o-o-o-o-
Editor's Note: This story/information was accurate when it was published. Please be sure to confirm all current rates, information and other details before planning your trip.