June 2013 Walt Disney World Bits and Bites
Feature Article
This article appeared in the May 28, 2013 Issue #714 of ALL EARS® (ISSN: 1533-0753)
Editor's Note: This story/information was accurate when it was published. Please be sure to confirm all current rates, information and other details before planning your trip.
= = = = = = = = = = = = = = = = =


STEP BACK IN TIME
= = = = = = = = = = = = = = = = =
by Deb Wills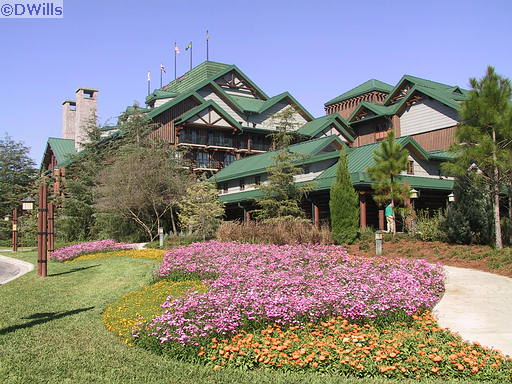 Each month, we rummage around in our archives for this featurette, which indulges in a bit of nostalgia, taking you back in history for a glimpse of Walt Disney World and The Walt Disney Company through the ages. This month, we take a look at Disney's Wilderness Lodge:
Happy Birthday to the Wilderness Lodge! The Lodge officially opened 19 years ago today on May 28, 1994! The lodge was designed by the architect Peter Dominick, Jr., whose firm later designed Animal Kingdom Lodge and the Grand Californian Hotel in Disneyland. The late Dominick was once quoted as saying, "I've never believed in a style at all. [My] work is about absorbing a philosophy and building something appropriate."
With Yellowstone National Park's Old Faithful Inn used as a guide, tons of granite flagstone and hundreds of giant lodgepole pines were brought in from the west to re-create an authentic national park lodge, which took two years to build. The music played throughout the resort brings back the feeling of the Old West and includes tunes from movies such as "Dances with Wolves," "How the West Was Won," "Dodge City," and "Wyatt Earp." And just like the bigger-than-life Pacific Northwest, Wilderness Lodge has an 82-foot tall, three-sided stone fireplace, two 55-foot hand-carved totem poles, and four massive chandeliers (fashioned like tepees). Each tepee is 12 feet, 6 inches high, 9 feet 4 inches in diameter and weighs approximately 600 pounds. Native American culture is found throughout the hotel with artifacts from tribes such as the Cheyenne, the Crow, the Sioux and the Blackfoot.
One of the fun Disney touches is a hand-carved, 10-foot-tall totem pole found in front of the Mercantile shop. It whimsically features Humphrey Bear, Donald Duck, Goofy and Mickey Mouse. Check at the front desk for tours of the lodge and remember there are many Hidden Mickeys throughout the resort.
When visiting, be sure to go outside and check out the Fire Rock Geyser, which recreates the well-known Old Faithful geyser, shooting water 120 feet into the air. Also, if you are visiting during the holiday season, a trip to the beautifully decorated Wilderness Lodge is a must.
One of Walt Disney World's "Deluxe" hotels, the Lodge's standard room rates now start at $284 per night in Value season. When the resort opened in 1994, the nightly rates ranged from $149 to $195.
RELATED LINKS
Wilderness Lodge Fact Sheet:
http://allears.net/acc/faq_wl.htm
An in-depth look at the Wilderness Lodge:
http://land.allears.net/blogs/jackspence/2010/05/wilderness_lodge_resort_and_vi.html
Resort Videos:
http://allears.net/acc/resort-videos-deluxe.htm
Readers Rate the Wilderness Lodge:
http://land.allears.net/reviewpost/showproduct.php?product=24
Wilderness Lodge Holiday Decorations:
http://youtu.be/5m00S0QfNZM
= = = = = = = = = = = = = = = = = =
MONSTROUS SUMMER ALL-NIGHTER
= = = = = = = = = = = = = = = = = =
To kick off the busy summer season, Walt Disney World's Magic Kingdom (and Disneyland and Disney California Adventure, too) hosted the Monstrous Summer 24-Hour All-Nighter, which started at 6 a.m. May 24 and ran until 6 a.m. May 25. There was a special opening "moment" in front of the parks, which led up to park opening at 6 a.m. with Mike and Sulley from this summer's new Disney-Pixar film Monsters University.
The duo also appeared in the Move It, Shake It, Celebrate It! Street Party, and served as Grand Marshals during a special pre-parade, complete with a cheer squad, flag corps and a marching band playing the MU Fight Song. In Tomorrowland, the Rockettower Plaza Stage played host to a Monster Mania DJ Dance Party from 4-9 p.m. and Monsters University Movie Night ran from 11 p.m.-5 a.m., featuring back-to-back showings of the original Monsters, Inc. and an opportunity to meet Mike and Sulley. Others danced the night away at Disney's Up All Night Dance Party at Cinderella Castle, from 2 – 5:45 a.m.
Deb Wills shares her thoughts on the all-nighter, along with an assortment of photos and videos from the event:
http://land.allears.net/blogs/debwills/2013/05/monstrous_summer_allnighter.html
Kristin Ford writes about her family's experience at Walt Disney World's Monstrous Summer All-Nighter in her "A Mom and the Magic" blog:
http://land.allears.net/blogs/kristin-ford/2013/05/my_familys_experience_at_walt.html
And Laura Gilbreath, with assists from photographer Jason and Guest Blogger Jeanine, talks about how the all-nighter went down on the West Coast in her blog:
http://land.allears.net/blogs/lauragilbreath/2013/05/how_i_spent_my_monstrous_summe.html
= = = = = = = = = = = = = = = = =


HIDDEN MICKEYS ALERT
= = = = = = = = = = = = = = = = =
Steve Barrett, author of the Hidden Mickeys books and webmaster of www.HiddenMickeyGuy.com, brings you a few intriguing Hidden Images from Disney's Hollywood Studios at Walt Disney World. Be sure and check them out while you're having fun at WDW!
1. Near the end of the "Lights, Motors, Action! Extreme Stunt Show," a fireball erupts at the front center of the stage set ("downstage center" in stage parlance). The fire forms Mickey ears for a split second. (Thanks to Michelle and Paul Klein, Jim Kelly, and Trevor Yeatts.)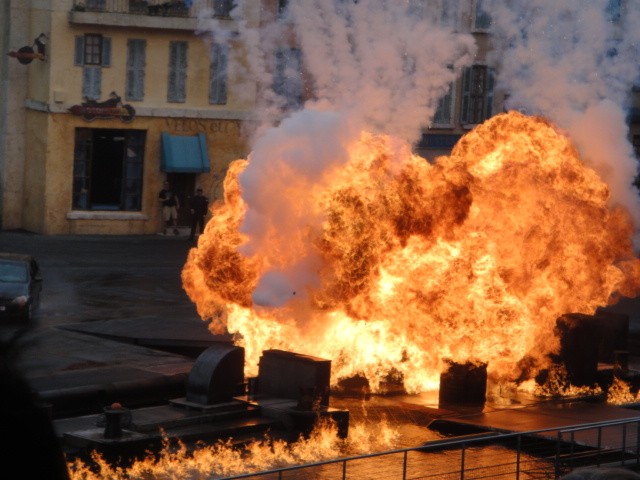 http://allears.net/btp/images/hidden-mickey-399.jpg
2. In the "Raiders of the Lost Ark" room of "The Great Movie Ride," R2-D2 and C-3PO are together in the hieroglyphics on the left wall. Midway between the two huge statues, they're etched on the second level of panes to the right of a kneeling figure. (Thanks to Todd Standley and Jared Voegele.)
http://allears.net/btp/images/hidden-mickey-400.jpg
3. In "The Great Movie Ride," at the end of the right wall in the "Raiders of the Lost Ark" room, a hieroglyphic classic Mickey is at the right lower part of the first full pane above the stones on the floor. It's to the right of the lower leg of a standing figure etched in the pane. (Thanks to Sharon Dale.)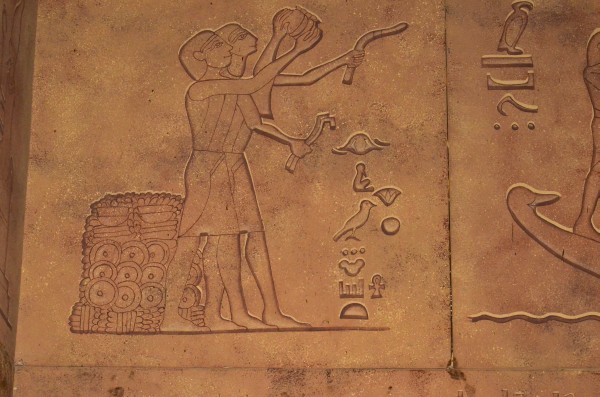 http://allears.net/btp/images/hidden-mickey-401.jpg
=-=-=-=-=-=-=-=-=-=-=-=-=-=-=-=
You can find a selection of past Hidden Mickeys Alerts here:
http://allears.net/btp/hiddenm2.htm
And check out our Searching Disney with Steve blog:
http://land.allears.net/blogs/stevebarrett/
= = = = = = = = = = = = = = = = = =

RATE & REVIEW SPOTLIGHT
= = = = = = = = = = = = = = = = = =
Compiled by AllEars® Senior Editor Deb Koma
In this monthly featurette, we take a look at comments made in the AllEars.Net Rate & Review section about a particular restaurant, resort, event, etc. This month, with summer upon us, we examine what AllEars® readers are saying about the Disney Water Parks, Typhoon Lagoon and Blizzard Beach:
Blizzard Beach is the largest water park at Walt Disney World, with a ski resort theme. It features more than 17 slides, a wave pool, an area for pre-teens and an area especially for little tikes. Blizzard Beach is recommended by 93 percent of AllEars.Net's reviewers, and its overall rating is 8.8. Here are some comments:
— "We visited in early November with 80-degree weather. The water was plenty warm. We arrived at opening, and were able to ride every slide with zero wait. The Pina Coladas are excellent. We spent an hour just enjoying the looong lazy river."
— "Thankfully we got here early and got to ride the more popular rides before the crowds poured in. Teamboat Springs is a really fun family ride… My biggest complaint is about the rough/dangerous surfaces on the bottom of the pools. My husband flipped off his raft at the bottom of a slide and had about 15 inches of cuts and scrapes along his back. We had to go to first aid… After 20+ trips I can finally say I went to Blizzard Beach, but I'm not rushing to get back. The best thing would be to get there early, ride the big rides, eat some donuts (yum!) and leave, but given the price of tickets that's an expensive few hours. Wear water shoes… surfaces are rough and hot."
— "Excellent water park. Must try Summit Plummet one time. Do ride the chairlift to top of Mount Gushmore. Very cool (pardon the pun). Teamboat Springs a lot of fun."
— "Can take break and play mini-golf nearby. Very unique water park… lots of fun."
— "We went straight to Summit Plummit, so there was little wait. The ski lift was a nice way to get to the top. You can walk, but why would you want to when the ski lift is there? Use the single rider line if possible to cut the wait time from several minutes to a few seconds. Also note than on Teamboat Springs, there is a four-person minimum, so if you have fewer, you will have to wait for another group. Other than Summit Plummit, the rides were all in the moderate thrill level. The theming was neat, complete with the occasional Christmas tune. We will definitely return."
Typhoon Lagoon has a tropical paradise theme, with a 2.5-acre lagoon with waves up to six feet high that sits at the base of a 100-foot high man-made watershed mountain. It is recommended by 100 percent of AllEars.Net's reviewers, with an overall rating of 9.0.
— "The wave pool is very cool. But be careful, can be dangerous if too many people in one area, especially if near where wave breaks. Everyone will likely tumble on top of each other. But the wave pool is fun. Planning to go back to try out the new water roller coaster. My niece also wants to take surf lessons so we will get there early enough to get a primo lounge spot. Cannot wait."
— "First time I was ever there. The park is huge. We spent most of our time on the lazy river. It was about 88 degrees out and not crowded at all. We loved the wave pool. We didn't go on any rides, just felt like relaxing. I would absolutely go again."
— "Enjoyed our last trip to Typhoon Lagoon. I went when I was 14 and hadn't been for 10 years, but it was just as much fun with the husband along for the trip! We got there shortly after opening and found a shady spot to lounge to the left of the big wave pool. We immediately rode the raft slides with very little wait. Then we hopped into the lazy river and floated around to the Crush-N-Gusher. I have to say that slide was my favorite by far. We rode the three slides eight times in a row with little or no wait each time! By this time it was about 11 a.m. and the lines were forming. We rode one of the storm slides and then headed to the Leaning Palms for lunch. Then we lazed around in the lazy river and finally hit the wave pool for some body surfing. We left at about 2 p.m. when crowds were at their peak. We used the shower facilities (brought shampoo from the hotel) so we would be clean for our flight. It was quite nice and I felt quite refreshed following a long day in the sun. Overall had a great time, I would say to bring your own towels as the ones you rent for $2 each are quite small."
— "Been a Disney freak for years but stayed away from Typhoon Lagoon because I HATE water parks. Well, NO MORE! This place and Blizzard Beach are absolutely FANTASTIC. So incredibly clean! Plenty of chairs (as long as you get there early)! The shark swim was amazing for me and my 8-year-old! Disney allows full-size coolers so bring your lunch and save a few bucks. Disney even sprays the sidewalks to keep your feet cool, but our family found that water shoes were a must!"
If you have recently visited either of the water parks, we'd love to have your review!
http://land.allears.net/reviewpost/showcat.php?cat=82
= = = = = = = = = = = = = = = = = =


MONTHLY REMIND-EARS
= = = = = = = = = = = = = = = = =
EVENTS
Epcot
At The Seas with Nemo & Friends at Epcot: June 8: World Ocean Day
The Sounds Like Summer concert series is held annually at Epcot's America Gardens Theatre, featuring "tribute" bands that cover music by popular artists. Entrance to the concerts is free with paid admission to the park. The 2013 series runs from June 9 through July 27. Showtimes in June are 5:30, 6:45 and 8 p.m. June 2013 Schedule (subject to change):
— June 9 – June 15: Stayin' Alive (tribute to the Bee Gees)
— June 16 – June 22: Hotel California (Eagles tribute band) (pictured above)
— June 23 – June 29: Mike Delguidice & Big Shot (The Ultimate Billy Joel Show)
— June 30: Slippery When Wet (The Ultimate Bon Jovi tribute)
Star Wars Weekends at Disney's Hollywood Studios take place every Friday, Saturday and Sunday, through June 9, 2013. James Arnold Taylor and Ashley Eckstein are celebrity hosts for the annual special event. The event features Star Wars parades, celebrity appearances, live entertainment, limited-edition merchandise releases, behind-the-scenes presentations and special editions of Jedi Training Academy. Most Star Wars Weekends activities are included in regular theme park admission. Celebrity lineup (subject to change):
Weekend III (May 31 – June 2)
Warwick Davis (Wicket the Ewok – Episode VI Return of the Jedi)
Tim Rose (Admiral Ackbar – Episode VI Return of the Jedi)
Sam Witwer (voice of Darth Maul – Star Wars: The Clone Wars)
Weekend IV (June 7 – 9)
Billy Dee Williams (Lando Calrissian – Episode V The Empire Strikes Back; Episode VI Return of the Jedi)
Peter Mayhew (Chewbacca – Episode IV A New Hope; Episode V The Empire Strikes Back; Episode VI Return of the Jedi; Episode III Revenge of the Sith)
Tom Kane (voice of Yoda – Star Wars: The Clone Wars)
EDITOR'S NOTE: Have you visited the Studios during Star Wars Weekends this year? Be sure to share your thoughts in our Rate and Review section:
http://land.allears.net/reviewpost/showproduct.php?product=226&cat=65
ESPN Wide World of Sports Complex
New Orleans Saints quarterback Drew Brees will host the Drew Brees Passing Academy and Tournament at ESPN Wide World of Sports this June 27-30. The four-day football academy is open to all skill levels, but is expected to attract some of the most highly ranked high school players in America. It will involve elite-level instruction from Brees and other marquee NFL players and coaches. The athletes also will have the unique opportunity to immediately put what they have learned to the test by taking part in three days of intensely competitive 7-on-7 competition.
The Amateur Athletic Union's National Championships , held at ESPN Wide World of Sports Complex throughout the summer, begin June 17 with AAU Summer Baseball. The AAU events attract NCAA coaches from top athletic programs, making them the premier collegiate recruiting events in the nation. Competition continues through August. For more information on AAU events, visit
http://espnwwos.disney.go.com/events/more/aau-national-events/landing/
Car Masters Weekend, will return for the third year to Downtown Disney West Side June 14-16, 2013. The classic car show will feature all things "Cars." The event showcases more than 150 classic, muscle and exotic cars; a chance for guests to meet "Cars 2" stars Lightning McQueen, Mater and Finn McMissile; and special appearances by automotive designer Chip Foose and Disney-Pixar "Cars" filmmaker Jay Ward. Fans may also purchase tickets for a "Cars" & "Cars 2" movie marathon at AMC Downtown Disney 24, "test drive" Ridemakerz "Cars" models, and enjoy caricatures, themed food and beverage, live entertainment and more.
Several special merchandise events for the month of June have been announced:
— June 3-6: Greg McCullough will be on hand 10 a.m. – noon and 2 – 6 p.m. for a special artist showcase at Uptown Jewelers in Magic Kingdom.
— June 7: Disney Design Group Artist Natalie Kennedy will be at Disney's Pin Traders in Downtown Disney Marketplace 5-7 p.m. to sign the latest pin and Vinylmation release in the 2013 series.
— June 13-16: Artist Larry Dotson will showcase some of the newest releases in his collection at Art of Disney in Downtown Disney Marketplace. He will return to Uptown Jewelers in Magic Kingdom June 27-30.
— June 14: Meet Disney Design Group artist Ron Cohee at D Street in Downtown Disney West Side from 5 to 7 p.m. for a special appearance and signing of the new Monsters University Series 1 Vinylmation.
Details on these events can be found at www.ArtofDisneyParks.com.
Orlando Gay Days — This event has been held annually in the Orlando area the first weekend of June since 1991. This event is not affiliated with The Walt Disney Company in any way. AllEars.Net is not affiliated with the event, however, we list it here to make you aware that it will significantly affect crowd levels at the theme parks, particularly in the Magic Kingdom on Saturday.
Don't forget to check our Events page for current updates: http://allears.net/pl/events.htm
-=-=-=-=-=-=-=-=-=-=-=-=-=-=-=-=-=-=-
REHABS AND CLOSINGS
Magic Kingdom
Fantasyland Expansion: The ongoing Fantasyland expansion project continues with the opening of Princess Fairytale Hall later this year, and the debut of a new Disney "mountain" in the form of the Seven Dwarfs Mine Train in 2014.
The Magic Kingdom's Main Street Bakery closed for refurbishment in January 2013 and will reopen as a Starbucks in early summer. The cast members there will wear a costume consistent with the early 20th century look and feel of Main Street, U.S.A. The Starbucks location will offer the full complement of Starbucks signature beverages, artisan breakfast sandwiches and a wide selection of baked goods, including muffins, scones and specialty treats.
http://land.allears.net/blogs/dnews/2012/11/starbucks_locations_at_magic_k.html
Prince Charming Regal Carousel is closed for refurbishment. It is slated to reopen on June 10.
Epcot
Spice Road Table, a new waterfront eatery, will be open by year-end at the Morocco Pavilion in Epcot's World Showcase. The new restaurant will have indoor and outdoor seating, and will feature small plates and refreshments inspired by the cuisine of the Mediterranean. More enhancements to the pavilion and news on Spice Road Table will be released as menus are finalized.
The Fountain View has closed for renovation and will reopen as a Starbucks location in mid-summer. The cast member costumes there will be themed to match the park's futuristic theme.
http://land.allears.net/blogs/dnews/2012/11/starbucks_locations_at_magic_k.html
Contemporary Resort
California Grill closed for an extensive renovation in early February 2013. The restaurant is slated to reopen late summer and will be sporting a new look and menu.
http://land.allears.net/blogs/dnews/2013/02/a_preview_of_the_new_californi.html
The 14th floor rooms and suites of the Contemporary Resort closed for refurbishment in January. Some renovations planned for these suites include: a hard and soft goods refurbishment (things like bedspreads, linens, furnishings, etc.); improvements to the concierge lounge that will capitalize on the sweeping views of Cinderella Castle, nightly fireworks and the Seven Seas Lagoon or Bay Lake; enhancements to the corridors and elevator foyer. The new room design and in-room amenities will be reflective of high-end suites at all deluxe Disney Resorts. The health and wellness concept that was mentioned last year will not be included on that floor or within the suites; however, most of the design concepts previously shown for these suites will be incorporated. The refurbishment is expected to last through late summer 2013 (dates are subject to change).
Port Orleans French Quarter
Port Orleans French Quarter Lobby is currently undergoing renovation. Work is expected to be complete in mid-July.
Saratoga Springs Resort & Spa
The "soft goods" room refurbishment at Disney's Saratoga Springs Resort & Spa continues. Accessories and linens are being replaced. The project is expected to last through spring 2013. Note that all refurbishment dates are estimates; exact project dates may vary.
http://dvcnews.com/index.php/resorts/saratoga-springs/news/1881-saratoga-springs-room-refurb-details
The Spa at Disney's Saratoga Springs Resort temporarily closed for renovation. It will reopen in the summer as Senses – A Disney Spa at Disney's Saratoga Springs Resort.
Downtown Disney
Walt Disney World Resort announced the multi-year transformation of Downtown Disney into Disney Springs, which will treat guests to more shopping, dining and entertainment amid open-air promenades, springs and waterfront charm. Disney Springs will feature an eclectic and contemporary mix from Disney and other noteworthy brands, from boutique shops to unique flagship anchor stores. Disney Springs will double the number of shops, restaurants and other venues for guests to explore, resulting in more than 150 establishments. Drawing inspiration from Florida's waterfront towns and natural beauty, Disney Springs will include four outdoor neighborhoods interconnected by a flowing spring and vibrant lakefront. In addition to a new gateway with a signature water tower and grand entry, the destination will feature:
— The Town Center, which offers a mix of shopping and dining along a promenade.
— A commercial district called The Landing, with inspired dining and waterfront views.
— The family-friendly Marketplace that will continue to delight guests of all ages by combining new experiences, such as an over-the-water pedestrian causeway, along with classic Disney favorites, including an expanded World of Disney store.
— A West Side that provides an exuberant atmosphere with lively entertainment, along with a series of new elevated spaces that provide both shade and an overlook to the activity below.
The project will create an estimated 1,200 construction jobs and nearly 4,000 operational roles. New areas will open in phases. Disney Springs is expected to be complete in 2016.
http://land.allears.net/blogs/dnews/2013/03/disney_unveils_vision_for_disn_1.html
-=-=-=-=-=-=-=-=-=-
A complete list of rehabs can be found here: http://allears.net/tp/rehabs.htm
= = = = = = = = = = = = = = = = =


MAGICAL MOMENTS
= = = = = = = = = = = = = = = = =
Michelle Wells: The simplest acts of kindness can make such a wonderful and magical moment for people. My 9-year-old daughter and I visited Walt Disney World in November 2012 with my brother and his family. That was a couple of weeks after my last chemotherapy treatment and I was not at my best to participate in things the way I normally do…
I decided at the last minute to come back to Disney for my daughter's spring break this past April and to celebrate my one-year milestone of being cancer-free. We called it our "Disney Do-Over." The morning of our trip didn't start very well. The car service I requested never showed up to take us to the airport. Thankfully, my brother was home and was able to get us to the airport with 20 minutes to spare. When we arrived at the Old Key West Resort, it already felt like the longest day ever. Our room was ready early… so it was perfect to be able to go straight to the room and unwind a bit before heading out.
We had dinner reservations that night at the Crystal Palace. As our hostess Lori called for us to be seated, she noticed our Celebration buttons and asked what we were celebrating. I told her that I was a one-year cancer survivor. She mentioned that her daughter was a survivor as well and we then shared some experiences with chemotherapy. We wished each other well as she brought us to our table. It was very touching and a heartfelt moment. After we were seated, my daughter and I talked about how sweet she was. Cancer can make you feel so alone even when you have friends and family around you. In that brief conversation with Lori, I didn't feel so alone anymore.
As we were having dinner, our server Kip came by and asked my daughter and I which Pooh character was our favorite. Not too long after that Lori and the manager, Neyla, came by our table and presented me with a gift, then took a special photo with my favorite Pooh character, Tigger. When she presented me with the gift, Lori said it was because I was a cancer survivor and how wonderful it was to talk with me. They also wanted to help celebrate this special moment with us. In that instant I felt a huge release of emotions from the past 12 months of worrying and being concerned for myself and for what my daughter had to see me endure. I have been so wrapped up in all that I was trying to overcome, that was the first moment I truly realized it was something to be proud of and celebrate. I immediately started to cry and was deeply touched by her kind and thoughtful gesture. I knew that came straight from Lori's heart, especially since she has seen the ugly sides of cancer in her own family and, as a mom, understood how hard this fight is. It meant so much coming from her…
There are not enough words to express my appreciation for what Lori, Neyla, and Kip did for me that evening. After the rough start to my day, that was the best ending anyone could have ever given to me. With their simple act of kindness and thoughtfulness, they made a lasting and a memorable moment that I will cherish forever. It brings me to tears just thinking about it. As soon as we got back to our resort, I filled out a thank you card, but it didn't leave me much room to express all that I have stated here. I want Lori, Neyla and Kip to know how much they touched my heart.
Walt Disney World has many wonderful cast members and I always feel very taken care of when I am there, like I am at home with great friends and family. During our trip we encountered so many cast members that congratulated me and wished me well. It made our trip very special. This was something worth celebrating and all those cast members were a part of my celebration. I couldn't have asked for anything better. Thank you Walt Disney World for having the most caring and loving cast members. I can't wait to celebrate my second year as a cancer survivor with all of you next year!
-=-=-=-=-=-=-=-=-=-=-=-=-=-=-=-=-=-=-=-=-
We just bet you have a story to tell about an unforgettable moment during your Disney vacation! Please send your favorite memory for inclusion in a future AllEars® to: allearsnet@yahoo.com
Thank you all for sharing!
-o-o-o-o-o-o-o-o-o-o-o-
Editor's Note: This story/information was accurate when it was published. Please be sure to confirm all current rates, information and other details before planning your trip.