July 2017 Walt Disney World Bits and Bites
Feature Article
This article appeared in the June 27, 2017 Issue #927 of ALL EARS® (ISSN: 1533-0753)
Editor's Note: This story/information was accurate when it was published. Please be sure to confirm all current rates, information and other details before planning your trip.
= = = = = = = = = = = = = = = = =



STEP BACK IN TIME
= = = = = = = = = = = = = = = = =
by Joan L. Feder
AllEars® Contributor
We hunt through our archives for this monthly featurette, which looks at the history of Walt Disney World and The Walt Disney Company. This month we travel back to July 1996 when Disney's BoardWalk resort opened.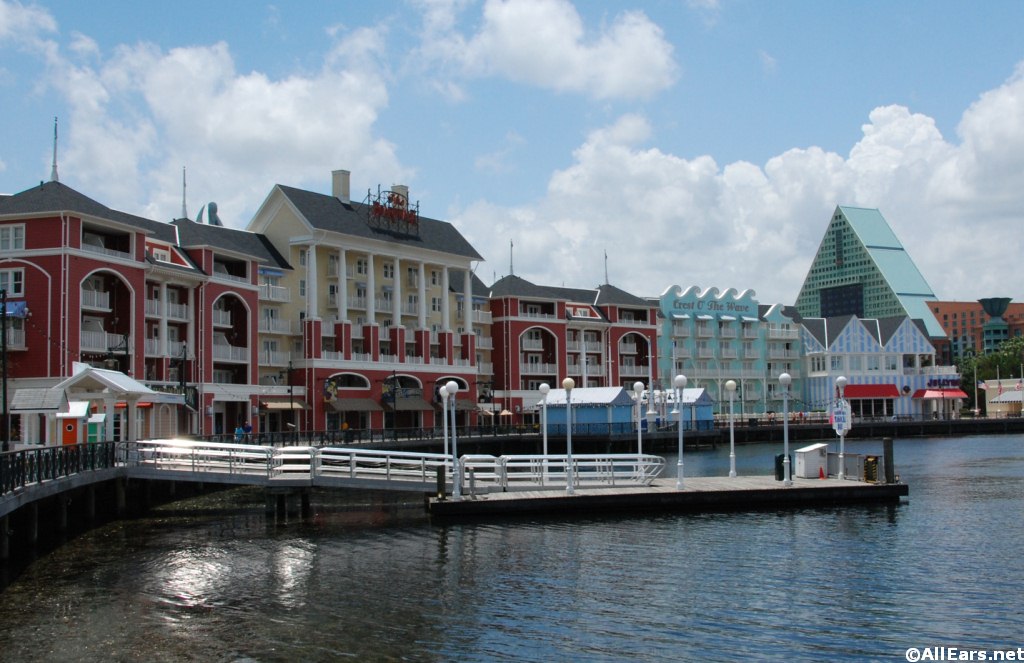 The BoardWalk is one of the crown jewels in Disney's resort collection. The location is terrific. It is within walking distance of Epcot and Disney's Hollywood Studios, as well as the Walt Disney World Swan and Dolphin, and the Yacht and Beach Clubs. There is a wide choice of accommodations available; everything from deluxe hotel rooms to a variety of Disney Vacation Club Villas. The BoardWalk also has 20,000 square feet of conference space, a fitness center, three swimming pools, and an amazing assortment of dining and entertainment experiences. Yet the original concept for this resort was going to include even more.
In the early 1990s, Disney announced a shopping and entertainment resort that would provide "a classic '30s boardwalk experience". The 82-acre complex was going to include an all-suite luxury hotel, more than 20 specialty stores, nightclubs and dining. It would also have a Ferris wheel, carousel, two dinner theaters and a 13,000 square foot Disney Store. By early 1992, the harsh reality of the economy led to a much more modest plan. Construction was delayed, and in late 1994, the BoardWalk was reimagined yet again. Now, rather than all luxury suites, it would be Disney's first "mixed-use" resort, including both hotel rooms and time-share units.
Disney's BoardWalk finally opened on July 1, 1996. It was, as promised, based on the seaside resorts of the early 1900s, and in particular Atlantic City. Disney's quarter-mile BoardWalk is made up of planks placed in a herringbone pattern, just like its namesake. While there are no casinos, there are plenty of other similarities. Waterside vendors offer everything from caricatures to funnel cakes. The Midway has carnival games where you can win prizes. In the evening, street performers stroll the area displaying their skills.
Restaurants stud the length of the BoardWalk. They range from the upscale Flying Fish to the walk-up Pizza Window. Many other opening-day eateries are still there, including The ESPN Club, BoardWalk Bakery, and Big River Grille and Brewing Works. Fun newcomers include Trattoria al Forno for Italian food, and Ample Hills Creamery, which serves ice cream.
There is no giant Disney Store, but the BoardWalk still offers plenty of retail therapy. The Screen Door General Store carries groceries, beverages and dry goods. It is connected to the Character Carnival, which sells Disney toys and park merchandise. This space merges into Thimbles and Threads, which has clothing and accessories for sale. Looking for something more upscale? Around the corner is a Wyland Gallery, which sells sculptures, paintings, jewelry and more.
What boardwalk would be complete without nightlife? There are two nightclubs located at the Swan end of the resort; both have been there since the BoardWalk opened. Jellyrolls is a dueling piano bar that thrives on guest requests. The Atlantic Dance Hall started out featuring ballroom dancing and big band music. Now the tunes are more contemporary, with themed dance nights that focus on the 80s, 90s and Electric Dance Music. A more recent addition, the AbracadaBar is a magician-themed lounge that serves signature cocktails and light snacks.
The BoardWalk resort has something for everyone. Attraction-lovers can walk to two of the four theme parks. For foodies, there are more dining options in and around the BoardWalk than anywhere but Disney Springs. Kids of all ages enjoy the games and street performers, while adults have several lounges and nightclubs to choose from. I have stayed at each of Disney's deluxe resorts over the years, and they all have their strong points. The Polynesian might be more exotic, the Grand Floridian more elegant, but for my money, the BoardWalk can't be beat.
RELATED LINKS:
Disney's BoardWalk
BoardWalk Inn Fact Sheet
BoardWalk Villas Fact Sheet
BoardWalk Dining Locations
AbracadaBar
VIDEO: BoardWalk Resort Water Areas
= = = = = = = = = = = = = = = = =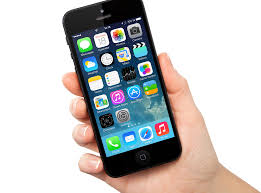 GOING MOBILE
= = = = = = = = = = = = = = = = =
Over the past year or so, we've been trying to bring the AllEars® newsletter and the AllEars.Net website into the mobile-friendly age — no small task, given the size and age of the site! We began last year by introducing a mobile version of our Dining Database, and continued by making this newsletter mobile-ready and responsive earlier this year. We hope we've made both easier to navigate and read, thereby making them more useful for the growing number of you who are checking us out on your mobile devices!
Today, we're taking another step in that direction by introducing a mobile version of our homepage. I'd like to take a few minutes to walk you through what we've done.
If you take a look at AllEars.Net now on your iPhone, Android or other smart phone, you'll see that we've stripped down the format of the homepage in an effort to make it easier to read on the small screen. (Note that if you view AllEars.Net on your desktop/laptop or tablet, the homepage should appear as it always has.) What you're seeing now on your smart phone is first, a slideshow with the five news items that were most recently published on the homepage. Below the banner ad, you'll find the next five most recent news items. Our research shows that many of you check AllEars.Net multiple times a week, some even multiple times a day, looking for the freshest news quickly. We think this design will satisfy your curiosity for what's most current. Below the news items, we've added a link to our most recent YouTube video — as you know, we try to add new videos several times a week, when possible.
For those of you who want to dig deeper into the site than the latest news, never fear. You CAN still get there from here! In the upper left corner of your screen, next to our logo, you'll find a menu bar. Touch that and it will drop down the list, revealing links to the rest of the AllEars.Net site. Which, as of now, still looks the same as always, with the 5000+ pages of information (and at least that many photographs!) that you've grown to rely on.
We hope that this new mobile homepage will make it easier for you to get to the info that you want the most, quickly, without having to squint, strain your eyes, expand the screen and scroll side to side.
So, give it a try and let us know what you think. Drop us a note with your questions, comments and suggestions!
= = = = = = = = = = = = = = = = =



HIDDEN MICKEYS ALERT
= = = = = = = = = = = = = = = = =
Steve Barrett, author of the Hidden Mickeys books and webmaster of HiddenMickeyGuy.com, highlights below some newer Hidden Mickeys from around Walt Disney World. Keep them coming, Imagineers!
1. Magic Kingdom, Princess Fairytale Hall — The side view of Mickey's ghostly face looking in a window is in this painting of a cottage with a water wheel in front. Find the painting on the right wall at the end of the FASTPASS queue. You can also spot this painting from the end of the Standby queue, just before entering to meet the Princesses. (Thanks to Louise Lloyd.)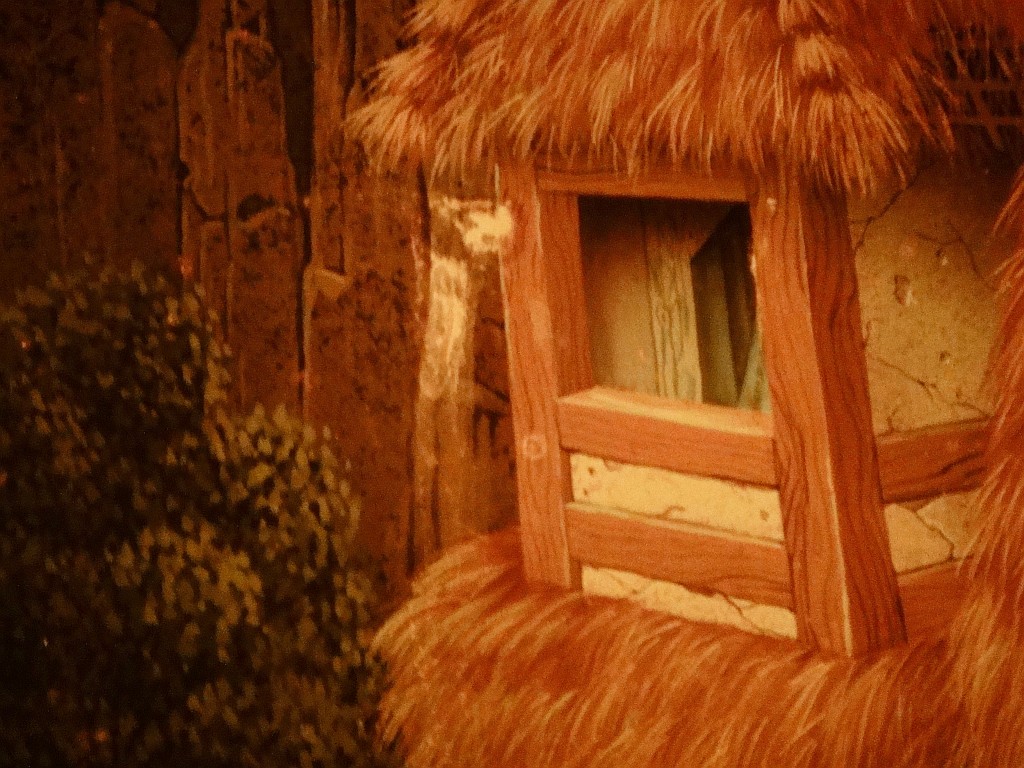 2. BoardWalk Resort, Ample Hills Creamery — An image of the Earful Tower ears from Disney's Hollywood Studios is at the left side of the rear wall mural inside. Enjoy delicious ice cream here! (Thanks to Iris and Zachary Herron.)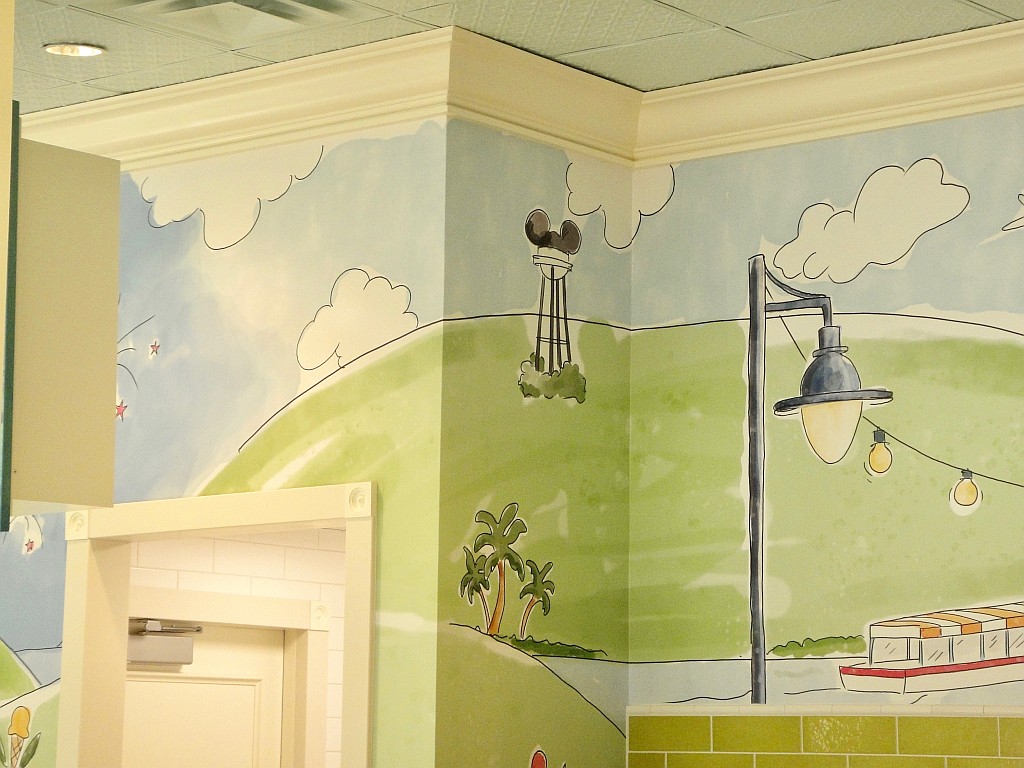 3. Disney Springs, The Landing, Chef Art Smith's Homecomin' restaurant — On a rear outside wall of the restaurant is a "Jasper Family Farms" mural with a bucking horse. A faint dark marking on the horse's rear left thigh is shaped like a classic Mickey. This mural is best viewed from a nearby bridge. (Thanks to Eli and America Jimenez.)
=-=-=-=-=-=-=-=-=-=-=-=-=-=-=-=
You can find an archive of past Hidden Mickey Alerts HERE.
And check out our latest Searching Disney with Steve blog.
= = = = = = = = = = = = = = = = =



SOUVEN-EARS
= = = = = = = = = = = = = = = = =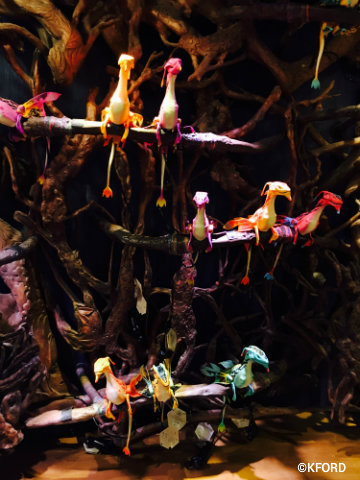 Our occasional featurette on shopping around the World returns this week with an entry from our staff writer and "A Mom and the Magic" blogger Kristin B. Ford.
When it comes to souven-EARS, Walt Disney World has stepped up its game with the Pandora merchandise that debuted last month. Guests can browse a collection of items that are specific to the new land and can only be found there. Don't expect to find any Mickey Mouse items in Pandora!
The main location for Pandora souvenirs is Windtraders, which is located at the exit of the Avatar Flight of Passage attraction and adjacent to Satu'li Canteen. Imagineers designed the store to house three interactive souvenir experiences, as well as a large selection of other merchandise.
The signature souvenir in Pandora is the mechanical pet banshee ($50). These banshees come in five colors and 10 patterns and "live" in The Rookery, where a naturalist helps each guest identify which banshee he or she connects with. Each banshee is attached to a leash that gives its owner controls to help the banshee make noises, move and flap its wings. The pet banshees have been so popular that Windtraders has had trouble keeping them in stock, so if you want one and see it, don't wait to make your purchase.
Another unique souvenir can be found at the ACE Avatar Maker, which allows guests to create an Avatar doll with their own likeness. The guest chooses the doll's eye and hair color and facial stripes, and a scan is taken of his or her facial features. It takes about 20 to 30 minutes for the 10-inch doll ($75) to be completed. Then, guests can choose accessories, such as the explorer, banshee rider or warrior sets ($15 each), to complement their dolls.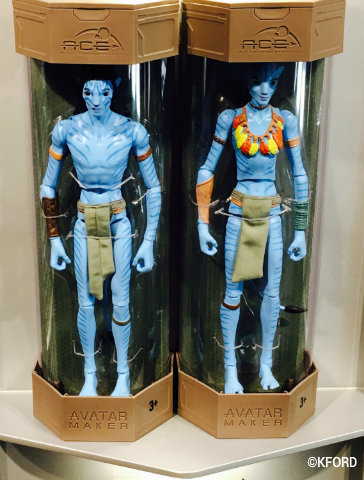 Guests also can string their own Windtrader necklaces. Choose from feathers, crystals and colorful beads of different sizes to create a personalized souvenir. The $19.99 price tag includes the necklace cord, 8 beads and 1 feather or crystal. Additional pieces can be purchased separately.
Can't wait to dress up as a Na'vi? Windtraders and the kiosk Colors of Moara sell accessories such as Na'vi Ears on a native headband ($24.99); a Na'vi tail ($19.99); and an adult-size Na'vi costume shirt that glows ($29.99) to facilitate a quick transformation. Guests also can choose Na'vi face-paintings that glow to complement their looks. ($18 to $25).
Clearly, apparel and other wearable merchandise that glows at night and reflects the light of the bioluminescent forest are expected to be popular. Guests also can choose an adult-size glow hoodie ($59.99) or a glow backpack ($39.99). There are plenty of kid-size shirts ($24.99) and hoodies ($46.99), too.
Other unique souvenirs include a Na'vi Translator that allows guests to learn how to pronounce 90 Na'vi words using interchangeable translation cards ($19.99); a plush Baby Na'vi in blanket ($24.99); plush Banshee ($19.99); a Floating Mountains mug ($21.99); and a zippered phone case decorated with a scene of Pandora that lights up.
These are just some of the most unusual pieces of Avatar-Pandora merchandise. A few of the most popular items, including Magicbands, are also available at the Island Mercantile near the Tree of Life and on the Shop Disney Parks app.
= = = = = = = = = = = = = = = = =



MONTHLY REMIND-EARS
= = = = = = = = = = = = = = = = =
JULY 4: INDEPENDENCE DAY! See "THIS WEEK" below for details.
JULY 15: EPCOT INTERNATIONAL FOOD AND WINE FESTIVAL PREVIEW, hosted by Tables in Wonderland. Registration is open for the sneak peek of the 22nd Epcot International Food & Wine Festival, to be held Saturday, July 15, from noon to 2 p.m. at Epcot's World ShowPlace. Price: $145 per person, plus tax, gratuity included. Register for this event online.
JULY 17: Copper Creek Villas and Cabins at Disney's Wilderness Lodge open.
Check our Events page for a full schedule of upcoming events.
-=-=-=-=-=-=-=-=-=-=-=-=-=-=-=-=-=-=-
Mission:SPACE, including the Advanced Training Lab, is closed for refurbishment through July 28, 2017.
Hall of Presidents in Liberty Square will not reopen until late 2017.
Art of Animation Resort is currently undergoing some general refurbishment projects. During this time, the resort will be in full operation with all amenities available, including dining, merchandise and recreation locations. It is possible that construction may be seen or heard, but noise should not be heard from guest rooms between dusk and 9 a.m. No end date for these projects has been announced as yet.
Through June 30, 2018, Old Port Royale Food Court, Shutters at Old Port Royale, Cabana Pool Bar and Calypso Trading Post will be undergoing refurbishment. A variety of dining options will be available for all meals. Centertown will serve breakfast and dinner. Grab 'n' Go options will be available in three island markets: Aruba, Jamaica, and Martinique. In addition, buildings in Barbados and Martinique islands are being demolished to make way for new construction.
The resort rooms are undergoing a "hard goods refurbishment" that will continue for some time into 2017.
Grand Floridian Resort and Spa
The resort's Fitness Center will be closed beginning June 12 while the flooring is being replaced. Some equipment will be moved to Salon 9 to accommodate guests who want to work out.
Disney's Old Key West Resort is undergoing a wholesale refurbishment, which is expected to be completed in 2019.
The Walt Disney World Swan and Dolphin
The resort is currently undergoing the largest renovation in its 25-year history. The Dolphin room renovations are currently scheduled to be completed by the end of 2017. In addition, starting in the spring of 2017 the Dolphin lobby will undergo a $12 million redesign. When finished in the fall of 2017, the new lobby will be completely transformed into a sleek, contemporary space and will feature new dining and beverage options. The lobby redesign is the final stage of the $140 million renovation project.
Wilderness Lodge and Boulder Ridge Villas
General resort refurbishments and construction work in multiple areas will continue until 2017. Some pathways and the nature trail will be unavailable at certain times.

Cub's Den Children's Activity Center is closed now through 2017.

Roaring Fork and Trout Pass Pool Bar at Wilderness Lodge closed for refurbishment as of February 13, 2017. Roaring Fork is slated to reopen July 1, 2017. Trout Pass Pool Bar will remain closed through summer 2017. The new Geyser Point Bar & Grill now serves breakfast, lunch and dinner. Territory Lounge also offers a continental-style breakfast featuring gourmet coffees, pastries and a yogurt parfait.

In addition, Teton Boat and Bike Rentals and Bolder Ridge Cove Pool are both due to reopen July 1, 2017.
The Yacht and Beach Club Convention Center is undergoing expansion and renovation now through February 1, 2018.
Resort room refurbishment is taking place through mid- to late 2017.

Captain's Grille is closed for refurbishment through September 30, 2017. During the refurbishment, the Captain's Grille is serving in Ariel's in the Beach Club.
Run-off Rapids is closed for refurbishment.
DisneyQuest in Disney Springs West Side will close on July 3.

Portobello Country Italian Trattoria at the Disney Springs Landing will be closed for refurbishment until sometime in Fall 2017.
-=-=-=-=-=-=-=-=-=-
A complete list of known rehabs can be found HERE.br />
= = = = = = = = = = = = = = = = =



MAGICAL MOMENTS
= = = = = = = = = = = = = = = = =
Each month, we like to share a few heart-warming Magical Moments brought to us by the amazing Disney cast members!
Sharon Hensel: In October 2016 we went to Walt Disney World and stayed at Pop Century Resort. I went to the lobby concierge desk to surprise my husband. I explained that I wanted to thank him for 30 years of Disney trips. Two days later, a cast member came to our room. She brought balloons, buttons, Mickey and Minnie earhats, a picture frame and a certificate thanking my husband for 30 "ears" of visits. He was so thrilled! We will always remember this trip.
Heather Sponholz: We were on our second family trip to Walt Disney World and my boys were then 4 and 6. After our first day, my 6-year-old lost his first tooth. We were staying at the All Star Sports resort and I thought I'd tell the front desk the exciting news. I talked to an older gentleman and told him about my son losing his first lost tooth at Disney World. He told me to wait right there and when he returned he had a stuffed black-and- white Mickey and a Disney Dollar. He told me to "give these to the Tooth Fairy" to give to my son. Needless to say that was my son's best Tooth Fairy visit ever! He's almost 11 now and has lost almost all his teeth, but that tooth lost at Disney World was his most magical one!
Elizabeth Weiter: Our first day in the parks we hit Magic Kingdom and had dinner at Cinderella's Royal Table, finishing in what we thought was enough time to slip around the front of the castle and see the new "Happily Ever After" show. When we tried to leave, though, we were told by a cast member that the show was about to begin and no one was allowed out from the castle. We were all frustrated, but my 15-year-old daughter Emily had been super-excited to see this show and upon hearing this was heartbroken. We could hear the show start and knowing right on the other side of the doors the show had begun, she fell apart. My daughter, who's not a crier, began to quietly cry in my arms as we sat against the castle wall. While this was going on we saw a cast member, trying to get to a proposal she was handling, also slightly frustrated that she couldn't get out. She stepped back to wait and I noticed her spot Emily. She eventually came and sat by our side and asked what was wrong. We explained, and told her that because of our schedule and no hopper tickets, this was our only opportunity to see the show during our stay. She chatted with us a few minutes then stepped away and slipped into a door. She came out a few seconds later and asked Emily to go with her, adding to make sure she had her phone. They disappeared into the same door. They returned a few minutes later and guess where they had been? Cinderella's Suite in the castle! The cast member and Em shared the pics she had taken. Our daughter was thoroughly impressed when she was told the last person who had stayed in the suite had been the singer Katy Perry. The cast member then said she was arranging tickets for us to come back another evening along with FastPasses. This wonderful cast member's name was Nicole and she worked in Guest Relations. I cannot say enough about what she did for my Emily, who is so in love with all things Disney. I could not have dreamed of a more special thing to experience. To all those who wonder why people continue to return to Disney, this is why. We didn't ask for or expect any of this. Nicole went above and beyond to make my girl feel better. I can never begin to thank this young woman enough for turning our night around completely and giving my sweet girl one of the most magical experiences ever!
-=-=-=-=-=–=-=-=-=-=-=-=-=-=-=
We just bet you have a story to tell about an unforgettable moment during your Disney vacation! Please send your favorite memory for inclusion in a future AllEars® via our Contact Us page. Thank you all for sharing!
-o-o-o-o-o-o-o-o-o-o-o-
Editor's Note: This story/information was accurate when it was published. Please be sure to confirm all current rates, information and other details before planning your trip.