July 2012 Walt Disney World Bits and Bites
Feature Article
This article appeared in the June 27, 2012 Issue #666 of ALL EARS® (ISSN: 1533-0753)
= = = = = = = = = = = = = = = = =


STEP BACK IN TIME
= = = = = = = = = = = = = = = = =
by Debra Martin Koma
Senior Editor, AllEars.Net
Each month, we rummage around in our archives for this featurette, which indulges in a bit of nostalgia, taking you back in history for a glimpse of Walt Disney World and the Disney Company through the ages. This month we take a look at the gone-but-not-forgotten Disney Institute.
Do you remember the original Disney Institute? The brainchild of former Disney CEO Michael Eisner, this resort and learning center on 250 scenic acres fronting Buena Vista Lagoon (across from Downtown Disney) opened in February 1996 as a way for families to learn and play together. Partially based on the concept of New York's Chautauqua Institute, the Disney Institute offered a wide variety of hands-on programs in areas such as Design Arts, Culinary Arts, Sports and Fitness, Performing Arts and Film, Lifestyles, Story Arts, Youth Programs, Entertainment Arts and Gardening and the Great Outdoors. The teaching studios were spread throughout the resort, minimizing the "campus" feel and enhancing the subtle "Heartland U.S.A." theme. Disney originally offered the programs only as part of multi-night packages starting at $499 for three nights at the smallest units (the bungalows), which included unlimited programs and use of the spa and fitness center. Soon, however, it became apparent that people — families in particular — wanted to spend more time in the theme parks. When Disney saw that participation in the educational programs was low, a format was adapted, and you did not need to enroll in a course if you stayed at the Disney Institute, nor did you need to stay at the Disney Institute if you wanted to take courses. After an introductory rate of $49 per program, day visitors paid $69 per person (plus tax) to sample one program; $99 per person plus tax for the choice of two programs.
The resort itself got its start as "The Village Resort" in 1985 and was associated with the nearby Lake Buena Vista Village shopping center. As the shopping center became "Walt Disney World Village," the resort was renamed "The Disney Village Resort" in 1989. By the time I stayed there in the late '90s, the resort was known as the Villas at the Disney Institute. The resort had 316 Bungalows that were a spacious 500 square feet — for comparison, a standard room at Caribbean Beach is about 340 square feet. There were also 22 one-bedroom townhomes (800 to 1000 square feet), 111 two-bedroom townhomes, 68 Fairway Villas (which overlooked Lake Buena Vista Golf Course), 60 Treehouse Villas, and four grand vista homes. In addition, there was a Conference Center, 28 program studios, a 225-seat performance center, a 1,150-seat outdoor amphitheater, a 400-seat cinema, a closed-circuit TV station (DITV) a radio station (WALT) and a sports and fitness center with a full service spa. (Several of these facilities, such as the theaters and spa/fitness center, have been renovated and are operating to this day.) The resort also had a restaurant called "Seasons" that featured a themed dinner menu that changed nightly.
Unfortunately, many people (like yours truly) only used the property for the accommodations. My family and I never took any of the DI classes, but stayed at the villas there several times, as they were quite roomy, and frequently were offered at a significant discount. If I recall correctly, we paid under $200 per night for a one-bedroom townhome villa with a loft (from which we could look down on our slumbering son) back in 2000!
Early in 1997, the institute became the new home of the business and professional seminars formerly offered by Disney University. While certain educational programs offered to the general public continued to be popular, such as the cooking classes, rock climbing, and photography, all were gradually phased out. In 2002, Disney announced that the physical resort would be renovated into a Disney Vacation Club property to be known as the Saratoga Springs Spa and Resort.
There is still a "Disney Institute" today, but it exists in a very different form. Organizations can contract with the Disney Institute for short presentations or half-day to multi-day seminars that provide instruction on The Walt Disney Company business practices and philosophies and other professional development programs.
http://disneyinstitute.com/?int_cmp=INS-intWDWtoDisneyInstitute-disneyinstitute
= = = = = = = = = = = = = = = = =


HIDDEN MICKEYS ALERT
= = = = = = = = = = = = = = = = =
Steven Barrett, author of the Hidden Mickeys books and webmaster of www.HiddenMickeyGuy.com, invites you to check out these Hidden Mickeys the next time you're marveling at the amazing detail at Walt Disney World:
1. Inside the Breezeway of the Beach Club Villas, classic (three-circle) Hidden Mickeys are near the bottom of a large painting, which is on the left wall as you enter from the front doors of the Villas lobby. These Mickey images are traced at intervals in a white fence that stands along the front of the hotel property in the painting. (Thanks to Jay Stonefield and Christine Murphy.)
2. A gold upside-down classic Mickey is in this painting of Florida and certain landmarks. The painting hangs in a hallway near the back entrance to Cape May Cafe in the Beach Club Resort. Look to the lower left of the painting at a gazebo below the words "Cape May Point." The Hidden Mickey is at the lower right in the design of the gazebo, above the steps. (Thanks to Patti L. Morris and Catherine Crouch.)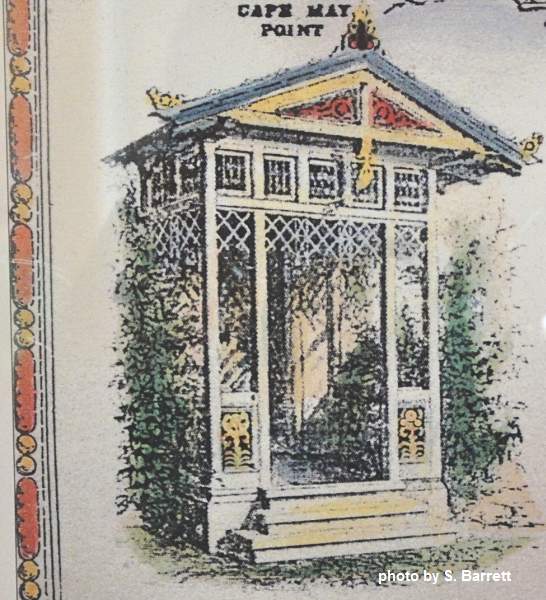 3. Inside the "Once Upon a Toy" store at Downtown Disney Marketplace, across the first and second rooms (as you enter from the front main entrance), large letters in Scrabble tiles on the floor spell "MICKEY." Merchandise stands often cover the letters, but you can spot the "E" and "Y" in the photo below. (Thanks to Stephen Brookwell, Robbie Castro, and Luke.)
You can find a selection of past Hidden Mickeys Alerts here:
http://allears.net/btp/hiddenm2.htm
And check out our Searching Disney with Steve blog. This week, Steve talks about Hidden Mickeys in World Showcase and the Brave Highland Games in Epcot:
http://land.allears.net/blogs/stevebarrett/2012/06/ready_world_showcase_hidden_mi.html
= = = = = = = = = = = = = = = = = =

RATE & REVIEW SPOTLIGHT
= = = = = = = = = = = = = = = = = =
Compiled by AllEars® Team Member Cathy Bock
In this monthly featurette, we take a look at recent comments made in the AllEars.Net Rate & Review section about a particular restaurant, resort, event, etc. This month, we examine what AllEars® readers are saying about Yak and Yeti, which is located at the Disney's Animal Kingdom.
Yak and Yeti is a full service restaurant (there is also a Yak and Yeti counter service location). AllEars® reviewers give it an average rating of 8.7 and it is recommended by 94% of reviewers. From recent reviews:
Food: "was excellent"; "Mom had the duck, which she absolutely loved"; "had the seafood curry, while it was good, it wasn't as good as it was in November"; "entree was the Tempura Shrimp (loved it)"; "daughter had the salmon which she liked but did not rave about"; "great Asian-influenced fare"; "good quality, tasty and large portions"; "Steak and Shrimp… was outstanding"; "was very bland"; "loved the green bean appetizer!"; "DH had the Mandarin chicken salad and I had the honey chicken. Both were excellent!"; "had the Seared Ahi Tuna as our appetizer and it was very nicely prepared"; "entree was the Stir Fried Beef & Broccoli with rice… very tasty"; "had the honey chicken and it was delicious"; "generous portions".
Desserts: "Fried wontons, mango pie and the sorbets. All were fabulous"; "loved the wontons"; "enjoyed the sorbet"; "had the Mango Pie… it was great, but I wish I had the Cream Cheese Wontons and Pineapple"; "had a trio of very yummy sorbets"; "the sorbets… soo delicious".
Service: "waiter was awesome, very attentive and patient with our very talkative 5yo"; "good service"; "was deplorable"; "very attentive but not obtrusive"; "server could not have been more accommodating or polite"; "was a little chaotic".
Atmosphere: "Good ambiance for a crowded Disney restaurant"; "very nice"; "greeted with cute costumed servers and taken to our upstairs table with lots of decorations to keep the theme going"; "were seated upstairs and I would really recommend this as it was much quieter". Overall: "one of my favorite restaurants"; "enjoyed our meal"; "would definitely go back"; "make it a point to dine here on every trip"; "will definitely eat here again"; "Won't go back"; "had the best meal ever in a park there"; "one of my favorite sit down places at AK".
If you have recently eaten at Yak and Yeti, we'd love to have your review!
http://land.allears.net/reviewpost/showproduct.php?product=372&cat=33
= = = = = = = = = = = = = = = = = =


MONTHLY REMIND-EARS
= = = = = = = = = = = = = = = = =
EVENTS
Fourth of July Celebrations!
— There will be TWO special Mickey's Backyard BBQs on July 4 with extra characters. Times are 5 p.m. and 7 p.m. Price is $54.99 for adults; $31.99 for children 3-9. Dining Plans can be used for this event (two dinner entitlements per guest). Call 407-WDW-DINE to make reservations.
— Magic Kingdom will present "Disney's Celebrate America! A Fourth of July Concert in the Sky." This patriotic fireworks spectacular, paying homage to the hopes and dreams of America's forefathers, will light the skies at 9 p.m. July 4 – and for guests who would like to begin the Independence Day celebration early, the show also will be presented July 3 at 9 p.m.
— At Disney's Hollywood Studios, traditional Fourth of July fireworks take on a different spin when Mulch, Sweat, and Shears perform for the all-new "Rockin' 4th of July Celebration." These resident landscapers – with serious rock and roll ambitions – take Disney guests on a musical road trip across America that will highlight each region's contribution to rock and roll. Fireworks, lighting and special effects – backed by the driving live rock and roll of Mulch, Sweat, and Shears – combine to bring a new twist to celebrating Independence Day. Showtime July 4 is 9:45 p.m. Before the show, Disney's Hollywood Studios guests can catch Disney's Fantasmic!, performing July 4 at 9 p.m.
— At Epcot, sky-watchers can check out "IllumiNations: Reflections of Earth" bursting high above World Showcase Lagoon. IllumiNations is a 14-minute spectacular during which pyrotechnics, lasers, water and music are all used to tell a story about the past, present and future of our planet. On the Fourth of July, the show will be enhanced with "The Heartbeat of Freedom," an overture of traditional Americana themes displayed in a pyrotechnic and laser light event. The show is at 10 p.m.
In addition, Epcot guests may lend their ears to "Voices of Liberty 4th of July Concert" and meet with Benjamin Franklin, Betsy Ross and Disney characters adorned in patriotic dress at American Adventure.
Theme park hours on July 4 (subject to change without notice): Magic Kingdom, 9 a.m.-11 p.m.; Epcot, 9 a.m.-10 p.m.; Disney's Hollywood Studios, 9 a.m.-10 p.m.; and Disney's Animal Kingdom, 8 a.m.-7 p.m.
http://allears.net/tp/fojuly.htm
The Sounds Like Summer concert series is held annually at Epcot's America Gardens Theatre, featuring "tribute" bands that cover music by popular artists. Entrance to the concerts is free with paid admission to the park. The 2012 series (subject to change) runs through July 28. Bands set to appear in July are:

July 1 – July 7: Slippery When Wet (the ultimate Bon Jovi tribute)
July 10 – July 17: Police Experience (a tribute to the Police)
July 18 – July 21: Southbound and Company (tribute to Lynyrd Skynyrd)
July 22 – July 28: 2U (U2 tribute band)

Showtimes are 5, 6:45 and 8:15 p.m. nightly.

http://allears.net/tp/ep/sounds_like_summer.htm

Brave – The Highland Games Tournament take place on Epcot's Rose Walk (connecting Future World to World Showcase) 11 a.m.-7 p.m. daily now through July 8. This kid-focused offering includes games like Mini Caber Toss, Cake Toss, Haggis Flip and archery. There also is a kids' playground with free enhanced wireless internet.

http://land.allears.net/blogs/kristin-ford/2012/06/_the_muchanticipated_opening_o.html
Downtown Disney Marketplace's Disney's Pin Traders will be hosting monthly events with Disney Design Group artists. Artist Adrianne Draude, who is behind the creation of select Walt Disney World pins, will be meeting with fans and signing pins from 5 to 7 p.m. on July 27.

Watercolor artist David E. Doss is also appearing through July 3 at Art of Disney, Downtown Disney Marketplace. Check with locations for exact times.
ESPN Wide World of Sports
The AAU Boys and Girls National Championships will be held at the ESPN Wide World of Sports Complex from July 3 through August 4, 2012. Competitors range from third through 12th graders, and feature some of the top high school-age players from across the country. Known as a breeding ground for future NBA stars (e.g. LeBron James, Dwight Howard), the event attracts NCAA coaches from the top basketball programs, making it the premier collegiate recruiting event in the nation. As part of the National Championship, the AAU U-17 Boys Basketball Super Showcase presented by Champion anchors the ESPN HS Games, a multi-sport festival featuring several elite high school sports events. The invitation-only tournament features marquee 17-and-under club teams from across the country.
Internationally recognized artist Larry Dotson, known for his oil paintings of scenes around the Disney parks, will be at Walt Disney World for a series of special appearances and signings in the coming months:
— June 30-July 6: Main Street Gallery, Magic Kingdom
— August 31 – September 9: Art of Disney, Downtown Disney Marketplace
— September 28 – October 2: Art of Disney, Epcot
Dotson's work can be found at the four Walt Disney World theme parks, Animal Kingdom Lodge, Caribbean Beach Resort, Disney Golf Course Pro Shops, Art of Disney Galleries, and on the Disney Cruise Line. Check with locations for exact times.
-=-=-=-=-=-=-=-=-=-
Don't forget to check our Events page for current updates: http://allears.net/pl/events.htm
-=-=-=-=-=-=-=-=-=-=-=-=-=-=-=-=-=-=-
REHABS AND CLOSINGS
— The ongoing Fantasyland expansion project continues, with the next phase of openings slated for July 2012. The Disney Parks Blog posts periodic photo updates, such as the recent post revealing images from the new library that will be part of Enchanted Tales with Belle:
http://land.allears.net/blogs/dnews/2012/05/enchanted_tales_with_belle_fan.html
— Under the Sea ~ Journey of The Little Mermaid, Enchanted Tales with Belle, Be Our Guest Restaurant, Gaston's Tavern, and Ariel's Grotto will open in time for the holidays. The Be Our Guest Restaurant will feature beautiful chandeliers and murals from the popular movie. For a video with a look at some of the restaurant interiors:
— The Seven Dwarfs Mine Train will not open until 2014.
Test Track in Epcot's Future World closed for refurbishment April 16, 2012. It is expected to reopen as Test Track Presented by Chevrolet in fall 2012. The re-imagined attraction will transform into the "Chevrolet Design Center at Epcot" with interactive design and styling workstations at which you will be able to create custom concept vehicles. Also included will be a "SimCar" ride vehicle experience where you can put your design through its paces on the Test Track circuit. The post-show area will feature the latest Chevrolet vehicles in an all-new, state-of-the-art showroom, as well as lots of special effects. While Test Track is closed for refurbishment, a number of special experiences will be added to the entertainment schedule. The Test Track Allstars, a travel-themed a cappella group, is now performing daily in the area near the Test Track pavilion. In addition, the Epcot Character Spot, Soarin' and all attractions, merchandise locations and grab-n-go food and beverage offerings in The Land will remain open until 10 p.m. on a trial basis.
http://allears.net/tp/ep/e_tt.htm
The Nature-Inspired by Design Segway Tour at Epcot will be discontinued as of July 3 (final day).
Kilimanjaro Safaris in Disney's Animal Kingdom is undergoing some wild changes, aimed at giving guests the opportunity to see more of their favorite animals, specifically zebras, during the 20-minute open-air ride. The audio-animatronics "Little Red" elephant and related "poacher" set pieces have been removed and the theme park is adding a new savanna space, including a watering hole for live animals. Work began in March; construction is scheduled to be complete in Fall 2012. Kilimanjaro Safaris is open during the construction.
Disney's Art of Animation Resort
The next wing of Disney's Art of Animation Resort that is scheduled to open is the Lion King wing on August 10; the Little Mermaid wing is slated to open September 15.
http://allears.net/acc/faq_artan.htm
Cape May Cafe buffet restaurant, which hosts a character breakfast, will be closed from July 9 – August 4, 2012.
Disney's Grand Floridian Resort
The spa at the Grand Floridian Resort and Spa closed on September 19, 2011, for 18 months as part of a planned renovation at the resort, and the addition of Disney Vacation Club units. During this downtime, enhancements are also being planned for the spa. As an alternative, you can purchase spa services at Disney's Saratoga Springs Resort & Spa. If you are staying at the Grand Floridian or the Polynesian Resort and you book a spa treatment at Saratoga Springs Resort & Spa, complimentary transportation will be provided for you. Note that the health club at Disney's Grand Floridian Resort & Spa is still open. In addition, the Ivy Trellis Beauty and Barber Shop remain open in the main building of the Grand Floridian.
http://land.allears.net/blogs/dnews/2011/12/disney_vacation_club_announces.html
Disney's Saratoga Springs Resort & Spa
Building repainting is expected to conclude in August 2012. Also, accessories and linens ("soft goods") are being replaced. The project is expected to last through spring 2013. Note that all refurbishment dates are estimates only and exact project dates may vary.
For some photos of the rehab: http://allears.net/acc/g_ss_refurb.htm
http://dvcnews.com/index.php/resorts/saratoga-springs/news/1881-saratoga-springs-room-refurb-details
Fort Wilderness Resort and Campground
Parking at Disney's Fort Wilderness Resort & Campground will be very limited through July 12, as the entire guest parking lot is being paved. If you'll be attending the Hoop-Dee-Doo Musical Revue during this time, consider taking the boat from Magic Kingdom or a bus from another theme park instead of driving.
Splitsville at Downtown Disney West Side is expected to open this fall, combining bowling with billiards, dining, music and nightlife. Splitsville will include 45,000 square feet with 30 lanes on two floors. Bowlers can feast on hand-tossed pizza, fresh-rolled sushi, hand-cut filet sliders and other menu items served right at the lane, all while enjoying an entertaining atmosphere. The all-new day-and-nighttime venue also will be available for birthday parties and corporate events. Splitsville will join other new offerings at Downtown Disney, such as BLINK by Wet Seal, Apricot Lane, a completely redesigned Sunglass Icon by Sunglass Hut, an extensive renovation of Basin and an exterior remodel at Rainforest Cafe (see below).
http://disneyparks.disney.go.com/blog/2011/07/downtown-disney-update/
On Pleasure Island, some buildings have been removed, but plans for the site are being reevaluated, which means previously announced construction plans have been delayed.
http://disneyparks.disney.go.com/blog/2011/07/downtown-disney-update/
Rainforest Cafe in Downtown Disney is undergoing refurbishment. During the renovation, the restaurant will remain open. Upon completion in October 2012, a new lounge area, exterior updates and an updated volcano will be unveiled.
=-=-=-=-=-=-=-=-=-=-
A complete list of rehabs can be found here: http://allears.net/tp/rehabs.htm
= = = = = = = = = = = = = = = = =


MAGICAL MOMENTS
= = = = = = = = = = = = = = = = =
Ronni Setzer: My husband and I were strolling through Camp Minnie-Mickey in Animal Kingdom when a cast member named Robb stopped us and asked if it was just the two of us. Adam and I both figured that it was another one of the research people asking us questions, so we were both floored when he asked if we wanted to be in the Jammin' Jungle Parade. Umm…. YES, PLEASE! It's been my dream for years to be in a Disney Parade, so this was just awesome. We got to sit in the first float and wave to people. We got to meet the dancers and see a bit of the backstage prep that goes into a parade. Make no mistake, every single production Disney puts on is a big deal and the parades are no exceptions. It was amazing to see all the crowds and to have guests taking photos of ME! I will never forget it.
Regan Sarmento: We watched the parade in Frontierland and were standing next to a family that had a son with special needs. At the start of the parade, Victoria, a cast member in that area, "stationed" herself next to this young man. Typically the cast members seem to move around a bit so it caught my attention that she was rooted to the spot. Well, it soon became clear that she was delivering some message to each character in the parade. All of the characters who were walking stopped to spend a moment with this young guy while every character on a parade float was sure to blow a special kiss to him! This young boy was thrilled and smiling from ear to ear with such pure delight! It warmed my heart. At the end of the parade, I mentioned to Victoria with a smile that I saw what she had done and she responded, with a twinkle in her eye, "What can I say? I love kids!" I walked away knowing I had just experienced some pure Disney Magic that would impact me for quite some time, but more importantly for that young man who would remember that magic for years to come.
Sam Nichols: My 10-year-old daughter and I were boarding Space Mountain from the Fastpass line and a cast member was directing us as to where to go. She turned toward Kelsey and said. "Right this way, princess." This had not been the first time that day that a cast member said something like this. Kelsey looked at me with her eyes as big as they could get and whispered, "Mom, everyone's calling me a princess!" She was in complete wonder over this. It brought tears to my eyes that day and every time I think about it. It is the small things that make Disney the magical place it is that can make a little girl feel so special.
-=-=-=-=-=-=-=-=-=-=-=-=-=-=-=-=-=-=-=-=-
We just bet you have a story to tell about an unforgettable moment during your Disney vacation! Please send your favorite memory for inclusion in a future AllEars® to: allearsnet@yahoo.com
This month we also have a collection of readers' visual magical moments from Disney's Hollywood Studios in our photo essay "Wandering the World":
http://allears.net/tp/wander/wander.htm
Thank you all for sharing!
-o-o-o-o-o-o-o-o-o-o-o-
Editor's Note: This story/information was accurate when it was published. Please be sure to confirm all current rates, information and other details before planning your trip.