January 2012 Walt Disney World Bits and Bites
Feature Article
This article appeared in the December 27, 2011 Issue #640 of ALL EARS® (ISSN: 1533-0753)
= = = = = = = = = = = = = = = = =


STEP BACK IN TIME
= = = = = = = = = = = = = = = = =
by Debra Martin Koma
AllEars® Senior Editor
Last month, I shared some memories of my family's first trip to Walt Disney World, which was in December 1994, and asked if any of you would like to contribute your memories as well. Many of you responded, and so this month instead of rummaging around in our own archives for this featurette, I have compiled some of your replies. I've also included a few other assorted reminiscences and photos we've received over the last few months, for a glimpse of Walt Disney World and the Disney Company through the years.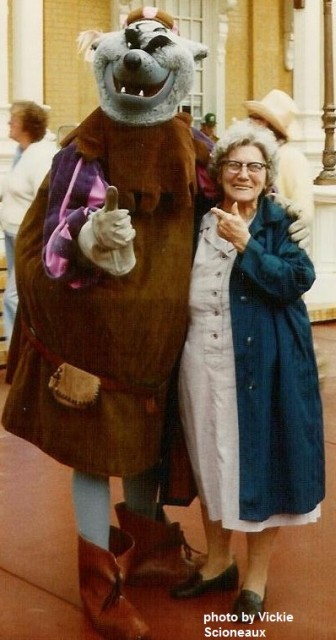 Vickie Scioneaux: Love this picture of my mom (left), Elvire Scioneaux, and the Sheriff of Nottingham (you don't see him anymore) taken in the Magic Kingdom on March 3, 1983. I was able to take her to WDW twice, 1976 and 1983. She loved it. Wish I could have taken her one more time before she passed on.
Dawn Hoagland: Your trip down Memory Lane prompted me to dig out my photo album and scan a couple of pictures of my daughter. This was taken in 1990, in the now defunct Toontown Fair… in front of Mickey's house (could be Minnie's ?)… anyway, she is 24 now so these are very dear to my heart.
Carol Eick: From 1997 with the wonderful pink 25th birthday castle!
Terri Daugherty: Photo of Mickey and Goofy marching down Main Street from 1972!
Paula Marrero: I collected matchbooks during summer vacations to the World in the mid 1970s. The photos show the matchbooks from Contemporary Resort, Golf Resort Hotel, Polynesian Village, Fort Wilderness Campground Resort, and even Main Street U.S.A.!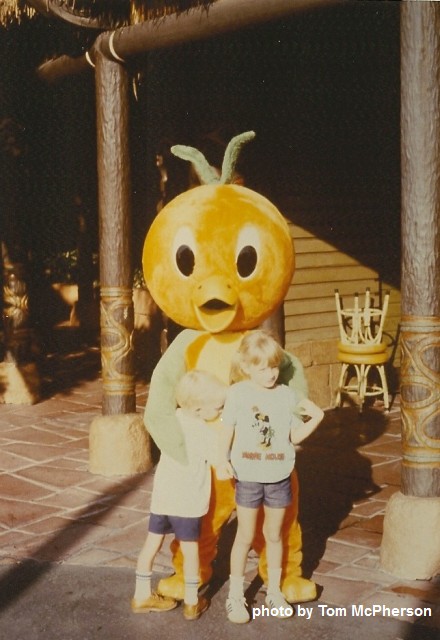 Phyllis & Marty Micke: Our photo is from May of 1987 at Mickey's Tropical Revue. After the show, cast members taught the children to hula and Mickey and Minnie joined in the fun.
Tom McPherson: Here's a picture of the Florida Orange Bird (right) near the Tiki Room (circa 1983).
Nigel McQuire: I just happen to have a photo of the Surprise in the Skies daytime "event" at Epcot (sorry, not a very good scan) that I took probably in September 1992. I also note (in the lower right corner) in front of Spaceship Earth what appears to be a large Donald Duck — do you have any idea what this could be, as I don't remember anything about it? Although I live in Wales in the UK I have been going to Disney (World and Land) regularly for quite a few years. (I proposed to my now-wife at the Cinderella wishing well in the Magic Kingdom.) I first visited Epcot the week after it opened and have seen many changes. I also recall going during one of the anniversaries (the 10th?) and seeing the elephants paraded there together with the highwire acts.
Thanks all for sharing your cherished photos and for taking a stroll down Memory Lane with us!
To see more photos, visit this month's Wandering the World:
http://allears.net/tp/wander/wander.htm
= = = = = = = = = = = = = = = = =


HIDDEN MICKEYS ALERT
= = = = = = = = = = = = = = = = =
Steven Barrett, author of the Hidden Mickeys books and webmaster of www.HiddenMickeyGuy.com, highlights some imaginative Hidden Mickeys for you to find:
1. As you snorkel along in Shark Reef at Typhoon Lagoon, you can often see a classic Mickey resting on the bottom of the swim route. Recently, the Mickey was located on the right side, about halfway along the route after the island. (Thanks to Matthew Skazick, Tim Devine, Jack Widman, Michelle Scribner-MacLean and Liam, Sharon Dale, Carlos Font, Chloe Augustine and Lindsey Naizer.)
http://allears.net/btp/images/hidden-mickey-348.jpg
2. At Mickey's Meet 'N' Greet in Town Square Theater at the Magic Kingdom, take a flash photo of Mickey in the Electricity display poster standing inside Mickey's meeting room. The full-body Mickey turns into a skeleton Mickey in your photo!
http://allears.net/btp/images/hidden-mickey-349.jpg
3. At Disney California Adventure, toward the end of The Little Mermaid-Ariel's Undersea Adventure, check the pond (to your right) for frogs with dark spots on their backs that form sideways classic Mickeys. (Thanks to Rosemary and Neil [FindingMickey.com], Colin Buchanan, John Martinez, Bradly Behmer, and Evelyn Vides.)
http://allears.net/btp/images/hidden-mickey-350.jpg
You can find a selection of past Hidden Mickeys Alerts here:
http://allears.net/btp/hiddenm2.htm
= = = = = = = = = = = = = = = = = =


MONTHY REMIND-EARS
= = = = = = = = = = = = = = = = =
EVENTS
New Year's Eve happenings around the World:
— Magic Kingdom will host the "Wishes" nighttime spectacular with a holiday overlay at 8:30 p.m. and "Fantasy in the Sky" at 11:51 p.m. You can also see the Magic Kingdom NYE fireworks at 11:50pm on December 30th.
— Epcot's "IllumiNations: Reflections of Earth" features a salute to the new year at 7 p.m. and 11:42 p.m.
— Disney's Hollywood Studios features "Fantasmic!" at 6:30 and 8 p.m., with the popular "Lights! Camera! Happy New Year!" fireworks display at midnight.
— At Cirque du Soleil, all guests attending the December 31 performances will receive a limited-edition Walt Disney World/Cirque trading pin. Shows are at 6 p.m. and 9 p.m. For pricing contact 407-WDW-SEAT.
— At Narcoossee's restaurant (Disney's Grand Floridian Resort & Spa) there will be a four-course dining experience for $149, plus DJ, balloon artist and special fireworks viewing at 8:30 and 11:51.
— Atlantic Dance Hall at Disney's Boardwalk Resort offers a special-ticket New Year's Eve party from 8 p.m.-2 a.m. with video DJ Tony Zapulla.
— DisneyQuest: A special New Year's Eve event to be held at DisneyQuest Indoor Interactive Theme Park on December 31, 2011 from 8 p.m. to 1 a.m. Enjoy unlimited access to DisneyQuest games and attractions, family fun, food and a DJ dance party in the atrium — complete with party hats, noisemakers and confetti blast at midnight. Advance-purchase tickets are $42.25 plus tax (for ages 3 and up). Tickets are $51.64 plus tax (for ages 3 and up) on the day of the event. You can purchase tickets at the DisneyQuest box office, all Walt Disney World guest relations locations, on Disneyworld.com or by calling 407-W-DISNEY.
http://allears.net/tp/nyeve.htm
Magic Kingdom
Castle Dream Lights: Donning their holiday best, Cinderella and friends share a dream-come-true, light-the-night moment with Magic Kingdom guests as Cinderella Castle transforms into a shimmering "ice palace" with 200,000 white lights each evening through January 3, 2012.
Disney's Hollywood Studios
The Osborne Family Spectacle of Dancing Lights at The Streets of America at Disney's Hollywood Studios will glow with millions of dancing lights and animated displays starting at dusk through January 7, 2012. Twirling carousels, melodic angels, colorful wreaths, marching toy soldiers and Santa and his reindeer move to high-energy music and 3-D effects, creating a dazzling symphony for the senses.
Animal Kingdom
King Louie and Baloo lead a rousing musical cavalcade through Disney's Animal Kingdom November 8 through January 3, 2012, during Mickey's Jingle Jungle Parade. Also, Santa Goofy's Holiday Village at Camp Minnie-Mickey will feature carolers spreading holiday cheer and Santa Goofy and friends greeting guests for photo opportunities through January 7, 2012.
ESPN Wide World of Sports Complex
=-=-=-=-=-=-=-=-=-=-
Don't forget to check our Events page for current updates: http://allears.net/pl/events.htm
-=-=-=-=-=-=-=-=-=-=-=-=-=-=-=-=-=-=-
REHABS AND CLOSINGS
Magic Kingdom
The Fantasyland Forest development in the Magic Kingdom meant the closure of several Magic Kingdom park areas in 2011. Mickey's Toontown Fair's last day was February 11, 2011.
http://allears.net/tp/mk/fant_expansion.htm

For more details and an artist's renderings of the new Fantasyland, read the official press release here:
http://land.allears.net/blogs/dnews/walt_disney_world/magic_kingdom/fantasyland_expansion/
Big Thunder Mountain Railroad will be closed for an extensive refurbishment, January 9 until at least April 30, 2012.
Dumbo the Flying Elephant will be closed January 9 to February 17, 2012.
Liberty Square Riverboat will be closed for refurbishment November 9, 2011 – February 3, 2012.
The Main Street Electrical Parade will not be performed January 20 – February 10, 2012.
Epcot
Tutto Italia Ristorante in Epcot's Italy pavilion will be undergoing refurbishment in 2012. Expect the restaurant to be closed from January 8 – April 1, 2012.
Fantasmic! at Disney's Hollywood Studios will close temporarily starting January 9, 2012. It is scheduled to resume performances on February 12, 2012. There are no new show elements planned.
Kali River Rapids in Animal Kingdom will close for refurbishment January 23 through February 9, 2012.
Disney's Art of Animation Resort
The first wing of the Disney's Art of Animation Resort will open on May 31, 2012, as construction on the 25th resort hotel at Walt Disney World continues on schedule. Located near Pop Century Resort, the new resort will offer 1,120 family suites (including a bedroom and living room) themed after "The Lion King," "Cars" and "Finding Nemo" animated films, as well as 864 guest rooms inspired by "The Little Mermaid." The current opening timetable has the "Finding Nemo" wing opening May 31, the "Cars" wing in late July, and "The Lion King" wing in late September. The final wing, themed after "The Little Mermaid," will debut in late 2012. Although the resort is still several months away from opening, it's already set to break records by planning the largest swimming pool at the Walt Disney World Resort (aside from our water parks). This pool will be located in the "Finding Nemo" wing, and will measure 11,859 square feet. The resort also will feature two other pools and a children's water play area. Disney's Art of Animation Resort will be a "value" category of lodging, with nightly rates similar to Disney's All-Star Resort and Disney's Pop Century Resort.
Disney's Port Orleans-Riverside Resort
Royal Guest Rooms are now under construction in the Magnolia Bend section of the Port Orleans-Riverside resort. Opening in early spring 2012, the Royal Guest Rooms allow princes and princesses of all ages to stay where Disney royalty have stayed. Guests find regal touches left behind by some of their favorite Disney characters — fiber optics special effects above ornately decorated beds, gold and crystal accents, custom linens and drapes, and in-room art and details including Princely banners and Princess friends. The 512 Royal Guest Rooms start at $189 per night, and are booking now, for stays early in 2012.
Disney's Grand Floridian Resort
The spa at the Grand Floridian Resort and Spa closed on September 19, 2011, for 18 months as part of a planned renovation and addition of the Grand Floridian Disney Vacation Club Villas at the resort. During this downtime, enhancements are also being planned for the spa. As an alternative, you can purchase spa services at Disney's Saratoga Springs Resort & Spa. If you are staying at the Grand Floridian or the Polynesian Resort and you book a spa treatment at Saratoga Springs Resort & Spa, complimentary transportation will be provided for you. Note that the health club at Disney's Grand Floridian Resort & Spa is still open. In addition, the Ivy Trellis Beauty and Barber Shop remain open in the main building of the Grand Floridian.
http://land.allears.net/blogs/dnews/2011/12/disney_vacation_club_announces.html
Typhoon Lagoon water park closed December 4 for its annual refurbishment. It's expected to reopen March 17, 2012.
Downtown Disney
Construction has begun on Splitsville, a 50,000-square-foot upscale entertainment center that combines bowling with billiards, dining, music and nightlife. To make way for this experience, RIDEMAKERZ, currently located on the West Side, will move to the Marketplace. On Pleasure Island, some buildings have been removed, but plans for the site are being reevaluated, which means construction on the previously announced Hyperion Pier has been delayed.
http://disneyparks.disney.go.com/blog/2011/07/downtown-disney-update/
A complete list of rehabs can be found here: http://allears.net/tp/rehabs.htm
= = = = = = = = = = = = = = = = =


MAGICAL MOMENTS
= = = = = = = = = = = = = = = = =
Terri Jensen – My family, including my two kids and my parents, traveled to Walt Disney World. During the trip, my father ended up in the hospital. (He's better now.) After the staff at the Saratoga Springs Resort heard that my father was in the hospital, someone left a bag in our room with coloring books and crayons for our kids so our kids could still be entertained. There was no card so we'll never know who to thank for their generosity.
Kelly Chapin – Our family was having a wonderful time at Mickey's Very Merry Christmas Party until around 9pm when I realized that our four-year old daughter's blanket had fallen out of our stroller and was gone. This blanket is her greatest treasure. We frantically searched all the places in the Magic Kingdom that we had been that day. It was nowhere to be found. We made the sad trek to Guest Relations to see if it had been turned in. By this time, our little girl was getting sleepy and figured out that it was missing. She cried herself to sleep that night. We called lost and found over and over, but it still seemed to be missing. We gave up hope that it would ever turn up. Later that week, we had an appointment set up at the Bibbidi Bobbidi Boutique. Our daughter so enjoyed being transformed into a princess. At the end of her time, they pixie dusted her and told her to make a wish. I asked if I could be pixie dusted also, and my wish was that somehow my baby's blanket would be found. As I finished my pixie dusting, I walked out to find my husband on the phone with lost and found letting us know that they had it!!! I'm not sure what's in that pixie dust, but it sure made our trip magical – I'll never doubt again!
Catherine Carr – We recently took our 4-year old grandson for his first Disney trip. He had been talking about going on the Peter Pan attraction since he loves Peter Pan. When we got up to the ride, he became very afraid of going into a dark ride. A cast member heard us trying to convince him that he would be ok. She got a special flash light for him to use and then took us to the front of the line. He still talks about how much fun he had at Disney, and he says his favorite ride was Peter Pan! She really saved the day for us.
-=-=-=-=-=-=-=-=-=-=-=-=-=-=-=-=-=-=-=-=-
We just bet you have a story to tell about an unforgettable moment during your Disney vacation! Please send your favorite memory for inclusion in a future AllEars® to: allearsnet@yahoo.com Thank you all for sharing!
We've also compiled a collection of photos from readers sharing their Magical Moments via digital images in the latest Wandering the World — The current set is a "walk down Memory Lane"
http://allears.net/tp/wander/wander.htm
-o-o-o-o-o-o-o-o-o-o-o-
Editor's Note: This story/information was accurate when it was published. Please be sure to confirm all current rates, information and other details before planning your trip.