February 2014 Walt Disney World Bits and Bites
Feature Article
This article appeared in the January 28, 2014 Issue #749 of ALL EARS® (ISSN: 1533-0753)
Editor's Note: This story/information was accurate when it was published. Please be sure to confirm all current rates, information and other details before planning your trip.
= = = = = = = = = = = = = = = = =


STEP BACK IN TIME
= = = = = = = = = = = = = = = = =
by Deb Wills
Each month, we rummage around in our archives for this featurette, which indulges in a bit of nostalgia, taking you back in history for a glimpse of Walt Disney World and The Walt Disney Company through the ages. This month we take a look at Disney's Dixie Landings.
This month marks the 22nd anniversary of Disney's Dixie Landings Resort, which opened in Walt Disney World on February 2, 1992, with 2,048 rooms.
Construction started in the fall of 1989.
As with Disney's theme parks, its resorts also have a back story. Here was Dixie Landings':
"Disney's Dixie Landings Resort continues the theme of bringing back the romance and adventure of the Old South begun by Disney's Port Orleans Resort. This resort is representative of two districts of the South, including sections reminiscent of both Cajun-style villages and great mansion homes.
"When… guests first arrive, they do not just check in to the hotel. They enter Sassagoula Steamboat Company and book passage to travel along the Sassagoula river.
"Located off the main lobby is Fulton's General Store. In addition to the typical Disney souvenirs and clothing, snacks, sundries, magazines, and baby products are available.
"Next to Fulton's is the River Roost Lounge. This cozy location offers overstuffed chairs and an inviting fireplace. If you want to mingle with others, have a seat at the bar and strike up a conversation with fellow vacationers and the friendly bartenders.
"Boatwright's Dining Hall is next door. This restaurant is fashioned after an old ship building facility and actual tools of the trade line the wall. The centerpiece of the restaurant is the under-construction 'New Orleans lugger.' Lugger boats were used to haul cotton up and down the Mississippi River in the 1820s. This authentic reproduction was built by the Brewer's Ship Yard with plans secured from the Smithsonian Institute. Other sections of the restaurant feature a more intimate atmosphere complete with fireplace. Boatwright's can seat 208 guests.
"The other dining option at the resort is Riverside Mill Food Court. This eatery was themed after an old Southern cotton mill and features a cotton press powered by an authentic 35 foot water wheel."
On April 1, 2001, Dixie Landings merged with the nearby Port Orleans Resort. Dixie Landings was renamed Port Orleans – Riverside, while the Port Orleans Resort became Port Orleans – French Quarter.
Check out our videos of Port Orleans – Riverside as it is today:
http://allears.net/acc/g-port-orleans-riverside-resort-videos.htm
= = = = = = = = = = = = = = = = =


HIDDEN MICKEYS ALERT
= = = = = = = = = = = = = = = = =
Steve Barrett, author of the Hidden Mickeys books and webmaster of www.HiddenMickeyGuy.com, challenges you to find these Hidden Mickeys along Buena Vista Street in Disney California Adventure. Enjoy the hunt, and good luck!
1. Inside Julius Katz & Sons store, a classic Mickey image is formed by the ends of rollers on a mechanical device, which sits to the right of a small fan in the middle of a top shelf along a wall. (Thanks to Rosemary and Neil.)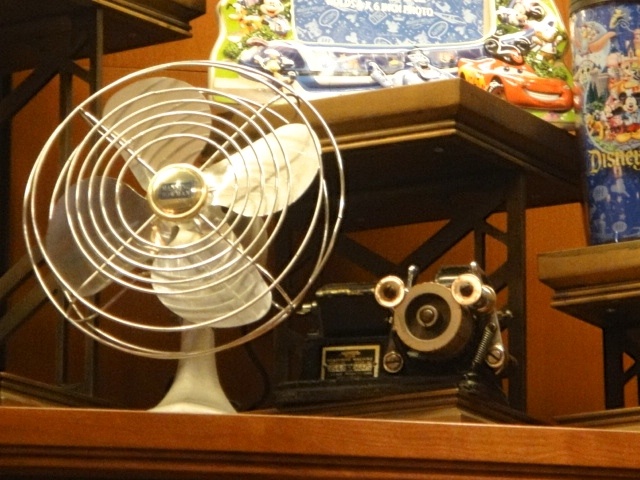 http://allears.net/btp/images/hidden-mickey-420.jpg
2. On a wall above and to the right of the Chamber of Commerce building near Oswald's, a blue painted advertisement says "Elias and Company, Open 7 Days." A tiny white classic Mickey is along the inner border of the blue area, to the right of the "N" in "Open." (Thanks to Steve Orme.)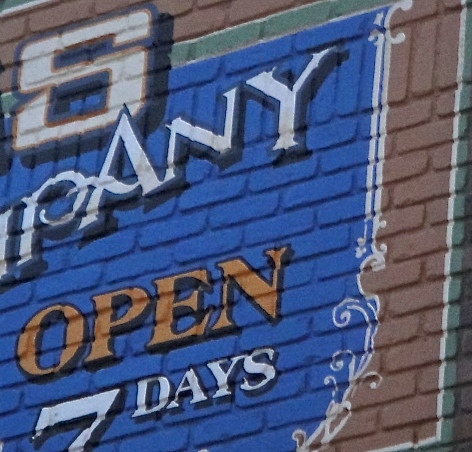 http://allears.net/btp/images/hidden-mickey-421.jpg
3.At the Buena Vista Street Trolley Station waiting area near the main park entrance, a classic Mickey made of rocks is in the right-side support pillar nearest the park entrance. It's under the four vertical red bricks that are at the top of the outer right side of the pillar. It's tilted to the left, and the left "ear" (the ear to your left as you face the image) has vertical striped markings. (Thanks to Steve Orme.)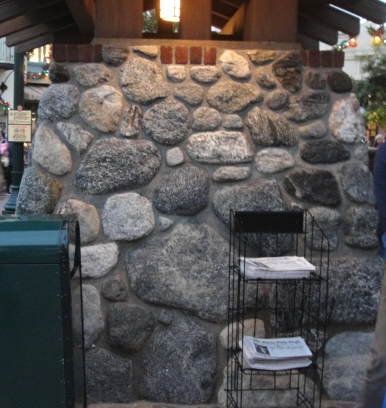 http://allears.net/btp/images/hidden-mickey-422.jpg
=-=-=-=-=-=-=-=-=-=-=-=-=-=-=-=
You can find a selection of past Hidden Mickey Alerts here:
http://allears.net/btp/hiddenm2.htm
And check out our Searching Disney with Steve blog:
http://land.allears.net/blogs/stevebarrett/
= = = = = = = = = = = = = = = = = =

RATE & REVIEW SPOTLIGHT
= = = = = = = = = = = = = = = = = =
Compiled by AllEars® Team Member Cathy Bock
In this monthly featurette, we take a look at recent comments made in the AllEars.Net Rate & Review section about a particular restaurant, resort, event, etc. This month, we examine what AllEars® readers are saying about Caribbean Beach Resort, one of Walt Disney World's moderate resorts.
Caribbean Beach has an average rating of 8.1 and is recommended by 92 percent of reviewers.
From recent reviews:
Rooms: "Room was always clean"; "musty smell upon entering the room"; "room somewhat dated but well maintained"; "liked that the shower was separate from sinks"; "rooms were perfect!"; "room was clean and all of our daily requests, which were listed on our tip envelope, were met"; "undersized beds"; "Pirates rooms were just awesome".
Resort staff: "staff, including Mousekeeping, was excellent"; "Check-in was not smooth as at other resorts"; "excellent Mousekeeping"; "Mousekeeping did a great job"; "cashiers we had were NOT familiar with the different pricing on the offerings";"Mousekeeping was excellent"; "Front desk was great".
Resort amenities: "pools are great with a kiddie pool at the main pool"; "Plenty of pool seating and nice pool bar"; "sections have their own private pool area and laundry"; "laundry rooms were clean and in good working order as well as the pool areas"; "many hammocks located on property as well as beaches where one could find lounge chairs to relax in"; "pool is awesome, but it is aggravating that the slides close so early"; "movies by the pool were fun".
Resort Layout: "resort itself is huge"; "ended up in Trinidad North but on the back side requiring a 3-4 hundred yard walk to Old Port Royale"; "fact that the Customs House was located away from the main resort area meant that upon check in and check out you had to journey to and from this location"; "surroundings are so beautiful and serene, but hard to remember your way around sometimes."
Transportation: "Bus service was good"; "on average we consumed 2-3 hours a day waiting and traveling on buses at CBR"; "did not wait too long for buses to the parks"; "resort is big and has an internal shuttle"; "inter-resort bus was a cumbersome affair"; " bus stops at every island in the resort, so this is a nuisance at times".
Food: "food court options were just OK"; "Food at Port Royale was great"; "excellent meal at Shutters"; "enjoyed the food court… good selection"; "ate at the food court only once (pizza), and were happy".
Other Comments: "very beautiful and laid back"; "grounds and property here are gorgeous and well kept"; "would probably stay here again"; "enjoyed the beautiful surroundings and relative serenity of the resort"; "was pretty disappointed"; "love this resort!"; "glad we tried it…but not the resort for us";
If you have recently stayed at Caribbean Beach Resort, or any Disney resort, we'd love to have your reviews, too!
http://land.allears.net/reviewpost/showproduct.php?product=12&title=caribbean-beach-resort-moderate-resort&cat=3
And don't forget to check out all of our Rate & Review section here: http://land.allears.net/reviewpost/
= = = = = = = = = = = = = = = = =


MONTHLY REMIND-EARS
= = = = = = = = = = = = = = = = =
EVENTS
runDISNEY
The Disney Princess Half Marathon Weekend is scheduled for February 20-23, 2014. This year the weekend will add a 10K race and a new two-race challenge. The Princess 10K will give runners more opportunities to run through Disney theme parks and receive a specially designed finisher medal. Runners who have signed up for the 10K on Saturday and the Half Marathon on Sunday (19.3 miles total) will earn the inaugural Disney Glass Slipper Challenge Medal.
EDITOR'S NOTE: Registration for the Half Marathon and 10K races is closed.
-=-=-=-=-=-=-=-=-=-
Don't forget to check our Events page for current updates: http://allears.net/pl/events.htm
-=-=-=-=-=-=-=-=-=-=-=-=-=-=-=-=-=-=-
REHABS AND CLOSINGS
Animal Kingdom
Festival of the Lion King in Animal Kingdom closed January 5, 2014, for a six-month renovation. This renovation will include moving the show to a new theater located in the Africa section of the theme park.
Magic Kingdom
Fantasyland Expansion: The ongoing Fantasyland expansion project continues with the debut of a new Disney "mountain" in the form of the Seven Dwarfs Mine Train in 2014.
http://allears.net/tp/mk/new-fantasyland.htm
The upcoming Disney Festival of Fantasy Parade is scheduled to debut in the Magic Kingdom in March 2014.
http://allears.net/tp/mk/disney-festival-of-fantasy-parade.htm
Splash Mountain closed for refurbishment on January 2, 2014. It is scheduled to reopen sometime in March.
Casey's Corner is closed through February 15.
The Barnstormer will close February 3-5 for a brief refurbishment.
Tomorrowland Transit Authority PeopleMover will be closed February 10 – March 27.
The Plaza Restaurant will be closed February 17 – March 15.
Pinocchio Village Haus will be closed February 17 – March 30.
Starting January 21, 2014, service on the Magic Kingdom Resort and Express monorails will be unavailable on weekdays between 11:30 a.m. and 7 p.m. to allow for planned maintenance. This schedule will run through the end of March 2014. During this time, watercraft and additional buses will be available. The Epcot monorail beam will operate normally.
Disney's Hollywood Studios
Studio Backlot Tour and the American Film Institute Showcase found at the end of the attraction are closed through March 1.
Downtown Disney
Downtown Disney is being transformed into Disney Springs, which will treat guests to more shopping, dining and entertainment amid open-air promenades, springs and waterfront charm. Disney Springs will feature an eclectic and contemporary mix from Disney and other noteworthy brands, from boutique shops to unique flagship anchor stores. Disney Springs will double the number of shops, restaurants and other venues for guests to explore, resulting in more than 150 establishments. Drawing inspiration from Florida's waterfront towns and natural beauty, Disney Springs will include four outdoor neighborhoods interconnected by a flowing spring and vibrant lakefront. Read more about Disney Springs here:
http://allears.net/btp/disney-springs.htm
As part of the Disney Springs expansion, Downtown Disney parking lots H-K (near West Side locations such as AMC Theatres and House of Blues) closed July 22 to make room for a parking garage expected to open in late 2014. To compensate for the closed areas, "overflow" parking areas have been designated and will be open most Fridays, Saturdays and Sundays, as well as holidays, special events and other busy days throughout the next few years of the expansion project. Overflow lots include those at Team Disney, Casting and SunTrust. Signage along Buena Vista Drive will direct guests to parking areas. Shuttles will operate from 5 p.m. to 3 a.m. on days that overflow parking is open to transport guests between Team Disney and Downtown Disney West Side near Cirque du Soleil. If you have reservations at a Downtown Disney location, be sure to allow ample time for parking under these new conditions.
A new merchandise location is coming to Downtown Disney Marketplace in spring 2014. Called the Marketplace Co Op, it will occupy the site that housed Team Mickey, which has closed. The marketplace will act as a collection of shops within a shop — a sort of "incubator," serving to introduce new Disney specialty retail shops and products to the public. The current building will be slightly redesigned, but will retain its original ceiling elements, including the skylight. When it opens, The Marketplace Co Op will house:
— Beautifully Disney – featuring make-up, fragrance and beauty accessories.
— Cherry Tree Lane – accessories such as scarves, shoes, bags and jewelry.
— D-Tech on Demand – personalized, customized electronic accessories.
— The Trophy Room – vintage-inspired, lifestyle sports apparel and collectibles.
— Centerpiece – room furnishings, textiles and everyday ware with a touch of Disney.
— Zoey and Pickles – the latest trends and glamour for young girls.
http://land.allears.net/blogs/dnews/2013/11/marketplace_co_op_coming_to_do.html
Valet parking is now available at Downtown Disney, accessible from 4 p.m. to 2 a.m. daily via Entrance 4 at Downtown Disney West Side. The cost is $15 per vehicle and gratuity is accepted. The Tables in Wonderland benefit of free parking will be available if you present your Downtown Disney dining receipt and the TiW card. When you're ready to pick up your car, check in at the valet booth or text the number you'll be given when you park. Parking in the regular lots will continue to be complimentary.
Osprey Ridge golf course, its pro shop and the Sand Trap restaurant are closed. When Osprey Ridge reopens in 2014, it will be under Four Seasons ownership. To date, there is no indication whether play will be limited to Four Seasons Orlando guests and Golden Oak residents, or if Walt Disney World guests and/or the general public will have access. This closure leaves Walt Disney World with three 18-hole courses, Palm, Magnolia and Lake Buena Vista, as well as the Oak Trail 9-hole course. (Thanks to wdwgolf.com for the update.)
Blizzard Beach closed December 22 for its annual refurbishment. It is scheduled to reopen March 16, 2014.
-=-=-=-=-=-=-=-=-=-
A complete list of rehabs can be found here: http://allears.net/tp/rehabs.htm
= = = = = = = = = = = = = = = = =


MAGICAL MOMENTS
= = = = = = = = = = = = = = = = =
Heather Johnston: On the morning of October 16, 2012, we were stopped by a couple of cast members as we made our way up Main Street in the Magic Kingdom. "Hey, wanna look at our pins?" they asked, pointing to our lanyards. We stopped, traded some pins, and talked with them for a while. Seeing the birthday buttons my husband and 12-year-old twin daughters were wearing (all three had had birthdays within the past week), the cast members wished them happy birthday. The chit-chat seemed a little more involved than usual, but if there's one thing we've learned about Disney magic, it's that it all starts with CMs, so we were happy to spend time with them. As the conversation ended, we started to move on, but one of the CMs broke away from the other and followed us a few feet up Main Street. She told us she was looking for a family to serve as the grand marshals in the 3 o'clock parade, and asked if we'd be interested. Interested? Is anyone ever NOT interested in that offer?! We met our CM at the designated time near the firehouse on Main Street, where the parade route begins. She gave us each Mickey ears with our names stitched on the back, and then she led us backstage. She introduced us to the driver of the grand marshal car and we climbed in… Driving the parade route was an amazing experience. All along the way, people called out and waved to us as enthusiastically as they waved to the characters and other performers. People close enough to the ropes to be able to spot my family's birthday buttons yelled out, "Happy birthday, John! Happy birthday, Katie! Happy birthday, Carrie!" It felt really special to be embraced as part of the Disney experience by so many families. It goes without saying that this is the "biggest" magic we've experienced at Disney World, but we feel it's important to mention that it's not the only magic we've experienced. Every time we go, something special happens — a chance to pan for gold (Mickey glitter) in Magic Kingdom's Frontierland; Dream Fastpasses when we stepped off the train at Rafiki's Planet Watch in Animal Kingdom; a special wave from Pooh as he passed us on his way through a gate to backstage. When people ask us, "Why are you going to Disney World again?" I want to tell them that this, all of it — magic big and small — is why, but it never comes out sounding as magical in the telling as it felt in the happening. So, I don't even try to explain it to non-believers anymore. I just smile and say, "We love it there." And then, as I watch them shake their heads or shrug their shoulders, I make a wish that a little pixie dust will fall into their lives.

Marissa Pennington: We ate breakfast at the Grand Floridian, celebrating my nephew James' 8th birthday, and the Mad Hatter made a great fuss of him. All the characters gathered singing Happy Birthday and presented a small cupcake with a candle. The magical moment occurred during the afternoon parade when the Mad Hatter picked our James out from the enormous sea of faces shouting "Happy Birthday, James!" from high above in one of the floats! It certainly brought a smile to his face and a tear to the eye of the rest of us.
Marlene Patrick: On my daughter's family's first visit to Disney World, she took her daughter, who was 3 at the time, to Cinderella's Royal Table. My daughter said my granddaughter was so occupied gawking at all the characters she didn't touch her breakfast. Fast forward one year to breakfast at the Royal Banquet Hall in Akershus. Mary Poppins approached our table and my granddaughter looked up at her and in this quiet voice said, "I met you last year." Mary Poppins said, "And where was that, my dear?" "In the castle," she whispered. Mary Poppins stepped back, placed her forefinger on her cheek, tapped it several times, and said, "I DO remember you. You were that curly haired redhead who didn't eat her French toast!" My granddaughter's eyes opened VERY wide and she squealed, "YES!" As we walked out of Akershus, I asked my daughter, "How did she remember her?" My daughter did her classic eye roll and said, "Mom, she's got curly red hair and no kid eats a thing there because they are too busy staring at the characters." My granddaughter talked for so long about how Mary Poppins remembered her!
-=-=-=-=-=-=-=-=-=-=-=-=-=-=-=-=-=-=-=-=-
We just bet you have a story to tell about an unforgettable moment during your Disney vacation! Please send your favorite memory for inclusion in a future AllEars® to: allearsnet@yahoo.com
This month we also have a collection of photographic magical moments from around Disney's Animal Kingdom. See them in our photo feature, "Wandering the World":
http://allears.net/tp/wander/wander.htm
Thank you all for sharing!
-o-o-o-o-o-o-o-o-o-o-o-
Editor's Note: This story/information was accurate when it was published. Please be sure to confirm all current rates, information and other details before planning your trip.