Hundreds of Disney Internet Fans from Around the World
Gathered at WDW for MouseFest 2004
WHAT IS MOUSEFEST? -- An offshoot of the annual RADP (rec.arts.disney.parks) community meet, MouseFest officially began in 2003 bringing Disney fans from around the world together. Many other Disney fans who have connected through other Disney-related websites and message boards have also gathered at Walt Disney World, and other locations, to share their love of the Most Magical Place on Earth.

But imagine if you can a gathering that encompasses ALL these groups... a gathering that unites the enormous family of Disney enthusiasts from all walks of life, from all backgrounds, from all over the country, from all over the globe! Imagine all of these people convening at Walt Disney World for a short Disney cruise, followed by several days of fun and merriment, special meals, events, and an all-round spirit of Mickey Mania! Now you've imagined MouseFest 2004!
The Scrapbook of MouseFest 2004 Follows...




SUNDAY, December 5, 2004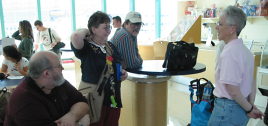 MouseFest 2004 began on the Disney Wonder with almost 200 cruisers including AllEarsNet.com® founder Deb Wills, Passporter Guidebook authors Jennifer and Dave Marx, and Hidden Mickeys Field Guide Author Steve Barrett. (Photo - Ray Sharpton, Carol and Bob Ray, and Deb Wills)
We began with an informal meet and greet in the Port. Many folks stopped by to say hello and pick up their complimentary MouseFest badges.
Carol Ray recalls: "I spotted Deb Wills , so introduced myself and Bob. I was wearing my Passporter "Ripkensnana" pin, and she recognized my name . We were introduced to Deb's friend, Linda, and wandered over to the coffee shop for the first of many MouseFest meets. Ray was already there, waiting patiently. Later, as we stood in line, I spotted someone with a "Passporter Guide to the Disney Cruise Lines". I said, "Hey, I have a copy of that!" . He smiled, and said he thought it was a really good book. I agreed, and told him that the authors would be aboard the ship. He gave a startled look, and exclaimed, "No way!" I said, "Way...They're right over there," pointing in the general direction of Dave Marx (whose hat I could just glimpse over the crowd)."

Onboard ship, there was also a hospitality desk for folks who booked the MouseFest package to pick up their credentials and goodie bags. (Photo - Curt and Marsha Smith check in with Doris Thompson)
After the safety drill we made our way up to Deck 10 for the Sail Away Party. Many MouseFest folks were present and we created quite a scene blowing bubbles! The music was lively and everyone was dancing around the deck. There were lots of smiles as friends from Mousefest 2003 reunited and we welcomed all our new friends whom we would spend the next 4 days with, celebrating the holidays and enjoying the magic of Disney.
For the official sail-away, Mickey, Minnie and friends all appeared and helped us celebrate leaving land. The confetti flew, the horn sounded and off we went! There is nothing like a Disney Cruise Line Sail-Away Party to get you in the mood!

"I'm Crusin' with MouseFest 2004" magnets were handed out to decorate cabin doors with and every night a special MouseFest Navigator was delivered to each cabin.
Carol Ray shares: "Bob and I looked aft, and saw some dolphins breaking water beside the ship! How cool that was!!! I'd never seen dolphins in the wild before. Soon, the ship began to move, and as the ship's whistle played those seven notes, I started to tear up again (and I'm tearing up now, just remembering and writing about it ). Bubbles, streamers, and confetti filled the air, and the band was playing on Deck 9, where the Goofy Family Pool had been covered so the kids could dance. There were characters in nautical garb....Mickey, Minnie, Goofy, Pluto, Chip and Dale. What a great beginning to our cruise."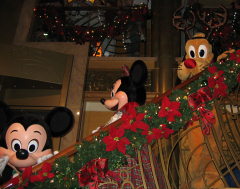 The Disney Wonder had a beautiful Christmas tree in the atrium, just outside of Triton's restaurant. I lucked into being there for the tree lighting ceremony our first night on board. There were holiday songs and then Mickey, Minnie, Rudolph the Red-Nosed Reindeer (aka Pluto), and Santa Goofy came down the stairs to light the tree. Not only did they sprinkle the crowd with Pixie Dust, but as the tree lights came on, the snow began to fall. It was very magical.
Our first evening meal was at Parrot Cay. The tropical environment got everyone a little excited, especially Jennifer's brother-in-law, Chad! During the Conga Line put on by the Crew Members, Chad hopped up out of his chair and joined them. Chad was definitely the life of the party that night and a riot for the family! Most of the tables for MouseFest families consisted of other MouseFest attendees, so they made for a more magical environment!

Evening activities included Hercules - the Muse-ical, Diamond Bingo (MouseFest cruiser Matt won a prize), '80s night at Wave Bands and Karaoke in Studio Sea (Chad did his Elvis impersonation). Other MouseFest bingo winners throughout the cruise, in addition to Matt, included: Carol Ray, Dave Marx, Kim and Chad, and the Martin family.
*****
MONDAY, DECEMBER 6, 2004
Our first full day onboard had a port stop at Nassau. Two MouseFest meets were on tap for today, an Early Morning Walk with Deb, and a Tour of Nassau town hosted by Dave Marx.
About a dozen cruisers met with Deb on Deck 9 for a morning stroll around the ship. After everyone got their coffee, we headed upstairs. We all enjoyed the beautiful (yet breezy) morning and walked a couple laps around the ship. We even had a couple join us that approached us at the Port wondering what all the MouseFest hub-bub was about!
| | | |
| --- | --- | --- |
| Deb Wills and Tim Larison enjoy some laughs prior to the walk | Group photo before our first steps... | ... and at the end... we gained a few folks and lost a few along the way :) |
Dave Marx offered a laid-back tour of Nassau town that lasted about two hours.
He writes: "About 25 of us gathered for a walk 'round Nassau town. This tour has become a tradition for me – all too many cruisers are deterred by the aggressive locals hustling business near the pier, so I lead folks for a casual, two-hour walk that takes them to the charming sights that lie a bit farther from the ship. The view from Fort Fincastle was as glorious as ever, but the waterfall that used to grace the Queen's Staircase was dry as a bone. An elderly street vendor offered to tell us why, if only I'd buy a soft drink from her. It seemed like a fair deal, especially since I was as parched as that waterfall. Turns out, the water pump that fed the cascade burned out, and there's been some disagreement over who should pay for the replacement. Considering the hurricane damage that is still being repaired all over town, the government has been less than enthusiastic about footing the bill for this project, too, but it looks like that's what will happen, eventually."
| | | |
| --- | --- | --- |
| Ready to tour Nassau | | |
Some MouseFest cruisers spent the day enjoying the sun (like the Finder family, photo left), the spa or watched movies like the Incredibles and National Treasure!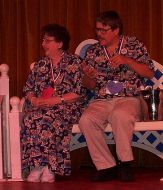 The "Match Your Mate" game preceeded dinner. Carol Ray shares: "I was hoping that Bob and I would be chosen to play, because I thought it would be lots of fun! The game is similar to the "Newlywed Game", and Bob and I were the only couple in our "age bracket", so were in automatically....Hooray for us!!!
The questions were mostly funny. At the end, though, Bob and I came out the winners, and received a bottle of champagne in a bucket with ice and two glasses, plus a couple of ribbons with medals attached sporting the Disney Cruise Line logo and the words, "I'm a Winner!" The MC made a comment about us knowing each other so well that we even dressed alike (Bob's wanting to wear our matching outfits turned out to be a good idea!)."

When it came time for dinner, well, we all cleaned up real nice :)
And if there wasn't enough excitement for one day....the evening included entertainment by Mark Nizer (juggling and comedy), Vista Spa Bingo (our own Carol Ray won 2 spa gift certificates) and the late night Tropicali-fragilistic-expialidocoius deck party (featuring live music and desserts galore).
Continue to December 7, Castaway Cay Day on the Disney Wonder
Mark your calendars for MouseFest 2005... Everyone is welcome!
Mousefest 2005 -- November 30 - December 8, 2005
Mega Mouse Meet Saturday - December 3
MouseFest 2005 Disney Wonder Cruise December 4-
*****
MouseFest 2006 -- December 3 - 12, 2006
Mega Mouse Meet Saturday - December 9
MouseFest 2006 Disney Wonder Cruise December 3 - 7, 2006