Hundreds of Disney Internet Fans from Around the World
Gathered at WDW for MouseFest 2004
TUESDAY, December 7, 2004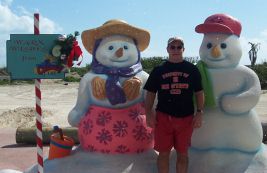 Today we awoke to another crystal clear, warm morning in the Caribbean. We docked at Castaway Cay at 9:30. As we disembarked, we were greeted by a family of snow people and a huge decorated tree. Cast members were giving out holiday cookies and egg nog (no alcohol). It was simply a gorgeous day.
At 11:15 all MouseFest cruisers met at the boat dock for a group photo. The Disney Wonder in the background made for a great MouseFest souvenir!
| | | |
| --- | --- | --- |
| | | Steve and George |
| | | Teams AllEarsNet, PassPorter and MouseEarVacations |
Members of the group spent the day relaxing in hammocks, enjoying the clear but cool water and lots of excursions. Some folks did walking tours, others were out on kayaks, some went snorkeling and several folks (including Deb) tried parasailing! It was an incredibly smooth ride, several hundred feet above the motor boat that sailed around the Castaway Cay waterways. We've even got a Parasailing Meet all lined up for the MouseFest 2005 Cruise!
Tonight is the Castaway Cay Club reception. Anyone who has sailed on the Disney Cruise Line automatically becomes a member. There are light cocktails and hors d'oeuvres and a chance to meet the ship's captain. Also, if you are a Castway Cay Club member, a welcome gift awaits you in your cabin upon your arrival. Recently, the gift has been a colorful Disney Cruise Line beach blanket (one per stateroom).
| | |
| --- | --- |
| | |
| | Gerry and Rosemary |
Also tonight was the popular Golden Mickeys show. Performed in the Walt Disney Theatre, this show highlights some of the best Disney animated films with musical renditions. It debuted in 2003 and quickly became a favorite of many.
Family Fun this evening included "Who Wants to be a Mouseketeer" and "Walk the Plank", won by the Klusewitz Family.
| | | |
| --- | --- | --- |
| Larison and Zigner Families | The Doig Family from Colorado | Lee Family and Deb |
| Jay and Kelly Richardson | Coleman and Spellman Families | Timothy, Cynthia and Nicholas O'Connell |
After dinner, Jennifer and Dave Marx hosted a meet at WaveBands for '70s night. We had no idea we had even more celebrities in our group! Everyone was having a great time, some were dancing, some were just listening to the music, and some were plotting to perform "YMCA." Dave joined Jennifer's brother-in-law Chad and Matt, a returning MouseFest friend, along with a few others to make up the legendary Village People. They started by running out on stage and ripping their shirts off and finished by perfectly mimicking the originals. Vickie "Gloria Gaynor" Barrett belted out her rendition of I Will Survive! She even won first place in the Gloria Gaynor sing-off!
| | |
| --- | --- |
| Vickie aka Gloria Gaynor | MouseFest "Village People": Matt, Chad and Dave |
Mousefest 2005 -- November 30 - December 8, 2005
Mega Mouse Meet Saturday - December 3
MouseFest 2005 Disney Wonder Cruise December 4-
*****
MouseFest 2006 -- December 3 - 12, 2006
Mega Mouse Meet Saturday - December 9
MouseFest 2006 Disney Wonder Cruise December 3 - 7, 2006