April 2014 Walt Disney World Bits and Bites
Feature Article
This article appeared in the March 25, 2014 Issue #757 of ALL EARS® (ISSN: 1533-0753)
Editor's Note: This story/information was accurate when it was published. Please be sure to confirm all current rates, information and other details before planning your trip.
= = = = = = = = = = = = = = = = =


STEP BACK IN TIME
= = = = = = = = = = = = = = = = =
by Debra Martin Koma
AllEars® Editor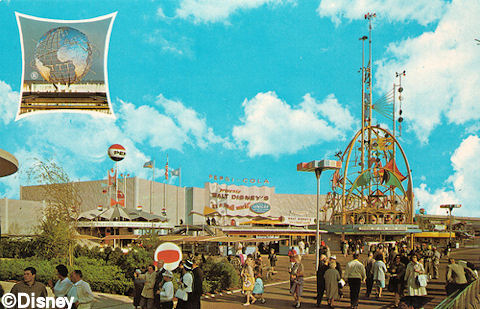 Each month, we rummage around in our archives for this featurette, which indulges in a bit of nostalgia, taking you back in history for a glimpse of Walt Disney World and The Walt Disney Company through the ages. This month, we take a look at the iconic attraction "it's a small world," which turns 50 this year!
As many Disney fans know, Walt Disney originally designed "it's a small world" for the Pepsi-Cola Company to benefit UNICEF (the United Nations Children's Fund) at the 1964-65 New York World's Fair. When the Fair closed, the attraction made its way to Disneyland and was so popular that it was duplicated and became one of the original attractions when Walt Disney World's Magic Kingdom opened on October 1, 1971. In fact, there is a version of this attraction at each of the Disney resorts around the world.
Here are some "fun facts" about the attraction, so endearing to some, and so dreaded (because of its repetitious theme song) by others.
— There are a total of 289 dolls that "sing" the familiar song, "it's a small world," in five languages (English, Italian, Japanese, Spanish and Swedish). Academy Award-winning composers Richard M. Sherman and Robert B. Sherman, who won two Oscars for their work on Disney's feature film "Mary Poppins," were asked by Walt Disney to create a simple, yet catchy, piece that could be sung in many different languages while guests traveled by boat through the attraction — thus, the famous "it's a small world" theme song was born. The song was recorded by a church choir in London, a school chorus in Rome, TV performers in Mexico City and kids from Tokyo and Burbank, California. It was later spliced together with sounds and styles that represent 25 countries.
— The original name of the attraction was to be "The Children of the World," but after the Sherman brothers wrote their immortal song, the name was changed to "it's a small world." Note that the name is always seen in quotes and all of the letters are lower case.
— Walt Disney Imagineer artist Mary Blair created the conceptual drawings and doll designs.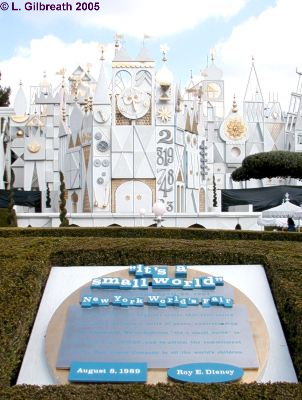 — You can hear the following international songs while waiting in the pre-show area:
"Ach Du Lieber Augustin," or, O Du Lieber Augustin (1815 – Germany/Austria)
"Alouette" (1879 – France/Canada)
"Chiapanecas" (1938 – Mexico)
"Estaba La Pajara Pinta (Spain)
"Funiculi Funicula" (1880 – Italy)
"Hava Nagila" (1963 – Israel)
"Irish Washerwoman", or, The Scotch Bagpipe Melody (1792 – Ireland)
"London Bridge" (1744 – England)
— 29 characters from Disney and Disney*Pixar movies were added to the Disneyland version of the attraction during its 2008-09 refurbishment. These include Peter Pan and Tinker Bell, Alice in Wonderland and the White Rabbit, Cinderella, Jacques, and Gus, Pinocchio and Jiminy Cricket, Mulan and Mushu, Aladdin, Jasmine, and Abu, Donald Duck, Panchito and Jose Carioca, Simba, Pumbaa and Timon, Ariel and Flounder, Dory and Nemo, Lilo and Stitch, and Jessie, Bullseye, and Woody.
To celebrate the attraction's 50th anniversary, on Thursday, April 10, 2014, guests and cast members at Disney Parks around the world will unite in song.
There you can record a video of yourself singing the classic song and create a virtual "it's a small world" doll. The Walt Disney Company will donate $150,000 to benefit UNICEF in honor of the 50th anniversary of "it's a small world," plus $1 for every sing-along video recorded and another USD $1 for every virtual doll created, up to USD $100,000.
==============
RELATED LINKS
==============
Disneyland "it's a small world":
http://allears.net/dlr/tp/dl/small.htm
Disneyland's "it's a small world" holiday edition:
http://allears.net/dlr/tp/xmas/dlxmasgal2.htm
Walt Disney World "it's a small world":
http://allears.net/tp/mk/mk_small.htm
Hong Kong "it's a small world":
http://land.allears.net/blogs/jackspence/2008/05/hong_kong_disneyland_its_a_sma.html
Disneyland Paris "it's a small world":
http://land.allears.net/blogs/jackspence/2009/03/fantasyland_part_5_its_a_small_1.html
Video of the Walt Disney World attraction:
http://www.youtube.com/watch?v=P1kfDj646YE
Do you have memories of seeing "it's a small world" at the World's Fair? Any photos? Send them along to: allearsnet@yahoo.com
= = = = = = = = = = = = = = = = =


HIDDEN MICKEYS ALERT
= = = = = = = = = = = = = = = = =
Steve Barrett, author of the Hidden Mickeys books and webmaster of www.HiddenMickeyGuy.com, points out a few Hidden Mickeys at Epcot and Disney's Hollywood Studios. Enjoy!
1. At Epcot's Innoventions West, on the yellow wall inside "The Great Piggy Bank Adventure" attraction, circles below the sign "Start saving early" form a classic Mickey tilted to the left. You can see the image from the outer walkway. (Other circles on the wall might also resemble Mickey's head and ears.) (Thanks to Marty DiEuliis.)
http://allears.net/btp/images/hidden-mickey-426.jpg
2. While you're sipping a (free) beverage from Club Cool near Innoventions West, walk outside and look up for this image. Holes in the metal bracket supports behind the outdoor sign at the front entrance of Club Cool form classic Mickeys. (Thanks to Jake Massoni, and Jason Colpitts.)
http://allears.net/btp/images/hidden-mickey-427.jpg
3. At the Studios, hop on "Toy Story Midway Mania" and stay alert for the screen with moving white plates. At one point, a large front plate aligns with smaller plates behind it to form a classic Mickey. (The 3D effect blurs the photograph.)
http://allears.net/btp/images/hidden-mickey-428.jpg
=-=-=-=-=-=-=-=-=-=-=-=-=-=-=-=
You can find a selection of past Hidden Mickey Alerts here:
http://allears.net/btp/hiddenm2.htm
And check out our Searching Disney with Steve blog:
http://land.allears.net/blogs/stevebarrett/2014/03/ready_hidden_mickeys_and_other.html
= = = = = = = = = = = = = = = = = =

RATE & REVIEW SPOTLIGHT
= = = = = = = = = = = = = = = = = =
Compiled by AllEars® Team Member Cathy Bock
In this monthly featurette, we take a look at recent comments made in the AllEars.Net Rate & Review section about a particular restaurant, resort, event, etc. This month, we examine what AllEars® readers are saying about lunch and dinner at Tusker House, which is located at the Animal Kingdom park.
Tusker House serves a buffet lunch (with characters) and dinner (no characters). AllEars® reviewers give it an average rating of 8 and it is recommended by 89 percent of reviewers.
From recent reviews:
Food (general): "Love the food choices"; "really did not enjoy the food here that much"; "group of 10 all completely enjoyed our buffet dinner"; "really enjoyed all of the food"; "seemed to be more healthy dining choices"; "food was fantastic!"; "food was subpar as were the choices"; "kids loved what they ate".
Characters: "CM made sure we saw everyone and got pictures"; " Donald was very personable"; "characters were amazing!"; "can see multiple characters and not wait in line"; "characters were amazing with our daughter who has special needs"; "come around in a very organized fashion to each table".
Service: "staff here are great!"; "waiter was also fun and interacted well"; "Staff members checked to make sure we had seen all the characters"; "was very good"; "service was amazing".
Atmosphere: "decor is pretty"; "nice little break in the day to sit down inside the nice restaurant"; "tables were nicely spaced".
Overall: "would not hesitate in recommending this to anyone"; "consider it the #1 character lunch at WDW"; "wasn't horrible but I wouldn't schedule it again"; "Would definitely make reservations for this again".
Tusker House Menu: http://allears.net/dining/menu/tusker-house-restaurant/lunch-dinner
And don't forget to check out all of our Rate & Review section here: http://land.allears.net/reviewpost/
= = = = = = = = = = = = = = = = =


MONTHLY REMIND-EARS
= = = = = = = = = = = = = = = = =
EVENTS
EASTER is April 20, 2014.
Walt Disney World will host religious services on Easter Sunday in the Fantasia Ballroom of Disney's Contemporary Resort. Catholic Mass will be held at 8:00am and 10:15am; a Protestant service will be held at 9 a.m. Note that the Contemporary Resort parking lot will be operating under parking restrictions, which means that unless you are staying there or have a dining reservation, you will need to use Disney Transportation to get there.
Boma, at Animal Kingdom Lodge, will have extended breakfast hours on Easter Sunday, 7:30 a.m. to 2 p.m. For reservations, visit www.disneyworld.com/dine or call 407-WDW-DINE.
Animal Kingdom
Throughout 2014 the Disney Animal Program team has events planned at Disney's Animal Kingdom. Earth Day is April 22, and along with a "Party for the Planet" includes a celebration of the release of Disneynature's new True Life Adventure "Bears" (in theaters April 18), which showcases a year in the life of a bear family as two impressionable young cubs are taught life's most important lessons.
http://land.allears.net/blogs/dnews/2014/01/2014_nature_events_at_walt_dis_1.html
Epcot
Epcot's Flower & Garden Festival – The 21st Epcot International Flower & Garden Festival runs through May 18, 2014. Goofy, Donald Duck and Daisy Duck topiary celebrate spring with a butterfly hunt adventure in the Epcot front entrance garden, while topiaries of Mickey Mouse and dozens of other Disney characters surprise guests beyond Spaceship Earth. For the second year, Disney guests can taste sweets and savories from about a dozen food-and-beverage marketplaces surrounding the World Showcase Lagoon. Most gardens are illuminated when the sun sets to extend the festival fun. At the Festival Center, daily interactive gardening seminars set the stage for outdoor do-it-yourself inspiration, and popular HGTV celebrities will headline weekend seminars filled with home, garden and design ideas. Back by demand, the Disney-Pixar "Cars" garden and playground bring favorite movie characters to life. A new Monsters University-themed garden offers bold new play equipment for kids of all ages and amazing monstrous topiaries and plants. Tinker Bell's Butterfly House features hundreds of the winged beauties and intricate fairy houses.
This year's Festival has a number of HGTV and DIY Network experts sharing their home remodeling and decorating tips. The schedule of TV personalities slated to appear (subject to change) is HERE.
The complete schedule for the 2014 Flower Power Concerts, to be performed during the Epcot International Flower and Garden Festival, is HERE. Performances are at America Gardens Theatre at 5:30, 6:45 and 8 p.m. each Friday, Saturday and Sunday of the Flower and Garden Festival. The concerts are included in Epcot admission.
Magic Kingdom
Anna and Elsa, from Disney's Academy Award-winning film "Frozen," will move from Epcot to Magic Kingdom starting April 20, where they will join the characters available for meet-and-greets at Princess Fairytale Hall. Disney FastPass+ will be available for this character greeting experience. Anna and Elsa will appear together each day until the early evening, after which other visiting Disney Princesses will be available to greet guests. Cinderella and Rapunzel will continue making appearances at Princess Fairytale Hall.
-=-=-=-=-=-=-=-=-=-
Don't forget to check our Events page for current updates: http://allears.net/pl/events.htm
-=-=-=-=-=-=-=-=-=-=-=-=-=-=-=-=-=-=-
REHABS AND CLOSINGS
Animal Kingdom
Festival of the Lion King in Animal Kingdom closed January 5, 2014, for a six-month renovation. This renovation will include moving the show to a new theater located in the Africa section of the theme park.
Magic Kingdom
Fantasyland Expansion nears completion, as the Seven Dwarfs Mine Train is set to debut sometime soon. The construction walls have come down around part of the attraction's site and landscaping has been added. Here's our latest video showing the attraction's logo, landscaping details and props:
Big Thunder Mountain Railroad will be closed April 7-9.
Pirates of the Caribbean will be closed April 28-30.
Several enhancements to the Central Plaza area between the end of Main Street and Cinderella Castle in Walt Disney World's Magic Kingdom are coming over the next few months. Among the changes being made: the addition of sculpted gardens and pathways, expanded restaurant seating and even a special viewing area for fireworks and other performances. In fact, the seating outside of Casey's Corner and The Plaza restaurant will nearly double in size. The project has already begun and is scheduled to be completed in 2015.
Epcot
"Re-Discovering America: Family Treasures from the Kinsey Collection," a special exhibit in the gallery at the American Adventure pavilion at Epcot is being expanded this spring. Additional images, artwork and artifacts related to watershed moments in American history will soon be on display. Walt Disney Imagineers, along with philanthropists Bernard, Shirley and Khalil Kinsey, have begun to add several new artifacts and display cases to the popular cultural exhibit and will continue to do so in coming months. The new artwork and documents will be added and current pieces will be re-located to new pedestal displays during the next two months. Themed to hope, belief, courage, imagination and heritage, the exhibit provides empowering stories of American history from voices that are not commonly seen or heard. Art and artifacts pay homage to African Americans who helped build and transform a nation. New objects joining the exhibit this spring include: Slave Songs of the United States and Tintype Photographs. "Re-Discovering America: Family Treasures from the Kinsey Collection" is included in Epcot admission. To read more about the exhibit's opening:
http://land.allears.net/blogs/allearsteam/2013/03/rediscovering_america_family_t.html
Downtown Disney
Downtown Disney is being transformed into Disney Springs, which will treat guests to more shopping, dining and entertainment amid open-air promenades, springs and waterfront charm. Disney Springs will feature an eclectic and contemporary mix from Disney and other noteworthy brands, from boutique shops to unique flagship anchor stores. Disney Springs will double the number of shops, restaurants and other venues for guests to explore, resulting in more than 150 establishments. Drawing inspiration from Florida's waterfront towns and natural beauty, Disney Springs will include four outdoor neighborhoods interconnected by a flowing spring and vibrant lakefront. Read more about Disney Springs here:
http://allears.net/btp/disney-springs.htm
As part of the Disney Springs expansion, Downtown Disney parking lots H-K (near West Side locations such as AMC Theatres and House of Blues) closed last July 22 to make room for a parking garage expected to open in late 2014. To compensate for the closed areas, "overflow" parking areas have been designated and will be open most Fridays, Saturdays and Sundays, as well as holidays, special events and other busy days throughout the next few years of the expansion project. Overflow lots include those at Team Disney, Casting and SunTrust. Signage along Buena Vista Drive will direct guests to parking areas. Shuttles will operate from 5 p.m. to 3 a.m. on days that overflow parking is open to transport guests between Team Disney and Downtown Disney West Side near Cirque du Soleil. If you have reservations at a Downtown Disney location, be sure to allow ample time for parking.
A new merchandise location is coming to Downtown Disney Marketplace in spring 2014. Called the Marketplace Co Op, it will occupy the site that housed Team Mickey, which has closed. The marketplace will act as a collection of shops within a shop — a sort of "incubator," serving to introduce new Disney specialty retail shops and products to the public. The current building will be slightly redesigned, but will retain its original ceiling elements, including the skylight.
http://land.allears.net/blogs/dnews/2013/11/marketplace_co_op_coming_to_do.html
Valet parking is now available at Downtown Disney, accessible from 4 p.m. to 2 a.m. daily via Entrance 4 at Downtown Disney West Side. The cost is $15 per vehicle and gratuity is accepted. The Tables in Wonderland benefit of free parking will be available if you present your Downtown Disney dining receipt and the TiW card. When you're ready to pick up your car, check in at the valet booth or text the number you'll be given when you park. Parking in the regular lots will continue to be complimentary.
Osprey Ridge golf course, its pro shop and the Sand Trap restaurant are closed. When Osprey Ridge reopens in 2014, it will be under Four Seasons ownership. To date, there is no indication whether play will be limited to Four Seasons Orlando guests and Golden Oak residents, or if Walt Disney World guests and/or the general public will have access. This closure leaves Walt Disney World with three 18-hole courses, Palm, Magnolia and Lake Buena Vista, as well as the Oak Trail 9-hole course. (Thanks to wdwgolf.com for the update.)
Polynesian Resort
Disney Food Blog reports that quick service restaurant Captain Cook's at the Polynesian Resort will undergo a refurbishment. Currently, it is scheduled to close on March 28 with a grand reopening in summer 2014. A temporary quick service location will be offered in the Great Ceremonial House. Guests can enjoy a similar menu, however there will be no self-serve Dole Whips. The temporary location will be open 6:30 a.m. to 4:30 a.m. daily.
The Never Land Club at the Polynesian Resort is closed until mid-summer.
-=-=-=-=-=-=-=-=-=-
A complete list of rehabs can be found here: http://allears.net/tp/rehabs.htm
= = = = = = = = = = = = = = = = =


MAGICAL MOMENTS
= = = = = = = = = = = = = = = = =
Jen Martin: While waiting for our meals at the Rose and Crown Pub in Epcot, our server stopped by to check on us and let us know our meals would be coming out shortly after some delays in the kitchen. Since the kids, 3 and 6 at the time, were waiting very patiently for their food, she rewarded their patience with a pence apiece that she had brought over from the UK! The kids were excited to see pennies from another country, and we were touched by her thoughtfulness. Such a great experience and unique souvenir!
Susan Trudeau: My daughter had a necklace with a fish-eye kaleidoscope attached. We stood in line to meet Tink and friends, who made a great fuss about the "multiplier." She was thrilled as the crowd of fairies clustered around her taking turns looking through the necklace. The next year, we went back and my daughter wore the multiplier again. As we stood in line, the lens fell out. She was freaking out, but so was I. I was nervous because her expectations were so high, but as we went in, Terence was first. He screamed, "TINK! THE MULTIPLIER GIRL IS BACK!" All the fairies rushed over. My daughter explained that the lens fell out in line, but Tink said she would fix it since was a Tinker. She took it over to the side and she fixed it. My husband, an engineer, could not fix it. I could not believe this. The same fairies, a year later, and then Tink fixed the multiplier. That is why I am devoted to Disney.
Carole: My husband and I experienced a Magical Moment at Epcot this March thanks to a sweet cast member named Billy. We asked for a Fastpass for Soarin'. He tried many combinations, but the best he could do was for 6:30 that evening. We thanked him for his effort, told him we had another event that evening and would unfortunately be out of the park by then. He said he felt a Magical Moment coming on and gave us a pass for any one ride in the park at any time for five people. We couldn't believe our good fortune and decided to share it with three more people. We walked over to Soarin' and approached three college-age girls who were standing in front of the ride. We asked them if they would like to be our guests and enjoy our good fortune. They were thrilled and joined us. Billy made OUR day magical, and we, in turn, made THEIR day magical! It was a PAY IT FORWARD Magical Day for my husband and me!
-=-=-=-=-=-=-=-=-=-=-=-=-=-=-=-=-=-=-=-=-
We just bet you have a story to tell about an unforgettable moment during your Disney vacation! Please send your favorite memory for inclusion in a future AllEars® to: allearsnet@yahoo.com
This month we also have a collection of photographic magical moments of "Family Fun." See them in our photo feature, "Wandering the World":
http://allears.net/tp/wander/wander.htm
Thank you all for sharing!
-o-o-o-o-o-o-o-o-o-o-o-
Editor's Note: This story/information was accurate when it was published. Please be sure to confirm all current rates, information and other details before planning your trip.