June 2011
Walt Disney World Bits and Bites
Feature Article
This article appeared in the May 31, 2011 Issue #610 of ALL EARS® (ISSN: 1533-0753)
= = = = = = = = = = = = = = = = =


STEP BACK IN TIME
= = = = = = = = = = = = = = = = =
by Debra Martin Koma
AllEars® Senior Editor

We rummage around in our archives for this monthly feature, which indulges in a bit of nostalgia, taking you back in history for a glimpse of Walt Disney World and the Disney Company through the ages. This month, we take a look at souvenirs of the past -- some of the unique, customized items that Walt Disney World and its resort hotels offered (often at no extra charge) that have, in many cases, gone by the wayside.
1. Swizzle Sticks: Each bar/lounge or hotel has or used to have its own specific swizzle stick garnishing your beverages. My collection is cherished -- I use these now at home to remind me of fun past times at the World. I have in the photo here: Fulton's Crab House, Wilderness Lodge's Territory Lounge, Grand Floridian on the left; Polynesian, Animal Kingdom Lodge and Contemporary Resort on the right. And in the middle, a blown-glass dolphin swizzle stick from my first visit to the Polynesian Resort's Tambu Lounge. Do they still have those in the gift shop? I'll have to check next time I'm there.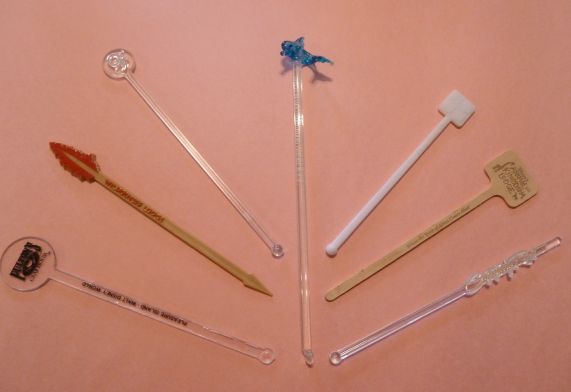 2. Souvenir Cups: The restaurants around the World used to give out customized plastic cups with their kids' meals (no extra charge!). We have several from the mid- to late 1990s. Here are a few: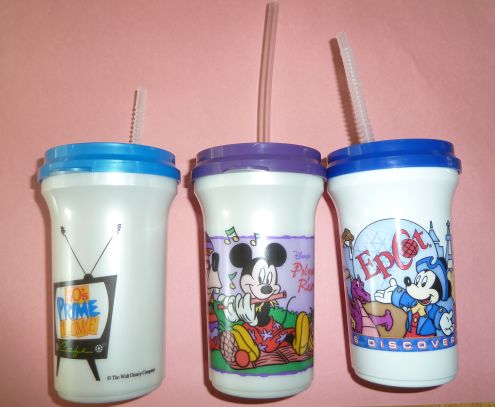 (from left) '50s Prime Time, Polynesian (Mickey's Tropical Luau), Epcot World Showcase
(from left) Magic Kingdom Adventureland, Epcot Future World, Garden Grill Restaurant, Epcot World Showcase
3. Postcards/Stationery: Resort hotels each had their own individual postcards and stationery once upon a time. I think some of the deluxe resorts still do, but I haven't seen them in the values or moderates for a while, have you? Again, from some of our trips to the World in late 1990s, I have: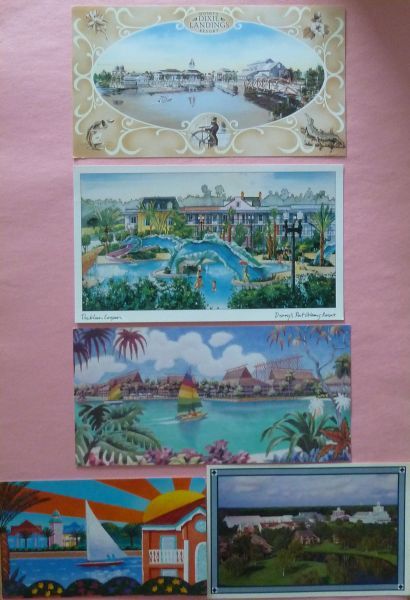 (from top) Dixie Landings, Port Orleans Doubloon Lagoon, Polynesian, Caribbean Beach, Villas at Disney Institute
What are some of your favorite customized Disney items from the past? Send your memories and any photos to: allearsnet@yahoo.com
= = = = = = = = = = = = = = = = =


NARCOOSSEE'S:
A REVIEW

= = = = = = = = = = = = = = = = =
by Andrew Rossi
AllEars® Guest Blogger
Narcoossee's is a type of restaurant that Disney classifies as a Signature dining experience. In fact, it is one of just 16 Signature restaurants in all of Disney World. This begs the question as to what exactly makes a restaurant a Signature dining location. These are restaurants that are the cream of the crop amongst the numerous dining locations to be found all across Disney World. They are settings that create truly unique and memorable dining experiences that really go above and beyond. Signature dining locations are often some of the most elegant and refined (and therefore usually the most expensive) restaurants.
Read all of Andrew's review of Narcoossee's, complete with photos, here:
http://land.allears.net/blogs/guestblog/2011/05/an_elegant_dinner_with_a_view_1.html
= = = = = = = = = = = = = = = = =


HIDDEN MICKEYS ALERT
= = = = = = = = = = = = = = = = =
Steven Barrett, author of the Hidden Mickeys books and webmaster of www.HiddenMickeysGuide.com, encourages visitors to Epcot to search for the following Hidden Mickeys.
1. Inside the Seas with Nemo & Friends pavilion, in the lower level manatee viewing room, bubbles in wall paintings form two classic Mickeys. One is on the left wall (as you exit the room), in the left middle square that has the words "Manatee Zone... Slow Speed." The Mickey image is at the lower left of the photo. (Thanks to Sharon Dale.)
http://allears.net/btp/images/hidden-mickey-327.jpg
2. Another bubble classic Mickey is on the right wall as you exit the manatee viewing room, in the lower left square with the polar bear. (Thanks to Sharon Dale and Aninka Van Staden.)
http://allears.net/btp/images/hidden-mickey-328.jpg
3. Inside the Land pavilion, about halfway along the "Behind the Seeds" tour in the greenhouses, an electrical box on the right side of the tour path displays a photo of a classic Mickey made of reddish lettuce. (Thanks to Sharon Dale.) NOTE: You have to make reservations for this tour and it costs about $18 for adults and $14 for children, but I really enjoy it. Be sure to ask the tour guide about Hidden Mickeys!
http://allears.net/btp/images/hidden-mickey-329.jpg
You can find a selection of past Hidden Mickeys Alerts here:
http://allears.net/btp/hiddenm2.htm
= = = = = = = = = = = = = = = = =


VEGAN TIPS
= = = = = = = = = = = = = = = = =

by Emily Woesthoff
General Manager for BabyCakes NYC at Downtown Disney
Who wants a snack? Silly question, right? Touring the parks can give everyone a hankering for a filling snack from time to time. The obvious choice for great vegan snacks within the parks comes from the various fruit carts located throughout. They typically carry apples, oranges, bananas (if you're lucky), or small packages of cut fruit. But let's face it -- if you've been walking around the Magic Kingdom all day and you still have a good four hours until your dinner reservation, that apple just isn't going to cut it! Ladies and gentlemen, I give you the staple for vegan snacking throughout various stadiums and ballparks: The Soft Pretzel.

When done right, this snack item can be the perfect combination of warm, doughy, and salty. Is there anything better? Sure, there is! But in the theme park vegan snack department, soft pretzels are often all we have to curb the between-meal-hunger. The best thing is that these babies are widely available in all four theme parks, and they're great for sharing!

Now, you should keep in mind that some stands have gone and corrupted our beloved pretzel by stuffing the inside with cream cheese. These are definitely not vegan, and not very appealing (to me, at least). Just go for your trusty, run of the mill soft pretzel and your hunger will be tamed for more park touring and even more attractions!
Missed previous Vegan Tips from Emily? We're compiling them here:
http://allears.net/din/vegantips.htm
= = = = = = = = = = = = = = = = = =

RATE & REVIEW SPOTLIGHT
= = = = = = = = = = = = = = = = = =
Compiled by AllEars® Team Member Cathy Bock
In this monthly featurette, we take a look at recent comments made in the AllEars.Net Rate & Review section about a particular restaurant, resort, event, etc. This month, we examine what AllEars® readers are saying about Pop Century, one of Walt Disney World's value resorts.
Pop Century has an average rating of 8.5 and is recommended by 95% of reviewers.
From recent reviews:
Rooms: "clean & comfortable"; "plenty of storage space"; "shower never really got as hot as we liked"; "heard people's toilets flushing at all hours"; "family staying beside us was not abnormally loud but I could hear everything they said"; "rooms are small and are showing signs of aging".
Resort size: "resort is moderately large"; "were in the '80s building, which was a short walk to the bus stop"; "easy to navigate between buildings to get to the Classic building and the bus stops"; "resort is large so you do a lot of walking unless you get a preferred room".
Resort staff: "cast members were helpful"; "cast members were very friendly and helpful"; "staff was amazing"; "manager resolved the (Magical Express) situation"; "the last day our dirty towels were not picked up and no toilet paper was left"; "staff very friendly".
Resort amenities: "enjoyed the bowling pin pool and the Everything Pop store"; (the '50s) "pool was warmish and was never busy"; "food courts/shops/pools are very convenient"; "we loved the gift shop".
Transportation: "have to wait sooooo long in lines for buses"; "buses were constantly coming to pick us up or drop us off"; "never had to wait long for buses to the park and there were always seats available"; "transportation to the parks was no problem"; "would like them to address a covered bus area to escape waiting in the Florida sun".
Food: "food was good and never had a problem finding a spot to sit at all"; "prices for a child's meal are surprisingly cheap"; "lot of different selections, anything from shrimp lo mein to flat breads"; "standard cafeteria food, but it was always hot and we had no issues checking out or finding a seat"; "need to be more choices at a resort of this size, especially for kids".
Other Comments: "Love all the huge icons every where"; "would visit and stay here again"; "a beautiful resort"; "highly recommend Pop Century to anyone going to Disney"; "prices are such a great value when you consider all the things that are included while staying on Disney property"; "Pop Century is a lot of fun"; "nothing special but nothing bad either".
If you have recently stayed at Pop Century, or any Disney resort, we'd love to have your reviews, too!
You can find Rate & Review here: http://land.allears.net/reviewpost/
= = = = = = = = = = = = = = = = =


MONTHY REMIND-EARS
= = = = = = = = = = = = = = = = =
EVENTS
Epcot
The Sounds Like Summer Concert Series of tribute bands returns to America Gardens Theatre in World Showcase beginning in June. This year's line-up for June includes (subject to change):

--June 12-18: Hotel California – A Salute to the Eagles
--June 19-25: Stayin' Alive – A Tribute to the Bee Gees
--June 26-July 2: Slippery When Wet – The Ultimate Bon Jovi Tribute
Show times are 5:45, 7 and 8:15 p.m. nightly.
Disney's Hollywood Studios
Star Wars Weekends -- Star Wars Weekends 2011 will be held at Disney's Hollywood Studios on Fridays, Saturdays and Sundays through June 12.
Celebrity hosts for the event this year are James Arnold Taylor (voice of Obi-Wan Kenobi in Star Wars: The Clone Wars) and Ashley Eckstein (voice of Ahsoka Tano in Star Wars: The Clone Wars). Ashley will host "Clone Wars: Behind the Force," a closer look inside the popular animated TV series. James will present another event-first: he will star in a one-man show that showcases some of the many voices he has performed throughout his career, including those from The Clone Wars. The remaining lineup (subject to change) is:
-- June 3-5: Ray Park (Darth Maul), Jeremy Bulloch (Boba Fett) and The Clone Wars Voice Talent Guest Matt Lanter (Anakin)
-- June 10-12: Ray Park (Darth Maul), Peter Mayhew (Chewbacca) and The Clone Wars Voice Talent Guest Tom Kane (Yoda)

There will be special Star Wars parades, trivia challenges, Jedi Training Academy, limited-edition merchandise and memorabilia, behind-the-scenes presentations, and star conversations.
http://allears.net/tp/mgm/m_starwars.htm
On Saturday, June 18, 2011, Disney Design Group Artist, Costa Alavezos and Ink & Paint Artists, James Bonserio, Erin Magill, Theodora M. DeLaney, David Rippberger, Lynn Rippberger, and Sharon K. Vincent will appear at Ka-chow! a special Cel Premiere and Artist Signing at Disney's Hollywood Studios. The artists will be at the Studios Animation Gallery 10 a.m. - 1 p.m. and 2 - 5 p.m. The vivid new cel features the cast from Cars making their debut at the Lights, Motors, Action! Extreme Stunt Show at Disney's Hollywood Studios. This is the first time that characters from the Cars film have appeared on a cel from the Animation Gallery Ink & Paint Collection. Ka-Chow! is a limited edition, hand-painted cel with an edition size of only 1500 pieces. An exclusively designed pin has also been created to commemorate the release of the new cel; the pin is available with the first 750 orders placed for a framed cel only.
http://psc.disney.go.com/eventservices/artofdisneyparks/event/wdw_ka-chow_celevent.html
ESPN Wide World of Sports
A newly created gymnastics event, the USA Gymnastics Open Championships will be held at the ESPN Wide World of Sports Complex June 2-5, 2011.
Typhoon Lagoon
For the second year, the wave pool at Disney's Typhoon Lagoon has been selected as the official headquarters location for the World's Largest Swimming Lesson, an event that will not only break a World's Record, but will also spread the important message about teaching children to swim. Last year's inaugural World's Largest Swimming Lesson, hosted by Walt Disney World Resort, established the Guinness World Record for the largest simultaneous swimming lesson -- almost 4,000 participants across 34 states, five countries and three continents participated. Olympic gold medal swimmers Rowdy Gaines and Janet Evans once again serve as official spokespeople for the World's Largest Swimming Lesson, which will take place this June. Evans will encourage swimmers at a remote site in California, while Gaines will kick off the event at Disney's Typhoon Lagoon and serve as master of ceremonies.
http://land.allears.net/blogs/dnews/2011/03/disneys_typhoon_lagoon_selecte.html
Orlando Gay Days -- 1st Weekend in June: This event, which has been held in the Orlando area since 1991, is NOT affiliated with the Disney Company in any way, but it is listed here so that you are aware of it, as you may experience increased park crowd levels during this time. http://www.gaydays.com
New York City -- 15 Years of AllEars® Celebration!
June 18, 2011 -- AllEars.Net and friends will attend the matinee of Mary Poppins on Broadway.
June 19, 2011 -- AllEars.Net is hosting a private event at the Disney Store at Times Square in New York City from 8 to 10 a.m.

Event Details: Both June 18 and June 19 events are SOLD OUT.
=-=-=-=-=-=-=-=-=-=-
Don't forget to check our Events page for current updates: http://allears.net/pl/events.htm
-=-=-=-=-=-=-=-=-=-=-=-=-=-=-=-=-=-=-
REHABS AND CLOSINGS
Magic Kingdom
The Fantasyland Forest development in the Magic Kingdom has meant the closure of several Magic Kingdom park areas in 2011. Mickey's Toontown Fair's last day was February 11, 2011. Work is now well under way on transforming the area into the new Storybook Circus section of Fantasyland.
http://allears.net/tp/mk/fant_expansion.htm
Mickey Mouse and Minnie Mouse and the Disney Princesses can now be found for meet-and-greets in new Town Square Theater, featuring FASTPASS. For more details on the new Town Square Theater featuring Magician Mickey:
http://land.allears.net/blogs/guestblog/2011/04/magician_mickey_mouse_and_prin_1.html

NOTE: Tinker Bell and friends can now be found in Epcot, at the Pixie Hollow Fairy Garden near MouseGear.
For more details and an artist's renderings of the new Fantasyland, read the official press release here:
http://land.allears.net/blogs/dnews/2011/01/largest_expansion_in_magic_kin_1.html
The Enchanted Tiki Room (Under New Management) at Magic Kingdom, which has been closed since a fire early this year, is now being renovated to more closely resemble the original version of this attraction, originally called Tropical Serenade. The show's former winged hosts, Jose, Fritz, Pierre and Michael, will once again take center stage. This Walt Disney World attraction has been entertaining guests since the theme park's opening day on October 1, 1971. Tropical Serenade became The Enchanted Tiki Room (Under New Management) in 1998, with the addition of Iago (from Aladdin) and Zazu (from The Lion King). The renovated show will debut at Walt Disney World around August 15, 2011.
http://land.allears.net/blogs/dnews/2011/05/enchanted_tiki_room_to_transfo_1.html
Disney's Hollywood Studios
The opening date for the "Cars 2" meet-and-greet near Muppet*Vision 3-D in Disney's Hollywood Studios is June 5.
Also beginning June 5, Lightning McQueen replaces Herbie the Love Bug in the Lights, Motors, Action! Extreme Stunt Spectacular.
During Star Wars Weekends (through June 12), the Disney Channel Rocks! show will be performed on the Sorcerer's Hat stage that is set up for the various Star Wars events. (The set-up does not allow the use of the float that normally travels up Hollywood Boulevard as part of the show.) Disney Channel Rocks! is performed about six times daily -- check the times guide for specific times.
A complete list of rehabs can be found here: http://allears.net/tp/rehabs.htm
= = = = = = = = = = = = = = = = =


MAGICAL MOMENTS
= = = = = = = = = = = = = = = = =
Each month we share reports of guests at Walt Disney World and Disneyland experiencing special Magic, which we call "Magical Moments":
Kim Detro: We took our girls to see Tinker Bell and her friends. We made it first in line and waited for an hour. At the end of Vidia's set, the cast member asked if we would like to visit with Vidia and my 4-year-old's eyes lit up and she said, "Oh yes!" Vidia looked at Olivia and started making a fuss over her freckles (Olivia does NOT like her freckles) and saying things like, "Oh, this one has tinker dirt all over her, would you just look at this!" And then she flipped her long pony tails in the air and stood back in shock. All of a sudden, she gasped and said, "Why, this one is a baby fairy! These are her wings!" and she rubbed Olivia's nose like she was cleaning the dirt and exclaimed, "And THIS is Pixie Dust!" I just cried over the huge ear-to-ear grin on my baby's face. Vidia absolutely made her day! I wish I could find that fairy and let her know how she changed the self-image of a 4-year-old, and made her freckles something special to her. This was the highlight of our trip for me and one we will never forget.
Catie Hubley: Three years ago, my husband and I had the opportunity to take our four children on a land/sea Disney trip. On our last day on the "land" part of our trip, we decided to split up and visit our most favorite attraction before we left for the "sea." My oldest daughter and I headed to Hollywood Studios to try to get on the then-new Toy Story ride. We got to the park bright and early and were first in line. One of the cast asked us if we were there to ride Aerosmith Rock 'n' Roller Coaster. I laughed because I am not a fan of roller coasters and had never been on Aerosmith, I was deathly afraid! She then asked us if we would be interested in opening up the park and then be escorted to Aerosmith for the first ride. Of course we said yes, even though I was scared to death! Unfortunately, that day there was some problem with the "movie set" for the opening act, so we didn't get to officially open the park. As a "consolation' prize, we were escorted to Aerosmith before the park was even open! We got to have professional pictures taken on the way with no one around. We were brought to the ride and we were the only ones on it! My heart was beating so fast, I thought it would burst, but I strapped myself in and prepared for the ride. It was the most awesome ride I have ever been on... and the cast member asked if we wanted to ride it again! She brought us right to the front of the line (the park was open by then) and we rode it again! She then presented us with a picture of our ride, a Tinker Bell pin (which started me collecting), a certificate that we opened the park and a FastPass that was good for the entire day. It was an incredible moment and I get goosebumps even thinking about it now, three years later!
Molly Steinberg Howard: We went to Cinderella Castle in the Magic Kingdom for dinner on our last night in Disney World in 2007. The Fairy Godmother started asking if anyone was celebrating a birthday or an anniversary. Our waitress knew we were at the castle to celebrate our anniversary so she pointed to us. The Fairy Godmother then asked me, "How many years have you two been married?" I responded that we weren't married. We've just been dating for five years. So she asked if we were engaged, to which I responded no. She asked me "Why not?" and I told her to ask my boyfriend. She then turned to him and jokingly said, "Well dear, now would be the perfect time to do it. You have all these people watching and it is so romantic here. You have Cinderella and the castle." At this point she starts to turn around not realizing that my boyfriend is getting on his knee and actually proposing. He had been planning on doing it the whole time, but hadn't told a single person at Disney. The Fairy Godmother was shocked and told me I owed her. After the Fairy Godmother moved on, the cast members gave us two champagne glasses with "Cinderella's Royal Table" inscribed on it. When we finished dinner, the Disney photographer took us downstairs and took lots of pictures with Cinderella and then took us outside to take pictures with the castle lit up in the background. My boyfriend (now my husband) couldn't believe how wonderful everything turned out, much better than he ever planned it to. It was a night we have not forgotten and we even were able to celebrate our one-year wedding anniversary in Disney.
We just bet you have a story to tell about an unforgettable moment during your Disney vacation! Please send your favorite memory for inclusion in a future AllEars® to: allearsnet@yahoo.com Thank you all for sharing!
-=-=-=-=-=-=-=-=-=-=-=-=-=-=-=-=-=-=-
Some readers share their Magical Moments in photographs. We have assembled a themed group of photos in the latest Wandering the World -- this month it's PRINCESS time!
http://allears.net/tp/wander/wander.htm
-o-o-o-o-o-o-o-o-o-o-o-
Editor's Note: This story/information was accurate when it was published. Please be sure to confirm all current rates, information and other details before planning your trip.