Justin Rapp and Rafa Barron will represent the Disneyland Resort and its 30,000 cast members during their two-year term as Disney Ambassadors.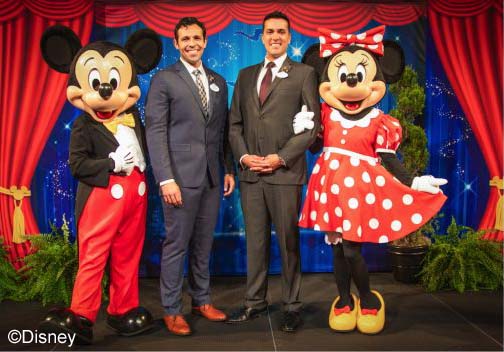 In a tradition started by Walt Disney in 1965, Disneyland Resort President Josh D'Amaro announced the two newest Disney Ambassadors: Justin Rapp and Rafa Barron. The pair will represent the Resort and its 30,000 cast members during a two-year term, taking the magic of the Resort into the community by acting as emissaries of goodwill.
"Congratulations to Rafa and Justin," said Josh D'Amaro, president of the Disneyland Resort. "An engaged, thriving cast makes the magic stronger at the Disneyland Resort, and I am proud to welcome such talented new Disney Ambassadors to represent them."
Justin and Rafa were selected from more than 100 applicants. As part of their full-time duties, they will represent the Resort at a variety of events, such as hospital visits with Disney characters, special promotions and cast recognition ceremonies. In addition, they will serve as spokespeople for the Resort, as well as host dignitaries and other VIPs, especially during the park's largest expansion in its history, Star Wars: Galaxy's Edge. While the tradition started at Disneyland Resort, today there are Ambassadors at every Disney Park around the world.