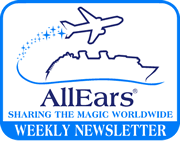 If you subscribe to the AllEars® and/or the Ears the Dealâ"¢ newsletters, you may know that they are distributed via an email service. Until recently, we used a service called MailerMailer. A few months ago, however, MailerMailer was acquired by a company called Campaigner, and as of last week our email lists have been migrated to this new service. With this change, you may notice some differences in how our newsletter emails come to you, so we thought we'd let you know what to expect.
First off, the emails will still come from our email address: [email protected]. If you haven't already, please be sure to put that email address, as well as the domain Campaigner.com, into your "always accepted" or "safe" list of senders so that our mailings aren't blocked or sent to your spam/junk folder.
The overall appearance of the newsletter should be unchanged, however, we will only be sending the newsletter out in HTML, not in plain text. If this is an issue for you, and you cannot see the newsletters in HTML, please drop us a note using our feedback form and we'll work something out.
Way at the bottom of each newsletter email, in the lower left corner, you'll find two personalized links, designed to make it easy for you to change your email address, your preferences, or even to — gasp! — unsubscribe. If you click on either of the links, you will be taken to the Campaigner.com website, where you can update your email preferences. (But we hope you don't want to unsubscribe!)
Beyond that, we think that this change should be a fairly smooth one for you. You can read over our newsletter FAQ for additional details about our publications, and as always if you have any questions about anything, feel free to write to us using our feedback form and we'll get back to you as soon as we can.
Thanks so much for reading along with us! We hope to continue sprinkling a little pixie dust in your email inbox for many more years to come!