It's just about a month until the debut of the much-anticipated "Teen Beach 2" movie on Disney Channel, and we have some new details about what you can expect to see!
Walt Disney World kicked off its summer Teen Beach 2: Beach Party at Typhoon Lagoon on Friday, and we were there to hear as-of-yet unreleased songs from the soundtrack, see choreographed dances that will make kids want to jump up and join in, and talk to one of the stars, Ross Lynch, about his role in the new film.
The soundtrack from the original "Teen Beach Movie" reached No. 3 on the Billboard 200 chart and was No. 1 on the soundtrack chart, and the new album would seem to be headed in the same direction with its peppy, high-energy tunes. Only one track has been released so far, "Gotta Be Me," which is performed by the four main actors – Lynch, Maia Mitchell, Garrett Clayton and Grace Phipps – and John DeLuca and Jordan Fisher.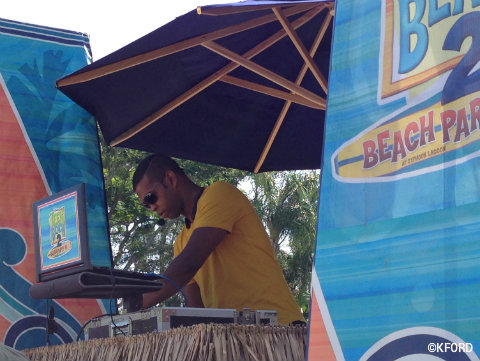 At the beach party, we previewed "Best Summer Ever" and "That's How We Do." Expect to see the latter song in a choreographed, large-scale production scene in the new movie. Partygoers got a taste of the dance moves, with surfer and biker characters teaching the crowd how to do "The Milkshake" and "The Jelly Belly." Most of the songs on the soundtrack are performed by the cast; after all, "Teen Beach 2" is a musical. (There is one song by Lynch's band, R5.) The soundtrack will be in stores on June 23.
"This music is a little more contemporary, more modern," Lynch told us. "The [music from the] first movie was more retro, like surf guitar."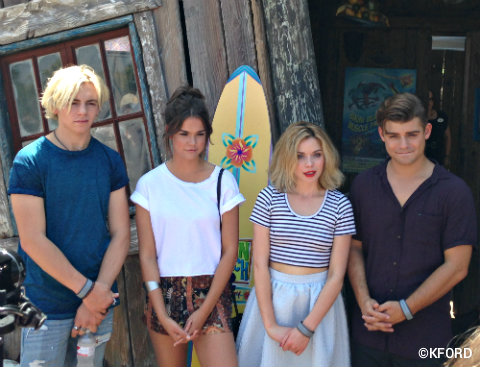 From left: Ross Lynch, Maia Mitchell, Grace Phipps and Garrett Clayton.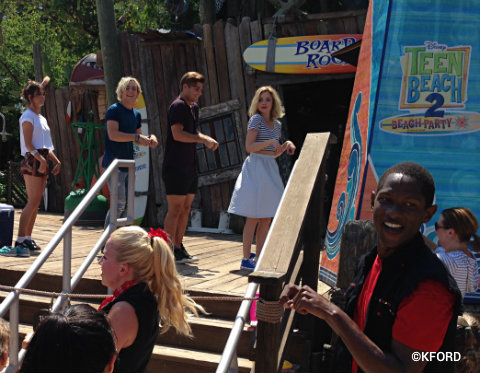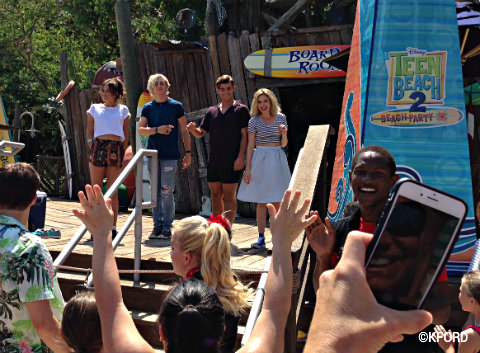 "Teen Beach 2" also turns the tide, so to speak, on the characters. In the first made-for-television musical, Brady and Mack (Mitchell) were transported back in time to the 1960s, when surfer movies were all the rage. The sequel, however, brings retro surfers Tanner (Clayton) and Lela (Phipps) into the modern world, which, of course, is a set-up for many comedic scenes.
My junior reporters, my 10-year-old daughter and 12-year-old son, talked to Lynch about his character, Brady, and what it was like filming "Teen Beach 2."
"It starts with Mack and Brady's relationship," he said. "Things are going strong, and they go back to school. School brings a little more conflict, and it gives the characters a little more of an emotional arc."
"I'm similar [to Brady] in some ways " but I'd say Brady is a little bit more " lazy. I'm not lazy. I work a lot and I always like to be productive."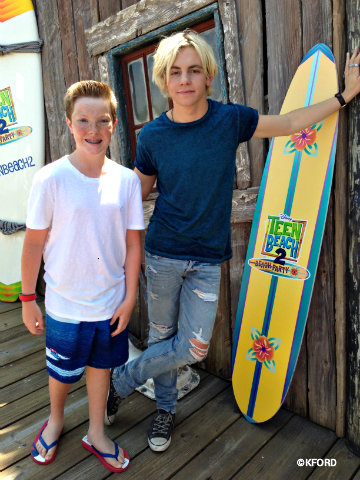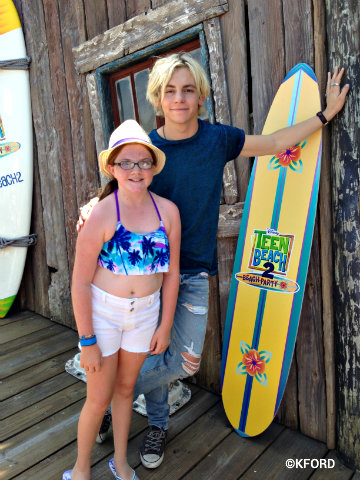 You can see our full interview with Lynch below:
"Teen Beach 2" premieres at 8 p.m. June 26 on Disney Channel.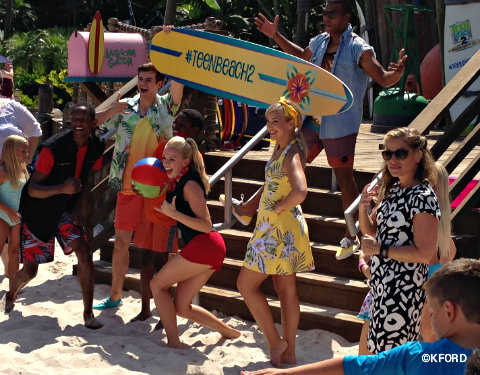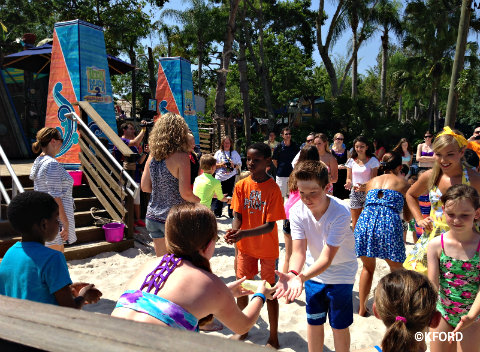 The Teen Beach 2: Beach Party at Typhoon Lagoon continues through July 5. It features a DJ spinning tunes from the movies on the stage by the clock tower adjacent to the wave pool. Costumed bikers and surfers, much like the characters in the movies, lead guests in dancing, hula hooping and tossing beach balls. The beach party also offers other traditional summer activities, including relays on the sand, a water balloon toss and a limbo challenge. Winners are awarded Teen Beach 2 beach balls as prizes. The beach party is included in regular admission to the Disney water park.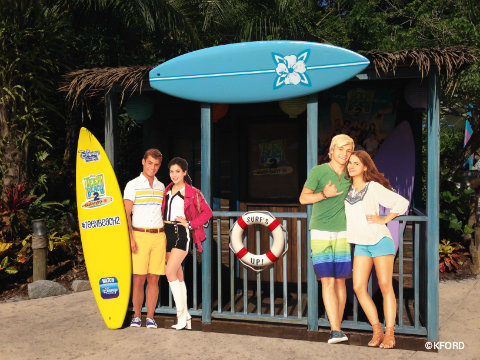 Photo op available at Typhoon Lagoon at Walt Disney World through July 5.
Here's a look back at the original beach party when 'Teen Beach Movie' actors Clayton (Tanner), Kent Boyd (Rascal) and Chrissie Fit (CheeChee) surprised guests at Typhoon Lagoon two years ago.
You can read about my interviews with the trio here.
DISCLAIMER: I was invited by Walt Disney World to experience its new Teen Beach 2: Beach Party. This did not affect my story; my opnions are my own.