Tiptoe through the tulips and Tinker Bell will trip your toes. She's feisty and she doesn't appreciate people stomping around the garden. That's why Disney plants flowers away from Guests' reach. Okay, maybe they don't. Just don't sit on them.
Flowers add gorgeous color and delightful scents to Earth. Not, not Spaceship Earth, I mean the planet we live on. As Disney Parks are on Earth, flowers can be found there as well. I'm not really going anywhere with this. Oh look! Pretty!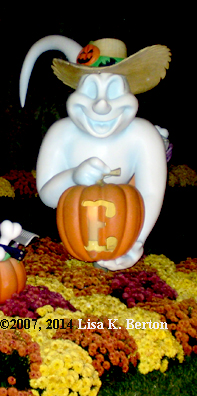 Marigolds bloomed at Disneyland in Halloween-like colors. Smart flowers!
Scott will be here on Thursday with his flowery photo.
Come on over and "Like" my Facebook page or follow me on Twitter, my handle is lisano1.