Disney Vacation Club is similar to time share in the sense that you own points at your home resort but can trade them to stay elsewhere. DVC, as it is commonly referred to, offers accommodations at Disney theme parks worldwide, hotels and resorts across the USA, and even abroad.
At Walt Disney World you'll find places built specifically for DVC owners but are also available for booking by non-members. These locations include Saratoga Springs, Animal Kingdom Villas, Beach Club Villas, Old Key West, and more.
Bay Lake Tower (BLT) opened in 2009 beside the Contemporary Resort. Only Guests of Bay Lake Tower may use the bridge connecting the two resorts.
The Contemporary Resort is known as the hotel that the monorail drives thru. As you ride along heading into the Contemporary, you can see Bay Lake Tower reflected in its windows.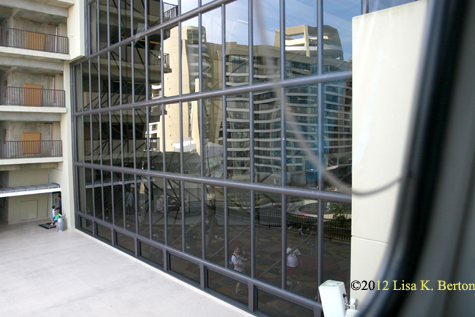 Scott will post his DVC photo on Thursday.
Find me on Facebook.