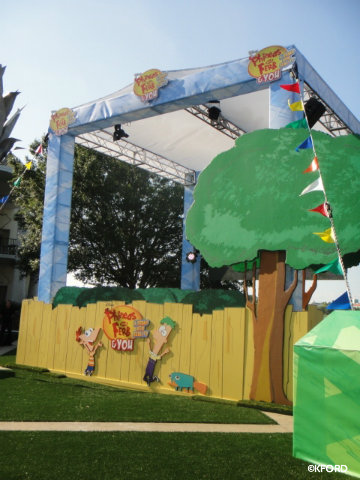 Phineas and Ferb, characters from the Disney Channel hit show, are turning up in yet another spot at Walt Disney World. Now, guests don't even have to go into the theme parks to meet up with the animated versions of the duo and their counterparts Dr. Doofenshmirtz and Agent P.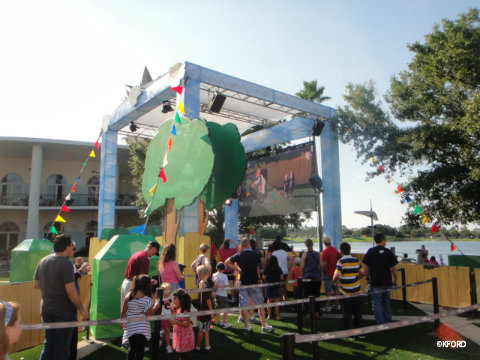 Phineas and Ferb & YOU: A Brand New Reality is a virtual experience set up adjacent to Bongos Cuban Cafe on the West Side of Downtown Disney. Guests queue up in a themed area, and when their turns arrive, they step into a fenced area to interact with the characters on a large screen before having their photos taken.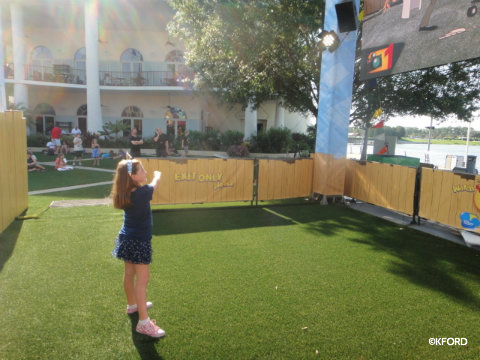 There are 20 different pre-programmed scenarios, including dancing "The Platypus Walk" to getting caught in Dr. Doof's Freeze-inator. My daughter had the honor of "pushing" Perry the Platypus (Agent P) in a stroller. Cast members help position each guest in the photo area to compose the image, which then can be retrieved and shared online afterward.
Each experience at Phineas and Ferb & YOU: A Brand New Reality lasts only a couple minutes, which keeps the line moving and the wait down. It's so simple that guests of all ages can have fun participating, and it's free. Clearly this is not a complex attraction, but it is great for killing time while guests are waiting for dinner or a movie nearby. And, of course, a Phineas and Ferb merchandise cart has been set up in front of the experience.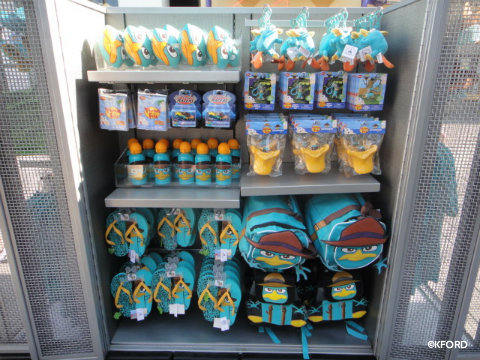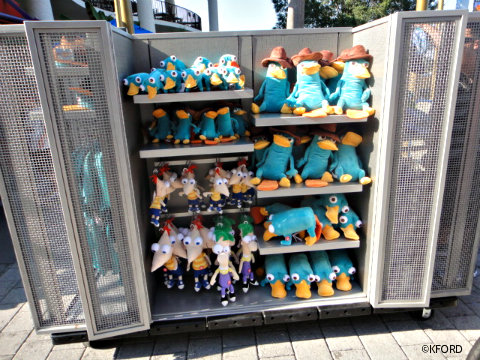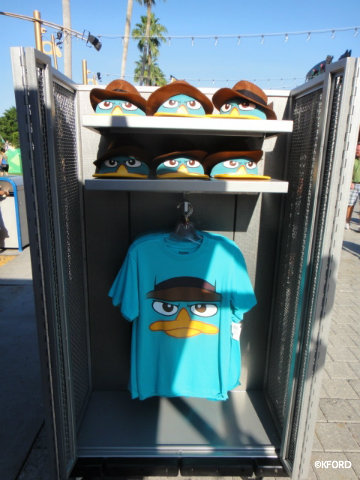 Phineas and Ferb & YOU is open from 2 to 9:30 p.m. daily through December 1. If you're looking for a more three-dimensional experience with the characters, the pair actually meets guests daily at Hollywood Studios near the exit to Muppet Vision 3D. Also, guests also can find Perry and Dr. Doofenshmirtz at Agent P's World Showcase Adventure at Epcot, which opened this summer. (To read my review of the new Epcot attraction, please click here.)
Expect to see a lot more of Phineas, Ferb, Perry and others from the hit Disney Channel animated series in the days ahead. After all, they will appear in their first feature-length, 3-D movie next summer. Various web reports have stated that, though the characters will be animated, the film will be a live-action theatrical release and that it, like the TV series, will feature musical numbers.