Wow, it was an eventful few days last week! While we still have lots of photos to go through and other things that we will be telling you about in the not-too-distant future I thought for this blog I'd address some of the questions that you asked.
From Steve:
Take and post lots of pictures! Jason Dz's frequent posts have been interesting as documents of the work-in-progress, but seeing all of the barricades is frankly a little depressing. I know that not even Disney Enterprises can pull off a 'Blue Fairy' and that realizing the Imagineers designs properly takes a lot of time and effort. It will be great to finally see the fruits of their labors.
A: We took tons of photos! Jason will be posting a couple of photo blogs soon, and, if you missed them, Jeanine and I had blogs with photos after our respective preview visits:
Jeanine: /blogs/lauragilbreath/2012/06/cars_land.html"
Laura: /blogs/lauragilbreath/2012/06/buena_vista_street_and_cars_la.html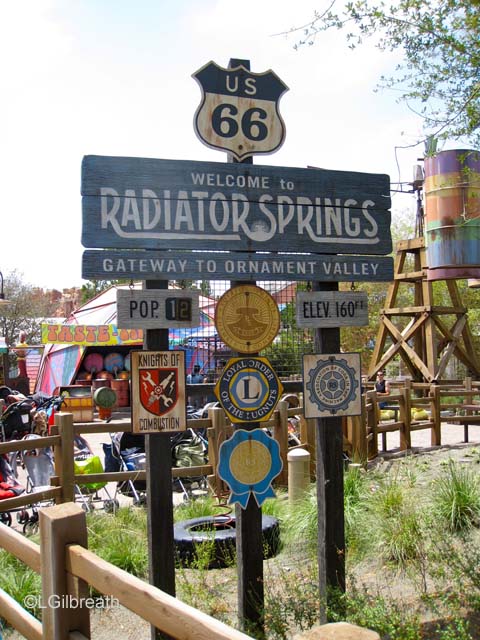 From Craig:
How well do the Pacific Electric Red Cars on Buena Vista Street deal with the crowds?
A: The trolleys don't have a regular schedule – they are suspended several times a day during the two shows; Five & Dime and Red Car Trolley News Boys (the latter use one of the trolleys as part of their show). During Five & Dime the trolley still operates, but only between Carthay Circle and the Tower of Terror. When the cars are running a conductor walks in front of them to clear the way and keep guests off the track.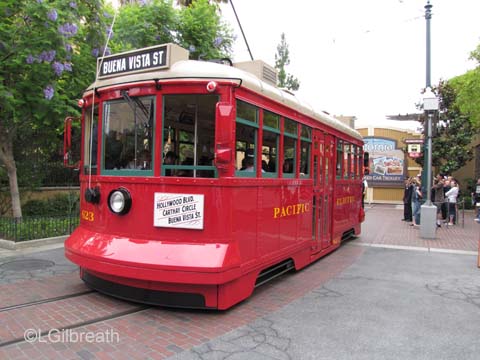 From Katie:
I'd like to know the height requirements for the rides in Cars Land. I have a little one so I'm wondering if there are things for a two-year-old at all! Thanks – can't wait to go in July!
A: The height requirement for both Mater's Junkyard Jamboree and Luigi's Flying Tires is 32″. Radiator Springs Racers requires riders to be at least 40″ tall. For those too short to ride there are meet and greets with Mater and Lightning McQueen, or the opportunities to get wet with Red the Fire Truck, or dance with DJ. Flik's Fun Fair is right next door to Cars Land, and most of the rides there have no height requirement.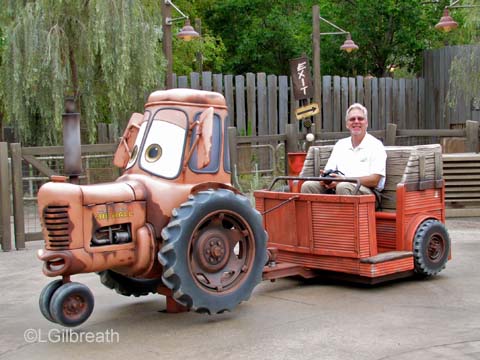 From David:
Please tell us about all of the Cars Land Merchandise and their prices.
A: Merchandise: there's a lot of it. Ok, so that wasn't very helpful… 🙂 I can't tell you about the prices, but there's quite a selection, some of it exclusive to Cars Land and Disney California Adventure. There is merchandise themed to each attraction in Cars Land. The Luigi's Flying Tire hats seemed to be very popular – flying off the shelves, as it were, and I saw a number of people with Mater's and Radiator Springs Racers t-shirts. You can buy replica Piston Cup trophies, for your desk or as an antenna topper. In Ramone's House of Body Art is merchandise from two different collections: Champions Custom Speed Shop and Ramone's Low n Slow. Sarge's Surplus Hut has Cars-themed play sets and other toys. And of course there are Vinylmation and pins that are exclusive to DCA and Cars Land. The cone-shaped souvenir beverage cups were very popular, also.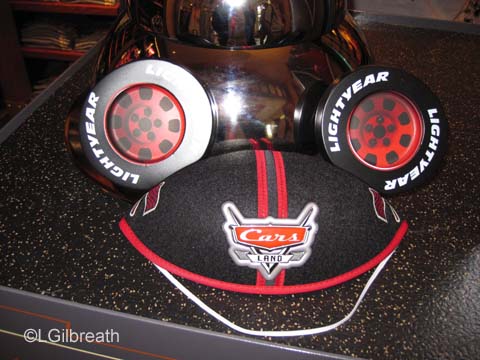 From Sara:
Q: I would like to know if there will be a special 'World of Color' menu for 'Carthay Circle'.
A: There's no special menu. Anyone who orders an appetizer and entree or an entree and dessert off the lunch or dinner menu will receive a World of Color Fastpass. Kids who order off the kids menu will receive one, also. The Fastpasses are for the preferred viewing area.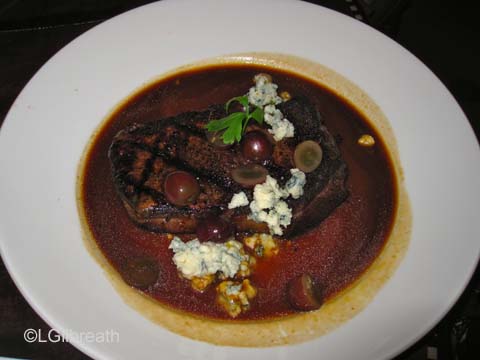 From Jay:
I would love a review of the New Carthay Theater Restaurant.
Deb Wills and I dined there Saturday night, and Deb was back for lunch the next day. It was excellent – we will have a more comprehensive review soon.
From SaraBeth:
Oh please tell us about the food, and what's especially good in Cars Land (and what's not!) and as many details about the rides, especially Radiator Springs Racers! What an amazing addition!
A: While we haven't tried all of the new food offerings, we've tried a pretty good variety of them, including the Chili Cone Queso (pictured below), Chicken Verde, Churro Bites, and several of the items in Flo's V8 Cafe (pork loin pictured below). We'll have more details in a food blog but we've enjoyed just about everything (even the dill pickle pop-cone!).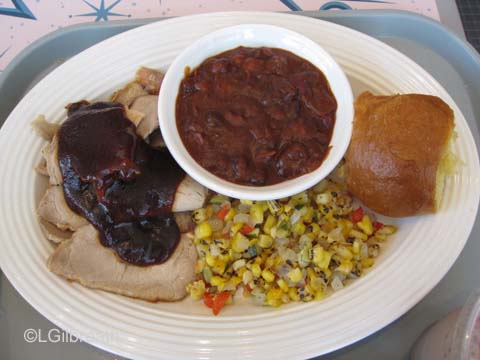 From Ann:
Will there be a special popcorn bucket(s)?
A: There is a special Lightning McQueen popcorn bucket (pictured below). It's available at the "Popcone" in Sally's Cozy Cones, and also at the popcorn stand on Buena Vista Street.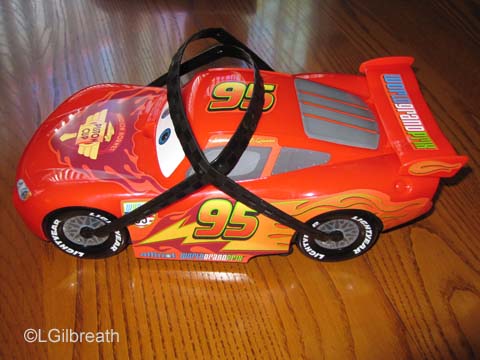 From Sara:
Will breakfast cones be available all day at the Cozy Cone? Are the flying tires geared towards adults or just children? Will the Radiator Springs Racers be the only ride in Cars Land with a fast pass?
A: Breakfast cones are only available at breakfast. Here's the Menu
Luigi's flying tires are for kids and adults – kids must be 32″ tall to ride. Each tire will accommodate up to two adults and a child.
Radiator Springs Racers in the only attraction in Cars Land that has Fast Pass.