When Should I Take My Child to Disney?
by Lynne Feiz
AllEars® Guest Columnist
Feature Article
This article appeared in the February 2, 2010 Issue #541 of ALL EARS® (ISSN: 1533-0753)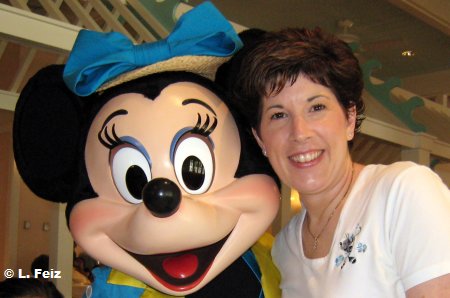 Being an experienced Disney World traveler, new parents often ask me, "What is the ideal age to bring my child to Disney for the first time?" Despite the question, many times they already have a preconceived notion about that perfect age. Most often they believe that it's better to wait until the child is old enough to remember and appreciate the experience, but not so long that he or she is too old for the "magic" of it all. Somewhere in the 5- to 7-year-old age range, they say, seems about right.
Like many parents, my own waited until I was 7 to bring me to the World — though I'm told I had been asking to go for a year or more. Some of that wait had to do with the fact that Disney World opened in late 1971, when I was already 3. Most of it had to do with my parents' belief that, being 1,200 miles away, I needed to be old enough — and patient enough — to withstand the two-and-a-half day car ride from Massachusetts to Orlando, which in those days was far more economical than flying. (In fact, I recall gas being just $0.49 a gallon!) But once that inaugural trek in the family Chevy was made, there was no turning back. I recall we visited every spring throughout my elementary, middle, and high school years. (Heck, I still go at least once, and often twice a year, and I'm now over 40!)
When my daughter was born in 2002, I couldn't wait to take her and begin creating some of our new family's own magical memories. My husband and I decided that we'd go for her first birthday and make a real celebratory event out of it. Of course, when we shared our plans with others, many were incredulous. "Why take a baby to Disney World?" they asked. "She's too young. She won't even remember it!"
I wondered silently about those comments for quite some time. "Remember it?" I thought to myself. "Why would she need to remember it?" After all, who among us remembers much of anything we did before the age of, say, 5 or 6? Does that mean we did nothing? Went nowhere? No, of course not!
It dawned on me then that, while I was certain she would squeal with delight at the sight of the characters and smile endlessly on the likes of Dumbo the Flying Elephant and Cinderella's Golden Carousel, the trip was not really for her — it was for us. I came to the realization right then that taking your kids to Disney World for the first time is as much — and maybe more — about the parents' experience than it is the child's. And taking them somewhere as memorable and magical as Disney World means that you will be able to relive the wonder, the surprise, and the happiness you experienced the first time you set foot in the Magic Kingdom yourself.
At a year old, my daughter wasn't able to go on a lot of rides. But then, what she could enjoy created a whole new experience for my husband and me. As our pre-baby trips primarily had comprised rides with height requirements, fine dining, and night life, we had veered away from Peter Pan's Flight, Dumbo, and other mainstays of Fantasyland just because we had no children to experience them with.
By contrast, our first trip with our daughter was filled almost exclusively with those kid-popular attractions. It really was as though we were experiencing a whole other side of Disney that we hadn't experienced since we were children. We took her out of her stroller, and allowed her to toddle unsteadily on her 1-year-old legs, up Main Street USA, toward Cinderella Castle. As if right on cue, she looked up at the Castle and squealed with delight, her little legs trying to move her faster and faster toward Fantasyland as though she knew what was in store.
Her first ride was "it's a small world" — as was mine more than 35 years ago. Her eyes grew wide and her head turned quickly from side to side to take in the sights, the sounds, and the whole sensory experience that such a Disney attraction delivers. We followed that with several turns on the carousel and Dumbo, then Peter Pan, and Winnie the Pooh. Character interactions were met with even more excitement, and her reaction to meeting Minnie, Chip, Goofy, and of course, Mickey was equally priceless. Yes, the squeals came. Big, loud, happy, one-year-old squeals. And, of course, the smiles came too. Seeing those made our smiles just as broad.
It's true that the pace of our touring was much, much — much! — slower than it was on our couple-only trips. Having been to the parks ourselves was a clear advantage, as we had no need or desire to go commando or to try to squeeze in other headliner attractions. We saw the World at her pace, through her eyes. And, wisely, we allowed plenty of time for breaks, feedings, and general downtime. We utilized the baby care centers quite a bit, but also found other out-of-the-way places to sit quietly and enjoy a peacefulness and tranquility rarely associated with Disney parks — the Rose Garden in the Magic Kingdom was one of our favorites. Despite the multitude of things to do, we tried to keep her bedtime, bath time, and other routines as regularly scheduled as possible.
The years have passed and Julia is now 7, but our trips remain just as magical, albeit different. Now strollerless, and with a lot more stamina, she continues to regard Peter Pan and Pooh as perennial favorites, but others like the carousel and Dumbo have been replaced by "big-girl" adventures — even after some initial trepidation — such as the Haunted Mansion, Pirates of the Caribbean, and, most recently, Goofy's Barnstormer and Big Thunder Mountain. I'll admit she's not as adventurous as some children are at 7 — or even younger — so despite meeting the height requirements a couple of years ago, she can't quite muster the courage needed to experience such thrills as Tower of Terror, Space Mountain, or even Splash Mountain, just yet. And that's OK by us. If not now, then certainly on future trips, and we look forward to those days, too.
So the answer to the longstanding question, "What's the best age?" really depends on what your definition of "best" is. Admittedly, we saw and experienced comparatively little in each of those early trips, which were highlighted by a few attractions and a character meal or two per day. But to be honest, despite seeing and doing more now, I wouldn't trade a minute of those first trips for all the money in the world.
So if it truly does come down to time or money for your family — that is, you're saving up and planning for just a single, once-in-a-lifetime trip — then I'd tend to agree with the masses that waiting until your child is older would be the more financially practical way to go. There's no doubt that older children can experience a greater number of attractions and can endure more park hours per day than an infant or toddler.
But if you plan to return every year, every other year, or even every two years, starting early will allow you to be treated to watching your child grow in their own experience with Disney and all it offers — and no doubt you'll be smiling all the while.
===================
ABOUT THE AUTHOR:
Lynne Feiz has been a marketing communications professional for more than 20 years, and an annual visitor to Walt Disney World since her first trip in 1974. Despite the frequency, she admits she still gets goose bumps when she hears those first few notes of SpectroMagic. Lynne and her husband Tony joined Disney Vacation Club in 1999 and call BoardWalk Villas their second home. Their first home is in central Massachusetts, with their daughter, Princess Julia, and the family's Yellow Lab, Houston.
-o-o-o-o-o-o-o-o-o-o-o-
Editor's Note: This story/information was accurate when it was published. Please be sure to confirm all current rates, information and other details before planning your trip.