September 2017 Walt Disney World Bits and Bites
Feature Article
This article appeared in the August 29, 2017 Issue #936 of ALL EARS® (ISSN: 1533-0753)
Editor's Note: This story/information was accurate when it was published. Please be sure to confirm all current rates, information and other details before planning your trip.
= = = = = = = = = = = = = = = = =



STEP BACK IN TIME
= = = = = = = = = = = = = = = = =
by Joan L. Feder
AllEars® Contributor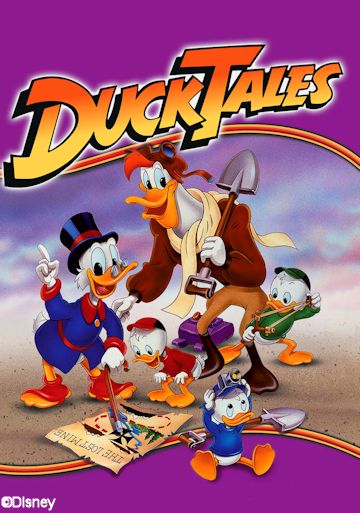 We hunt through our archives for this monthly featurette, which looks at the history of Walt Disney World and The Walt Disney Company. This month we travel back to 1987 and the premiere of Disney's original DuckTales, which was recently reimagined for a new generation.
While DuckTales debuted on September 18, 1987, the show got its start in the late 1940s when Disney Legend Carl Barks created most of its characters for the Donald Duck comic books. He invented everyone from Donald's billionaire uncle Scrooge McDuck to inventor Gyro Gearloose and the incredibly lucky Gladstone Gander. And, just like the Barks' comics, DuckTales was often set in exotic locations, telling tales of adventure. Many episodes saw Scrooge protecting his fortune from theft by an assortment of thugs including the Beagle Boys. Some revolved around defending his title of "Richest Duck in the World" from the almost as wealthy (and just as Scottish) Flintheart Glomgold. In others he had to safeguard his lucky charm, the "Number One Dime," from the likes of Magica De Spell.
The original DuckTales lasted 100 episodes, ending its run on November 28, 1990. It had a wide-ranging impact, showing in more than 100 countries and 25 languages. After the Cold War, the series was the first American cartoon aired in what had been the Soviet Union. The term "DuckTales generation" was coined in Hungary, referring to people born in the first half of the 1980s. Closer to home, as Disney's first cartoon show produced for syndication, it paved the way for several others, including Chip 'n Dale Rescue Rangers and TaleSpin. It even gave rise to a theatrical release, DuckTales the Movie: Treasure of the Lost Lamp. And let's not forget that earworm of a theme song; admit it — you're hearing it in your head right now: "Woo-oo!"
The new DuckTales premiered on Disney XD on August 12 of this year and it clearly maintains the vibe of the original. It is still set in colorful and exciting places, and it is still all about adventure. Most of the familiar characters are back, yet there are some differences. This time, Donald is a regular cast member rather than an occasional visitor. Huey, Dewey and Louie are different in that they each now have much more distinctive personalities. The voice cast has also changed; the only hold-over from the original series is Tony Anselmo, who, of course, gives Donald his squawk. Other regulars include David Tennant (best-known as the 10th Doctor Who) as Scrooge McDuck, as well as SNL's Beck Bennett and Bobby Moynihan as Launchpad McQuack and Louie, respectively. Guest appearances will be made by other well-known performers. Emmy Award-winner Allison Janney (or Aly San San, as frequent riders of Star Tours – The Adventures Continue know her) will be playing Goldie O'Gilt, Scrooge McDuck's long-time romantic interest and rival. Even more exciting for some was the announcement that the multi-talented Lin-Manuel Miranda (Tony Award-winner and Oscar-nominee for Moana's "How Far I'll Go") will recur as fan-favorite character Gizmoduck, a Duckburg hero whose true identity is Fenton Crackshell-Cabrera.
The show starts on Disney XD in earnest on September 23, and has already been renewed for a second season. As for the theme song? Though it's been re-recorded, it remains the same catchy tune. There is even a great video of the new cast singing it a cappella on YouTube. I'm looking forward singing along for at least the next two years, are you? Woo-oo!
RELATED LINKS:
The Disney Afternoon Collection Video Game
VIDEO: New Cast Sings DuckTales Theme Song
VIDEO: Voice Actor Corey Burton, Original DuckTales Cast Member
= = = = = = = = = = = = = = = = =



HIDDEN MICKEYS ALERT
= = = = = = = = = = = = = = = = =
Steve Barrett, author of the Hidden Mickeys Field Guide books and webmaster of HiddenMickeyGuy.com, wants to inform you of a few Hidden Images in Epcot that are worth searching for.
1. Everyone (at least, most of us) loves Figment. Well, a tiny Figment plush is hiding above you at the exit of Journey Into Imagination With Figment! He's hanging from a ceiling electrical device in Studio B of the Magic Photo Studio section inside ImageWorks. (I was told by a cast member that the manager of the area moves this Figment around the ceiling from time to time.) (Thanks to Debbie Newton and Colin Brooks.)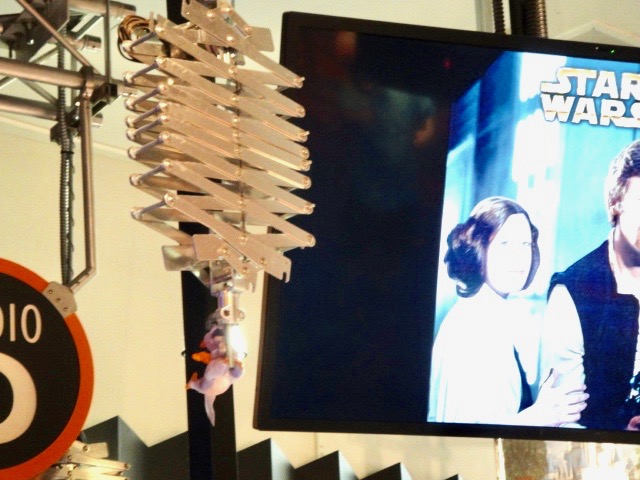 2. For years, I've looked for a classic Hidden Mickey made of lily pads along the Gran Fiesta Tour Starring The Three Caballeros ride in Mexico. I think I finally spotted one! (Maybe I was looking in the wrong places.) Anyway, these three lily pads look suspiciously like a sideways Mickey to me. You'll find the lily pads to the right of your boat just past the first tunnel with the wall murals. I hope these lily pads stay in place for a long while. (Thanks to Kevin.)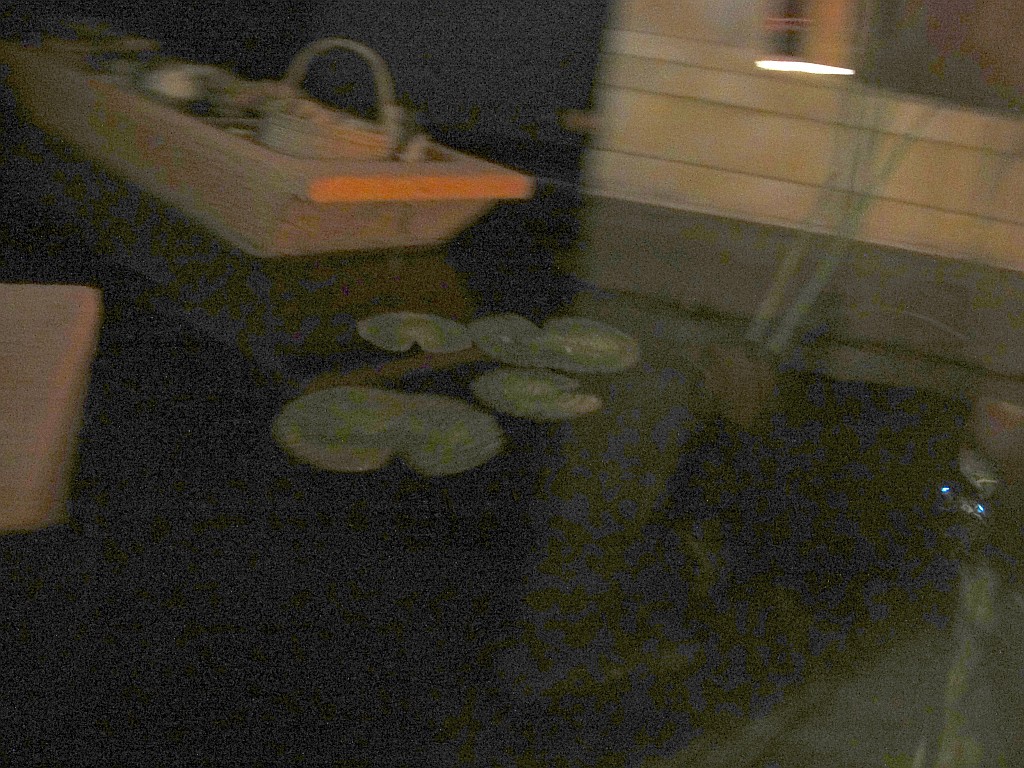 3. Landscapers usually try to maintain a classic Mickey made of bushes in the outdoor miniature train exhibit in Germany. Sadly, a bush Mickey was absent for many months, but recently I saw a new one (actually, several possible candidates). These three bushes are at the right side of the front part of the exhibit (as you face the trains from the main World Showcase promenade). If you happen to see one of the landscapers early one morning in Germany, please encourage him or her to preserve a bushes Hidden Mickey!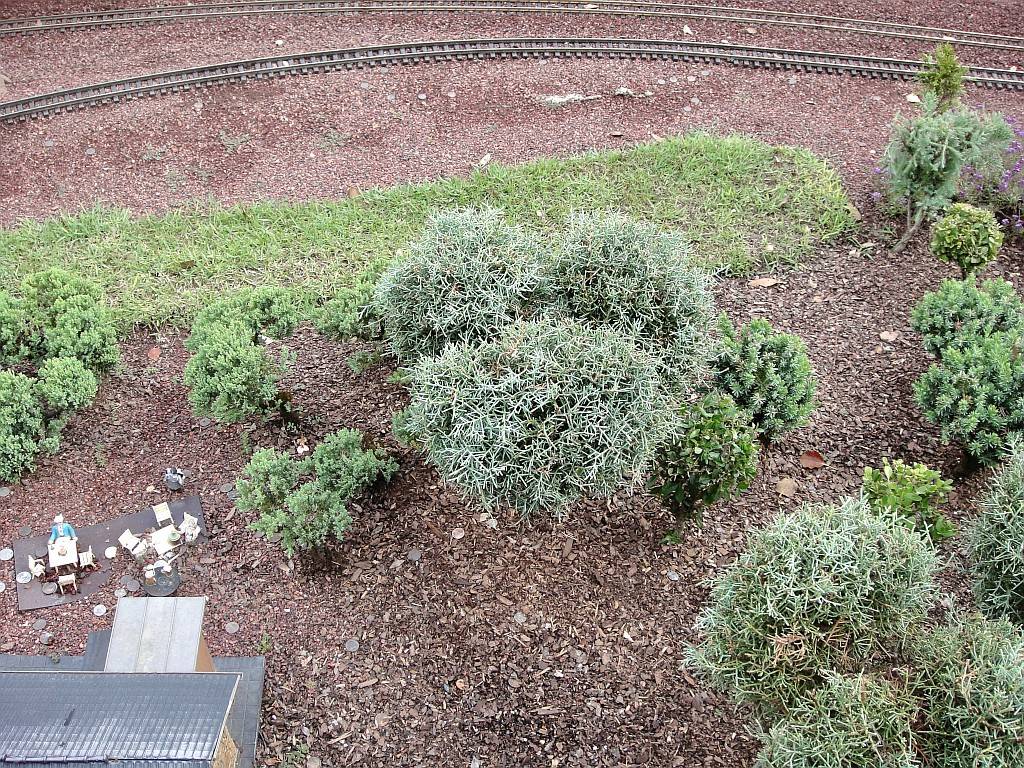 =-=-=-=-=-=-=-=-=-=-=-=-=-=-=-=
You can find an archive of past Hidden Mickey Alerts HERE.

And check out our latest Searching Disney with Steve blog.
= = = = = = = = = = = = = = = = =



SOUVEN-EARS
= = = = = = = = = = = = = = = = =
Our occasional featurette on shopping around the World returns this week with an entry from our staff writer and "A Mom and the Magic" blogger Kristin B. Ford.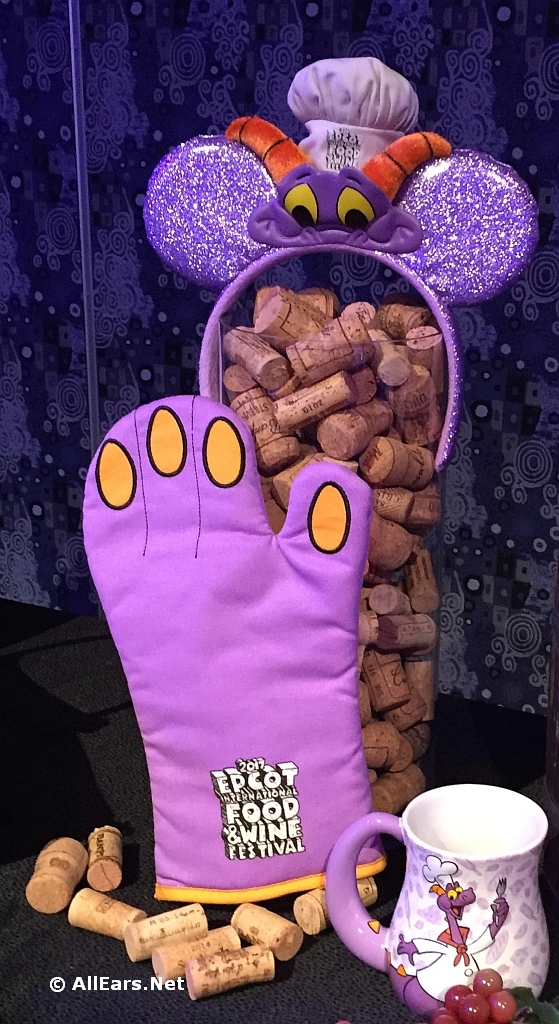 Foodies and Disney fans, rejoice! The 22nd Epcot International Food & Wine Festival begins on Thursday. And, as if all those delicious dishes and drinks aren't enough to celebrate, there also are plenty of opportunities to shop.
More than 75 event items have been created — that's more than one per day of the festival — and several different collections. Figment is, of course, the star of one line that features some really cute wearable souvenirs, such as an apron that looks like Figment's belly ($26.99), an oven mitt shaped like Figment's hand ($14.99), and a toque (chef's white hat) with Figment's face ($19.99). Hands down, the most adorable item in this collection is the mouse ear headband with Figment's face and toque ($24.99). It's sure to be a big seller.
The Passport Collection contains merchandise items with the same design style as, you guessed it, this year's festival passport. There are the beloved trashcan-shaped salt and pepper shakers (each shaker is $9.99), a set of tumblers ($26.99), a mug ($24.99) and apparel (starting at $29.99) that all recall World Showcase marketing artwork from 1982.
The Brews Around the World collection returns and has drinkware, including a new stainless steel growler ($36.99), a T-shirt ($29.99) and a cap ($26.99).
Concert-goers now can join the time-honored tradition of sporting a T-shirt after the musical event with the new Eat to the Beat T-shirts.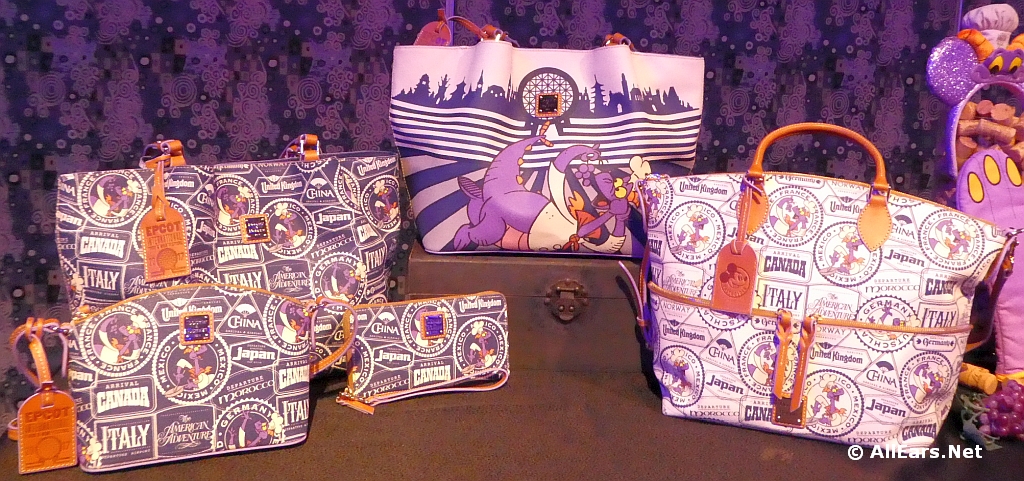 Finally, the festival will have five new Dooney & Bourke bags, one of which is an annual passholder exclusive. Look for a new pattern that is primarily dark blue and white with each country's name and splashes of purple where Figment makes an appearance. This pattern can be found on a wallet ($158), a crossbody ($178) and a tote ($318). There is a second tote (also $318) with a large Chef Figment design on a white background with dark blue accents. The passholder satchel ($308) has a pattern that is the reverse of the other main pattern, meaning it's mostly white with dark blue accents.
Annual passholders: You might want to get your shopping done early because your 20 percent discount reverts to 10 percent on Oct. 1. (It was increased for one year as part of Walt Disney World's 45th anniversary celebration.)
For a quick overview, check out AllEars.Net's video of new Festival merchandise taken at the Festival preview a few weeks ago.
Happy shopping!
= = = = = = = = = = = = = = = = =



MONTHLY REMIND-EARS
= = = = = = = = = = = = = = = = =
Sept. 1, 7, 10, 12, 15, 17, 19, 22, 24, 26, 29: Mickey's Not So Scary Halloween Party!
Through Oct. 1: Visit Orlando's Magical Dining Month. Select Walt Disney World restaurants are part of this highly anticipated Central Florida dining event. Read more about Magical Dining Month in Deb Wills' two-part blog.
Through Nov. 13: Epcot International Food and Wine Festival expands to 75 days for its 2017 season. In addition, the Eat to the Beat Concert Series will run the length of this year's Epcot International Food and Wine Festival. New acts coming this year include Kenny G, 10,000 Maniacs, Everclear, Blue October and Squeeze.
Check our Events page for a full schedule of upcoming events.
-=-=-=-=-=-=-=-=-=-=-=-=-=-=-=-=-=-=-
Resort-Wide
Disney Skyliner construction: Walt Disney World is in the process of creating a new transportation system, Disney Skyliner, which will give you a bird's-eye view of the resort while traveling via gondolas. During this time construction noise will be seen or heard throughout the resort, but noise should not be heard from Disney hotel rooms between dusk and 9 a.m.
Star Wars: A Galaxy Far, Far Away in Disney's Hollywood Studios will not be performed September 13-27, 2017.

One Man's Dream is currently being reimagined into Walt Disney Presents, which like its predecessor, will showcase historic items from Walt Disney's history. Walt Disney Presents will also act as a preview center where guests can explore what's next for the park. The attraction will also continue to host greetings with characters like Star-Lord and baby Groot, plus special sneak previews of upcoming Disney films. It is due to reopen mid-September 2017.

Grand Avenue is a re-imagined area of Disney's Hollywood Studios made up of part of the former Streets of America and the Muppets Courtyard. Inspired by present-day downtown Los Angeles, Grand Avenue will be where vintage office buildings and warehouses are being converted. A highlight of Grand Avenue will be BaseLine Tap House. This new corner pub will feature California beers and wines along with a selection of small bites. The current Muppets Courtyard will become Grand Park. The Muppets theater has been renamed "Grand Arts Theatre" and boasts a brand-new marquee.
Hall of Presidents in Liberty Square will not reopen until late 2017. Along with the addition of the new president, the attraction is getting a new show, and a complete theater upgrade including a new sound system, lighting and high-definition projection system.

Splash Mountain will be closed for refurbishment until November 16, 2017.
Art of Animation Resort is currently undergoing some general refurbishment projects. During this time, the resort will be in full operation with all amenities available, including dining, merchandise and recreation locations. It is possible that construction may be seen or heard, but noise should not be heard from guest rooms between dusk and 9 a.m. No end date for these projects has been announced as yet.
Through Fall 2018, Old Port Royale Food Court, Shutters at Old Port Royale, Cabana Pool Bar and Calypso Trading Post will be undergoing refurbishment. A variety of dining options will be available for all meals. Centertown will serve breakfast and dinner. Grab 'n' Go options will be available in three island markets: Aruba, Jamaica, and Martinique. In addition, buildings in Barbados and Martinique islands are being demolished to make way for new construction.
The resort rooms are undergoing a "hard goods refurbishment" that will continue for some time into 2017.
Grand Floridian Resort and Spa
Garden View Tea Room will be closed for refurbishment Aug. 28 – Sep. 1, 2017. During this time, Disney's Perfectly Princess Tea and Afternoon Tea will not take place.
Disney's Old Key West Resort is undergoing a wholesale refurbishment, which is expected to be completed in 2019.
Pop Century resort rooms are currently undergoing refurbishment, with work expected to be completed by Summer 2018. In addition, there are a number of other refurbishment projects going on around the resort, but all amenities will be available.
The Walt Disney World Swan and Dolphin
The resort is currently undergoing the largest renovation in its 25-year history. The Dolphin room renovations are currently scheduled to be completed by the end of 2017. In addition, the Dolphin lobby is undergoing a $12 million redesign. When finished in the fall of 2017, the new lobby will be completely transformed into a sleek, contemporary space and will feature new dining and beverage options. The lobby redesign is the final stage of the $140 million renovation project.
The Yacht and Beach Club Convention Center is undergoing expansion and renovation now through February 1, 2018.
Resort room refurbishment is taking place through mid- to late 2017.

Captain's Grille is closed for refurbishment through September 30, 2017. During the refurbishment, the Captain's Grille is serving in Ariel's in the Beach Club.
Run-off Rapids is closed for refurbishment. No reopening date has been announced.
Portobello Country Italian Trattoria at the Disney Springs Landing will be closed for refurbishment until sometime in Fall 2017. When it reopens, it will be known as Terralina Crafted Italian.
ESPN Wide World of Sports Complex
ESPN Wide World of Sports has teamed up with the nation's top cheerleading organization, Varsity Spirit, to create a new state-of-the-art cheerleading and dance team competition venue, the first in the world specifically designed for cheerleading and dance team competitions. The venue will include a flexible design for one large competition space that can be set up for as many as four competition areas. Additional areas are being tailored for warm up and practice, along with areas for judges and officials. With the ability to seat more than 8,000 guests, plus performance and warm-up space, the new multi-use sports and entertainment venue will also have the ability to host six regulation basketball courts, six regulation volleyball courts or concert configurations. There will be concessions throughout the building, and an additional box office and entry to the complex. Construction is ongoing until further notice, with intermittent overnight lane closures, lane shifts, traffic congestion and noise along Osceola Parkway/Victory Way.
-=-=-=-=-=-=-=-=-=-
A complete list of known rehabs can be found HERE.
= = = = = = = = = = = = = = = = =



MAGICAL MOMENTS
= = = = = = = = = = = = = = = = =
Each month, we like to share a few heart-warming Magical Moments brought to us by the amazing Disney cast members!
Kacie Brady: Just wanted to share a magical moment that happened to my family the last week the Great Movie Ride was open. As longtime fans of the Great Movie Ride, my family and I were sad to hear it was closing, so we made a trip to ride it one last time. We rode the ride and got the gangster experience. After the ride we were admiring all of the handprints from the stars when a cast member approached us. Her name was Sarah, and she asked us if we had ridden the ride yet. We told her we had and she asked us if we would be interested in riding again with the cowboy experience. We obviously accepted and she led us in a side entrance where we bypassed the line. She announced us as her VIP celebrities and let us ride on the front row! She was the guide for that trip and throughout the ride she pointed out Hidden Mickeys. It was a great last ride and a truly magical experience!
Lance: My parents, my oldest daughter and I visited Walt Disney World during the 2016 Christmas holiday. My daughter and I entered the Magic Kingdom with my elderly parents, then we separated due to my ride fascination. About 10 minutes afterward, my mom called my cell telling me that my dad had tripped near the front gate and hurt himself. His nose was bruised and was very sore. Enter the Disney cast members. They took him to the medical area and patched him up. What they did next was incredible. They gave him a complimentary scooter to tool around in. It did not end there. They took both my parents to Mickey Mouse's dressing room where Mickey was waiting for them. They took so many great pics with Mickey! I was so jealous after hearing about this. They were treated like royalty, something none of us will ever ever forget. Thank you, Disney!
Becca Lang: My cousin Ian's wife, Bethany, loves getting Mickey Ears every time she has a life event — Marriage = Bride & Groom Ears, Graduating Nursing School = Mortarboard Ears — so obviously when she was expecting her first child she wanted to get a pair. They had gone to the doctor for an ultrasound the week before heading to Disney, but had handed the sealed gender envelope off to a friend to keep the secret. Little did Bethany know that my cousin and I had a surprise for her. I secretly booked a flight to Orlando and secured a hotel room to help facilitate the best gender reveal ever! The morning of the reveal, Bethany attended a conference, so I went to The Chapeau in the Magic Kingdom with the envelope in hand and had an infant set of Mickey Ears made with a child's name embroidered on back. Then I met with Ian to figure out a plan for getting Mickey to help with the reveal. A cast member at Guest Relations suggested that we speak with an Entertainment Lead at the Town Square Theater. We met a cast member at the theater named Al, who said that he LOVED making Magical Moments for guests. Ian headed back to the hotel to meet up with his wife and bring her back to the Magic Kingdom. When Ian and Bethany got back to the Magic Kingdom, they went to theater, where Al spotted them and put them into the FastPass line so he could monitor their movement. Right before they were going to go in, Mickey took a break. While my cousin and his wife waited outside, I was able to sneak into the room and hide. They came in and got some pictures with Mickey, who asked where they were from. When they said Indiana, Mickey said that he had a friend from Indiana that they might like to meet, and came to get me. Bethany's look was of shock as I came from around the corner with the hat box in hand. I told her that I had something that she had wanted for a while and handed her the box. Mickey grabbed on to my arm and I started getting teary-eyed as they opened the box. Inside was the small pair of ears that she had wanted… embroidered with the name Ruth. That's how she discovered they were having a girl! Everyone in the room erupted with applause and the PhotoPass photographer took a million pictures. I know Disney likes to make special moments happen, but Al and the team at the Town Square Theater truly made my cousin's wish for a special moment for his wife come true. If you ever want to create a Magical Moment, remember — it never hurts to ask.
-=-=-=-=-=–=-=-=-=-=-=-=-=-=-=
We just bet you have a story to tell about an unforgettable moment during your Disney vacation! Please send your favorite memory for inclusion in a future AllEars® via our Contact Us page. Thank you all for sharing!
-o-o-o-o-o-o-o-o-o-o-o-
Editor's Note: This story/information was accurate when it was published. Please be sure to confirm all current rates, information and other details before planning your trip.