September 2014 Walt Disney World Bits and Bites
Feature Article
This article appeared in the August 26, 2014 Issue #779 of ALL EARS® (ISSN: 1533-0753)
Editor's Note: This story/information was accurate when it was published. Please be sure to confirm all current rates, information and other details before planning your trip.
= = = = = = = = = = = = = = = = =


STEP BACK IN TIME
= = = = = = = = = = = = = = = = =
by Deb Koma
AllEars.Net Editor
Each month, we rummage around in our archives for this featurette, which indulges in a bit of nostalgia, taking you back in history for a glimpse of Walt Disney World and The Walt Disney Company through the ages. This month, we take a brief look at Liberty Square in the Magic Kingdom.
The recent closing of the Yankee Trader shop in Liberty Square (it's becoming a Madame Leota-inspired Haunted Mansion gift shop, in case you haven't heard, due to reopen later this year) caused me to reminisce about some of the changes that have taken place in this small section of the Magic Kingdom. Just what was Liberty Square like when it opened?
Originally designed for Disneyland in 1958, Liberty Square was built for the Magic Kingdom after plans for putting it in California fell through. Themed as Colonial America at the time of our nation's founding, Liberty Square was designed to bring American heritage to life.
A plaque at the entrance to the square reads: "Past this gateway stirs a new nation waiting to be born. Thirteen separate colonies have banded together to declare their independence from the bonds of tyranny. It is a time when silversmiths put away their tools and march to the drums of a revolution, a time when gentlemen planters leave their farms to become generals, a time when tradesmen leave the safety of home to become heroes. Welcome to Liberty Square!"
The buildings in the area represent the original colonies, while the Liberty Tree Tavern was modeled after a late 18th century New England inn. (Did you know that each room in the restaurant is named after one of the prominent men of that time? Jefferson, Washington, Adams, Franklin, Jackson and Madison.)
The majestic live oak tree, the Liberty Tree, commemorates the communal meeting place of the Sons of Liberty as seen in the Disney live-action film Johnny Tremaine. How my son loved that nearly forgotten Disney film! This tree was transplanted from another area on Disney property and had a full-grown weight of approximately 35 tons when moved.
Walking around the square in the early days of the park you might have encountered a Town Crier, ringing his bell to attract listeners. He read "the news" from a scroll, acting as the "newspaper" of the time. Occasionally, Benjamin Franklin also could be found strolling around the square.
Mademoiselle Lafayette's Parfumerie was one of only four perfume shops in the U.S. at the time that allowed customers to blend fragrances of their choice. The Silversmith Shop featured items from the 1700s. Old World Antiques had authentic antiques, as well as reproductions, ranging in price from $5 to $15,000. The Heritage House and the Tricornered Hat Shoppe completed the list of shops.
The attractions open in Liberty Square in 1971 included Admiral Joe Fowler's Riverboat, the Diamond Horseshoe Revue (closed January 2003, now used as an occasional counter service restaurant), the Haunted Mansion and the Hall of Presidents.
By the way, the replica of the famous Liberty Bell was specially cast for Walt Disney World. It wasn't placed in Liberty Square until 1989.
RELATED LINKS
Liberty Square attraction page:
http://allears.net/tp/mk/mk_lsquare.htm
Liberty Square Odds and Ends:
http://land.allears.net/blogs/jackspence/2009/07/liberty_square_odds_ends_1.html
Other Liberty Square blogs by Jack Spence:
http://land.allears.net/blogs/jackspence/walt_disney_world/theme_parks/magic_kingdom/liberty_square/
Historical Fun Facts:
http://land.allears.net/blogs/guestblog/2013/12/historical_fun_facts.html
= = = = = = = = = = = = = = = = =


FASTPASS+ TIPS
= = = = = = = = = = = = = = = = =
from Cast Member Jane
Not too long ago Disney totally revamped its entire park experience with the introduction of MyMagic+, which includes the new My Disney Experience app, the entire MagicBand system and what has come to cause the most controversy: Fastpass+.
First let me start off by saying that all other parts of MyMagic+ set aside, I think the new Fastpass system isn't too bad. I'm not just saying that because I'm supposed to. I think it genuinely has accomplished the goal of redistributing guest flow more evenly around the parks, causing standby wait times (in most cases) to go down slightly. Sure, it doesn't work 100 percent of the time, but what system does?
For those of you who aren't as familiar with these changes: guests can now pre-plan three Fastpass+ experiences before they even enter the parks. After they've used up all three, they can go to kiosks in the park and continue to select additional Fastpasses one by one, essentially reverting to the old system. Cast members cannot yet link our Main Gate Passes to the app, therefore we have to go to the kiosk at the beginning of each visit to plan our first three. I see and hear a lot while standing around doing this and, combined with some of my own experiences, I have compiled a list of things I wish everyone knew about Fastpass+. Note that these are just my opinions, of course.
1. Don't waste Fastpasses on shows or parades. It is completely unnecessary (with the one exception maybe being Fantasmic) and does not get you anything that arriving to the parade route or theater 20 minutes early could not. I absolutely love parades and fireworks and insist we watch them every time we're in the park, and I've never once had a problem finding a great spot by arriving 20 minutes early or less. Also, many of the shows you can now get Fastpass+ for do not have any special seating for people with Fastpasses. You're merely securing a seat, which was never in jeopardy because those theaters never fill (again, except Fantasmic). I would much rather skip a two-hour wait to ride Space Mountain over a 20-minute wait to see a parade or show.
2. Think logically about your Fastpass+ choices. For example, I love Mickey's PhilharMagic, but I would never Fastpass it. Why? Due to the nature of the attraction (it loads hundreds of people at a time) it rarely has a wait time longer than 20 minutes. It kills me when I see people Fastpass it or rides such as Mad Tea Party, Carousel of Progress, Living with the Land, etc. These rides never have a wait time longer than 15 or 20 minutes. If you aren't familiar with attraction wait times, look on the MDE app for a few days before you make your selections and see what waits are usually long or short.
3. Be aware that Epcot and Hollywood Studios have pick lists. This means these parks have separated all the attractions into Tier 1 and Tier 2. You get one pick from Tier 1 and two from Tier 2. That means, for example, you can't select Fastpass+ both Soarin' and Test Track or both Toy Story and Rock 'n' Roller Coaster on your first three picks. You will still have to wait in line for one, so plan for that.
4. Use the system to your advantage. As I previously mentioned, after your first three Fastpasses run out, you can go to the kiosks and get more, one at a time. This means if your last Fastpass runs out at 2 p.m., you can start getting Fastpass+ for other rides at 2 p.m. Using this trick I have been able to Fastpass seven or so attractions in one day. However, if your last Fastpass doesn't run out until 9 p.m., you're stuck until then, by which time most Fastpasses will be gone. Try to arrange your original three Fastpasses to finish by mid-afternoon, which leaves you free to get Fastpasses for some of the other rides (mid-level attractions like Pirates of the Caribbean, Peter Pan, Many Adventures of Winnie the Pooh, for example) in the evenings. One exception: if you are trying to get a meet and greet with Anna and Elsa or ride the Seven Dwarfs Mine Train, take whatever the Fastpass system gives you. Check in with the kiosks in the morning to see if they can switch you to an earlier time, but grab whatever Fastpasses you can for those attractions, because they WILL run out.
I hope this gives you at least a little help in navigating the new Fastpass+ system. And remember, if you ever need any help or have problems, just head to the kiosks and one of the cast members can sort things out for you!
= = = = = = = = = = = = = = = = =


HIDDEN MICKEYS ALERT
= = = = = = = = = = = = = = = = =
Steve Barrett, author of the Hidden Mickeys books and webmaster of www.HiddenMickeyGuy.com, highlights for you a few more Hidden Mickeys at the Walt Disney World Monorail Resorts. Some of the most compelling Hidden Mickeys are at the resorts!
1.Last month, I showed you Hidden Mickeys in one of the four paintings on the wall behind the registration counter at the Polynesian Resort. Let's look at two more of the paintings. In the second painting from the right, a person with Mickey ears stands at the rear (aft) of the sailboat on the left. (Thanks to Jeff Love.)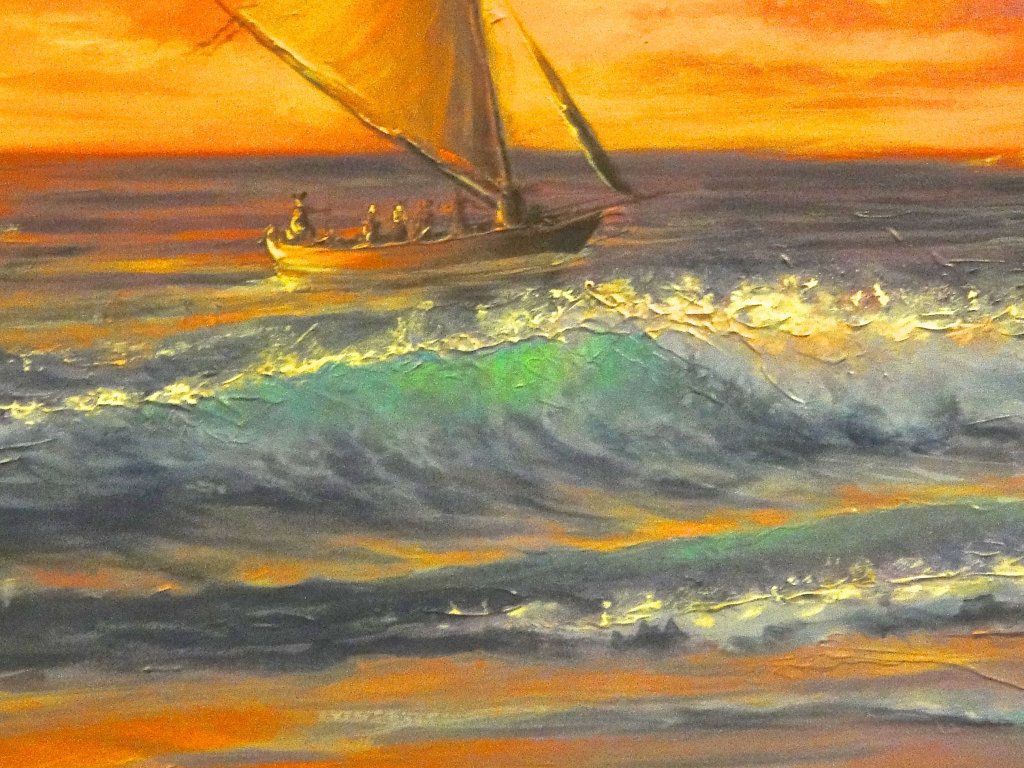 http://allears.net/btp/images/hidden-mickey-441.jpg
2. Also behind the Polynesian Resort registration counter, in the painting at the far left, circles in the foamy water near the shore make a classic Mickey at the lower right of the painting. (Thanks to Jeff Love.)
http://allears.net/btp/images/hidden-mickey-442.jpg
3. In the lobby of the Contemporary Resort, on the wall mural facing the monorail, an upside-down classic Mickey is made of a blue circle for the "head" and yellow circles for the "ears." It's at the top of a tree at the lower left of the five-legged goat. Stand on the walkway to the monorail for a good vantage point.
http://allears.net/btp/images/hidden-mickey-443.jpg
=-=-=-=-=-=-=-=-=-=-=-=-=-=-=-=
You can find a selection of past Hidden Mickey Alerts here:
http://allears.net/btp/hiddenm2.htm
And check out our latest Searching Disney with Steve blog:
http://land.allears.net/blogs/stevebarrett/
= = = = = = = = = = = = = = = = =

RATE AND REVIEW
= = = = = = = = = = = = = = = = =
Compiled by AllEars® Editor Deb Koma:
Can you believe that Mickey's Not So Scary Halloween Party nights start next week, on September 1? Maybe you're undecided about whether this event is for you. Here are some reader comments from our Rate & Review section on last year's MNSSHP event to help you make up your mind:
Mickey's Not So Scary Halloween Party is recommended by 84 percent of our AllEars.Net reader/reviewers, and it has an average rating of 7.5 out of 10.
— "Party was sold out but didn't feel overly crowded. Trick or treat areas gave loads of candy. Worth the money."
— "This was our 5th MNSSHP in 10 years… The ticket price goes up every year, with nothing to show for the increased cost. It was very crowded, more so than any MNSSHP we attended in the past. The parade is the same year after year. Same music, same floats. Surely they could change it up a bit. Most of the restaurants and shops closed too early. The times and places were not posted for characters. There were so many people leaving the park at the end of the night, it took literally hours to get back to our resort. I agree the party is something you should attend at least once, but those who have already attended in the past may want to consider how best to invest their vacation funds."
— "I don't know where everyone went but we had no lines at all except for Big Thunder Mt Railroad, we waited 5 min. It was nice to be able to walk right on to Splash Mt and Pirates. The candy stations were very visible so they were easy to find and I loved that they did a trick or treat trail, where we were able to stay in one area and visit 4 or more candy stations. The party was great and I would highly recommend, especially if you haven't done it before. Well worth it."
— "The lines for everything were short even for popular rides. The special food items are great and the treats at the trick or treating stations were plentiful. The parade, dancing, and decorations all made for a special night. With them letting people with party tickets in at 4:00 that means 8 whole hours to enjoy everything, with that in mind I can't complain about the price."
— "I would say this is a home run if the tickets weren't so so so expensive… All in all, if you've never done it I think it is great, but I wouldn't say that I would do it twice."
Still on the fence? Check out other comments from past years in the AllEars.Net Rate & Review section here:
http://land.allears.net/reviewpost/showproduct.php?product=222&title=mickey-s-not-so-scary-halloween-party-magic-kingdom&cat=65
And don't forget to check out the rest of our Rate & Review boards here:
http://land.allears.net/reviewpost/
= = = = = = = = = = = = = = = = =


MONTHLY REMIND-EARS
= = = = = = = = = = = = = = = = =
EVENTS
Mickey's Not So Scary Halloween Party – Dates: September 1, 9, 12, 14, 16, 19, 21, 23, 26, 28; October 2, 3, 5, 9, 10, 13, 16, 17, 19, 21, 23, 24, 26, 28, 30, 31. Advance Purchase Prices: September Dates Ages 10+ $62.00 + tax / Ages 3-9 $57.00 + tax; October Dates: Ages 10+ $67.00 + tax / Ages 3-9 $62.00 + tax. Some discounted prices available. Tickets went on sale in May.
EDITOR'S NOTE: The party for Halloween Night (October 31) is already SOLD OUT!
The 32nd annual Night of Joy, an after-hours, special-ticket event that features contemporary Christian music, will be held in the Magic Kingdom on Friday, September 5, and Saturday, September 6, 2014. Event hours are 7:30 p.m. to 1 a.m. each evening. While artists are performing at several stages, many popular Magic Kingdom attractions also are available for Night of Joy guests. The updated list of performers (subject to change) is as follows:
— Friday, September 5, 2014: Matthew West, Chris Tomlin, Hillsong United, Building 429, Mandisa, for KING & COUNTRY, Matt Maher, The Neverclaim
— Saturday, September 6, 2014: MercyMe, Gospel Music Association Winner Phil Perry, Casting Crowns, Skillet, Colton Dixon, Britt Nicole, Israel Houghton and New Breed, 1 Girl Nation, We As Human, Rhett Walker Band
Single-night tickets are $59 plus tax in advance and $69 plus tax on the days of the show. Purchase tickets at NightofJoy.com or by calling 407-W-DISNEY.
Epcot International Food and Wine Festival is being extended this year and will run for a record 53 days. The 2014 event starts on September 19 and continues through November 10.
Find details for the special ticketed events here:
http://allears.net/tp/ep/fw14/2014-epcot-food-and-wine-festival-special-ticketed-events.htm
Book reservations for the special ticketed events by calling 407-WDW-FEST (939-3378).
Tickets for culinary demos, and beverage and mixology seminars can be purchased online or by phone. Tables in Wonderland members, Annual Passholders, DVC members, and Golden Oak residents receive $2.00 off these events on Monday through Thursday ONLY. Discounted reservations must be made via telephone at 407-WDW-FEST (939-3378).
http://allears.net/tp/ep/fw14/2014-epcot-food-and-wine-festival-culinary-demos.htm
This year's Epcot International Food & Wine Festival will once again feature nightly entertainment in the form of the Eat to the Beat concert series. New acts coming this year include the Jo Dee Messina, Fuel and Los Lonely Boys. Returning favorites Big Bad Voodoo Daddy and Boyz II Men are also tentatively scheduled. Check out the full schedule below:
— September 19-21 — Jo Dee Messina
— September 22-23 — The Pointer Sisters
— September 24-25 — The Commodores
— September 26-27 — Christopher Cross
— September 28-29 — Hanson
— September 30-October 2 — Air Supply
— October 3-5 — STARSHIP starring Mickey Thomas
— October 6-8 — Sugar Ray
— October 9-10 — Fuel
— October 11-12 — Sister Hazel
— October 13-14 — Richard Marx
— October 15-16 — Billy Ocean
— October 17-19 — Night Ranger
— October 20-22 — Smash Mouth
— October 23-24 — Jim Brickman
— October 25-26 — Los Lonely Boys
— October 27-28 — Wilson Phillips
— October 29-31 — Dennis DeYoung, original member of STYX
— November 1-2 — 38 Special
— November 3-5 — Boyz II Men
— November 6-7 — David Cook
— November 8-10 — Big Bad Voodoo Daddy
The concerts, which are included with Epcot admission, will be at the America Gardens Theatre nightly at 5:30, 6:45 and 8 p.m.
http://allears.net/tp/ep/fw14/2014-epcot-food-and-wine-festival-eat-to-the-beat-concerts.htm
Now through September 15 Epcot is offering an "After Hours Wind Down," which allows you to spend a few extra hours after the park closes at one of four park locations: La Cava del Tequila (Mexico), Spice Road Table (Morocco), Tutto Gusto (Italy) or the Rose and Crown (United Kingdom). Each location offers small plates for noshing, paired with a beverage flight. The cost is $35 per person, plus tax and gratuity. The wind down will run from 9:20 to 11 p.m., but you must make reservations beforehand. Online, visit www.disneyworld.com/spring. You can also call 407-WDW-DINE or stop by Epcot Guest Relations.
The annual pin and trading event held in Epcot will be September 5-7 and will have the theme this year of: "The Imagination Gala: A Magic Carpet Event." The "bests" of Disney films and attractions will be celebrated, the characters we "love to hate" alongside the ones who make us laugh. The "bests" will be honored with an "Imagination Award," represented by a Golden Figment. At the ceremony, nominees will arrive in the grandest of styles: by way of a Magic Carpet instead of a Red Carpet.
Disney's Hollywood Studios
Frozen Summer Fun continues at Disney's Hollywood Studios, and has in fact been extended through September 28! Most entertainment and other features will continue daily, while the "Frozen Fireworks" Spectacular will be presented each night through September 1, and then switch to Fridays, Saturdays, and Sundays, September 5-28.
Downtown Disney
Raglan Road Irish Pub & Restaurant in Downtown Disney will celebrate its third annual Great Irish Hooley over Labor Day Weekend, August 30 – September 1, with live Irish music, authentic step dancing and Irish cuisine and interactive fun. A traditional Irish social celebration, the "Hooley" combines music ranging from traditional to rock tunes with entertainment for the whole family. Among the Great Irish Hooley lineup:
Scythian, a headliner on the Celtic festival circuit and equally at home in rock venues.
The Raglan Rebels, Ireland's best up-and-coming young band with traditional and modern songs and ballads.
Drops of Green, an exciting new ballad group from the heart of Ireland.
The Brayzen Heads: A popular duo on guitar and banjo that plays Raglan Road regularly.
The West Coast Trio: From Connemara, playing traditional and contemporary Irish songs on accordion, flute and guitar.
From Saturday to Monday there will be free workshops, "From Our Roots to Riverdance," led by renowned Irish dancer and choreographer Ronan McCormack of the original Riverdance cast. You can find the complete entertainment schedule at www.raglanroad.com . For reservations, call 407-938-0300.
ESPN Wide World of Sports
The inaugural Disney Fit Challenge, a three-day competitive fitness event that will allow competitors to test the limits of their power, speed, balance, strength and endurance in a series of fitness maneuvers, will be held September 26-28 at the ESPN Wide World of Sports Complex. Disney Fit Challenge is designed so that competitors work against others of similar age and skill level within several divisions, including elite, intermediate and recreational. Competitors amass points based on their performance in each fitness exercise. The top point leaders from the first two days will advance to the final day of competition. Follow Disney Sports on Twitter @DisneySports to get more details.
-=-=-=-=-=-=-=-=-=-
Don't forget to check our Events page for current updates: http://allears.net/pl/events.htm
-=-=-=-=-=-=-=-=-=-=-=-=-=-=-=-=-=-=-
REHABS AND CLOSINGS
The Monorail is operating on a fixed schedule not dependent on park hours. The Magic Kingdom Resort beam runs from 8:30 a.m. to midnight; the Magic Kingdom Express beam runs from 9:30 a.m. to 11:30 p.m.; and the Epcot beam runs from 9 a.m. to 11 p.m. Extra buses and watercraft will run during the Monorail's downtimes to provide additional transportation options.
Astro Orbiter – Closed through September 19, 2014.
Carousel of Progress will be closed September 22 – 27.
Mickey's PhilharMagic will be closed for refurbishment September 8-19, 2014.
Several enhancements to the Central Plaza area between the end of Main Street and Cinderella Castle in Walt Disney World's Magic Kingdom are coming over the next few months. Among the changes being made: the addition of sculpted gardens and pathways, expanded restaurant seating and even a special viewing area for fireworks and other performances. In fact, the seating outside of Casey's Corner and The Plaza restaurant will nearly double in size. The project has already begun and is scheduled to be completed in 2015.
Due to unforeseen track maintenance, the Walt Disney World Railroad will be under refurbishment from September 28-November 8. Because of the refurbishment Disney's Magic Behind Our Steam Trains Tour will be unavailable during that time.
Yankee Trader in Liberty Square closed for refurbishment on July 27. When it reopens later this year, it will be a new merchandise shop inspired by the Haunted Mansion's Madame Leota, and will feature select items from the upcoming Haunted Mansion Authentic program, including apparel, home goods, souvenirs, and more.
The Wild by Design Tour will no longer be offered after September 26, 2014.
All-Star Music Resort
The Intermission Food Court at Disney's All-Star Music Resort is closed for a lengthy refurbishment through December 20, 2014. Grab 'n' Go food and beverages will be available in the Note'able Games Arcade. Bus transportation will also be provided to neighboring resort hotels — All-Star Sports Resort and All-Star Movies Resort — where you can dine at the End Zone Food Court or World Premiere Food Court.
BoardWalk
BoardWalk Inn is undergoing a room refurbishment. All guest rooms will get new carpets, curtains, tubs, and bed linens.
Kouzzina by Cat Cora will cease operation on September 30, 2014. A new Italian restaurant, Trattoria al Forno, will open on the site in December. The new trattoria will serve a variety of Neopolitan-style pizzas baked in wood-burning ovens, as well as other "simple food" made with "Old World techniques." Menu items include handcrafted mozzarella made daily, cavatelli (small dumpling-shaped pasta) and other pasta, seasonal risottos and fresh seafood and vegetables. Dishes will spotlight Italy's various regions, such as braised beef with house-made cavatelli from Bologna, semolina tagliatelli carbonara from Latium (Rome), and a pork chop named for Milan. Classic Italian desserts will include tiramisu, lemon panna cotta with almond crunch and berries, gelatos, and the signature bomboloni (Italian donut holes) with dark chocolate and vanilla gelato. The restaurant will feature more than 60 different Italian wines by the bottle and more than 25 wines by the glass. The trattoria will also serve signature cocktails, Italian beers and sodas, as well as a signature-blend Italian coffee roasted just for them. Reservations will be accepted in several weeks.
http://land.allears.net/blogs/dnews/2014/07/trattoria_al_forno_replaces_ko_1.html
Disney's Caribbean Beach Resort is currently undergoing refurbishment, scheduled to be completed in spring 2015. During this time, all rooms (with the exception of King Bed rooms and Pirate Rooms) will be upgrading to queen beds. Many rooms (but not all) will then have the ability to accommodate up to five, with the addition of a bunk-size fold down bed. These rooms will be located in all of the resort's villages.
Great Ceremonial House Lobby – Now – December 2014. The atrium is being reimagined to highlight the cultural elements of Polynesia and provide more expansive views. At certain times of day, there may be some noise and alternative paths of travel may be needed throughout the Great Ceremonial House.
The Nanea Volcano Pool is closed and will not reopen until sometime in 2015. Several enhancements are scheduled, including a new aquatic playground with children's slides, a new hot tub, and a larger deck with more guest seating. As an alternative, resort guests are being notified that they will receive free, single-day admission to Disney's Blizzard Beach Water Park. Transportation will be provided to the water park, where a dedicated Polynesian guest check-in will be available, at which you can receive your complimentary tickets and towels. The Polynesian's leisure pool will remain open during the Nanea pool refurbishment.
The previously announced Trader Sam's Grog Grotto will not open until 2015. However, a new food and beverage location, Pineapple Lanai kiosk, which will offer the popular Dole Whip, will open near the feature pool area at the Polynesian later this year.
Wilderness Lodge
The Silver Creek Springs pool at Disney's Wilderness Lodge is scheduled to be closed Wednesday, September 3 through Thursday, November 27, 2014, for general refurbishment and maintenance. Wilderness Lodge guests will be permitted to use the feature pools at the Contemporary Resort and Fort Wilderness. Shuttle transportation will be provided. There is no word on whether modifications will be made to the pool during the closure. The Trout Pass Pool Bar will be closed while the Silver Creek Springs pool is closed.
The multi-year transformation of Downtown Disney into Disney Springs will treat guests to more shopping, dining and entertainment amid open-air promenades, springs and waterfront charm. Disney Springs will feature an eclectic and contemporary mix from Disney and other noteworthy brands, from boutique shops to unique flagship anchor stores. Disney Springs will double the number of shops, restaurants and other venues for guests to explore, resulting in more than 150 establishments. Drawing inspiration from Florida's waterfront towns and natural beauty, Disney Springs will include four outdoor neighborhoods interconnected by a flowing spring and vibrant lakefront.
As part of the Disney Springs expansion, Downtown Disney parking lots H-K (near West Side locations such as AMC Theatres and House of Blues) closed to make room for a parking garage expected to open in late 2014. To compensate for the closed areas, "overflow" parking areas have been designated and will be open most Fridays, Saturdays and Sundays, as well as holidays, special events and other busy days throughout the next few years of the expansion project. Overflow lots include those at Team Disney, Casting and SunTrust. Signage along Buena Vista Drive will direct guests to parking areas. Shuttles will operate from 5 p.m. to 3 a.m. on days that overflow parking is open to transport guests between Team Disney and Downtown Disney West Side near Cirque du Soleil. If you have reservations at a Downtown Disney location, be sure to allow ample time for parking under these new conditions.
As part of the transformation of Downtown Disney into Disney Springs, road work on Buena Vista Drive has begun and will continue in phases through Spring 2016. The roadway will be widened to 10 lanes, adding a dedicated bus lane. In addition, two pedestrian bridges will be constructed, which will allow guests to safely cross over Buena Vista Drive. Visitors to the Downtown Disney area should plan for extra travel time due to construction and lane closures.
-=-=-=-=-=-=-=-=-=-
A complete list of rehabs can be found here: http://allears.net/tp/rehabs.htm
= = = = = = = = = = = = = = = = =


MAGICAL MOMENTS
= = = = = = = = = = = = = = = = =
Paul, Northern Ireland: We had booked into Port Orleans Riverside and it was our first trip to Disney in November 2005. My son had just finished four years of chemotherapy for leukemia. (He's fine now, by the way — fourth trip in August.) At check-in I asked the cast member if there was a phone call from Mickey or something special that could be done to welcome our little trooper. She told me to leave it with her. We checked in and went to our room. A short time later there was a knock on the door and the same receptionist came in. She had a wonderful story for my son about Mickey knowing that he had arrived, but was busy doing a show and could not come personally. She had a large bag filled with Mickey goodies, and said that Mickey had sent them because our son had been through such a tough time. What a magical thing to do! Thanks, Mickey.
Meghan Mueller: Most 21-year-olds don't like meeting the characters, but character interactions are my favorite thing to do at the parks! I went to visit Peter Pan over at Adventureland Veranda. I was wearing a blue-and-white-striped dress and as soon as I went up to Peter, he pointed out that I looked like Mr. Smee! I quickly corrected him and said that I thought I looked more like Wendy since I was wearing a dress and had a giant bow in my hair. I asked Peter where Wendy has been lately. (For those who don't know, Wendy is not doing meet-and-greets with Peter this summer. She is only in Dream Along With Mickey and Festival of Fantasy.) Peter then proceeded to grab my hand and run out into Adventureland with me, yelling to everyone, "Look guys, it's Wendy! I found Wendy, everyone!" I had so much fun running around Adventureland with Peter and having him tell everyone that I was Wendy! The looks on everyone's faces were priceless, especially since most people had no clue what was going on and why Peter Pan was running around with some random girl. It truly was the most magical moment of my life, and that is coming from a current cast member/annual passholder!
Maria Sylvester: My husband, two daughters and our cousin were in Disney World the week before Christmas. On the morning we went to Hollywood Studios, we headed straight to our favorite ride, Rock 'n' Roller Coaster. This would be the first time for cousin Morgan. We ended up in the front of the car and were still laughing and hollering when the ride was over, and didn't notice we were the only riders left. Manuel, the roller coaster cast member, saw us and asked if would like to ride again. Heck, yeah! We were escorted "backstage" and put right on the front of the ride again. What a rock 'n' roll moment! We truly felt like rock stars! That made our whole day. I am still smiling thinking about it!
-=-=-=-=-=-=-=-=-=-=-=-=-=-=-=-=-=-=-=-=-
We just bet you have a story to tell about an unforgettable moment during your Disney vacation! Please send your favorite memory for inclusion in a future AllEars® to: allearsnet@yahoo.com
Thank you all for sharing!
-o-o-o-o-o-o-o-o-o-o-o-
Editor's Note: This story/information was accurate when it was published. Please be sure to confirm all current rates, information and other details before planning your trip.