September 2011 Walt Disney World Bits and Bites
Feature Article
This article appeared in the August 30, 2011 Issue #623 of ALL EARS® (ISSN: 1533-0753)
= = = = = = = = = = = = = = = = =


STEP BACK IN TIME
= = = = = = = = = = = = = = = = =
by Debra Martin Koma
AllEars® Senior Editor
We rummage around in our archives for this monthly feature, which indulges in a bit of nostalgia, taking you back in history for a glimpse of Walt Disney World and the Disney Company through the ages.
As we head into September, I know a lot of Disneyphiles like me are thinking about one thing, and one thing only: the upcoming 16th Epcot International Food & Wine Festival! While we anticipate the 2011 incarnation of this ever-growing, ever-changing event, I thought it might be fun to look back at how the festival has evolved over the years. Here are some little snippets pulled from the 1997 and 1998 press releases (the earliest I could find) on the festival:
In 1997:
— The second Epcot International Food & Wine Festival ran only four weeks, October 25-November 23, 1997.
— Admission to the Epcot International Food & Wine Festival was included in the regular Epcot ticket price of $39.75.
— Marketplace samples included: Bratwurst with Sauerkraut and Mustard $2 and Apple Strudel $1 in Germany; Tortellini di Formaggio with Mushroom and Prosciutto $3, Foccaccio topped with Olives $2, Cannoli Siciliani $1, Cecchi Chianti Clasico $2 in Italy; New England Crab Cake $3 in the US; Escargot in Herb and Garlic Butter $2 and Alsatian Caramelized Onion Tart $1 in France; and Buckwheat Blinis with Sour Cream and Salmon Caviar $2 and Bulgarian Wines $1 in Russia.
— The Disney Institute offered hands-on culinary experiences with the festival's chefs on a smaller scale. For $79, guests participated in an intimate celebrity chef demonstration and tasting session in the state-of-the-art Disney Institute culinary studios. The $99 Day Visitor Pass included a celebrity chef program and participation in additional Disney Institute programs from animation and gardening to cooking and photography.
— Grand Tastings were held every Saturday evening in the Odyssey, featuring the best of 16 wineries paired with cuisine from celebrated American chefs and live entertainment. Limited to 300 guests; $70 per person.
— Two Private Wine Seminars were held every afternoon in Norway — $10 per person with Epcot admission, included tastings. Limit 60 guests per session.
— Two Large Wine Seminars were presented daily in the Odyssey pavilion — Included with Epcot admission; included tastings.
— Small Wine Seminars held daily on World Showcase Promenade between Morocco and France. Limit 35 guests. Included with Epcot admission; included tastings.
— Meet the Winemakers was held every afternoon between 4 and 6 p.m. on World Showcase Promenade — Included with Epcot admission.
— Chef Demonstrations were held twice each afternoon — Included with Epcot admission.
In 1998:
— The third annual Epcot International Food & Wine Festival ran October 24-November 22, 1998.
— Guests traveled around the "world" sampling international cuisine with appetizer-sized tastings priced at $1 to $3.
— More than 50 of America's top chefs, including culinary queen Julia Child, gave demonstrations twice daily at the Odyssey pavilion in Future World. The guest chef line-up also included Jean-Louis Palladin of Napa, Las Vegas, and Rick Bayless of Chicago's Frontera Grill.
— Five-course Winemaker Dinners presented by world-renowned chefs and winemakers were held each Thursday, Friday and Sunday for $75 per person.
— The Budweiser Beer School was open every afternoon between 1 and 6 p.m. for an in-depth look at the brewing process.
By contrast, this year the 45-day festival has a theme, "Passport to a World of Flavors", and runs September 30-November 13 showcasing authentic cuisine; wine, beer and inventive new cocktails; entertainment; and cultural exhibits of more than 25 international regions. Some other fun facts about this year's festival:
— More than 300 national and international wines and more than 76 kinds of international foods will be served, each appetizer-sized portion priced $3-$8.
— 160 of America's most celebrated chefs and Walt Disney World chefs will be on hand.
— 135 Eat to the Beat! concerts will be performed.
— 33,000 bottles of wine and champagne, 289,000 servings of beer, 900,000 sumptuous samplings, 338,000 wine glasses and 100,000 desserts including freshly baked waffles with berry compote and whipped cream (Belgium marketplace), white chocolate macadamia mousse with dark chocolate pearls (Desserts & Champagne marketplace) and chocolate cannoli (Italy marketplace) will be served.
— 4,000 pounds of lobster will be used for Linda Bean's Perfect Maine Lobster Rolls and Linda Bean's Lobster Claw Cuddlers at the Hops & Barley marketplace plus Lobster and Scallop Fisherman's Pie at the Ireland marketplace.
For more on the Food and Wine Festival: http://allears.net/tp/ep/foodwine.htm
= = = = = = = = = = = = = = = = =


HIDDEN MICKEYS ALERT
= = = = = = = = = = = = = = = = =
Steven Barrett, author of the Hidden Mickeys books and webmaster of www.HiddenMickeysGuide.com (and now also www.HiddenMickeyGuy.com), highlights a few Hidden Mickeys at Walt Disney World for you to enjoy
1. In Mickey's Meet 'N' Greet room inside Town Square Theater in the Magic Kingdom, a classic Mickey made of metal rings is in the right upper compartment of Mickey's open magic chest. (Thanks to Marc Lorenzo, Ryan Hecht, and Jeanine Yamanaka).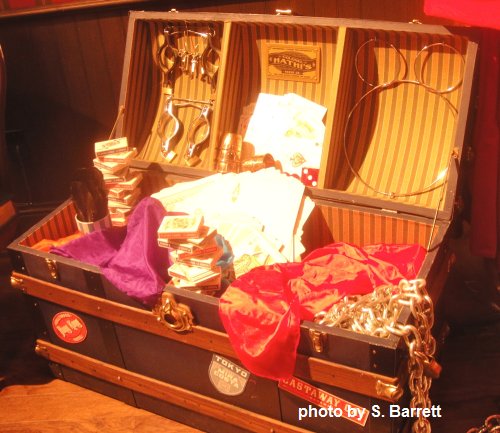 http://allears.net/btp/images/hidden-mickey-336.jpg
2. As you enter DINOSAUR in Disney's Animal Kingdom, classic Mickey ears are in a painting on the wall you face before you take the first right turn along the inside entrance queue. The Mickey ears are along the left side of the reddish explosion cloud above the middle dinosaur. (Thanks to Jesse Kline, Justin Orilio, Sharon Dale, Albert Thweatt, Carlos Font, and Ariel).
http://allears.net/btp/images/hidden-mickey-337.jpg
3. At the Polynesian Resort, go outside to the second level walkway to the monorail and look down from the right side railing. About halfway from the monorail exit doors to the monorail loading platform, a classic Mickey is formed by three light gray rocks placed on a larger rock in the water. Heavy rains can move the rocks around at times. (Thanks to Grant, Nathan Trent, and Andreanna DiBenedetto).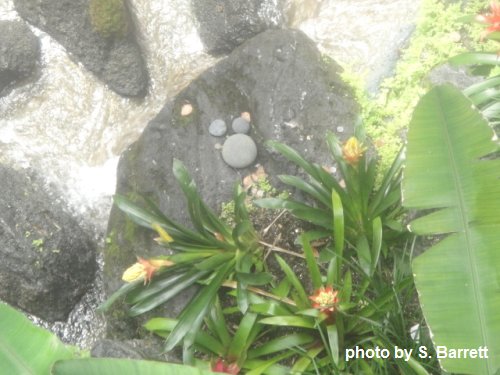 http://allears.net/btp/images/hidden-mickey-338.jpg
You can find a selection of past Hidden Mickeys Alerts here:
http://allears.net/btp/hiddenm2.htm
= = = = = = = = = = = = = = = = =


VEGAN TIPS
= = = = = = = = = = = = = = = = =
by Emily Woesthoff
General Manager for BabyCakes NYC at Downtown Disney
Hold on to your hats, folks, we're going to Sanaa! If you're wondering why your hat is about to fall off, it's because Sanaa doesn't just have a vegetarian menu, it also has its very own vegan menu. Read it again, its very own vegan menu! Crazy? No. Awesome? Very! The bread service was delicious, fun, and easily vegan! The Papadum bread was the only vegan bread option and has a very thin, potato chip-like consistency. There are a number of different accompaniments for the bread, but the Roasted Red Bell Pepper Hummus and Mango Chutney were delicious (not at the same time, but you get it!). For a main course, the sampler is a must! If you're a big fan of lentils (and who isn't?!) the Stewed Lentils were delicious, along with either the Basmati Rice or Five-Grain Pilaf. If you're worried about your items being spicy, don't be! As a certified spice wimp myself, please rest assured that there really isn't much spice involved in these items at all! If you have not yet visited Sanaa, stop what you're doing right now and go there. The food is delicious and the best part about it is that there is no guesswork about which items are vegan. We love chatting up the chefs at Walt Disney World, but the presence of a strictly vegan menu just makes ordering so much easier! Even better still, this restaurant is located in Kidani Village, which sports beautiful views of the savanna. You can see a giraffe while eating dinner! No big deal.
Missed previous Vegan Tips from Emily? We're compiling them here:
http://allears.net/din/vegantips.htm
= = = = = = = = = = = = = = = = = =

RATE & REVIEW SPOTLIGHT
= = = = = = = = = = = = = = = = = =
Compiled by AllEars® Team Member Cathy Bock
In this monthly featurette, we take a look at recent comments made in the AllEars.Net Rate & Review section about a particular restaurant, resort, event, etc. This month, we examine what AllEars® readers are saying about Sci-Fi Dine-in Theatre, located in Disney's Hollywood Studios.
A table service meal, Sci-Fi Dine-in is recommended by 91% of reviewers and has an average rating of 7.7.
From recent reviews:
Food: "very fast food like and not very flavorful"; "menu is good, but the selection is limited"; "food was very good"; "food left a lot to be desired"; "the food: no taste"; "food was good and milkshakes were excellent".

Entrees: "cheeseburger (bland and boring)"; "chicken sandwich (inedible)"; "ribs (very good)"; "butcher steak meal is always good and reasonably priced for a steak at Disney"; "shrimp pasta was excellent and we had ample servings"; "ribs…inedible"; "food (reuben for me, turkey sandwich for wife, burger for daughter) was surprisingly tasty"; "chicken sandwich…was not very good". "Reubens and the shrimp pasta were just okay"; "Two of us had the ribs which were very tender and delicious and the other two had burgers which were also delicious".
Desserts: "Peanut Butter-Chocolate Cake was enjoyed by several of us while the rest enjoyed the apple crumble"; "best ice cream anywhere on WDW property"; "peanut butter chocolate cake was delicious"; "desserts were the highlight of the meal"; "milkshakes were not homemade and were very processed tasting".
Kids Menu: "DD had the kids' meal pizza. She liked it".
Service: "waiter was awesome and went out of his way to take care of us"; "really liked that our server had our kids meal split in two for our twins"; "server was outstanding"; "service is a little slow"; "server was very attentive"; "waited quite a long time for drinks and for our food order to be taken".
Atmosphere: "(the kids) love the car and the movies"; "kids loved the atmosphere, they sat in the 'front seats' and watched the retro drive in clips the whole time"; "for a fun atmosphere and good food, don't miss this place"; "concept is really interesting and unique. There is a giant screen and you sit in "cars" like in a drive in theater"; "place is great if you want to have a unique dining experience"; "lights are so dim (for the nighttime, movie feel) that it is hard to even see your food"; "atmosphere was a knockout".
Overall: " food is not very good but it's just so much fun!"; "we all were freezing as were neighboring tables"; "really cool concept and fun, something different!"; "our 4th and final visit"; "enjoyable experience and would definitely eat here again"; "highly recommend this restaurant"; "do NOT recommend"; "couldn't have been more pleasantly surprised by this place"; "waited an extra 15 minutes despite the dining room being 1/3 empty when we were finally seated".
If you have recently dined at Sci-Fi Dine-in Theatre, we'd love to have your review!
http://land.allears.net/reviewpost/showproduct.php?product=118&cat=35
= = = = = = = = = = = = = = = = =


MONTHY REMIND-EARS
= = = = = = = = = = = = = = = = =
EVENTS
Animal Kingdom
September 1 – International Vulture Awareness Day will be celebrated at Animal Kingdom (and at Disney's Animal Kingdom Lodge) with a variety of activities at Rafiki's Planet Watch. Guests can try on a replica of vulture wings, create an arts-and-crafts vulture or vulture mask, learn about vulture digestion and take part in a vulture meet-and-greet, among other activities. Guests can see lappet-faced vultures at the Tree of Life, and black vultures at Rafiki's Planet Watch.
(At Disney's Animal Kingdom Lodge, activities include viewing vulture feedings, vulture mask coloring and the opportunity to examine vulture biofacts, and guests can see Ruppell's griffon vultures.)
http://disneyparks.disney.go.com/blog/2011/08/vultures-mowglis-pals-in-the-jungle-book-are-friends-of-the-environment-too/
Magic Kingdom
Mickey's Not So Scary Halloween Party – Tickets on are now on sale for 2011's Mickey's Not So Scary Halloween Party, a special event that takes place on certain nights in the Magic Kingdom. Mickey's Not-So-Scary Halloween Party evenings, which run from 7 p.m. to midnight, allow guests to trick-or-treat while immersed in the fantasy of the Magic Kingdom. The evenings include Mickey's "Boo-to-You" Halloween Parade; trick-or-treating throughout the Magic Kingdom at numerous locations; and the special Happy HalloWishes fireworks. Mickey's "Boo-to-You" Halloween Parade is at 8:15 and 10:30 p.m. with the Happy HalloWishes fireworks at 9:30 p.m. Lots of characters are out in the park, wearing their favorite costumes — you're encouraged to wear yours too. Dates in September are: September 13, 16, 20, 23, 27, 30. Prices for the party are as follows (all prices listed include tax):
Advance Purchase for September dates: $57.46 for adults 10 and older / $51.07 for ages 3-9
Passholder and DVC Member Discounts for September dates: $53.20 / $46.81
Day of Event (if still available) for September dates: $63.85 /$57.46
Advance purchase and discounted prices are not available for all nights. Tickets for premium evenings (such as October 31) may not be on sale yet — call for more information. Purchase tickets in advance by calling (407) WDISNEY or (407) 934-7639, or order online at disneyworld.com.
http://allears.net/tp/mk/mnssh.htm
Night of Joy – held 7:30 p.m. to 1 a.m. on September 9 and 10, 2011, at the Magic Kingdom. Francesca Battistelli, TobyMac, MercyMe, newsboys, Jeremy Camp, Jars of Clay and Skillet will headline the evenings of contemporary Christian music. Here's the night-by-night Night of Joy 2011 lineup:
— Friday, Sept. 9, 2011: newsboys, Jeremy Camp, Skillet, Matthew West, Francesca Battistelli, Group 1 Crew, Sidewalk Prophets and Disciple.
— Saturday, Sept. 10, 2011: MercyMe, TobyMac, Jars of Clay, Marvin Sapp, Sanctus Real, Kutless, Chris August and VaShawn Mitchell.
Night of Joy is an after-hours event that requires a special ticket. While artists are performing at several stages, many popular Magic Kingdom attractions also are available for Night of Joy guests. One-night tickets are $51.95 plus tax in advance, $59.95 plus tax day of. Two-night tickets are $92.95. Groups of 10 or more can purchase one-night tickets in advance for $46.95 plus tax each and two-night tickets for $87.95. Additional information is available at www.nightofjoy.com.
Disney's Hollywood Studios
Disney Design Group Artist Costa Alavezos and Ink & Paint Artists James Bonserio, Erin Magill, Theodora M. DeLaney, David Rippberger, Lynn Rippberger, and Sharon K. Vincent will be the special guests at the Key to the Kingdom Ink and Paint Cel Premiere to be held on Saturday, September 3, 2011, at the Studios Animation Gallery in Disney's Hollywood Studios. The artists will be signing from 10 a.m. to 1 p.m. and from 2 to 5 p.m. For more information:
http://psc.disney.go.com/eventservices/artofdisneyparks/event/wdw_keytothekingdomcelevent.html
Epcot
Epcot International Food and Wine Festival – September 30 through November 13, 2011. The theme for the 16th annual event is "Passport to a World of Flavors," and new marketplaces debuting include Hawaii, the Caribbean islands and Portugal. Also new this year will be a Cranberry Bog display. Among the celebrity chefs already announced as attending in 2011: Jeff Henderson, Cat Cora, Alan Wong, Gale Gand, Suvir Saran, Jamie Deen, and Rock Harper. The Party for the Senses grand tasting events and other special wine and culinary programs require reservations and separate event admission. Call 407-WDW-FEST (939-3378) to make reservations.
http://allears.net/tp/ep/foodwine.htm
HGTV personalities will be appearing every Friday, Saturday and Sunday during this year's Epcot International Food & Wine Festival. Stars such as Emily Henderson and Vern Yip will be presenting a series of home entertaining seminars. Appearing in September (subject to change): September 30-October 2 – Vern Yip, "HGTV Design Star" and "HGTV Urban Oasis." These seminars are included with Epcot admission and will be at the festival center.
The tentative lineup for this year's Eat to the Beat concert series, which runs during the Epcot International Food & Wine Festival, starts with singer Taylor Dayne, September 30 – October 2 (subject to change).
Disney Trade Celebration 2011 – The Florida Project will be held September 9-10, 2011 in World Showplace at Epcot. The Florida Project will offer an opportunity to purchase specially designed pins; enjoy trading activities and games; and meet Disney traders and collectors from around the world. Event admission is $115 per person. For more details:
http://land.allears.net/blogs/dnews/2011/04/the_florida_project_at_walt_di.html
ESPN Wide World of Sports
September 30 – October 1, 2011: Disney Wine and Dine Half-Marathon Weekend – The Disney Health & Fitness Expo will be held at ESPN Wide World of Sports Complex during race weekend. The Expo will host seminars on training, racing, and nutrition featuring speakers and panelists from the world of running. The half-marathon itself will be run on October 1 at night, through three theme parks, concluding in Epcot.
http://espnwwos.disney.go.com/events/rundisney/wine-and-dine-half-marathon/
Disney's Contemporary Resort will host a special event featuring exclusive merchandise for the Haunted Mansion Friday, September 30, 2011, from 9 a.m. to 9 p.m. Called "Room for 1 More," the event is billed as "an underworld party" that invites you to "step through the graveyard gates of the Mansion cemetery… where you can dine in a mist-enshrouded banquet realm hidden among the crypts." Guests will have the opportunity to pre-purchase limited edition merchandise, Haunted Mansion themed collectibles and Walt Disney World 40th Anniversary collectibles. There will also be a "deadly" silent auction including a performance art lot by Noah, a conversation with Walt Disney Imagineers, and a meet and greet with renowned Disney artists Robert Olszewski, Jim Shore, and Greg McCullough. For more details on this event:
http://psc.disney.go.com/eventservices/artofdisneyparks/event/wdw_roomfor1more.html
Raglan Road at Downtown Disney will celebrate "Half Way to Paddy Day" on Saturday, September 17 with live music, Irish dancing, competitions and giveaways. The four-piece traditional ballad group, Na Fianna, which hails from the heart of Ireland, will start the fun at 5 p.m. They will be joined by the Raglan Road Dancers, who will show off traditional jigs and other Irish dance steps. The popular band Elevations, considered the most successful U2 tribute band in the world, will also return for the party. There will be no cover charge and kids are welcome.
http://disneyparks.disney.go.com/blog/2011/07/raglan-road-at-downtown-disney-celebrates-half-way-to-paddy-day/
The next Disney Trading Night at Walt Disney World will be held on September 8, 2011 from 7 to 10 p.m. at Coronado Springs Resort's Veracruz Ballroom. This free activity is open to guests of all ages.
=-=-=-=-=-=-=-=-=-=-
Don't forget to check our Events page for current updates: http://allears.net/pl/events.htm
-=-=-=-=-=-=-=-=-=-=-=-=-=-=-=-=-=-=-
REHABS AND CLOSINGS
Animal Kingdom
Primeval Whirl is closed for refurbishment through September 14.
Flights of Wonder closed for rehab August 29 and will reopen around September 11, 2011.
Disney's Hollywood Studios
Voyage of the Little Mermaid is closed for refurbishment through September 3, 2011.
Studio Backlot Tour will be closed for refurbishment September 6 – 24, 2011.
Lights, Motors, Action! Extreme Stunt Show will be dark October 3-6, 2011.
Magic Kingdom
Epcot
Yakitori House in Epcot's Japan pavilion closed for refurbishment August 10 and will reopen on or about November 15, 2011. While the location is closed, the following Japanese Quick Service options will be available at the temporary Food & Wine Festival kiosk on the promenade: California Sushi Rolls, Spicy Tuna Rolls, Teriyaki Chicken, Teriyaki Beef, Shogun Teriyaki Combo, beverages and desserts.
Disney's Art of Animation Resort
Disney's Art of Animation Resort, the 26th resort at Walt Disney World, will feature family suites designed around four themes: The Lion King, Cars, Finding Nemo and The Little Mermaid. The resort will be located next to Disney's Pop Century Resort. Disney recently released some new photos of the Family Suites at the Art of Animation Resort. The resort is scheduled to open Summer 2012; family suites are booking now.
http://land.allears.net/blogs/dnews/2011/08/family_suites_at_disneys_art_o.html
Disney's Contemporary Resort
Disney's Port Orleans-Riverside Resort
Royal Guest Rooms are now under construction in the Magnolia Bend section of the Port Orleans-Riverside resort. Opening in early spring 2012, the Royal Guest Rooms allow princes and princesses of all ages to stay where Disney royalty have stayed. Guests find regal touches left behind by some of their favorite Disney characters — fiber optics special effects above ornately decorated beds, gold and crystal accents, custom linens and drapes, and in-room art and details including Princely banners and Princess friends. The 512 Royal Guest Rooms start at $189 per night, and are booking now, for stays early in 2012.
Magnolia Bend Leisure Pool near buildings 80-85 closed for refurbishment September 5 through October 7, 2011.
Disney's Grand Floridian Resort and Spa
The spa at the Grand Floridian Resort and Spa closed on September 19, 2011, for 18 months as part of a planned renovation at the resort. Disney has not shared details about the project, but there has been speculation that Disney Vacation Club units will be built near the spa.
Saratoga Springs Resort and Spa
Congress Park Leisure Pool is closed for refurbishment through September 2, 2011.
Downtown Disney
The Disney Parks Blog announced that at Downtown Disney this fall, construction will begin on Splitsville, a 50,000-square-foot upscale entertainment center that combines bowling with billiards, dining, music and nightlife. To make way for this experience, RIDEMAKERZ , currently located on the West Side, will move to the Marketplace. On Pleasure Island, some buildings have been removed, but plans for the site are being reevaluated, which means construction on the previously announced Paradise Pier has been delayed.
http://disneyparks.disney.go.com/blog/2011/07/downtown-disney-update
A complete list of rehabs can be found here: http://allears.net/tp/rehabs.htm
= = = = = = = = = = = = = = = = =


MAGICAL MOMENTS
= = = = = = = = = = = = = = = = =
Adam Hall: In 2006, I was in Animal Kingdom, watching the parade, when I saw these families that were sitting on the floats, waving at us! I thought, "How cool would it be if my family could do that!" I was 8 years old at the time. Fast-forward a year. Me and my family were walking in Hollywood (then MGM) Studios, when a cast member came up to us and asked if we wanted to be the grand marshals in the (now extinct) Stars and Motorcars Parade! We couldn't say yes fast enough! About an hour before the parade, we met back up with Tim (the cast member who picked us), and he led us to a backstage area where they keep all the floats. He led us to our car and, since we were grand marshals, it was at the front. So I was all situated, ready to wave at the guests when Chip and Dale came up to us! All of a sudden, Chip pointed at my Buzz Lightyear hip pack, then pointed behind me. He did this a few times, but I had no idea what he meant. Finally, I looked behind me and see Buzz Lightyear waving at me from the car behind us! To 9-year-old me, that was a dream come true. I'm 13 now, and have become a HUGE Disney fan.
Tom & KerryAnn Cassar: My entire family went on a trip to WDW for our parents' 50th wedding anniversary. There were 13 people: it was my parents, their three children and then the six grandkids, ranging in age from 7 to 19 years old. It was difficult planning all the activities and dinners with such a diverse age group of people. I had gotten my parents the "happy anniversary" pins at the beginning of Main Street and a cast member put "50th anniversary" on them. My parents were constantly greeted with "happy anniversary" all week long. At one point, my parents were hot, tired and hungry and decided to lunch alone, in the air conditioning, at the Liberty Tree Tavern. When their meal was over, the check took a long time to be processed. My parents were getting impatient. Five or six cast members came to my parents' table ringing that big bell saying, "Hear ye, hear ye! We have a 50th wedding anniversary celebration!" They gave my parents a lovely ornament from the Christmas Shop next door. My mom was so happy that she called me on my cell while we waited on a line in the July heat. This one small gesture made my parents' week. It was great to have all their children and grandchildren on vacation with them, but it was a small magical moment that put the cherry on top.
Beth Sueker: Your article on "The Hunchback of Notre Dame: A Musical Adventure" brought back some "old" magical moments for me. This fantastic musical show was one of our favorites also. At the end of one of the shows, in January 2000, we were slow to leave the theater and one of the cast members approached us and said Quasimodo wanted to meet us backstage; we readily followed. Were we surprised when we were greeted by Quasimodo, Esmeralda, Judge Frollo, Phoebus, and several other performers in a backstage area. Quasimodo said he had seen us two other times during the week and wanted to meet us. We took photos, got autographs and Quasi gave my daughter a large signed playing card from one of the songs. It was an incredible experience that we will always remember, yet the magic didn't end there. After we arrived back home, I made a collage card of photos from this magical encounter and sent it to Quasimodo with hopes that he would see it and know the joy that he gave to me and my daughter who has Down syndrome. I had no idea if they passed things like this on to the performers but hoped they would. Two years later we enjoyed another performance late on the last day of our vacation. During the show, I saw Quasimodo looking at my daughter closely several times. After the performance, we were approached by a cast member who said Quasimodo remembered us from two years ago and wanted to see us again. We were absolutely thrilled to be escorted backstage AGAIN to meet the performers. Quasi told me the cast had received the photo collage card and then he quietly told me he had taken it home and would treasure it always. He also said he had seen us earlier in the week and knew it was us for sure when we were at repeat performances. That was in January 2002 and the show closed in September so that was the last time we saw the show. We miss it, too!
-=-=-=-=-=-=-=-=-=-=-=-=-=-=-=-=-=-=-=-=-
We just bet you have a story to tell about an unforgettable moment during your Disney vacation! Please send your favorite memory for inclusion in a future AllEars® to: allearsnet@yahoo.com Thank you all for sharing!
We've also compiled a collection of photos from readers sharing their Magical Moments via digital images in the latest Wandering the World:
http://allears.net/tp/wander/wander.htm
-o-o-o-o-o-o-o-o-o-o-o-
Editor's Note: This story/information was accurate when it was published. Please be sure to confirm all current rates, information and other details before planning your trip.