October 2011 Walt Disney World Bits and Bites
Feature Article
This article appeared in the September 27, 2011 Issue #627 of ALL EARS® (ISSN: 1533-0753)
= = = = = = = = = = = = = = = = =


STEP BACK IN TIME
= = = = = = = = = = = = = = = = =
We rummage around in our archives for this monthly feature, which indulges in a bit of nostalgia, taking you back in history for a glimpse of Walt Disney World and the Disney Company through the ages.
As you know if you've been reading the newsletter regularly, over the last several months we've been counting down the "The Top 40 Magical Events at the Walt Disney World Resort" along with Ayefour Publishing (www.ayefourpublishing.com) to celebrate the 40th anniversary of the opening of the Orlando vacation destination (October 1, 2011). Now that the anniversary is upon us, we are proud to unveil the Top 10 Magical Events!
Magical Event #10 — Premiere of IllumiNations: January 1988
Few lines resonate as emotionally with Disney World guests as the famous opening to one of the world's most successful nighttime performances: Good evening! On behalf of Walt Disney World, the place where dreams come true, we welcome all of you to Epcot and World Showcase. We've gathered here tonight, around the fire, as people of all lands have gathered for thousands and thousands of years before us; to share the light and to share a story. An amazing story, as old as time itself, but still being written. And though each of us has our own individual stories to tell, a true adventure emerges when we bring them all together as one. We hope you enjoy our story tonight: Reflections of Earth.
Together with flame-filled torches, lasers criss-crossing the Sky, and the "Globe", IllumiNations represents one of the greatest examples of theme park storytelling and craftsmanship ever to grace any park.
Magical Event #9 — Opening of the BoardWalk: July 1996
Until the BoardWalk area debuted, Disney World had never offered an entertainment and hotel destination that was seamlessly integrated with theme park options. The Disney Marketplace area offered entertainment and lodging, but no theme park while the Seven Seas lagoon area offered resorts and a park but not a centralized entertainment district. This all changed with the BoardWalk area that included five different resorts (Boardwalk Inn, Beach Club, Yacht Club, Swan, and Dolphin) that were connected around Crescent Lake by path, boat, and — of course — surrey bike. In addition, all of this was connected by boat or path to both Epcot and Hollywood Studios (and, if you were really in the mood to walk, by monorail to the Magic Kingdom). The entire arrangement allowed guests to experience multiple resorts, theme parks, restaurants, and entertainment venues without ever having to access a single car or bus — a design innovation that continues to make the BoardWalk area one of the most unique and popular places in all of Disney World.
Magical Event #8 — Opening of Disney's Hollywood Studios: May 1989
As the 1980s ended, Disney was in a fervent race with Universal to see who could open the first movie-themed park in Central Florida. Though both resorts would open such a park, Disney's version won that race as it opened both a theme park and working entertainment studio on more than 100 acres.While opening day found capacity crowds filling the park, controversy ensued regarding whether the MGM-branded park offered a "full-day" experience of attractions and shows. Later, the television shows, movies, and animation production would almost entirely shift away from the park. Left behind, though, would be some of the resort's most popular attractions, including the Twilight Zone Tower of Terror, Star Tours, and Toy Story Midway Mania.
Magical Event #7 — Debut of the Monorail: October 1971
Probably no Disney attraction is as famous for its foreign-language script as its English counterpart. That is, except for the Disney World monorail and its now famous "Por favor mantengase alejado de las puertas" admonition to stand clear of the closing doors. At nearly 15 miles, Disney World's elevated system transports millions of guests on routes that circle the Seven Seas Lagoon and venture directly into Epcot. Indeed, there are few lesser known but thoroughly magical moments than riding the Epcot monorail between Future World and the World Showcase during IllumiNations — giving you a sensation that you could almost catch the fireworks in your hand. From the early Mark IV to later Mark VI versions, nearly every Disney World guest — though they might not admit it — has secretly wondered what it would be like to captain Disney's "Highway in the Sky" for just one trip around the World.
Magical Event #6 — Opening of Animal Kingdom: April 1998
Theme parks with animal attractions had existed long before the Animal Kingdom (think: Busch Gardens). It was not until the opening of Disney World's fourth park, though, that an entire theme park experience revolved around all aspects of the animal world. With an emphasis on real animals from different continents, the original plans also included Beastly Kingdom — an unbuilt realm filled with fictional creatures. While that concept may now finally be realized with the addition of AVATAR-land, the impact of the Animal Kingdom even extends to other theme parks such as Universal Orlando's Islands of Adventure. It is there that, legend says, several of the original Beastly Kingdom attractions that never were built ultimately found a home in the form of the former Dueling Dragons roller coaster, among other rides. Though the Animal Kingdom started sparsely and grew slowly, it has now evolved into one of the most lushly landscaped and intricately detailed theme parks in the world.
Magical Event #5 — Debut of Pirates of the Caribbean: December 1973
Housed in a fictional Spanish fort, Disney World's version of the last ride that Walt ever worked on did not originally open with the park. Indeed, alternative plans were in place for the Magic Kingdom to receive its own originally created iconic dark ride. Cost issues and fans clamoring to experience "Pirates" soon won out, though, and Disney's Imagineers reconceived this classic Disneyland attraction.While offering several different scenes and a different ride route, the Magic Kingdom version has allowed millions of guests to Walt's Florida Project to realize that "dead men tell no tales".We can certainly salute that with a hearty "Yo Ho!"
Magical Event #4– Opening of the Polynesian Resort: October 1971
While Walt purposefully avoided building Disney World near the beach (in order to reduce vacation competition), he didn't hesitate to bring the beach to his resort. Though several other WDW beaches exist (at places such as Fort Wilderness and the Grand Floridian), none are so grand as the sand that defines the coastline of the original Polynesian Village. It is there that guests can enjoy daytime sun and evening fireworks, just outside the longhouses named after famous Pacific destinations. Yet, the Polynesian is not limited to exterior beauty, as the Grand Ceremonial House offers lush landscaping, and cascading waterfalls. Over the years, this Pacific-themed retreat has served as the preferred vacation home for guests from throughout the world.
Magical Event #3– Opening of the Contemporary Resort: October 1971
Known by fans simply as the "Contemporary", this original Disney World resort has become legendary for a variety of reasons. From the modular rooms built off-site and installed into the then-innovative A-frame structure to the Mary Blair mosaic, the Contemporary has won the hearts and favor of many Disney guests. Yet, more than any other feature, one stands out above all others when it comes to the wonder of the Contemporary — the amazing views. Whether it is the light-filled atrium with a monorail quietly whisking by or the colors of Tomorrowland vividly enjoyed from the rooftop terraces, these amazing views define the Contemporary. From nearly every angle, visitors can enjoy unprecedented views of the thousands of acres that Walt originally acquired for his Florida Project.Indeed, for many, a Disney World rite of passage is when you first watched the Magic Kingdom fireworks from the top of the Contemporary. Pure magic for the last 40 years.
Magical Event #2 — Opening of the Magic Kingdom: October 1971
Surprised? Some might suggest that the Magic Kingdom at #2 must be an oversight. While the Magic Kingdom is the centerpiece to today's Walt Disney World Resort, we will see next why one thing stands before it. Still, this is not to neglect the importance of WDW's original theme park. The sister park to Disneyland built upon its predecessor in several ways, including its larger size, overall attractions, and of course that source of great debate — its much larger castle. Regardless of how you feel about castle size, the Magic Kingdom has brought many great things into the lives of millions of guests. Whether it's the exhilarating walk down Main Street or a quiet stroll on the back path between Tomorrowland and what was once Mickey's Toontown Fair, the Magic Kingdom really can be all things to all people. Utilidors. Partners statue. Splash Mountain. Cinderella Suite. Dole Whips. Hall of Presidents. Big Thunder Mountain. All of these things, and so many more, define what many consider to be the most magical theme park in the whole world.
Magical Event #1 — Opening of Epcot: October 1982
Why Epcot at #1 instead of the Magic Kingdom or another famous event or attraction?The answer to that question is really quite simple.
Epcot as a concept (and to some degree as a theme park) represents the main reason that Walt Disney decided to build his Florida Project in the first place. While some within the company sought to better tap into the huge Eastern U.S. audience for a Disney theme park experience, Walt's primary reason to go east was not to build a sequel to Disneyland. Sure, he brought his best creative powers into the nascent Magic Kingdom plans prior to his December 1966 passing. This is not a surprise, as he hardly possessed the ability to do less than his best. But, the vision in his mind for the Florida Project was a real place in an ideal form.By the 1960s, Walt had mastered fiction. He now sought to firmly imprint his creative genius on the nonfiction challenges and opportunities that life presented. Epcot would define why Walt looked east.
Did the opening of the Epcot theme park realize that vision? Certainly not, as even in its most realistic sense it presents a fictional place. Even so, there is no theme park in the world that comes near Epcot in its scope or focus. Despite being one of the most visited theme parks in the history of the world, no person or company has ever really attempted to replicate Epcot and its timeless reach.
While this is not necessarily the legacy that Walt sought to leave, it is, nevertheless, the grandest of legacies from the first 40 years of the Walt Disney World Resort: Epcot is unique among all theme parks on Earth.
-=-=-=-=-=-=-=-=-=-=-=-=-=-=-=-=-=-=
Happy 40th Anniversary to the MOST MAGICAL place on the planet!
-=-=-=-=-=-=-=-=-=-=-=-=-=-=-=-=-=-=
"Four Decades of Magic: Celebrating the First Forty Years of Disney World", a compilation of stories and essays that brings together more than 20 leading Disney World authors and commentators who share their insight into some of the most significant events in the history of the Walt Disney World Resort, is available in trade paper and Kindle on Amazon.com (ISBN 978-0-615-43101-7) through the AllEars.Net Amazon Store.
http://astore.amazon.com/debsunoffiwaltdi/detail/0615431011

= = = = = = = = = = = = = = = = =


HIDDEN MICKEYS ALERT
= = = = = = = = = = = = = = = = =
Steven Barrett, author of the Hidden Mickeys books and webmaster of www.HiddenMickeyGuy.com, transports you to Disneyland, California, for a few Hidden Mickeys in Walt's original Kingdom:
1. At Snow White's Scary Adventures, asomewhat distorted 3/4 side profile Mickey is formed by bushes in the mural directly in front of your ride vehicle at the loading area. Look at the right end of the row of green bushes just past the rocky hill and to the left of the blue stream. Mickey is looking to the left. (Thanks to Rosemary and Neil, Meghan Kueny-Thornburg, Milton Holecek, Pete Brown, and AJ.)
http://allears.net/btp/images/hidden-mickey-339.jpg

2. In the last room of "it's a small world," shadows from a set of small balloons that move up and down form classic Mickeys at times to the left of your boat. (Thanks to Chris Caflisch, Melvin Waidmann II and Brock Waidmann, Sarah Hall, Audrey, Ken Wilson, Todd Rosspencer, Shirlyn, and Amy.)
http://allears.net/btp/images/hidden-mickey-340.jpg
3. At the Grand Californian Hotel, in ahallway close to the registration counters, classic Mickeys are in the corners of the frame of a painting on the wall near the restrooms. The painting shows a rocky and mountainous coastline. (Thanks to Michael and Wendy Olayvar, and Paul Hoffman.)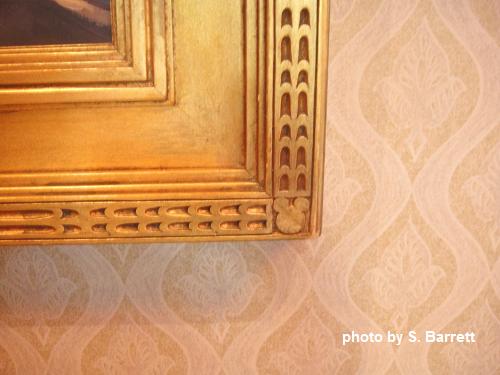 http://allears.net/btp/images/hidden-mickey-341.jpg
You can find a selection of past Hidden Mickeys Alerts here:
http://allears.net/btp/hiddenm2.htm
= = = = = = = = = = = = = = = = =


VEGAN TIPS
= = = = = = = = = = = = = = = = =
by Emily Woesthoff
General Manager for BabyCakes NYC at Downtown Disney
For those of us who have never had the pleasure of downing a Dole Whip on a hot summer day, we are lucky in that we don't know what we're missing. Unfortunately, Dole Whips are not vegan. The ingredient list comes pretty close, but they sneak some casein in there just for good measure. Until they figure out how to make a casein-free Dole Whip, we can either look longingly at Aloha Isle (which I may do from time to time), or we can seek out other means of refreshment to quench our collective thirst for pineapple. Aloha Isle does offer the old faithful, Pineapple Spear, which isn't bad in a pinch and makes a decent snack. A little further down the path into Adventureland, tucked away next to the Enchanted Tiki Room exit is Sunshine Tree Terrace. This snack counter offers a whole host of items that vegans can barely even look at, let alone eat. However, they do offer iced coffee, hot coffee, soy milk, and an assortment of juices. One of these juices happens to be of the pineapple variety, and even though pineapple juice will never match up to Dole Whip standards, it's a decent substitution nonetheless. Don't get down about the lack of Dole Whipping in your life! Enjoy that pineapple juice and go ride the Magic Carpets of Aladdin!
Missed previous Vegan Tips from Emily? We're compiling them here:
http://allears.net/din/vegantips.htm
= = = = = = = = = = = = = = = = = =

RATE & REVIEW SPOTLIGHT
= = = = = = = = = = = = = = = = = =
Compiled by AllEars® Team Member Cathy Bock
In this monthly featurette, we take a look at recent comments made in the AllEars.Net Rate & Review section about a particular restaurant, resort, event, etc. This month, we examine what AllEars® readers are saying about dinner at 'Ohana, located in Disney's Polynesian Resort.
Dinner at 'Ohana is served family-style with food brought to your table. 'Ohana is recommended by 93% of reviewers and has an average rating of 8.6.
From recent reviews:
Food: "was great"; "was plentiful, hot and delicious"; "variety of food for picky eaters"; "you can eat as much as you want"; "tons of food to choose from, so everyone will find something they like"; "always good"; "fantastic meal"; "very fresh and hot"; "was all AMAZING, as always!"
Entrees: "shrimp was very good, steak was all right"; "sometimes the skewered meat was dry"; "steak was incredible!"; "shrimp on skewers is awesome"; "steak was especially yummy"; "the meats and shrimp… wonderful".
Desserts: "fabulous as always"; "bread pudding… was the best part of the meal"; "bread pudding was very tasty"; "sooo good!"; "highlight of the meal comes last… the bread pudding"
Kids' Menu & Activities: "had items available for the children if they did not like what was being served"; "DS7 loves the coconut races and other fun activities but isn't crazy about the food"; "kids had lots of fun"; "daughter enjoyed the coconut race".
Service: "Service was great!"; "were left sitting for about 25 minutes before they cleared our plates and brought our dessert"; "ridiculously slow"; "ignored for a while after being seated and subsequent service was slow too"; "service was slow"; "Everyone is very friendly"; "waiter was awful!"; "was really attentive"; "service was excellent".
Atmosphere: "were in the dining area off to the side, so we could only hear the action"; "enjoyed the ukelele playing & singing and of course watching Wishes"; "view of the castle from our table was great"; "we got to see Wishes from our table with music piped in-a nice treat".
Overall: "All in all, a great meal!"; "can't wait to return"; "we will be back"; "one of our favorite restaurants"; "can't believe this thing gets such glowing reviews"; "a must if you are on the Disney Dining Plan"; "highly recommend but get reservations early"; "love this restaurant"; "a must-do every year".
If you have recently dined at 'Ohana, we'd love to have your review!
http://land.allears.net/reviewpost/showproduct.php?product=187&cat=48
= = = = = = = = = = = = = = = = =


MONTHLY REMIND-EARS
= = = = = = = = = = = = = = = = =
EVENTS
Animal Kingdom
October 26 – Year of the Bat Celebration.
Epcot
Epcot International Food and Wine Festival – September 30 through November 13, 2011. The theme for the 16th annual event is "Passport to a World of Flavors," and new marketplaces debuting include Hawaii, the Caribbean islands and Portugal.
http://allears.net/tp/ep/foodwine.htm
HGTV personalities will be appearing every Friday, Saturday and Sunday during this year's Epcot International Food & Wine Festival. Stars such as Emily Henderson and Vern Yip will be presenting a series of home entertaining seminars. These seminars are included with Epcot admission and will be at the festival center. Here's the lineup (subject to change):
— September 30-October 2 – Vern Yip, "HGTV Design Star" and "HGTV Urban Oasis"
— October 7-9 – Monica Pedersen, "Designed to Sell"
— October 14-16 – Erin Loechner, "Design Happens"
— October 21-23 – Taniya Nayak, "Designed to Sell"
— October 28-30 – Kim Stoegbauer, "On-line Party Inspiration"
— November 4-6 – Lisa LaPorta, "Designed to Sell"
— November 11-13 – Emily Henderson, "Secrets >From a Stylist" and the Season 5 winner of "HGTV Design Star"
http://allears.net/tp/ep/fw11/2011-epcot-food-and-wine-festival-hgtv-seminars.htm
The tentative lineup for this year's Eat to the Beat concert series, which runs during the Epcot International Food & Wine Festival, September 30 – November 13:
— September 30 – October 2: Taylor Dayne
— October 3-5: .38 Special
— October 6-7: Jon Secada
— October 8-9: Roger Hodgson, formerly of Supertramp
— October 10-12: Billy Ocean
— October 13-16: Starship Starring Mickey Thomas
— October 17-19: Sugar Ray
— October 20-21: The Orchestra, starring former members of ELO
— October 22-23: Howard Jones
— October 24-26: Boyz II Men
— October 27-28: Gin Blossoms
— October 29-30: Sister Hazel
— October 31-November 1: Hanson
The concerts, which are included with Epcot admission, will be at the America Gardens Theatre nightly at 5:15, 6:30 and 7:45 p.m.
http://allears.net/tp/ep/fw11/2011-epcot-food-and-wine-festival-eat-to-the-beat-concerts.htm
October 16-17: Sip & Stroll at Epcot in Orlando – As part the Epcot International Food & Wine Festival, D23, The Official Disney Fan Club, is once again hosting their annual Sip & Stroll event exclusive to D23 Members. Details and ticket sales are on the D23 Web site.
Magic Kingdom
Mickey's Not So Scary Halloween Party – Tickets on are now on sale for 2011's Mickey's Not So Scary Halloween Party, a special event that takes place on certain nights in the Magic Kingdom. Mickey's Not-So-Scary Halloween Party evenings, which run from 7 p.m. to midnight, allow guests to trick-or-treat while immersed in the fantasy of the Magic Kingdom. The evenings include Mickey's "Boo-to-You" Halloween Parade; trick-or-treating throughout the Magic Kingdom at numerous locations; and the special Happy HalloWishes fireworks. Mickey's "Boo-to-You" Halloween Parade is at 8:15 and 10:30 p.m. with the Happy HalloWishes fireworks at 9:30 p.m. Lots of characters are out in the park, wearing their favorite costumes — you're encouraged to wear yours too. Dates are: October 2, 6, 7, 10, 11, 13, 16, 18, 20, 21, 23, 25, 27, 28, 30, and 31.
http://allears.net/tp/mk/mnssh.htm
NOTE: Many nights sell out in advance, especially Halloween Night.
The Second Annual Food and Wine Classic at the Walt Disney World Swan and Dolphin will be October 7 and 8, 2011. The event offers a variety of seminars, such as a Sake Hour and Bordeaux Blending, led by the resort's own food and beverage experts. Special packages including guestroom accommodations are available, as well as wristbands allowing you access to all the food and beverage offerings: http://swandolphinfoodandwineclassic.com/
The Children's Miracle Network Hospitals Classic will take place on Disney's Magnolia and Palm courses on October 20-23, 2011. The $4.7 million tournament will determine the final PGA tour money rankings and which players have full exemptions in 2012. A tradition of the Classic during the 1970s, 1980s and 1990s is returning in 2011: A cadre of characters and the red-and-white-clad Walt Disney World Band will gather at the 18th green to celebrate the tournament winner. A field of 128 professionals will tee off in the quest for the $846,000 winner's check. After two rounds, the field will be trimmed to the low 70 scores for the weekend rounds. A one-day grounds ticket is $10; the weekly tournament badge providing admission to the grounds October 17 – 23 is $20. Parking is free and youth ages 17 and under are free when accompanying a paying adult. More information: childrensmiraclenetworkclassic.com.
EDITOR'S NOTE: Disney Passholders can receive a complimentary ticket to this event by presenting valid Passholder ID at the Will Call Tent. For more information on this, see the current issue of the Mickey Monitor, which you can find online by logging in to your passholder account at disneyworld.com/passholder.
ESPN Wide World of Sports
The 16th Annual Walt Disney World Cross Country Classic will be held October 7-8, 2011, at ESPN Wide World of Sports Complex. This popular annual event, featuring fast 5K and 8K courses, attracts numerous colleges and high schools from around the country.
September 30 – October 1, 2011: Disney Wine and Dine Half-Marathon Weekend – The Disney Health & Fitness Expo will be held at ESPN Wide World of Sports Complex during race weekend. The Expo will host seminars on training, racing, and nutrition featuring speakers and panelists from the world of running. The half-marathon itself will be run on October 1 at night, through three theme parks, concluding in Epcot.
http://espnwwos.disney.go.com/events/rundisney/wine-and-dine-half-marathon/
Downtown Disney
The 4th Annual Walgreens Orlando International Dragon Boat Festival will be held Saturday, October 15, 2011 at 8 a.m. at Downtown Disney. The "world's fastest-growing water sport" involves 20 paddlers, a steersperson (cox) and a drummer, in a boat whose elaborate design originates in ancient China.
=-=-=-=-=-=-=-=-=-=-
Don't forget to check our Events page for current updates: http://allears.net/pl/events.htm
-=-=-=-=-=-=-=-=-=-=-=-=-=-=-=-=-=-=-
REHABS AND CLOSINGS
Magic Kingdom
Disney's Hollywood Studios
Lights, Motors, Action! Extreme Stunt Show will close for a few days for a brief rehab, October 3 – 6, 2011.
Epcot
Yakitori House in Epcot's Japan pavilion closed for refurbishment August 10 and will reopen on or about November 15, 2011.
Animal Kingdom
The Tropicals will give their final performance at Animal Kingdom on Saturday, October 29, 2011. The Tropicals have performed at Disney's Animal Kingdom since 2005. No replacement act has been announced as yet.
Disney's Art of Animation Resort
Disney's Art of Animation Resort, the 26th resort at Walt Disney World, will feature family suites designed around four themes: The Lion King, Cars, Finding Nemo and The Little Mermaid. The resort will be located next to Disney's Pop Century Resort. Disney recently released some new photos of the Family Suites at the Art of Animation Resort . The resort is scheduled to open Summer 2012; family suites are booking now.
http://land.allears.net/blogs/dnews/2011/08/family_suites_at_disneys_art_o.html
Disney's Contemporary Resort
Disney's Port Orleans-Riverside Resort
Royal Guest Rooms are now under construction in the Magnolia Bend section of the Port Orleans-Riverside resort. Opening in early spring 2012, the Royal Guest Rooms allow princes and princesses of all ages to stay where Disney royalty have stayed. Guests find regal touches left behind by some of their favorite Disney characters — fiber optics special effects above ornately decorated beds, gold and crystal accents, custom linens and drapes, and in-room art and details including Princely banners and Princess friends. The 512 Royal Guest Rooms start at $189 per night, and are booking now, for stays early in 2012.
Magnolia Bend Leisure Pool near buildings 80-85 closed for refurbishment September 5 through October 7, 2011.
Disney's Grand Floridian Resort
The spa at the Grand Floridian Resort and Spa closed on September 19, 2011, for 18 months as part of a planned renovation at the resort. Disney has not shared details about the project, but there has been speculation that Disney Vacation Club units will be built near the spa.
Blizzard Beach water park will be closed October 30-December 3 for its annual refurbishment.
Downtown Disney
The Disney Parks Blog announced that at Downtown Disney this fall, construction will begin on Splitsville, a 50,000-square-foot upscale entertainment center that combines bowling with billiards, dining, music and nightlife. To make way for this experience, RIDEMAKERZ , currently located on the West Side, will move to the Marketplace. On Pleasure Island, some buildings have been removed, but plans for the site are being reevaluated.
http://disneyparks.disney.go.com/blog/2011/07/downtown-disney-update/
Sunglass Icon by Sunglass Hut at Downtown Disney West Side closed September 6 for refurbishment. The store will undergo a complete transformation to become a flagship store, complete with cutting-edge technology and the latest in sunglass fashions from around the world. The new Sunglass Icon is expected to reopen in mid-November.
Magic Masters closed on September 25, 2011, at the end of the store's contract. Something Silver, which features sterling silver fashion accessories alongside a collection of timeless, everyday basics, will soon open in its place. More than 50 national and international designer collections will be showcased, featuring designers such as Jordan Schlanger and Kit Heath.
Magnetron at Downtown Disney West Side will close on September 30. It will be replaced by BLINK by Wet Seal, featuring apparel, denim and accessories for women, teens and children.
A complete list of rehabs can be found here: http://allears.net/tp/rehabs.htm
= = = = = = = = = = = = = = = = =


MAGICAL MOMENTS
= = = = = = = = = = = = = = = = =
Debbie Santos: My daughter, Amanda, was diagnosed with lactose intolerance just before we went to Disney World in August. We were completely surprised and grateful to all of the chefs of the numerous restaurants for their professionalism and how wonderful they werewith my 9-year-old daughter. They did their best to make her feel like she was not missing out on anything, whether they made special desserts for her or made a special dish like fish without sauce. Amanda loved the chefs so much she took a special picture with each and had them sign her autograph book. At Crystal Palace, the chef gave her a special Crystal Palace key chain to make her feel special. I can't thank the chefs enough for making our Disney trip amazing!
Rob Ripper: We arrived early at Epcot to celebrate my wife's birthday. A few minutes before the rope was to be dropped, a cast member asked me, "How would you like to be the Family of the Day?" Of course, I said "sure" so we went to get my wife and daughter, who were waiting to head to The Land for Soarin' Fastpasses. You should have seen the look on their faces when they saw me and my son walking over to them on the other side of the rope with a Cast Member. They thought we had done something wrong! We gathered in front of the fountain and took some pictures with the PhotoPass photographers. Then Mickey, Minnie, Donald, Pluto and Goofy came out, greeted the crowd and then came and greeted us. We took some pictures with them and then the Cast Member that picked me drove out in a replica Test Track Car, with a Crash Test Dummy as one of his passengers. After our pictures and before the rope was dropped, we were driven down to Test Track and were escorted directly to the ride. We got to ride before everyone else entered the park, then when the ride was over, we were told to unbuckle and re-buckle the seat belts because we were going to ride again! After our ride, we were escorted to the ride photo purchase area and given a picture of us on our ride. We were also given two Fastpasses for any attraction we wished to use them on, then the Cast Member escorted my son and me to Mission:SPACE for front of the line access to that ride. When he handed us off to the Cast Member there, she took us into the control room and showed us the Cast Members working the attraction, pointed out a Hidden Mickey on one of the monitors and let us play with the control panel on the side facing the guests (as they did nothing). She informed us that the panel was a prop from the movie "Mission to Mars". She then showed us the tribute to Horizons, which is the emblem of that ride that is in the middle of the spinning space station. She gave us some other tidbits of information and then led us to the front of the line for the ride. The last thing we were provided with was VIP seating for IllumiNations. It was a special way for us to celebrate my wife's birthday and it was the highlight of our trip.
Lucas, Vanessa, Kailey and Jakob:My daughter showed a great deal of enthusiasm for the characters on her first trip at 3 years old. We thought she'd be scared or shy. She especially loved Pooh, Tigger, and Eeyore, but they were always mobbed with long lines. On our last day in the parks, we chose to go to Animal Kingdom and awaited Mickey's opening of the park. At the appropriate moment, all the crowd seemed to magically part, with nearly everyone in front of us heading left to go to the Safari. We went right instead and leisurely strolled along the unpopulated path until we got to the character meeting area across from the Flametree BBQ. A cast member was setting out a sign for guests to visit Pooh. He told us to "come on down" and we did so, wondering if we'd just stand in a line. Much to our surprise, there were Pooh, Tigger, and Eeyore alone with no other children. My daughter got all three characters to herself for well over 10 minutes. They goofed around with her and played with her. She was absolutely starry-eyed. We bought all the photos taken of that morning. It was just a really magical moment for a 3-year-old on her first visit to WDW.
-=-=-=-=-=-=-=-=-=-=-=-=-=-=-=-=-=-=-=-=-
We just bet you have a story to tell about an unforgettable moment during your Disney vacation! Please send your favorite memory for inclusion in a future AllEars® to: allearsnet@yahoo.com Thank you all for sharing!
We've also compiled a collection of photos from readers sharing their Magical Moments via digital images in the latest Wandering the World — this week with a Halloween theme!
http://allears.net/tp/wander/wander.htm
-o-o-o-o-o-o-o-o-o-o-o-
Editor's Note: This story/information was accurate when it was published. Please be sure to confirm all current rates, information and other details before planning your trip.