November 2011 Walt Disney World Bits and Bites
Feature Article
This article appeared in the October 25, 2011 Issue #631 of ALL EARS® (ISSN: 1533-0753)
= = = = = = = = = = = = = = = = =


STEP BACK IN TIME
= = = = = = = = = = = = = = = = =
We rummage around in our archives for this monthly feature, which indulges in a bit of nostalgia, taking you back in history for a glimpse of Walt Disney World and the Disney Company through the ages. This month we take a look at the dearly departed Skyway, which, interestingly enough exited from all three theme parks it had operated in, in the month of November.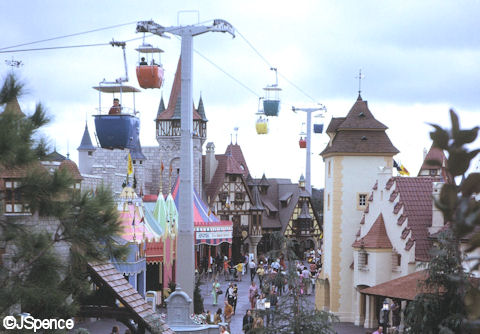 There were three Disney Skyways operating at one time or another in Disney theme parks. The original Skyway was of course the one that opened at Disneyland on June 23, 1956. The second Skyway opened at the Magic Kingdom on its opening day, October 1, 1971, and the third opened at Tokyo Disneyland on that park's opening day, April 15, 1983. All three Skyways offered one-way rides between their respective Fantasyland and Tomorrowland.
The Magic Kingdom's Skyway was unique, in that it was the only one of the three that made a turn in the middle of the trip across the theme park.
On November 9, 1994, Disneyland finally decided to close the Skyway, which was one of its oldest and most popular attractions. The expense of retrofitting the 38-year-old attraction to make it safe during California's unpredictable earthquakes was deemed too costly.
Four years later, on November 3, 1998, the Skyway at Tokyo Disneyland was also closed, also due to expensive maintenance costs.
As AllEars.Net Blogger Jack Spence notes, "It is often reported, incorrectly, that the Magic Kingdom closed the Skyway due to the death of a custodial cast member working on the attraction. Although it is true that Raymond Barlow was accidentally killed while cleaning a narrow Skyway platform, this had nothing to do with the decision to shutter the ride. Disneyland and Tokyo Disneyland had both closed their versions of this attraction before this death occurred. The decision to close all of the Skyways was strictly economical. These attractions were old and expensive to run and maintain. Also, they had low capacities. This made it harder and harder to justify on a 'dollar spent per guest ride' basis. Combine this with the constant problem of teenagers spitting and throwing things on the guests below and it's not hard to understand why Disney said 'Enough.'"
Sadly, I only had the chance to ride in this attraction once before it became a casualty to budgetary concerns. The last hold-out, the Magic Kingdom Skyway, closed on November 9, 1999.
Read more about the history of the Skyway and see photos in Jack Spence's related blog:
http://land.allears.net/blogs/jackspence/2009/09/magic_kingdom_skyway_1.html
= = = = = = = = = = = = = = = = =


HIDDEN MICKEYS ALERT
= = = = = = = = = = = = = = = = =
Steven Barrett, author of the Hidden Mickeys books and webmaster of www.HiddenMickeyGuy.com, points out a few classic Hidden Mickeys from the Coronado Springs Resort, Epcot's Test Track, and Main Street, U.S.A. in Disneyland, California:
1. At the Dig Site Swimming Pool at Coronado Springs Resort, to the left of the restrooms, a circular stone table with relief images is hanging on the wall. A somewhat distorted sideways classic Mickey hides at the lower right. (Thanks to Joseph Robinson, and Kent and Pam Low.)
http://allears.net/btp/images/hidden-mickey-342.jpg
2. Along the entrance queue of Test Track, look on the lower right side of the bulletin board (next to the greaseboard) in the Single Riders' preshow room. The front tire of a diagrammed car has Mickey ears! (Thanks to Sharon Dale and Michael Smart.)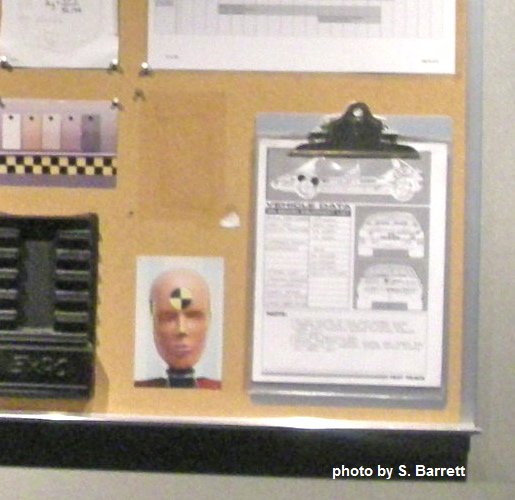 http://allears.net/btp/images/hidden-mickey-343.jpg
3. On Main Street, U.S.A. in Disneyland, stroll inside the Photo Supply Company store. On the middle of a high shelf behind the "Photo Preview" counter, a lens and two adjoining circles form a classic Mickey on the front of a camera. Note: this camera moves around in the store from time to time. (Thanks to Rosemary and Neil [FindingMickey.com], Karlos Aguilera, Austin Chanu, and Bradly Behmer.)
http://allears.net/btp/images/hidden-mickey-344.jpg
You can find a selection of past Hidden Mickeys Alerts here:
http://allears.net/btp/hiddenm2.htm
= = = = = = = = = = = = = = = = =


VEGAN TIPS
= = = = = = = = = = = = = = = = =
by Emily Woesthoff
General Manager for BabyCakes NYC at Downtown Disney
Popcorn! Think of the aroma that hits you as soon as you walk underneath the Main Street Railroad Station. You know the one, the smell that defines Walt Disney World for so many of us. For the longest time, I made it a point to abstain from the delight of enjoying handfuls upon handfuls of popcorn on Main Street, thinking, "surely that delicious taste of popcorn I remember as a kid couldn't possibly fit in with my adult dietary choices." I went on, defeated, and popcornless, until that fateful day when it was confirmed to me (by three different resources) that this wonderful, salty delicacy is, in fact, vegan! But how?! You might ask, since it has such a unique, buttery taste. I give you three magic words: artificial butter flavoring. My friends, this might not be the most healthful choice you can make for a snack in Walt Disney World, but if that fine scent of popcorn that wafts through the air has been calling your name, go ahead and indulge your cravings with this accidentally vegan snack! Walt Disney World touts the Disney Vacation Club as their "best-kept Disney secret," however, popcorn-loving vegans everywhere beg to differ. Snack on, dear vegans, snack on!
Missed previous Vegan Tips from Emily? We're compiling them here:
http://allears.net/din/vegantips.htm
= = = = = = = = = = = = = = = = = =

RATE & REVIEW SPOTLIGHT
= = = = = = = = = = = = = = = = = =
Compiled by AllEars® Team Member Cathy Bock
In this monthly featurette, we take a look at recent comments made in the AllEars.Net Rate & Review section about a particular restaurant, resort, event, etc. This month, we examine what AllEars® readers are saying about the character breakfast at Tusker House, located in Animal Kingdom.
Breakfast at Tusker House is a character buffet known as Donald's Safari Breakfast. Tusker House is recommended by 92% of reviewers and has an average rating of 8.3.
From recent reviews:
Food: "food is excellent – always hot and yummy"; "wide selection of fruit"; "cornbread hash was overcooked"; "usual breakfast foods were in abundant supply and warm and fresh"; "food was delicious"; "food was different enough to be interesting but familiar enough for everyone to be comfortable with it"; "food was excellent"; "love the many different choices here from carved meats to the bread pudding to the casseroles".
Beverages: "Don't forget to try the jungle juice!"; "juice they serve was delicious… mango, passionfruit, orange juice"; "yummy juice"; "juice is out of this world"; "food was fabulous – especially the juice".
Kids' Food: "picky kids will not find much"; "daughter loved the yogurt – adding honey and brown sugar"; "son loves the doughnuts".
Service: "staff is friendly"; "great service as usual"; "our server was excellent"; "service was great"; "server was fantastic – friendly, helpful, and attentive"; "service we received was top-notch".
Characters: "characters seemed rushed"; "took nearly 30 minutes before we saw our first character"; "had to wait a bit for the characters to show up"; "great character interaction"; "characters were great"; "only place to see Daisy without waiting hours in line"; "wonderful character interaction"; "character interaction was OK"; "Goofy was so much fun. He really acted his part!"
Atmosphere: "a little loud for some"; "space was tight between tables".
Overall: "ADRs and we still waited extra time"; "a must on all our trips to WDW"; "buffet is above average for Disney"; "definite must-do"; "will definitely be on our list of restaurants next visit"; "buffet was nothing special, different yes but not special for the price"; "will return again on our next trip"; "only downside was that we waited about 20 minutes to be seated"; "we love this place!"
If you have recently dined at Tusker House, we'd love to have your review!
http://land.allears.net/reviewpost/showproduct.php?product=398&cat=33
= = = = = = = = = = = = = = = = = =


MONTHY REMIND-EARS
= = = = = = = = = = = = = = = = =
EVENTS
Epcot
Epcot International Food and Wine Festival – through November 13, 2011. The theme for the 16th annual event is "Passport to a World of Flavors," and new marketplaces debuting include Hawaii, the Caribbean islands and Portugal. Also new this year is a Cranberry Bog display sponsored by Ocean Spray. HGTV personalities will be appearing every Friday, Saturday and Sunday during this year's Epcot International Food & Wine Festival. These seminars are included with Epcot admission and will be at the festival center. The Party for the Senses grand tasting events and other special wine and culinary programs require reservations and separate event admission. Call 407-WDW-FEST (939-3378) or visit www.disneyworld.com/foodandwine for information.
http://allears.net/tp/ep/foodwine.htm
The Candlelight Processional, a Disney tradition now in its 41st year, is a moving presentation of the Christmas story in readings by a celebrity narrator and music by a Mass choir and 50-piece orchestra. This event takes place in the America Gardens Theatre in World Showcase in Epcot. This year, the Candlelight Processional begins November 25, 2011, and runs every evening until December 30. Shows are approximately 40 minutes. Each evening there are three shows — 5, 6:45 and 8:15 p.m. The tentative schedule of those who will appear in November as narrators for performances of Epcot's 2011 Candlelight Processional:
— November 25-27: Mira Sorvino ("Romy and Michelle's High School Reunion")
— November 28–December 1: Michael W. Smith (Christian singer)
Magic Kingdom
Mickey's Not So Scary Halloween Party runs one last night, November 1, from 7 p.m. to midnight, to allow guests to trick-or-treat while immersed in the fantasy of the Magic Kingdom. The evening includes Mickey's "Boo-to-You" Halloween Parade; trick-or-treating throughout the Magic Kingdom at numerous locations; and the special Happy HalloWishes fireworks. Mickey's "Boo-to-You" Halloween Parade is at 8:15 and 10:30 p.m. with the Happy HalloWishes fireworks at 9:30 p.m. Lots of characters are out in the park, wearing their favorite costumes — you're encouraged to wear yours too. Prices for the party are as follows (all prices listed include tax):
Advance Purchase for November 1: $60.66 adults / $55.33 ages 3-9
Day of Event (if still available) for November 1: $67.05 / $61.72
Purchase tickets in advance by calling (407) WDISNEY or (407) 934-7639, or order online at disneyworld.com.
http://allears.net/tp/mk/mnssh.htm
Mickey's Very Merry Christmas Party – Tickets on are now on sale for 2011's Mickey's Very Merry Christmas Party, a special event that takes place on certain nights in the Magic Kingdom. Mickey's Very Merry Christmas Party evenings, which run from 7 p.m. to midnight, allow guests to enjoy a special night of holiday entertainment in the Magic Kingdom that includes: Castle Dream Lights; Mickey's Once Upon a Christmastime Parade featuring Santa Claus; special Holiday Wishes Fireworks; Celebrate the Season Castle Stage Show; snow on Main Street, U.S.A.; complimentary hot cocoa and cookies. Dates are: November 8, 9, 11, 13, 15, 18, 27, 29, and 30; December 2, 4, 6, 7, 9, 11, 13, 14, 16, and 18. Prices for the party are as follows (all prices listed include tax):
Advance Purchase for November 8, 9, 11, 13, 15, 29, and 30; December 4, 6, 7, 11, 13, 14: $60.66 for adults 10 and older / $55.33 for ages 3-9
Passholder and DVC Member Discounts for November 8, 9, 11, 13, 15, 29, 30; December 4, 6: $56.40 / $51.07
Day of Event: $67.05 /$61.72
Advance purchase and discounted prices are not available for all nights. Purchase tickets in advance by calling (407) WDISNEY or (407) 934-7639, or order online at disneyworld.com.
Disney's Hollywood Studios
The Osborne Family Spectacle of Dancing Lights – November 10, 2011–January 3, 2012.
ESPN Wide World of Sports
November 4-5, 2011: The 2011 Special Olympics Florida Fall Classic will be held at ESPN Wide World of Sports Complex. The Fall Classic is the second largest Special Olympics event held in Florida each year and is the state championships in the sports of softball, bowling, power lifting, roller skating, target bowling (a lead-up event for those athletes not yet ready for traditional bowling) and gymnastics for more than 1,300 Special Olympics athletes from throughout Florida. Of the 15,000 children and adults with intellectual disabilities who participate in Special Olympics in Florida annually, these athletes have already won both local and regional competitions in their selected sport. Individual and team sports competition is offered for athletes of all ages and ability levels, regardless of their disability. The softball and power lifting competitions, as well as Opening and Closing Ceremonies will be held at ESPN Wide World of Sports Complex. Bowling, target bowling, roller skating and gymnastics will be held at off-site venues in Orlando. To learn more about Special Olympics Florida and the State Fall Classic, visit specialolympicsflorida.org
The 3rd Annual VEX Robotics All-Star Challenge will be held November 10-12, 2011 at ESPN Wide World of Sports Complex. The top 100 teams from the VEX Robotics World Championships earn a special invitation to the All-Star Challenge each year. The VEX Robotics All-Star Challenge will also be a qualifier for the VEX Robotics Competition World Championship, with the top teams earning an automatic spot.
The Old Spice Classic , an eight-team college basketball tournament, will be held over Thanksgiving weekend (November 24, 25 and 27, 2011) at the HP Field House at ESPN Wide World of Sports Complex. Arizona State, Dayton, DePaul, Fairfield, Indiana State, Minnesota, Texas Tech and Wake Forest make up the field. Seven of the teams reached the 2010 postseason. The Old Spice Classic will feature 12 games over the three days. Each team will compete in one game per day, advancing through a bracket-tournament format. The two teams that remain undefeated throughout will face off in a championship match on November 27. Additional information can be found on the Old Spice Classic website at www.OldSpiceClassic.com.
Downtown Disney
Nearly 150 award-winning artists who turn clay, wood, metals, oils, watercolors and more into creations that treat the eyes – such as paintings, jewelry, sculptures and photographs – will show off their works at the Festival of the Masters to be held November 11-13 at Downtown Disney. One of the Southeast's most highly regarded juried art festivals since 1975, Festival of the Masters features live entertainment and family-friendly activities each day. Admission and parking are complimentary.
Walt Disney World will again host The Benefit Sale supporting Heart of Florida United Way, a special shopping event that offers discounts of up to 75 percent off select merchandise, doorbuster specials, surprise markdowns and more at participating Walt Disney World Downtown Disney merchant locations. Proceeds from the sale of ticket vouchers will benefit United Way and the 108 programs that help Central Floridians in need. The Benefit Sale will be held Saturday, November 5, at Downtown Disney from 5:30 to 9:30 a.m. To preview special promotions, product launches and discounts from Walt Disney World Resort in advance visit thebenefitsale.com (available later this month). Access to this shopping event will be limited. Purchase vouchers for $5 online until November 3. Vouchers will also be available for sale at Downtown Disney on the day of the event. Questions: (407) 429-2129.
=-=-=-=-=-=-=-=-=-=-
Don't forget to check our Events page for current updates: http://allears.net/pl/events.htm
-=-=-=-=-=-=-=-=-=-=-=-=-=-=-=-=-=-=-
REHABS AND CLOSINGS
Magic Kingdom
Epcot
Yakitori House in Epcot's Japan pavilion closed for refurbishment August 10 and will reopen on or about November 15, 2011.
Disney's Art of Animation Resort
The first wing of the Disney's Art of Animation Resort will open on May 31, 2012, as construction on the 25th resort hotel at Walt Disney World continues on schedule. Located near Pop Century Resort, the new resort will offer 1,120 family suites (including a bedroom and living room) themed after "The Lion King," "Cars" and "Finding Nemo" animated films, as well as 864 guest rooms inspired by "The Little Mermaid." The current opening timetable has the "Finding Nemo" wing opening May 31, the "Cars" wing in late July, and "The Lion King" wing in late September. The final wing, themed after "The Little Mermaid," will debut in late 2012. Although the resort is still several months away from opening, it's already set to break records by planning the largest swimming pool at the Walt Disney World Resort (aside from our water parks). This pool will be located in the "Finding Nemo" wing, and will measure 11,859 square feet. The resort also will feature two other pools and a children's water play area. Disney's Art of Animation Resort will be a "value" category of lodging, with nightly rates similar to Disney's All-Star Resort and Disney's Pop Century Resort.
http://land.allears.net/blogs/dnews/2011/10/disneys_art_of_animation_resor_2.html
Disney's Contemporary Resort
Disney's Port Orleans-Riverside Resort
Royal Guest Rooms are now under construction in the Magnolia Bend section of the Port Orleans-Riverside resort. Opening in early spring 2012, the Royal Guest Rooms allow princes and princesses of all ages to stay where Disney royalty have stayed. Guests find regal touches left behind by some of their favorite Disney characters — fiber optics special effects above ornately decorated beds, gold and crystal accents, custom linens and drapes, and in-room art and details including Princely banners and Princess friends. The 512 Royal Guest Rooms start at $189 per night, and are booking now, for stays early in 2012.
Disney's Grand Floridian Resort
The spa at the Grand Floridian Resort and Spa closed on September 19, 2011, for 18 months as part of a planned renovation at the resort. Disney has not shared details about the project, but there has been speculation that Disney Vacation Club units will be built near the spa. During this downtime, enhancements are also being planned for the spa. As an alternative, you can purchase spa services at Disney's Saratoga Springs Resort & Spa. If you are staying at the Grand Floridian or the Polynesian Resort and you book a spa treatment at Saratoga Springs Resort & Spa, complimentary transportation will be provided for you. Note that the health club at Disney's Grand Floridian Resort & Spa is still open. In addition, the Ivy Trellis Beauty and Barber Shop remain open in the main building of the Grand Floridian.
Blizzard Beach water park will close October 30 for its annual refurbishment. It is expected to reopen December 3.
Downtown Disney
The Disney Parks Blog announced that at Downtown Disney this fall, construction will begin on Splitsville, a 50,000-square-foot upscale entertainment center that combines bowling with billiards, dining, music and nightlife. To make way for this experience, RIDEMAKERZ , currently located on the West Side, will move to the Marketplace. On Pleasure Island, some buildings have been removed, but plans for the site are being reevaluated, which means construction on the previously announced Paradise Pier has been delayed.
http://disneyparks.disney.go.com/blog/2011/07/downtown-disney-update/
Sunglass Icon by Sunglass Hut at Downtown Disney West Side closed September 6, for refurbishment. The store will undergo a complete transformation to become a flagship store, complete with cutting-edge technology and the latest in sunglass fashions from around the world. The new Sunglass Icon is expected to reopen in mid-November.
A complete list of rehabs can be found here: http://allears.net/tp/rehabs.htm
= = = = = = = = = = = = = = = = =


MAGICAL MOMENTS
= = = = = = = = = = = = = = = = =
Gavinsmomm: I took my friend's daughter, Olivia (5), for her first trip to visit the Mouse. We booked a Pirates League makeover and IT WAS AWESOME! She picked out the pink pirate dress and the Cursed Skeleton face paint. Needless to say she was VERY eye-catching! It made her day that lots of people — park visitors and cast members alike — made a big deal about her. As we were watching the nighttime parade, even the characters were making a big deal over her, making scared faces or some of the villains giving her thumbs up. When Alice (who happened to be one of her favorites) passed by high atop her mushroom, she pointed out Olivia (excuse me, I mean Pirate Sarah Truesilver) over the microphone so the whole crowd could hear and made a fuss about her. Olivia turned around with the biggest smile ever and gave me a thumbs up. It was great and made her whole trip, which completely made my trip!
Heather Anderson: In addition to celebrating my parents' 50th wedding anniversary, we were also celebrating my father's retirement as a veterinarian for more than 40 years. While there were many surprises for them, the most magical memory happened thanks to some very special people at Animal Kingdom. We had arranged for a surprise backstage tour for my father of the animal clinic. When Anita (a wonderful, sweet staff person) introduced herself to my father and told him that he was going to have a special backstage tour of their facilities, he smiled and agreed… but then another surprise came when Dr. Terrell came out to meet my father and told him that he was accompanying him to examine an animal. I had told Anita earlier that my niece and nephew never got to see Grandpa practice like my kids did growing up. The magic continued as within 10 minutes, Dr. Terrell had my father behind the window where all could see and he was introduced as the special guest vet for the day. My sister and I cried, for we knew this was the last time we were going to see our dad practice what he loves, but it was the first time for her kids to see Grandpa in action. But it did not end there, for Dr. Terrell came out and invited all 14 of us to accompany him and my father on a backstage tour of the clinic. This is a special memory that will be with us forever, thanks to two wonderful, thoughtful staff members at Animal Kingdom. Thank you for giving us some magic that afternoon.
Kristen M.: It was our last day at the parks and we were leaving the next day. I went to the lobby of the Polynesian to collect my packages so I could pack to go home. When I got back to my room, I noticed a mug I had purchased had broken along the way. I wasn't too razzed, and was prepared to eat the cost, but I decided to check in the shop to see if I could return it at the resort. I explained what happened to a cast member. She asked when I was leaving and when she heard that we were checking out in the morning, she said, "You know what, I'll just run over to the store (in Epcot) and exchange it for you when I get off of my shift." I tried to insist this wasn't at all necessary, but she refused to hear it. That night when we returned from dinner and fireworks, I had the exact mug waiting for me on my bed with a note telling me it was an excuse for her to ride Soarin' and eat dinner in England. I was so thankful that I wrote a very long and praising letter to her manager. You just can't get service like that anywhere but Disney World!
-=-=-=-=-=-=-=-=-=-=-=-=-=-=-=-=-=-=-=-=-
We just bet you have a story to tell about an unforgettable moment during your Disney vacation! Please send your favorite memory for inclusion in a future AllEars® to: allearsnet@yahoo.com Thank you all for sharing!
We've also compiled a collection of photos from readers sharing their Magical Moments via digital images in the latest Wandering the World — this week with an Epcot theme!
http://allears.net/tp/wander/wander.htm
-o-o-o-o-o-o-o-o-o-o-o-
Editor's Note: This story/information was accurate when it was published. Please be sure to confirm all current rates, information and other details before planning your trip.